If you are looking for a good Borat costume for Halloween or a big cosplay event, here's the winning formula for creating the most exciting outfit of the party! Let's see how to dress up as Borat from Borat.
Costume or Outfit Guide For COSPLAY & HALLOWEEN
Borat from Borat Costume or Outfit Guide
Shopping List for Borat from Borat Costume & Outfit
Sacha Baron Cohen's hilarious character Borat is instantly recognizable by his facial hair and generally offensive attitude. If you're looking for a fun, original costume this Halloween, a Borat costume is the way to go!
Who is Borat?
Borat Sagdiyev is a fictional character played by British comedian Sacha Baron Cohen. He is a Kazakh who is a caricature of the stereotypes about the lesser known poor countries of Asia, with customs and mores considered dubious by the West.
Borat is known for being very racist, misogynistic, anti-Semitic, ableist, and homophobic. He practices incest and is seen as overall heavily contradicting the good manners and sophistication of the west, although he tries very hard to learn. He continuously shocks the American people he encounters in the films. Borat has become a global celebrity, a cultural phenomenon beloved by fans of spectacularly obscene comedy.
Sacha Baron Cohen has spoken out about the character's origins and development in interviews.
"The reason we chose Kazakhstan was because it was a country that no one had heard anything about, so we could essentially play on stereotypes they might have about this ex-Soviet backwater," he explained to Rolling Stone. "The joke is not on Kazakhstan. I think the joke is on people who can believe that the Kazakhstan that I describe can exist — who believe that there's a country where homosexuals wear blue hats and the women live in cages and they drink fermented horse urine and the age of consent has been raised to nine years old."

Sacha Baron Cohen
Sacha Baron Cohen is also known for his Ali G Character. here is how to Dress Up Like Ali G from Da Ali G Show
This is a big part of Borat's success: the film doesn't take itself seriously.
Borat costume and accessories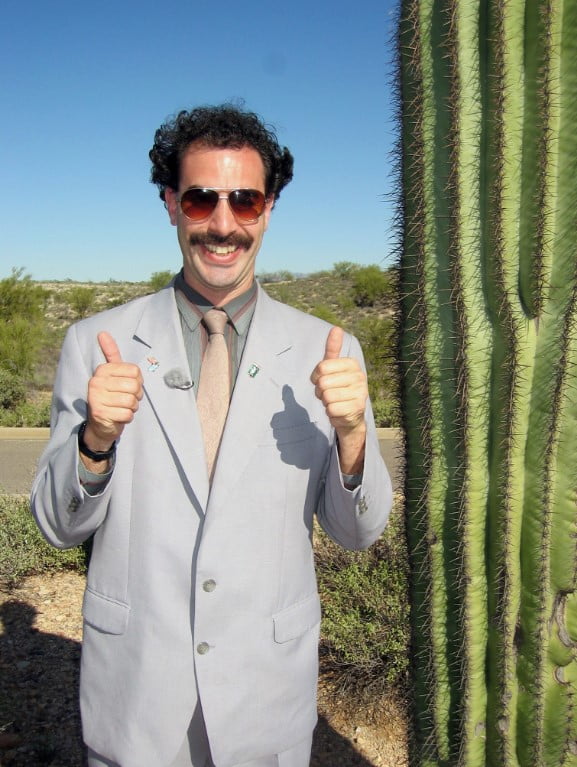 To slip into the skin of everyone's favorite Kazakh journalist, you will need to:
put on a grey suit and grey shirt, with a tasteful tan neckline.
Don't forget to put on black shoes
and carry around a brown bag full of top secret documents to mimic the top journalist played by Sacha Baron Cohen.
Finally, put on a wig with puffy black hair,
and a large fake moustache.
With this instantly recognizable elaborate outfit and distinguished facial hair, you're sure to make everyone laugh as they take in your Borat costume for the first time!
Missing an Outfit Inspo? Submit your idea and we'll make it happen!
Monthly Newsletter
Subscribe and get your Halloween costume ideas from us each year.