If you are looking for a good Scout costume for Halloween or a big cosplay event, here's the winning formula for creating the most exciting outfit of the party! Let's see how to dress up as Scout from Team Fortress.
Outfit Guide For COSPLAY & HALLOWEEN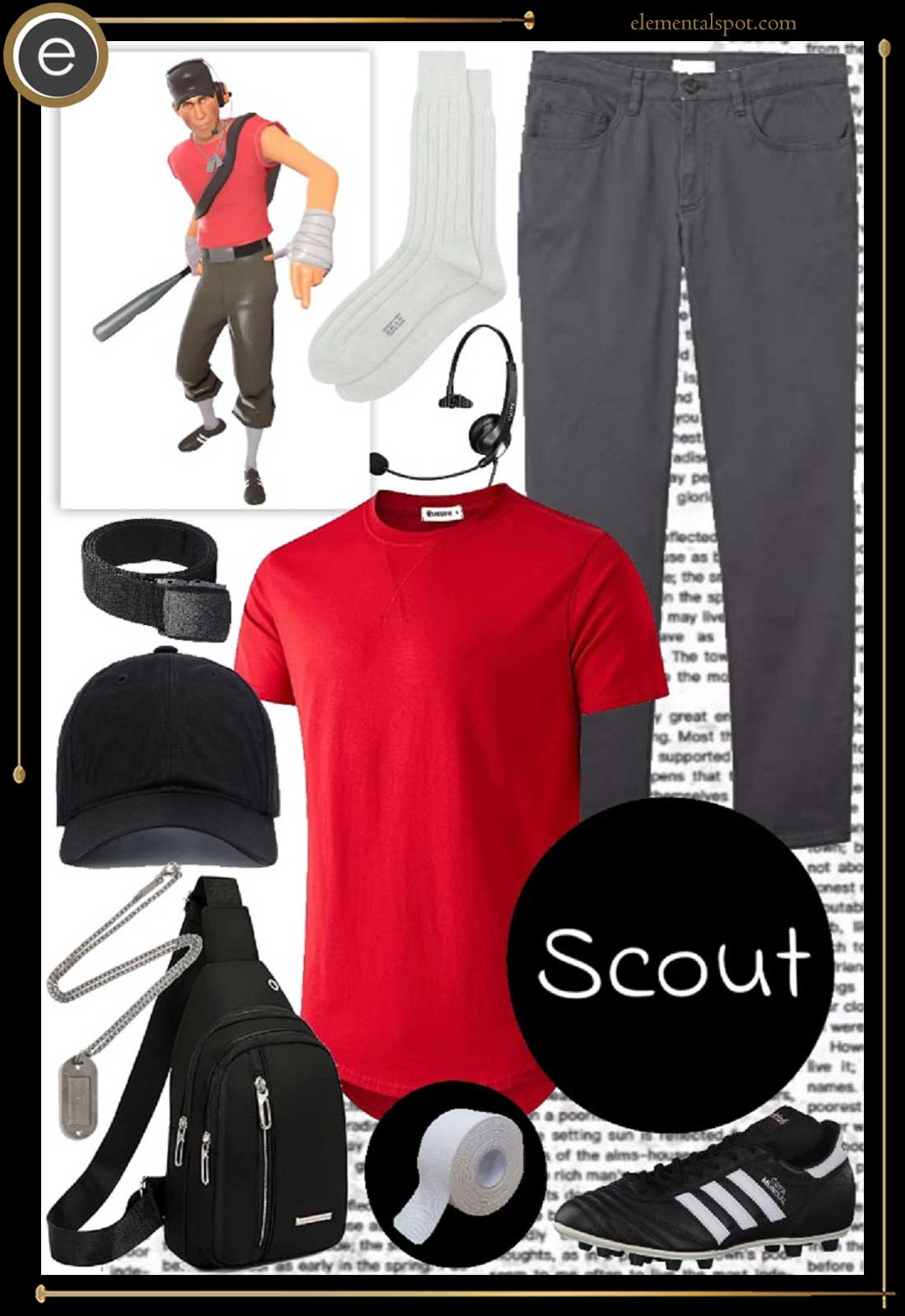 Scout from Team Fortress Outfit Guide
Shopping List for Scout from Team Fortress Costume & Outfit

Scout TF2 Outfit: Get Ready to Dominate as the Scout from Team Fortress!
Are you a fan of the iconic game Team Fortress 2? If so, you'll love dressing up as the Scout for your next costume party or cosplay event. The Scout is known for his lightning-fast speed, agility, and all-around mischief-making. In this article, we'll guide you through creating the perfect Scout TF2 outfit that will turn heads and make you the center of attention. Let's dive in!
Note: This is the second tutorial about Scout's outfit. The first one you can read here: Scout costume guide with detailed instructions
Black Cleats: Step into Action with Style
To start off your Scout TF2 costume, you'll need a pair of black cleats. These athletic shoes will not only complete the look but also provide you with the agility and comfort you need to maneuver through any party or event. Look for cleats that are lightweight, breathable, and durable to ensure maximum performance.
Baseball Cap: Top Off Your Look with Authenticity
No Scout costume is complete without a classic baseball cap. The Scout is often seen wearing a red cap with a white emblem. Look for a similar cap to match your costume perfectly. The cap should be adjustable to fit comfortably on your head, allowing you to channel the Scout's cocky attitude and confidence.
White Socks: Stay Cool and Comfy
Pair your black cleats with a pair of white socks to add an authentic touch to your Scout costume. These socks will not only keep your feet comfortable throughout the event but also complete the traditional Scout look. Make sure the socks are knee-high and made of breathable materials for maximum comfort.
Dog Tag: Display Your Fearlessness
As a Scout, you're not afraid to take risks and jump into the heat of battle. That's why a dog tag is an essential accessory for your costume. Choose a dog tag necklace that matches the style of the Scout from Team Fortress 2. This small detail will add an extra layer of authenticity to your costume.
Black Belt: Accentuate Your Waist
To cinch in your waist and add a finishing touch to your Scout costume, opt for a black belt. The belt should be simple yet sturdy, complementing the overall look without overpowering it. Ensure that it's adjustable and fits comfortably around your waist to provide both style and functionality.
Red Tee: Flaunt Your Team Spirit
The Scout is recognized for his iconic red T-shirt. Find a red tee that closely matches the one worn by the Scout in Team Fortress 2. It should have a comfortable fit and be made of breathable fabric to keep you cool during your adventures at the party or event.
Crossbody Backpack: Carry Your Essentials
A Scout is always prepared, so don't forget to equip yourself with a crossbody backpack. Look for a small-sized backpack that can hold your essentials while allowing you to move freely. The backpack should be black or neutral in color to complement the rest of your Scout costume.
Gray Chinos: Embody the Scout's Style
The Scout is known for his laid-back style, and a pair of gray chinos is the perfect choice to emulate that look. Find a comfortable pair of chinos that fit well and are made of lightweight fabric. The gray color will add a touch of versatility to your costume while keeping you comfortable all day or night.
Headset: Communicate in Style
The Scout is often seen wearing a headset to stay connected with his team. Include a headset as part of your costume to bring that extra touch of authenticity. Look for a headset that fits comfortably on your head and matches the overall color scheme of your costume.
Sports Tape: Complete the Look
Lastly, don't forget to wrap your fingers with white sports tape. This small but significant detail will add a realistic touch to your Scout costume, showcasing the wear and tear from countless battles. Wrap the tape around your fingers securely but not too tightly to ensure maximum comfort and mobility.
Conclusion
With these essential items, you're well on your way to creating an impressive Scout TF2 outfit. From the black cleats to the white sports tape, each element contributes to the authenticity and overall aesthetic of the Scout from Team Fortress 2. So get ready to dominate the party or event with your impeccable style and channel the mischievous spirit of the Scout. Remember, it's all about speed, agility, and having a whole lot of fun!
If you're looking to expand your Team Fortress 2 costume collection, why not check out our guide on creating an amazing Pyro costume as well?
Missing an Outfit Inspo? Submit your idea and we'll make it happen!
Monthly Newsletter
Subscribe and get your Halloween costume ideas from us each year.