They Cloned Tyrone: Breaking Down Our Heroic Trio's Fashion Choices
With the movie's three main protagonists, dressed by expert costume designer Francine Jamison-Tanchuckbarely, barely having a wardrobe change between them. The few they do have, used up by The Glens most fashionable resident Slick Charles. It was important that the handful of They Cloned Tyrone outfits spoke volumes, and added to the emotions, motivation and personal stories we saw on screen.
After premiering at the American Black Film Festival in June 2023 before hitting streaming service Netflix, Juel Taylor's directorial debut They Cloned Tyrone, earned itself a well deserved 94% rating on popular site Rotten Tomatoes. The sci-fi comedy follows our unlikely trio of would-be heroes as they investigate a series of mysterious events in their hometown, the Glen. Never dreaming that it would lead them to a shady underground government conspiracy.
Fontaine's Signature Drab They Cloned Tyrone Wardrobe
The movie plot might revolve around the three main characters as they come together to solve the mysterious goings on in the Glen. But it all starts with Fontaine and his role in the eerie conspiracy. The local drug dealer in the rundown destitute town full of nobodies who is killed but returns the next day, wears his drab They Cloned Tyrone outfits like a uniform. Symbolizing how hopeless his life really feels.
Fontaines Khaki Green Puffer Jacket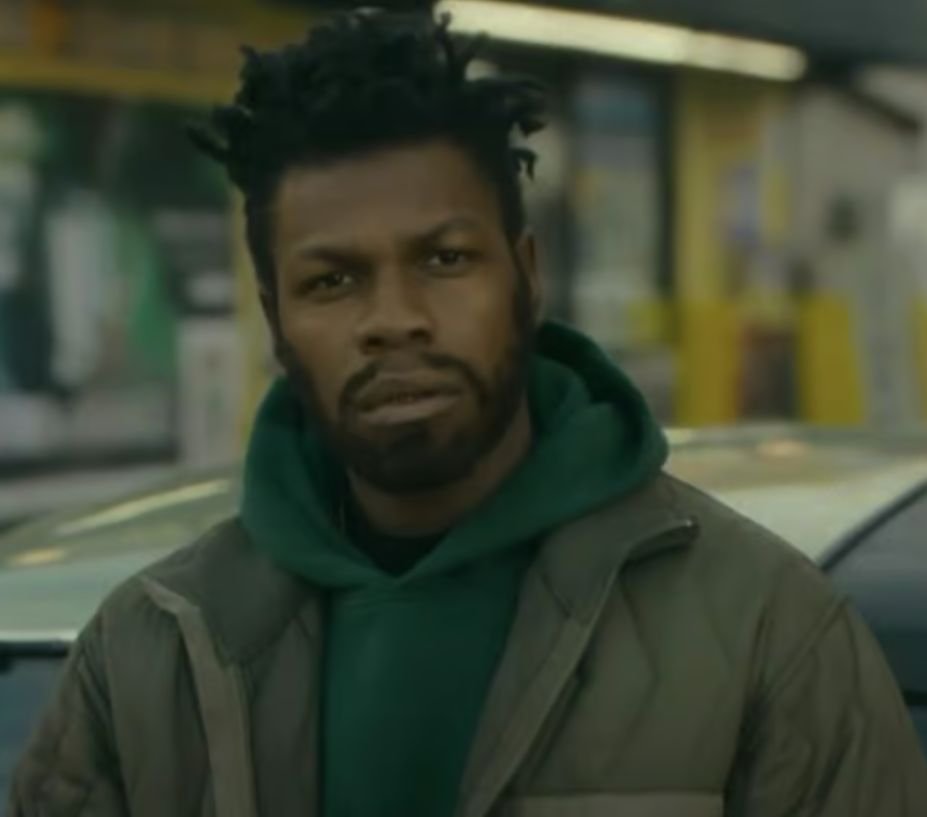 That hopeless, monotonous life that Fontaine lives, from his dead-end hometown to his dealing and unresolved sorrow for the loss of his brother, are perfectly expressed in his khaki green jacket. Utilitarian in style, but with no distinctive features, the puffer is bland and lifeless in color and style. But Fontaine's signature They Cloned Tyrone outfit wouldn't be complete without it.
Hoodies: The One Changing Garment in Fontaine's Wardrobe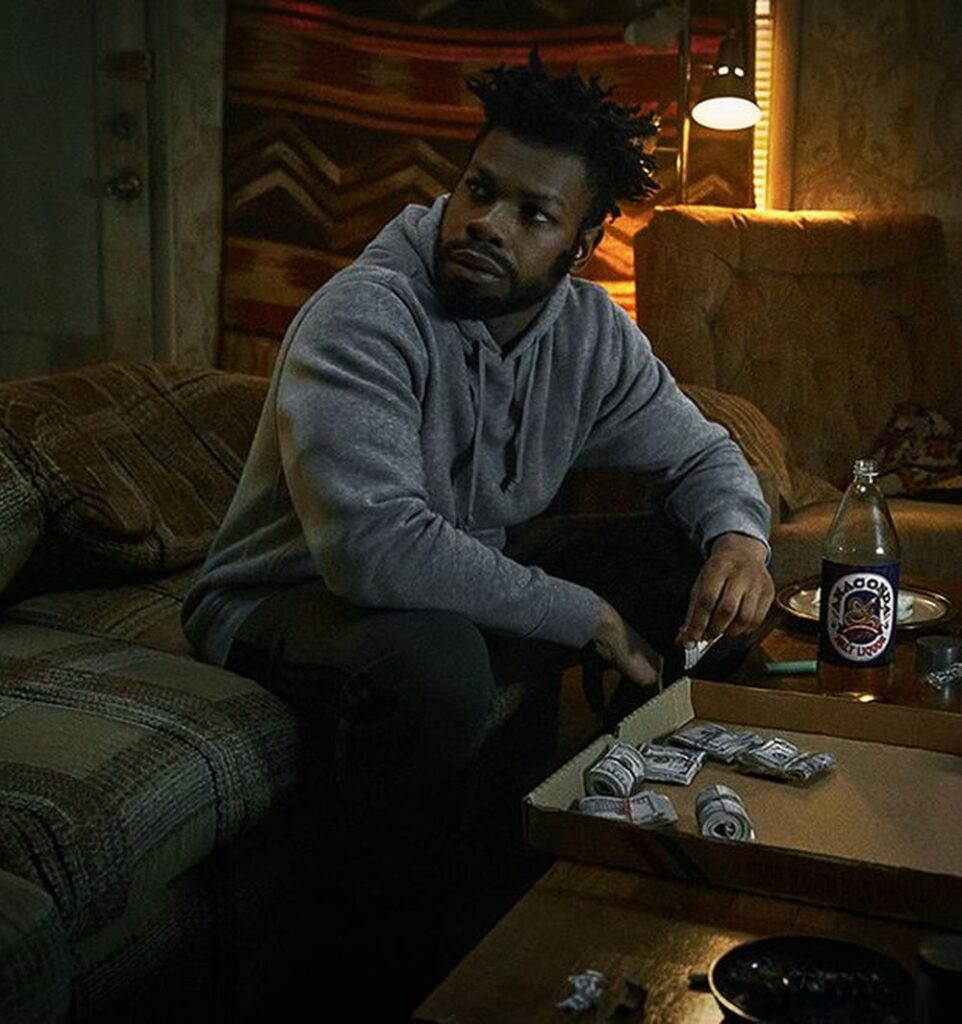 One of the few garment changes that is noticeable in Fontaines wardrobe is his varying hoodies. Sticking with his earthy dark color palette either way, he mixes between the dark green hoodie that we see him wear throughout the movie. Or this simple gray hooded sweatshirt that he had on when he was shot in his car after visiting Slick Charles.   
Tip: Iconic Hoodies: Movie and Television's Most Memorable Hoodie Looks 
Casual Sweatpants Worn by Fontaine in They Cloned Tyrone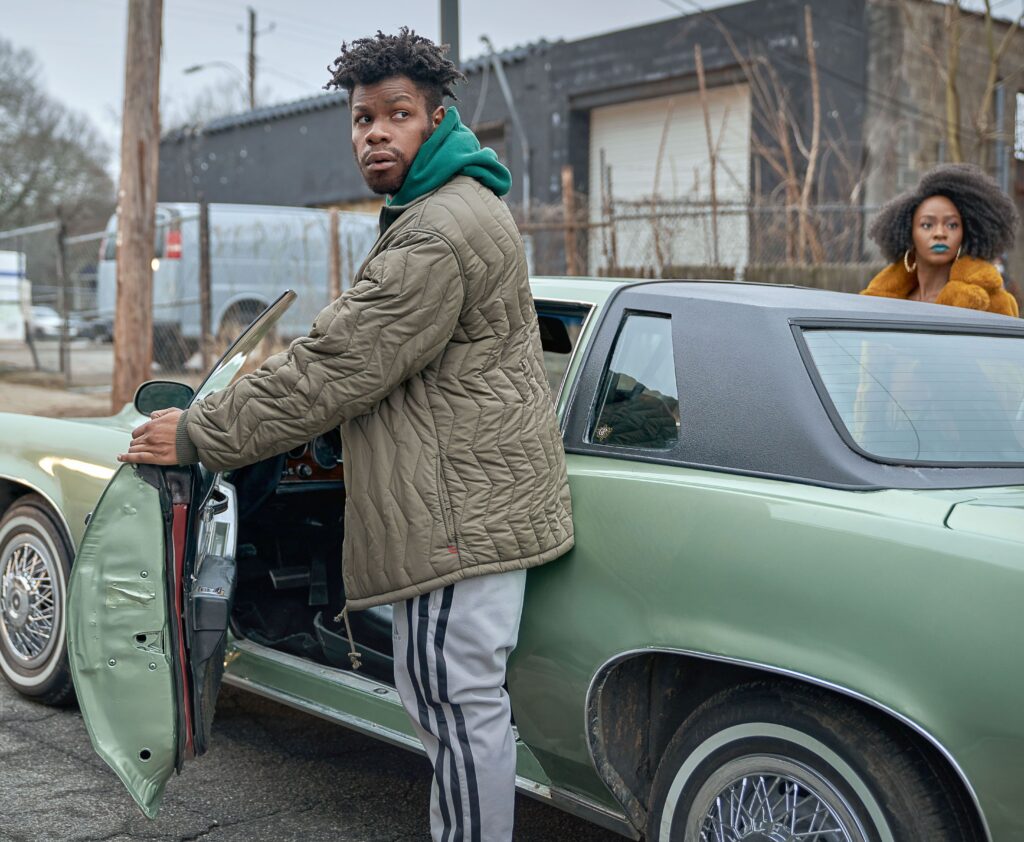 Persisting with his relaxed and casual approach to dressing it is no surprise then that Fontaine favors the look and feel of sweatpants. Making sure not to look too flashy, or draw attention to himself, especially when he's working. But the gray and black striped adidas pants also give him an air of defeat, like maybe he has actually just given up.
Some Added Bling To Fontaine's Outfit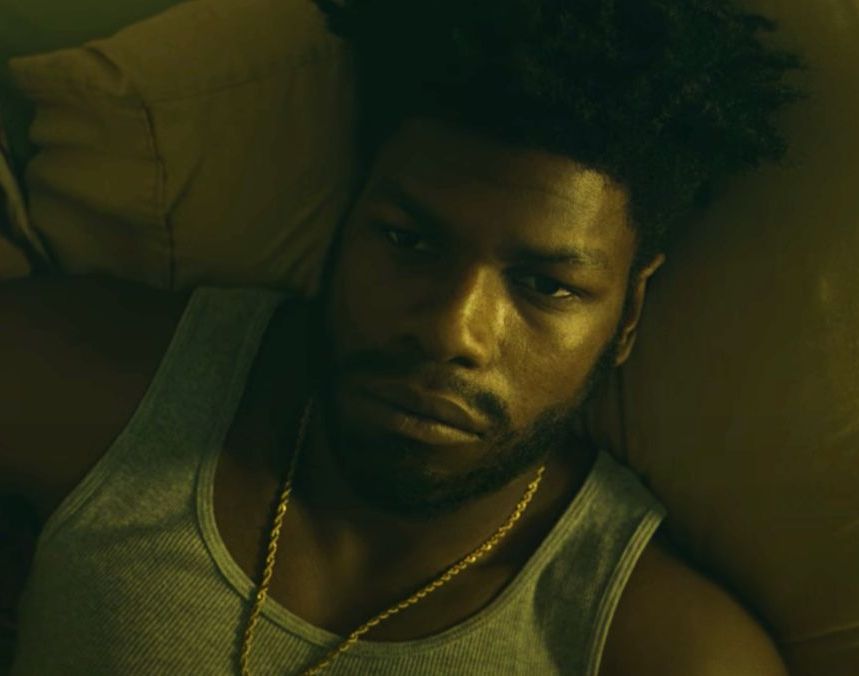 Played perfectly by British actor John Boyega, Fontaine's day-to-day drab uniform of greens and grays needed no accessories or extravagant garments to tell its story. But naturally no small time, local street dealer's look would ever be complete without a bit of solid gold bling, and for Fontaine's They Cloned Tyrone outfit that's a gold rope chain around his neck.
Yo-Yo's Bold and Bright They Cloned Tyrone Outfits
Life in the Glen has been tough for everyone, especially our trio of mystery solving residents. But each of them has found their own way to deal with their pessimistic existence, with Yo-Yo taking the complete opposite approach to Fontaine. Bold, bright and cheerful her They Cloned Tyrone outfits pull attention, making sure all eyes are on her.
Yo-Yo's Working Uniform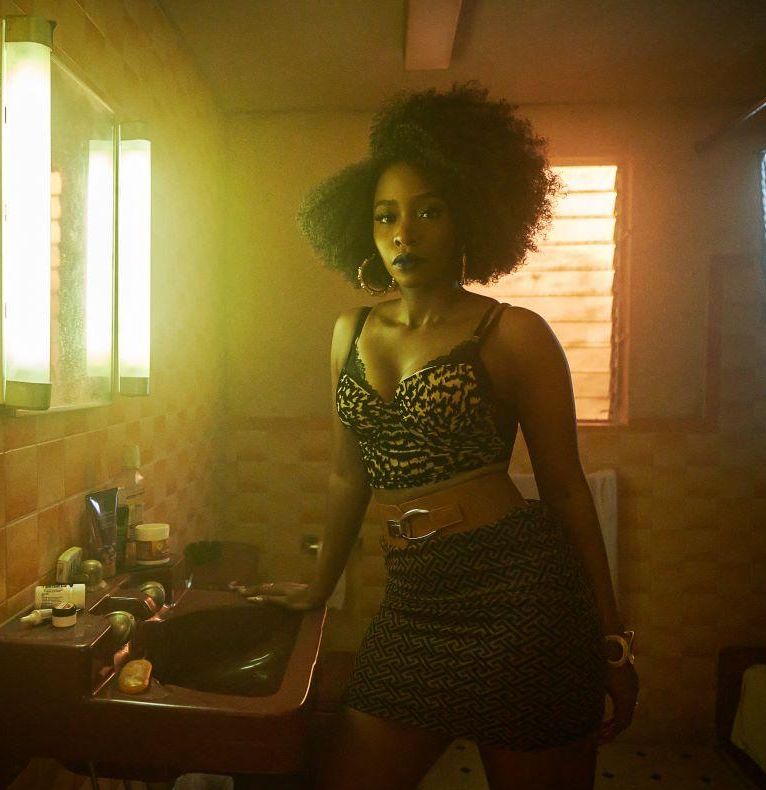 When we first meet Yo-Yo it doesn't take long to work out what she does for a living. Initially played as the typical stereotype of a working girl, she is loud, opinionated and fights with her fashion loving pimp, Slick Charles at every opportunity. So therefore, Yo-Yo's They Cloned Tyrone outfits needed to fit into that notion as well, with bustier tops, peek-a-boo lace bras and figure-hugging micro mini-skirts all finished with long boots with killer heels.
Orange Faux Fur Cropped Jacket Worn by Yo-Yo in They Cloned Tyrone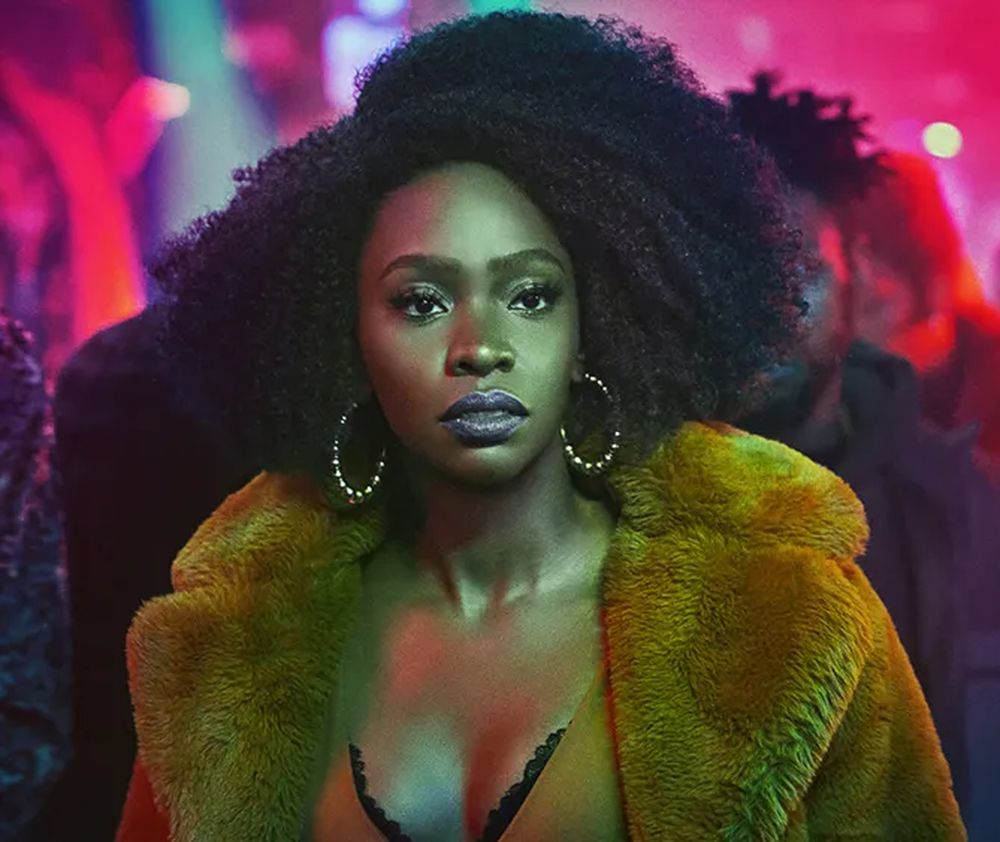 However, Yo-Yo isn't just a stereotype of a working girl, even if that's what her wardrobe throughout the movie is trying to say. The Nancy Drew loving hero jumps into the investigation of the eerie goings on in the Glen with both feet. Using her god given talents to get the answers they need. With her fluffy orange faux fur cropped jacket and matching low-cut v-neck top helping by showing off some of her best assets.
Yo-Yo's Leopard Print Pants and Matching Bag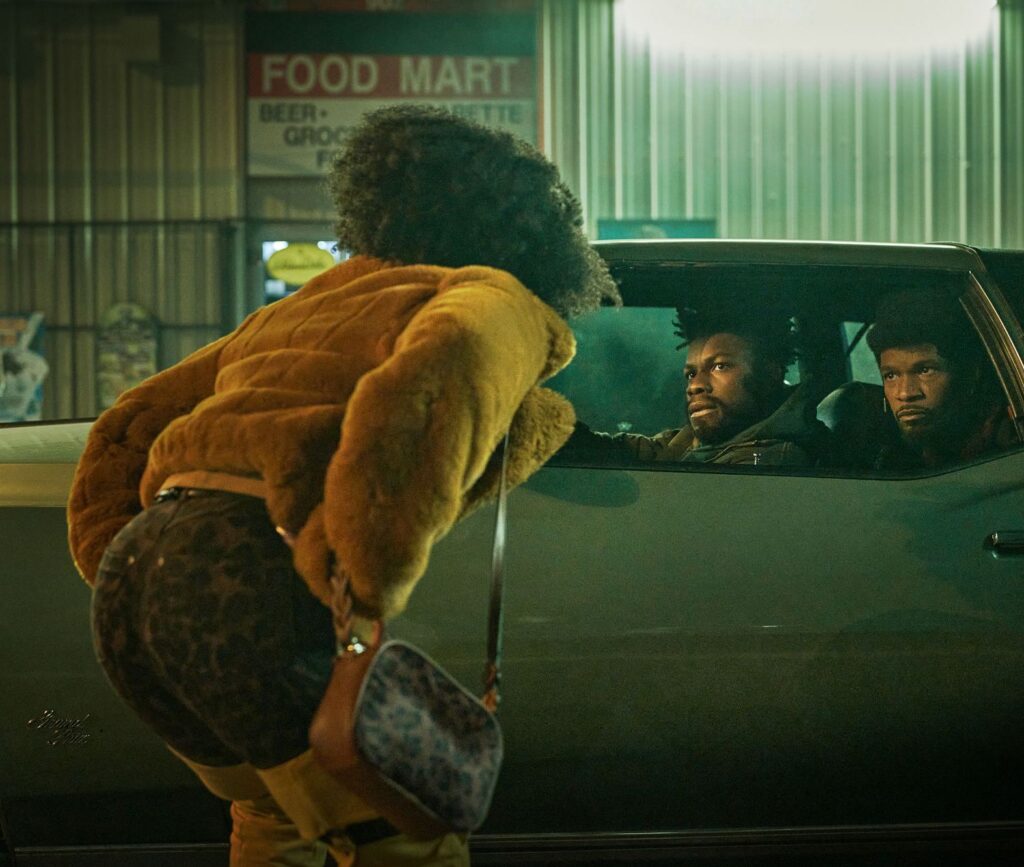 Yo-Yo never backs down from her bold dress sense and over the top looks that make her the center of attention. Even when there is a threat of trouble, or she is risking her life to learn the truth about her forgotten little hometown. This time clashing her orange faux fur cropped jacket with the dark leopard print on her figure-hugging pants. Before throwing on a matching crossbody bag to finish her look.
Yellow Suede Boots for Days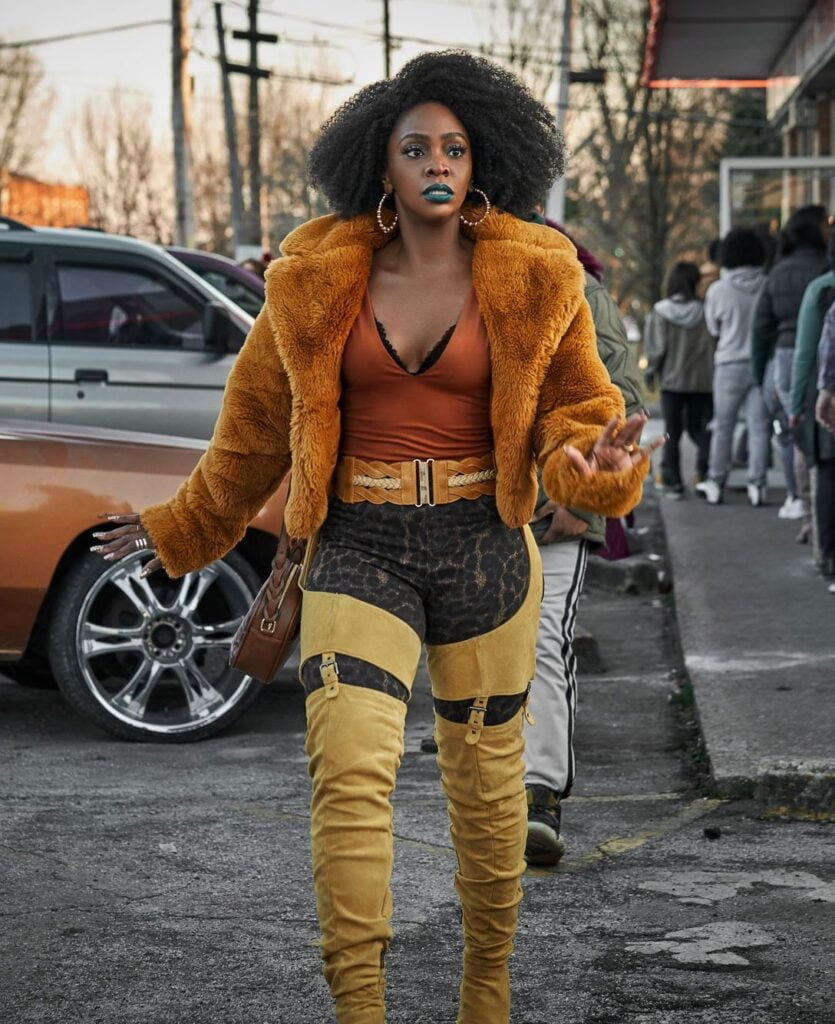 Actress Teyonah Parris said that putting on all the elements of her They Cloned Tyrone outfit, made her feel like Yo-Yo. Which is no surprise, considering these never ending boots, that are part of her signature look throughout the movie. The 'chap boots' in this beautiful mustard yellow suede, with a killer heel definitely aren't for the faint of heart, but Yo-Yo knows how to work them.
Slick Charles' They Cloned Tyrone Pimps Wardrobe
Slick Charles might be the cunning pimp of the Glen and always one step ahead of the cops, but he can't help but draw attention to himself. Always wanting to be on everyone's mind, he won't admit that like Fontaine he is weary and tired of the life he has created for himself. But initially not wanting to get dragged into no mystery or eerie goings on, it doesn't take much to persuade him to be the hero.
Slick Charles Paisley Print Robe in They Cloned Tyrone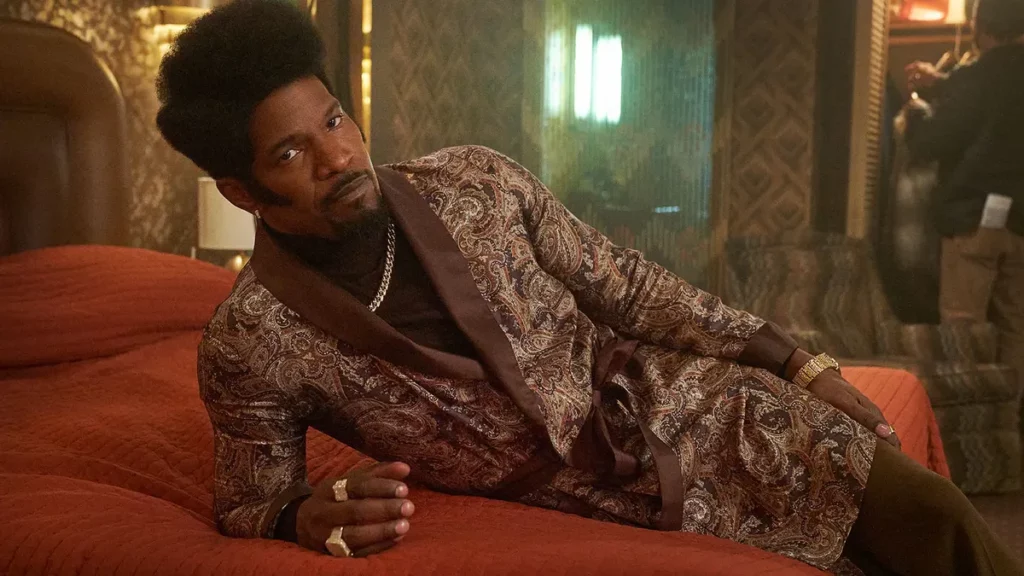 If you looked up the definition of pimp in the dictionary, you might actually see a picture of Slick Charles in his They Cloned Tyrone outfits next to the word. But typical only in as far as how he dresses, like a satin paisley print robe in tones of brown with a contrast silky brown collar. Or the gold bling hanging around his neck and adorning each of his fingers, because this sweetheart treats his ladies with respect.
Slick Charles' Showstopping Purple Leather Coat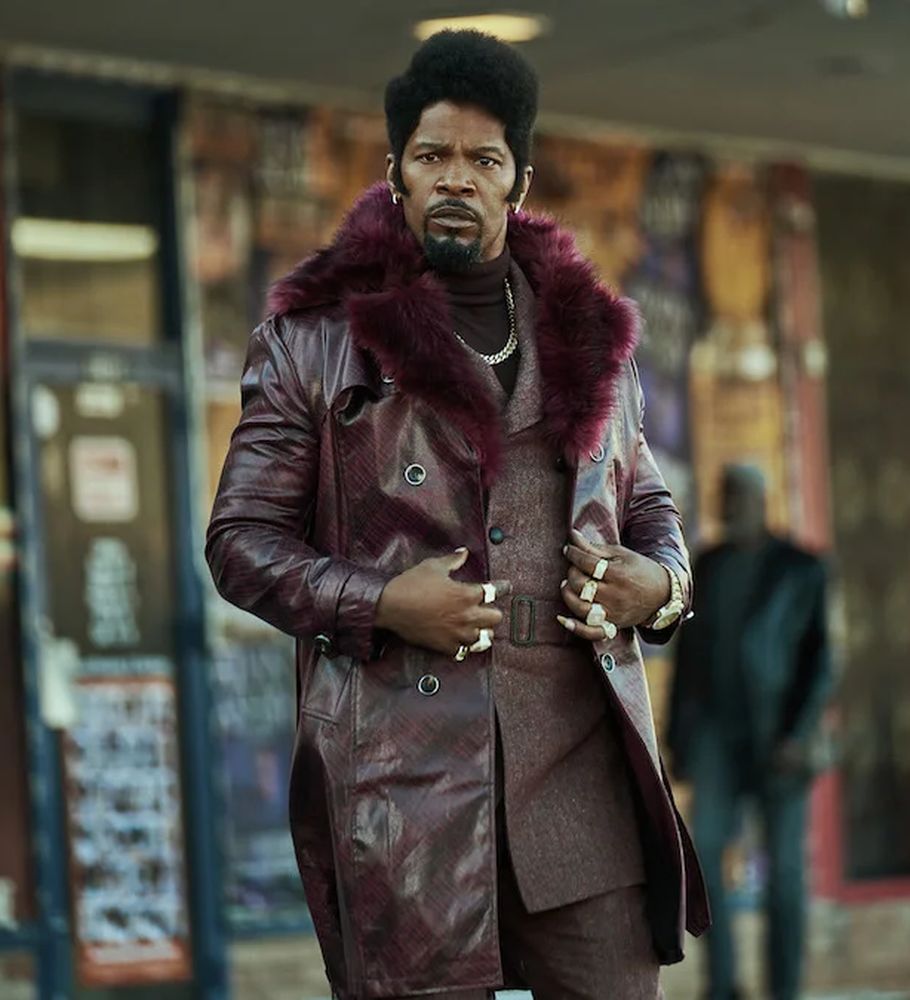 The Glens resident fashionista definitely uses his clothes to tell the story of his life. With a real vintage twist to his outfits, it looks like Slick Charles' fashion is stuck in the past, even though the movie doesn't exclusively tell us when it is set. Bold and slick, when Charles steps out in his purple leather coat, with a matching furry collar to solve the town's mysterious goings on, he is ready for anything, or so he thinks.
That Two-Piece Purple Suit Worn By Slick Charles in They Cloned Tyrone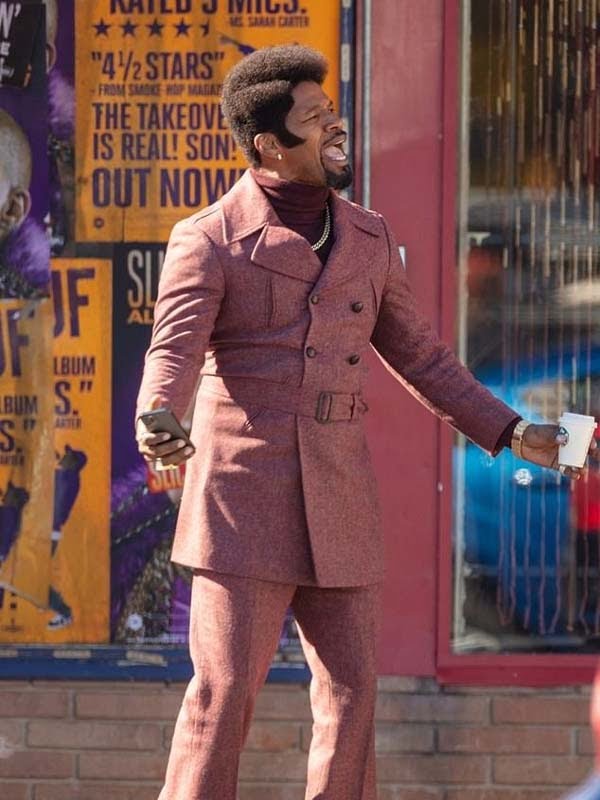 If you are Slick Charles what else could you pair up with your rich purple leather coat, than a matching two-piece suit in the same color. Yet stealing the spotlight in a complimentary suit is one thing but to do it in a double breasted belted jacket and bell bottom trousers, with more than a hint of a 70's vibe, is something else altogether.
A Pimp's Bling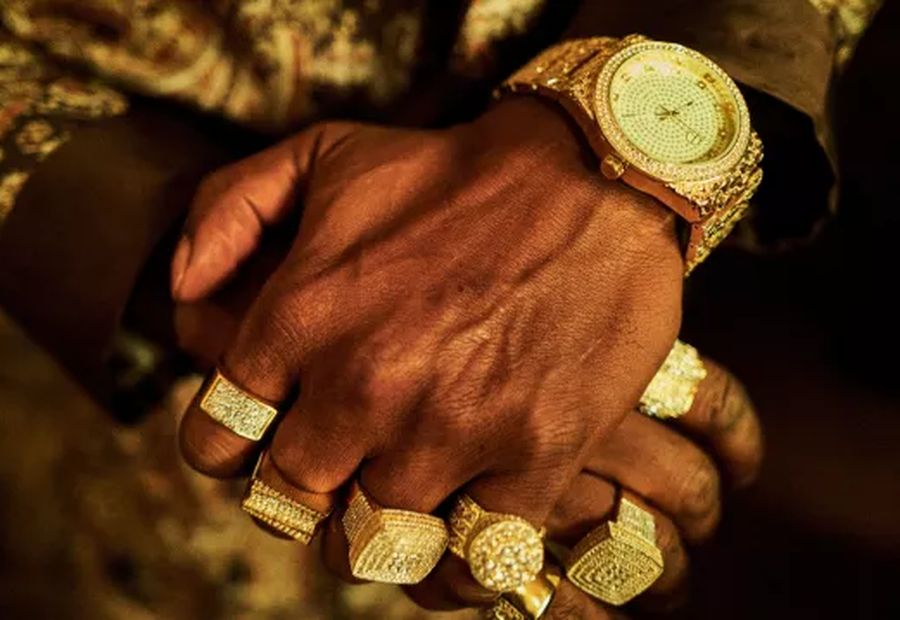 Gold diamond encrusted rings on every finger and a watch that looks like you can barely lift your arm when wearing it, finish off all of Slick Charles' They Cloned Tyrone outfits. While also just making sure that you remember that this player is the boss.
A Quick Change into his Fighting Look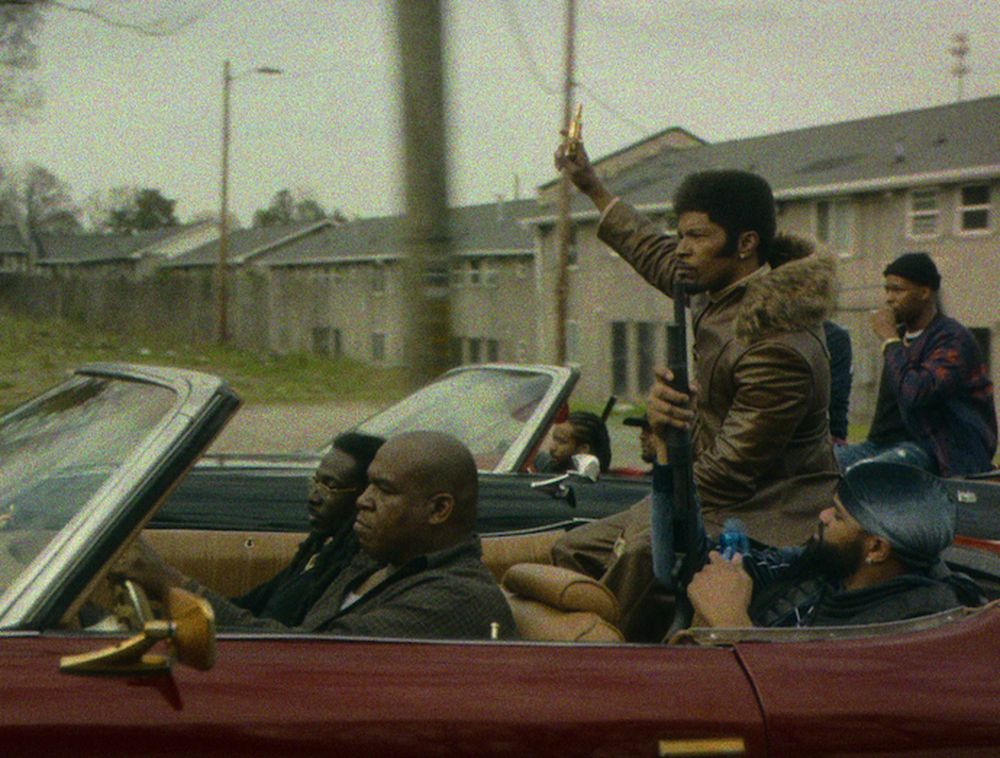 With the take down of the government lab, and the freeing of the Glen from it's terrible fate imminent, Slick Charles dons one more storm the castle They Cloned Tyrone outfit. Not straying from his extravagant, vintage looks or stereotypical pimp attire, with this all brown ensemble. Including his suave mocha brown leather coat with matching fur trimmed collar.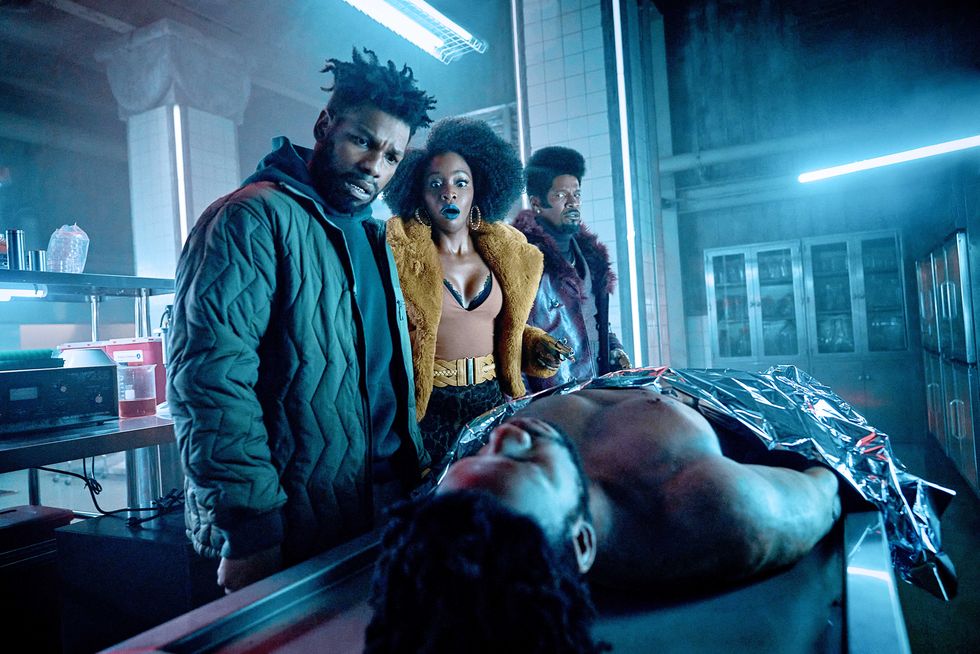 When it comes to love they say opposites attract, and the same can be said for our three movie leads. Described as the pusher, the pimp and the pro the unlikely trio of heroes have three distinctive fashion styles to tell each of their stories. With the limited They Cloned Tyrone outfits, expressing as much as the characters do on screen. But before you steal their looks, remember some of the outfits might be more suited to cos-play than day-to-day dressing, unless you can muster up the confidence of Slick Charles.