The Dark Romanticism of the Usher Women's Wardrobes: Outfits, Style, and Aesthetics
If you haven't heard about Netflix's latest Mike Flanagan miniseries, The Fall of the House of Usher then where have you been? The creator who has already brought us the likes of The Haunting of Hill House and Midnight mass, is back with another show full of gothic horror, murder and flawless outfits.
Loosely based on the works of 19th century writer Edgar Allan Poe, The Fall of the House of Usher tells the eerie story of the Usher family's rise and eventual fall from power. From their corrupt pharmaceutical company, helmed by twins Roderick and Madeline, to the events surrounding the deaths of Rodericks children and heirs to his crooked throne.
But between the gruesome drama and the mysterious women here to usher them to their death, sits the captivating style of The Fall of the House of Usher outfits. With gothic charm and dark romanticism the ladies of the Usher family have really upped the fashion stakes, as you will see below.
~ The Sister ~
Madeline Usher, the ambitious and pushy twin sister of Roderick and COO of Fortunato Pharmaceuticals, might be the genius of the family picking up everyone's slack but you wouldn't want to get on her bad side.
Madeline's Black Wool Wrap Coat in The Fall of the House of Usher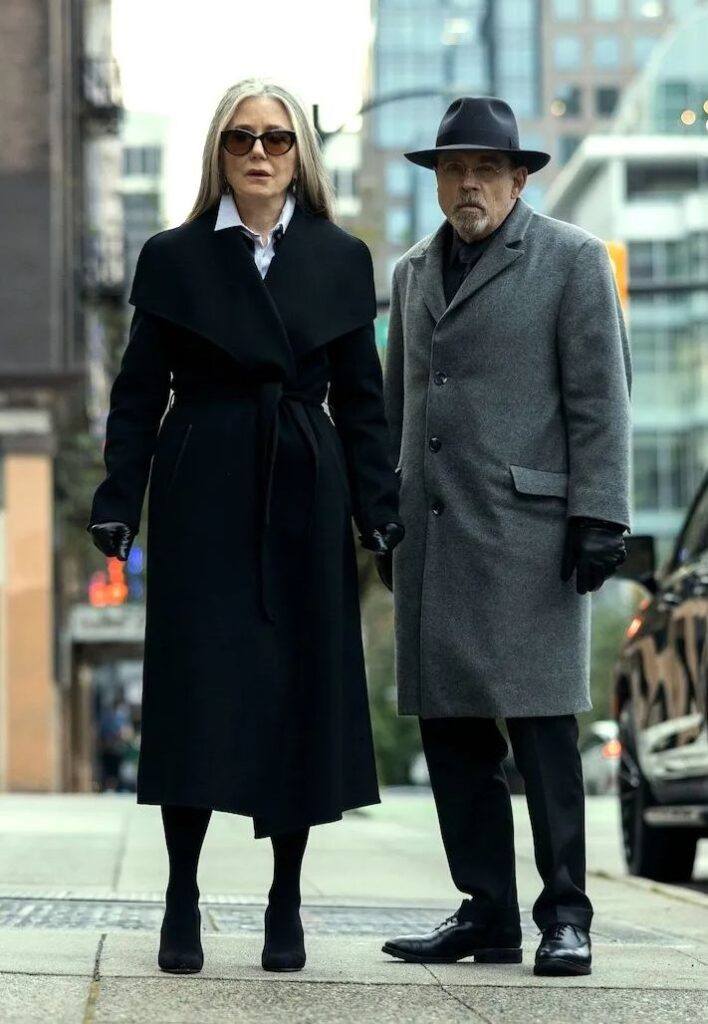 It would seem that after the twins made a deal with the Raven to gain all the power and wealth they could desire, in exchange for their family line ending with them, Madeline's heart is as black as the dark color she favors in her wardrobe. Staying cool and calm as they face the consequences of their actions Madeline is the epitome of sophistication in her black wool wrap coat and Gucci cat eye sunglasses.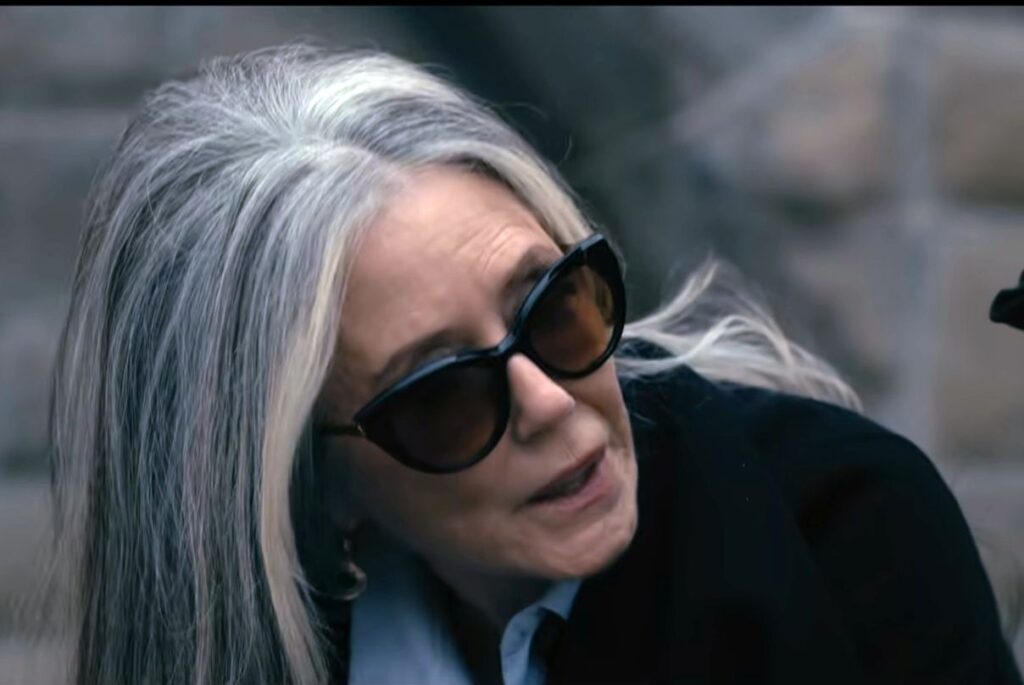 Silk Printed Pussy Bow Blouse Worn by Madeline Usher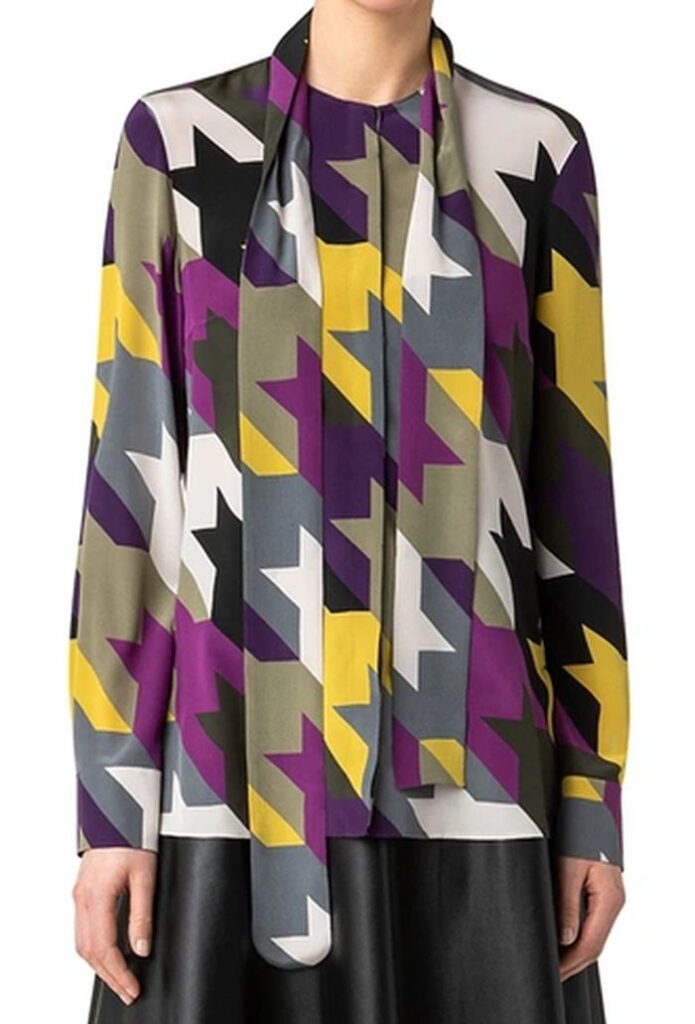 With a The Fall of the House of Usher style that includes dark colors, power dressing and bold prints Madeline looks every inch the genius boss lady she is. Like when she uses a luxurious fabric like silk, to update the vintage, and very feminine, pussy bow blouse style with a large houndstooth pattern courtesy of Akris Punto.
Madeline Usher's Reiss Floral Belted Mini-dress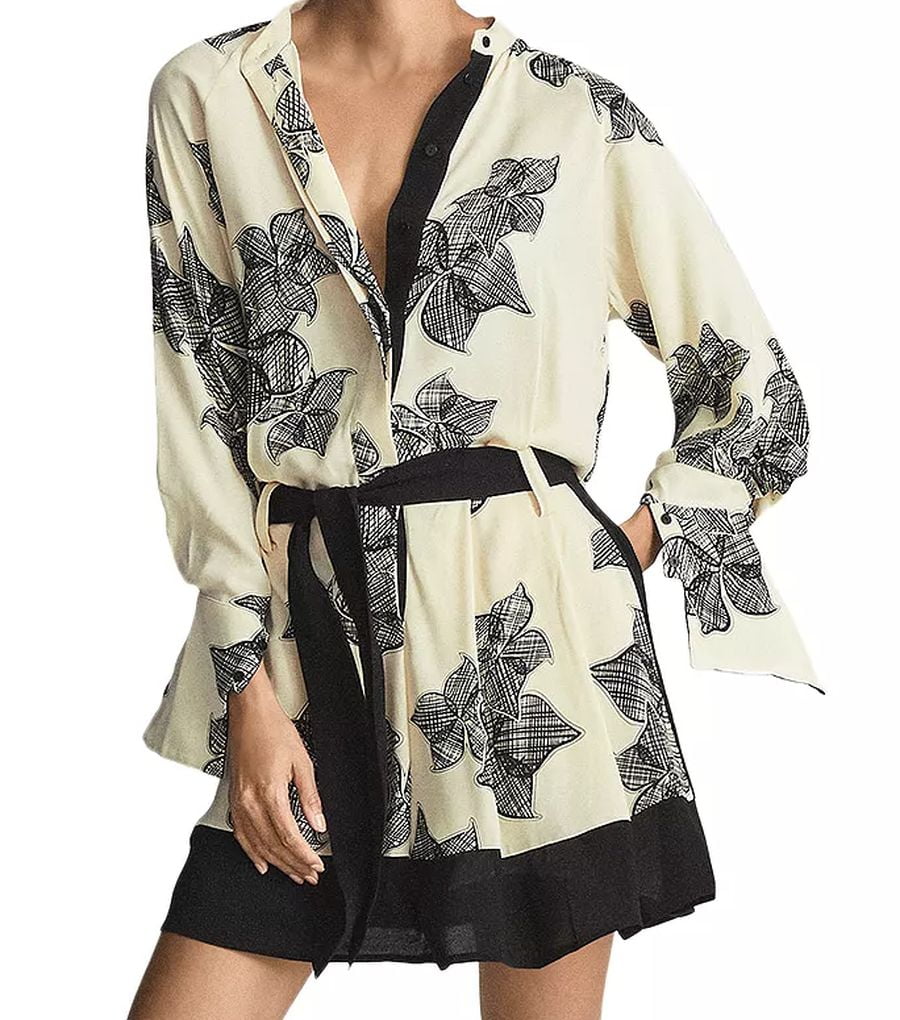 Don't be fooled by the floral print on Madeline Usher's Reiss' belted mini-dress, as the ambitious and power hungry COO doesn't have a softer side. Even if, the ivory and black patterned blouson dress in a floaty viscose might imply a more delicate and subtle edge. It's worth remembering that Madeline would be the first to step over you, rather than help you up.
~ The Daughters ~
It might seem like after making a deal with the devil in Raven form, that essentially ends your bloodline after you, that you would abstain from having children. But not Roderick who went on to father six, four of whom were illegitimate, guaranteeing them the fate of a gruesome death. Yet luckily for us his three daughters, all so different in their The Fall of the House of Usher styles, are a fashionista's dream.
Tamerlane Usher's Green Pussy Bow Midi-Dress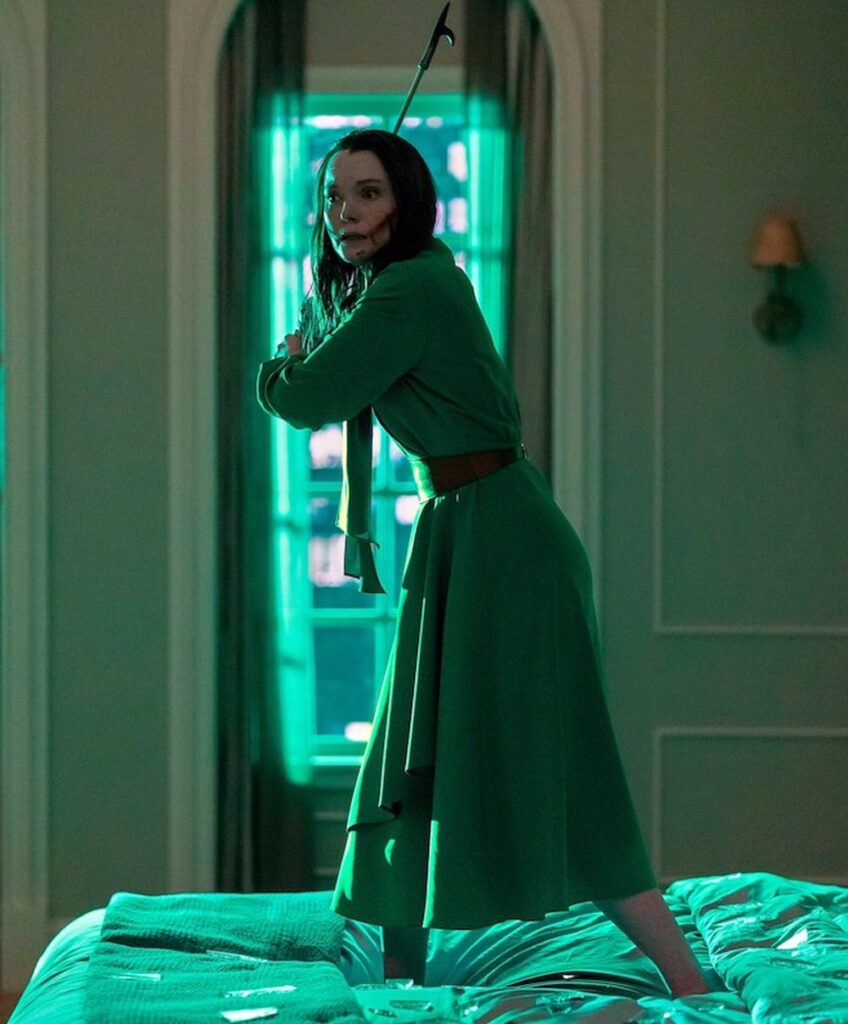 The first daughter, but only second eldest of Rodericks children, Tamerlane knows she will never sit on her fathers gilded throne, even if it is for reasons she could never fathom. But like her aunt Madeline in many ways, including possessing the necessary skills to run Fortunato Pharmaceuticals, Tamerlane favors soft tailoring and delicate features like the pussy bow to convey power.
Simple and Beige: Tamerlane's Cashmere V-Neck Sweater in The Fall of the House of Usher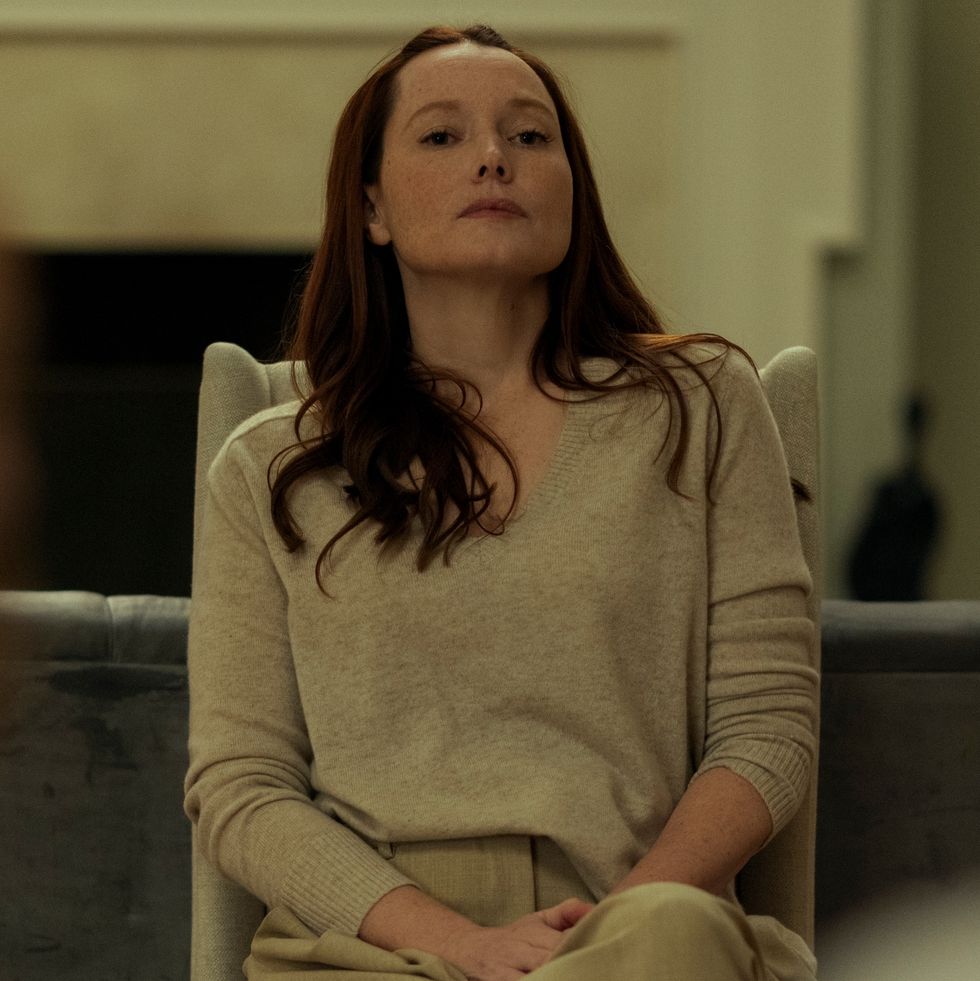 With her own path carved in the health and wellbeing industry Tamerlane's The Fall of the House of Usher outfits reflect the façade of her simple and calm life. A color palette of creams, beiges and greens, specifically chosen to signify purity and wholesomeness, add to her delicate look. Like her cashmere beige v-neck sweater, which she paired with matching linen pants.
Victorine LaFourcade's Masculine Suits and Shirts in The Fall of the House of Usher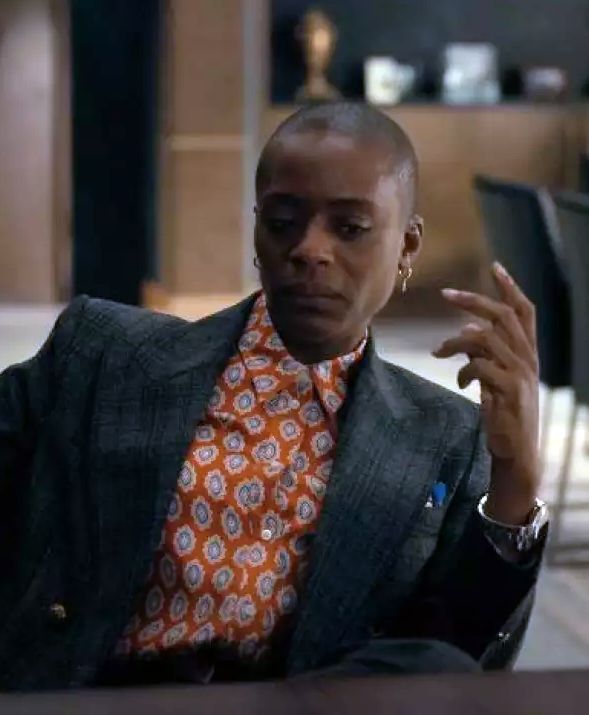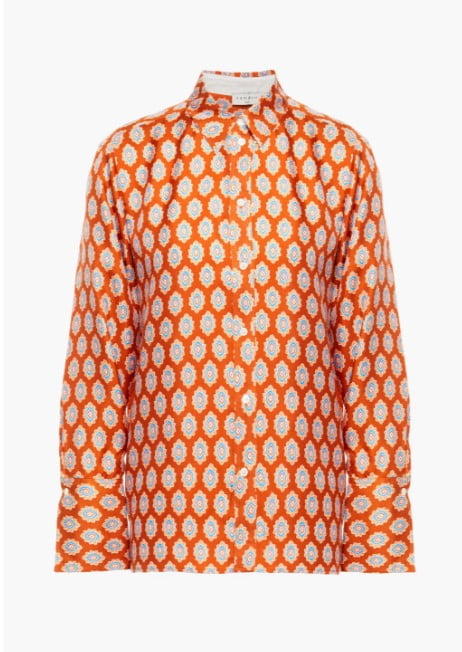 Vic, the eldest of Roderick's illegitimate children, could have been the truly successful Usher. A gifted and talented surgeon experimenting with a new revolutionary heart mesh, her desire for her fathers approval causes her to lose her way.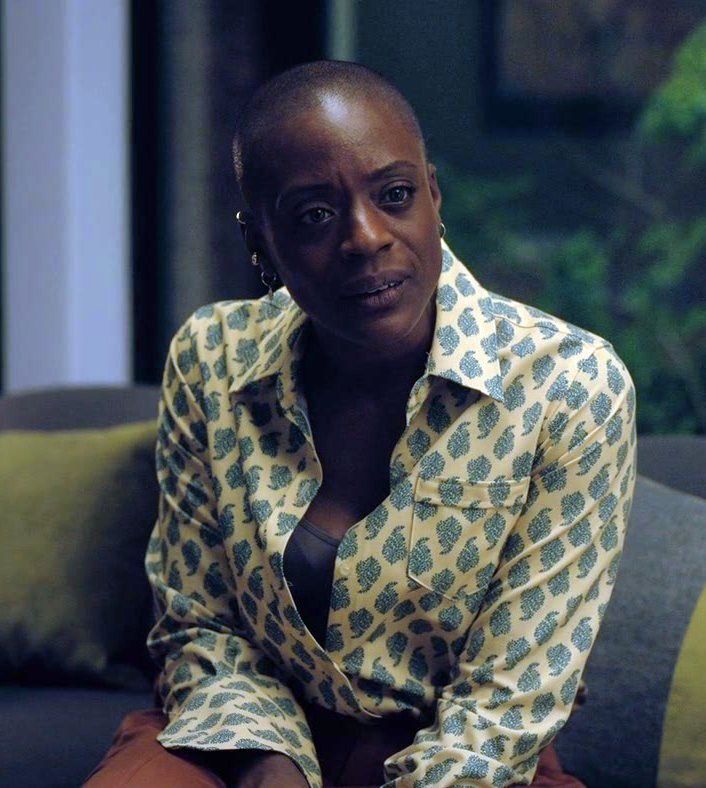 While just like the rest of the Usher family female bloodline, Victorine dresses to show off her power and wealthy status. However unlike her sisters and aunt, she has gone for a more masculine edge to her looks, sticking with button-up shirts and two piece suits.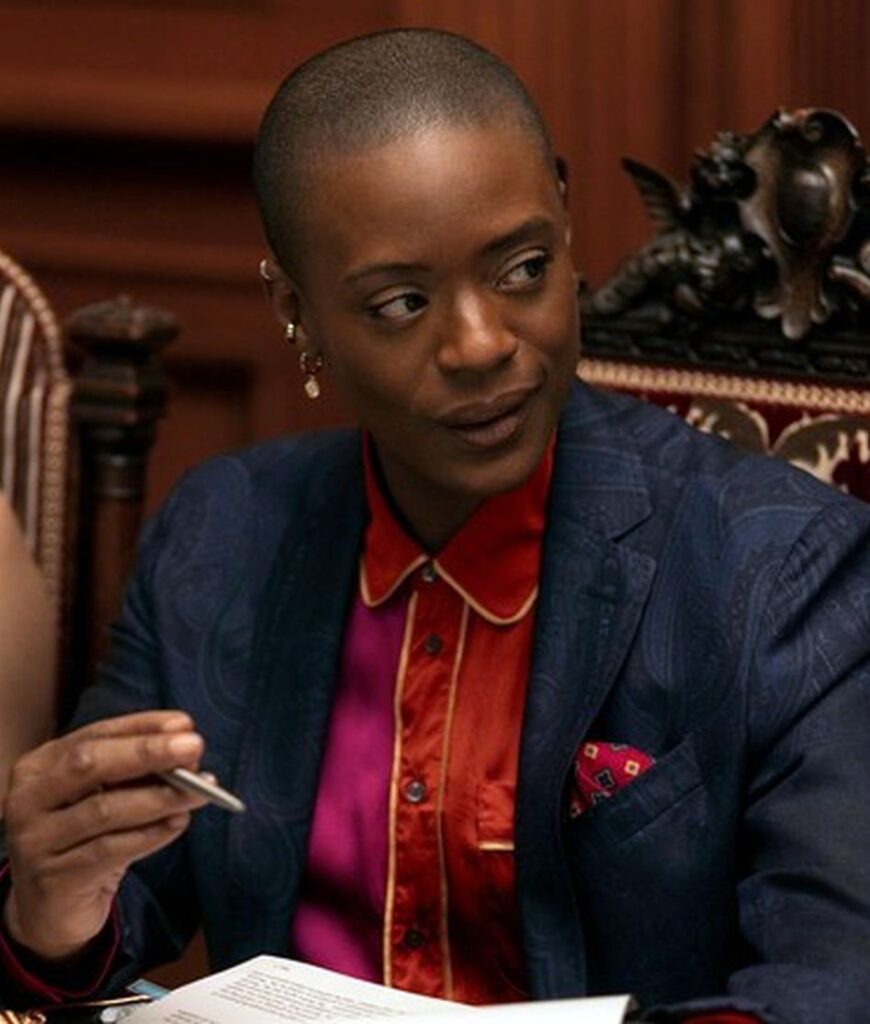 Not afraid of color or even bold patterns, her silk button-up shirts add a pop of brightness to her dark and moody suits. Accessorized to keep within her strong masculine aesthetic, Vic often adds a tie, pens in the breast pocket, and is almost never seen without her expensive and chunky metal watch around her wrist.
Camille L'Espanaye's Blue Corset Dress in The Fall of the House of Usher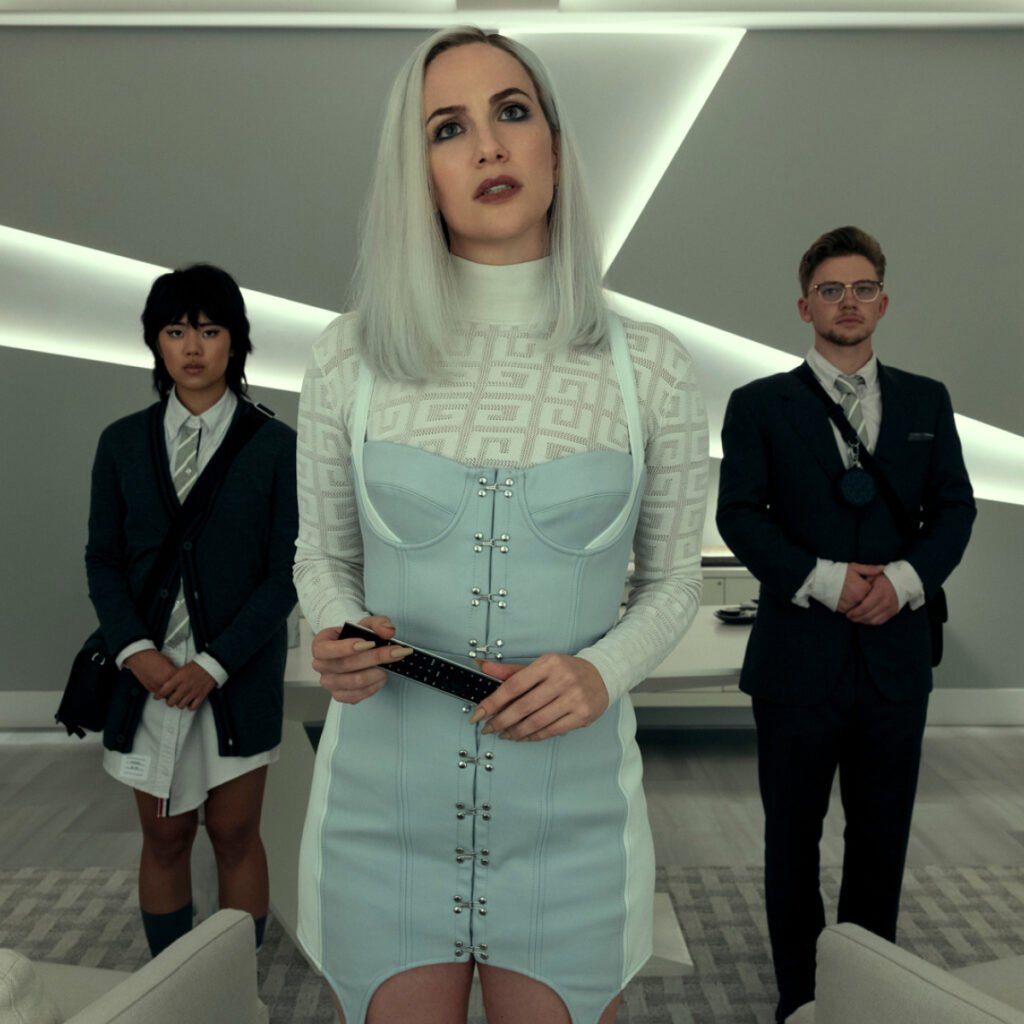 Described as "the Spin Doctor," a title she worked hard to get, Camille is Fortunato Pharmaceuticals cunning and icy PR associate, who doesn't have a good side for you to stay on. Obsessed with her wealth and showing it off, most of Camille's designer wardrobe is loud, with more than a few NSFW looks. Like her Dion Lee light blue corset mini-dress, that she thankfully paired with a Givenchy turtleneck.
The Alexander McQueen Body-Con Dress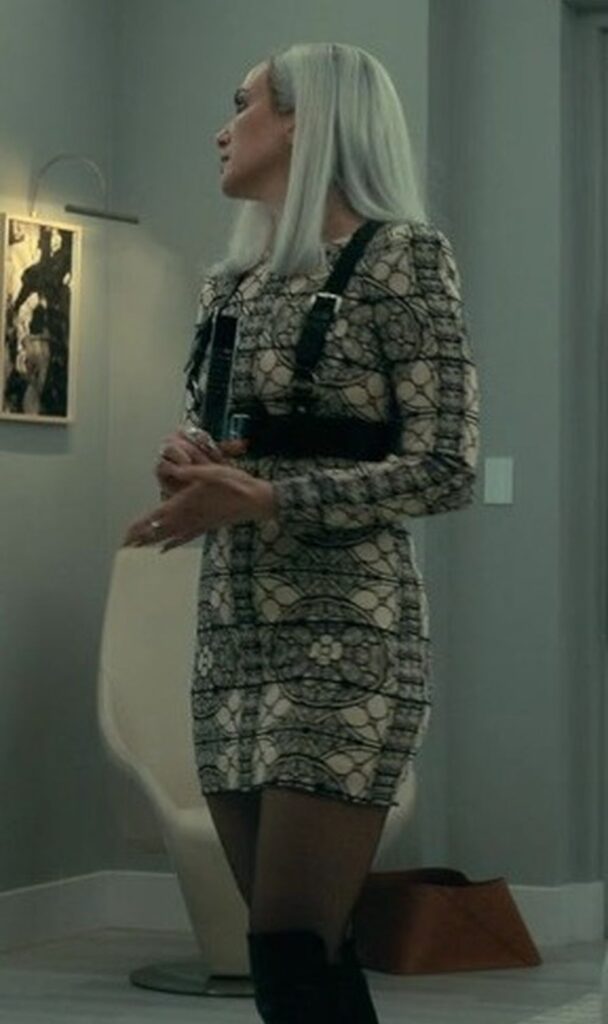 An avid collector of secrets, Camille's The Fall of the House of Usher style as well as her life's work is about control. With files of everyone's dirty little secrets, she lives her best life unafraid of consequences, and picks her clothes in the same way. Bold, figure hugging and having all eyes on her this black and white Alexander McQueen body-con dress and matching harness aren't for the faint of heart.   
Camille's Power Suit and Lace Snake Mesh Bodysuit in The Fall of the House of Usher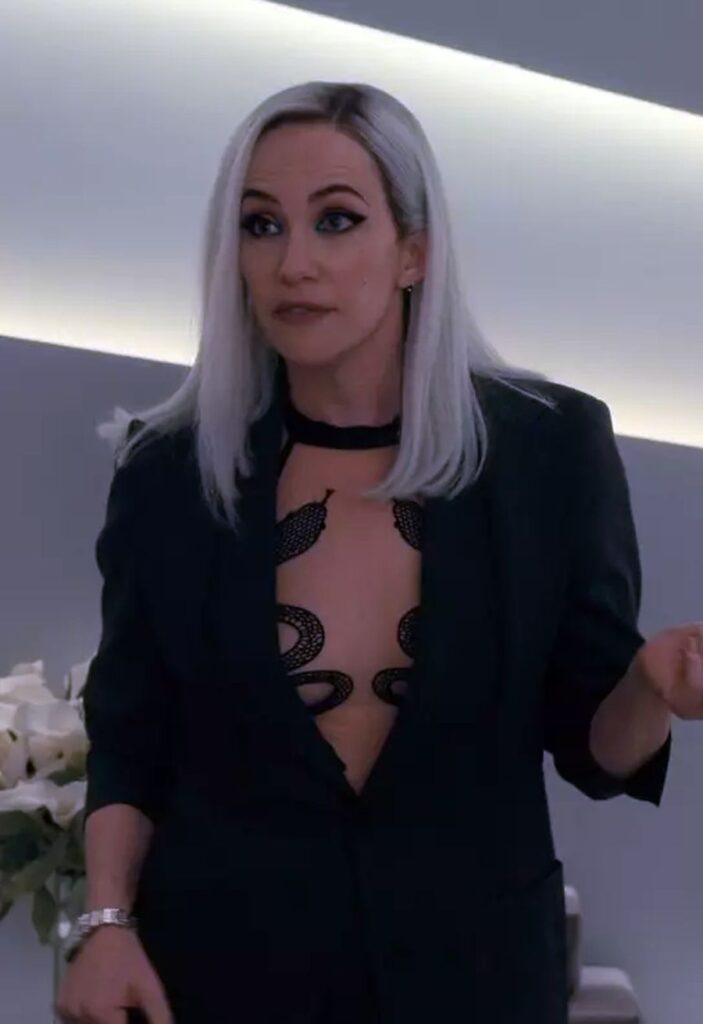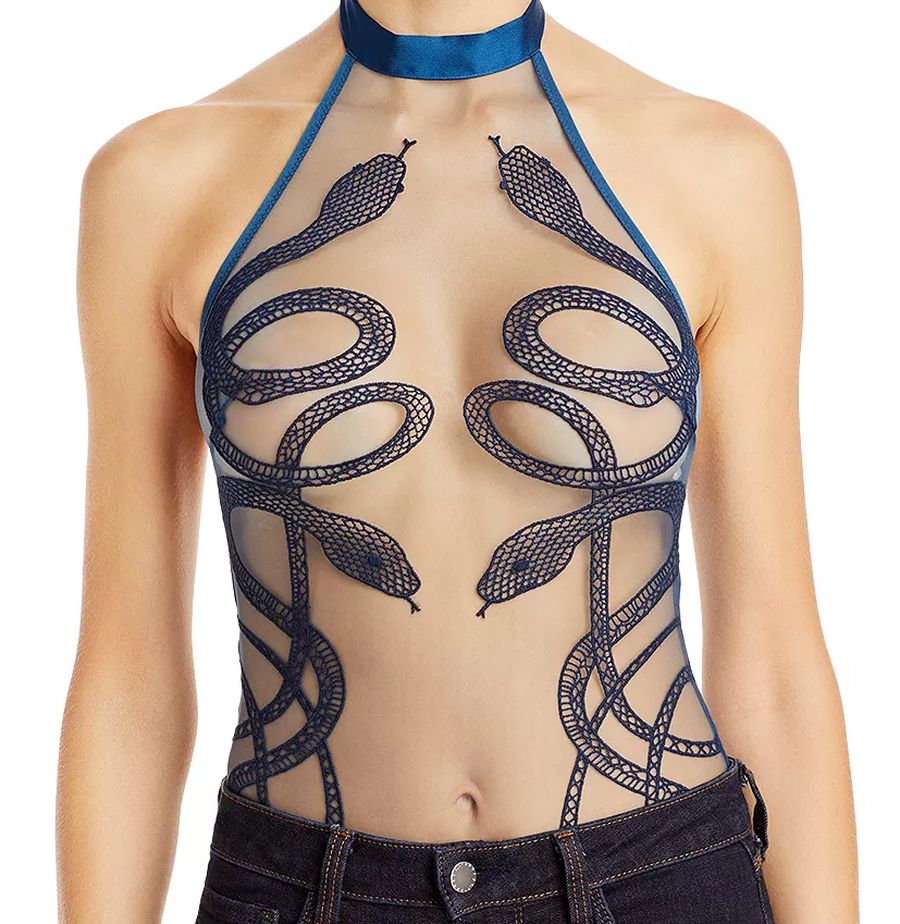 Camille might walk the line of what is appropriate for work, like this mesh bodysuit with only two lace snakes covering her modesty, but she always knows how to keep her looks sexy rather than sleazy. So by adding a form fitting power suit, she reminds us who is in charge. With the dark, and in this case equally sexy black color helping to portray Camille as the dangerous woman she is. 
~ The Wife ~
Juno Usher, is a former drug addict and much younger second wife of Roderick, to the bewilderment of his family. Ignored and dismissed by her new step-children, this quirky dresser might just be doing them a favor, addicted to their pharmaceutical company's biggest drug yet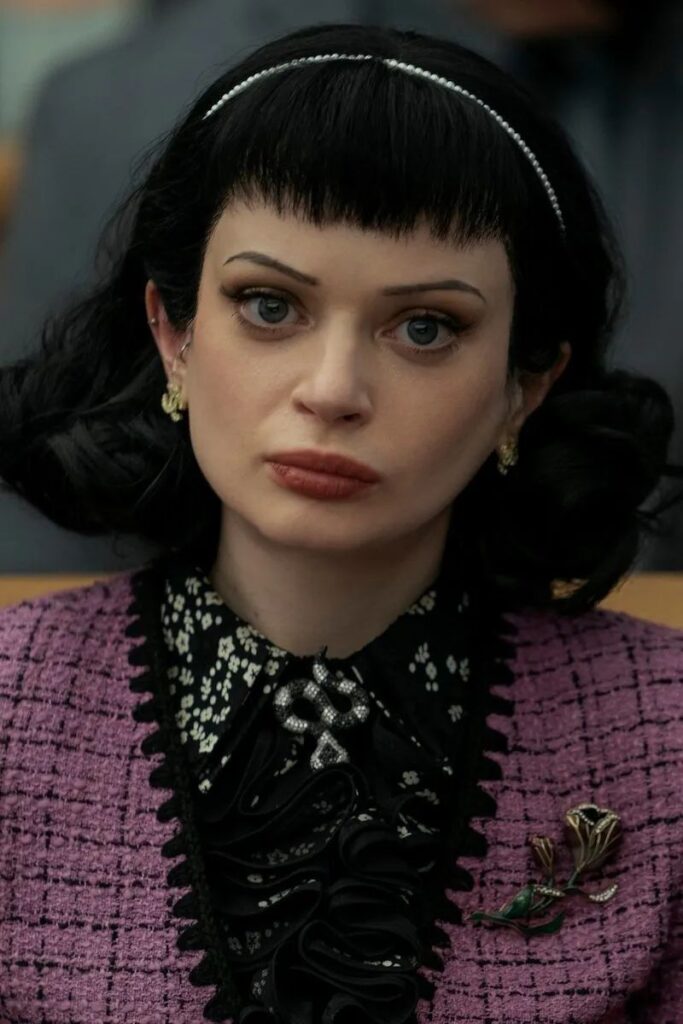 Juno's The Fall of the House of Usher outfits perfectly epitomize her life's journey and how she thinks that the wife of a powerful and wealthy CEO should dress. Although still infused with her quirky fashion style, she uses formal blazers in bold colors and fabrics to give her look a high-class edge. While accessorizing with designer jewels like her Chanel earrings, that made it on to our list of gift ideas for the show's biggest fans (find it here).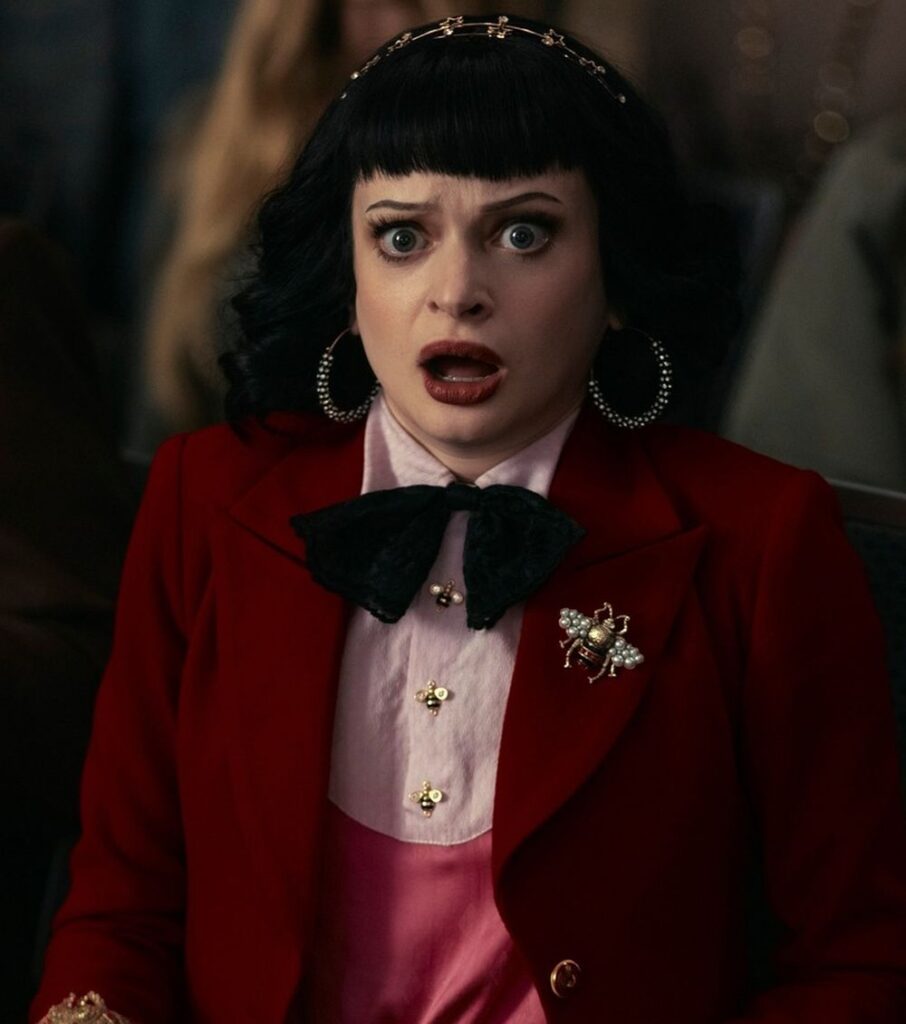 The Quirky Coordinating Sets of Juno in The Fall of the House of Usher
After a hard upbringing and start to life all Juno wanted was to be part of a family, and the Ushers were that chance. Desperate to seamlessly fit into their wealthy world, Juno dresses classic and elegant, but with fun bright color palettes. While still managing to not lose her youthful edge by choosing coordinating sets, like her quilted jacket and skirt or squiggle patterned dress and cardigan.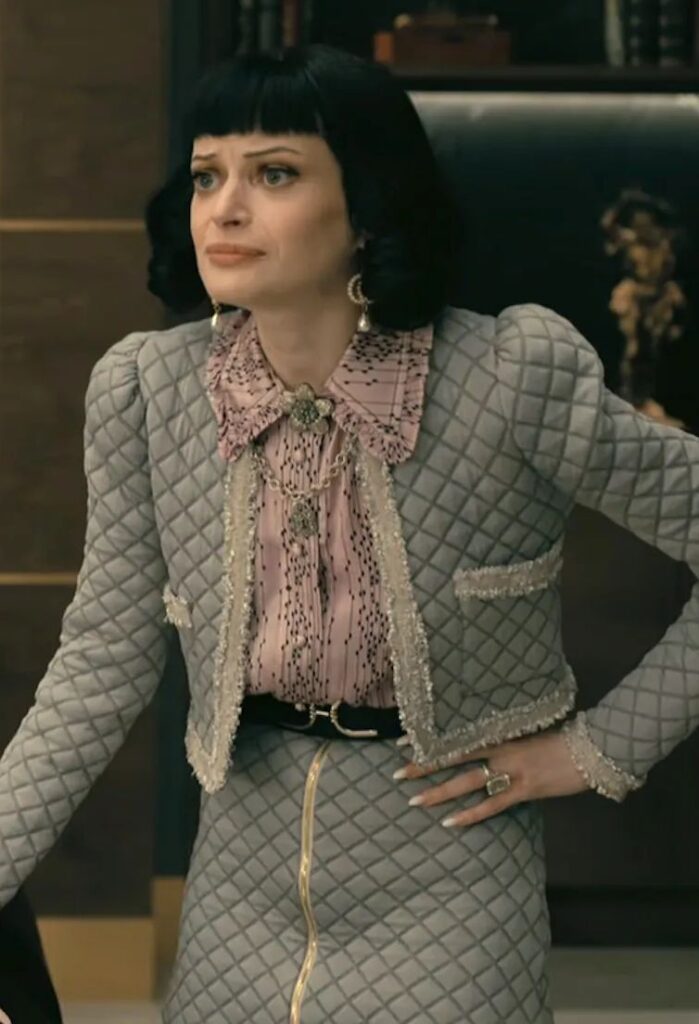 Versace Leopard Print Crew Neck Sweater
Always draped in designer labels and accessorized by the finest jewels, it isn't hard to see why Roderick's six children believed Juno a gold digger. Even if they were actually only worried about their own inheritance for after their father's death. Yet Juno can't even wear a simple crew neck sweater, in a bold leopard print, without it being an expensive designer Givenchy one. 
The Usher family tree might be full of corrupt and interesting characters, but when it comes to The Fall of the House of Usher style it is the ladies of the family who shine the brightest, in their enviable outfits. Yet maybe there is one character whose wardrobe of diverse looks might just take the title of best dressed, but that's up to you to judge below. Just be aware of the consequences of your decision… 
You might also be interested in…