Steal the Look: Jennifer Lawrence's Style in No Hard Feelings
With a back catalog of movies that has seen her become one of cinema's biggest action heroines, to conquering the sci-fi genre with the endlessly stylish Passengers, Jennifer Lawrence has always opted to play the serious characters. But when her new comedy movie No Hard Feelings hit the cinemas in 2023, it had just as many people crying with laughter as it did wishing they could steal Jennifer's No Hard Feelings outfits.
A sex comedy telling the story of Jennifer Lawrence's Maddie Barker, an Uber driver who has her car repossessed and is facing losing her late mothers house over taxes. The movie centers on her attempts to 'date' 19 year old Percy after answering a Craigslist advert posted by his helicopter parents. Plenty of giggles, awkwardness and stylish Jennifer Lawrence moments followed, including these outfits we think stood out the most.
Maddie's Pink Mini-dress from No Hard Feelings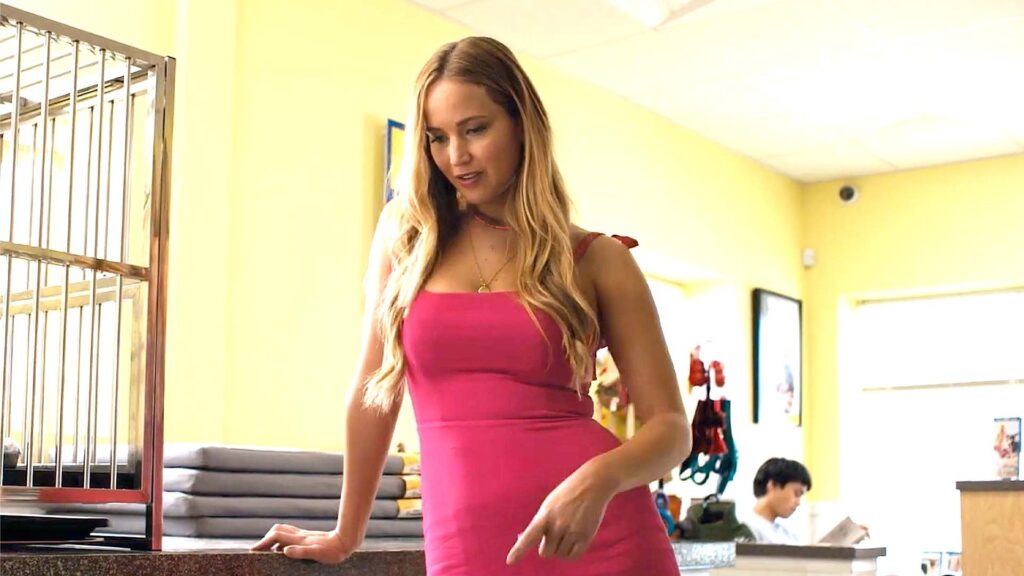 It might have been the expertly timed one-liner that accompanied the first sight of Jennifer's No Hard Feelings pink mini-dress that got the laugh, but the outfit certainly made a statement. The figure-hugging dress might not have had the desired outcome on Percy, but every woman watching was desperate to get their hands on it.
Jennifer Lawrence's Blue Floral Dress in No Hard Feelings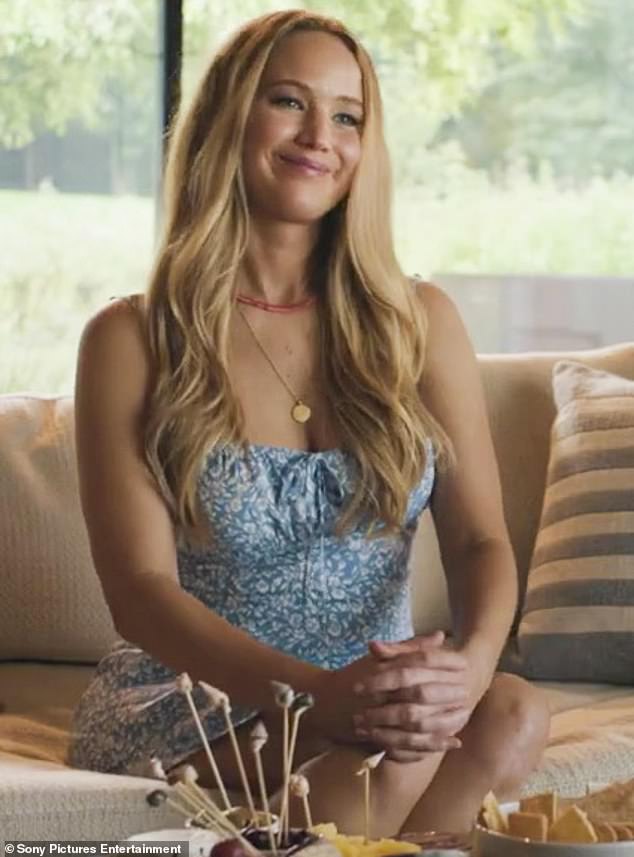 With the movie set in Montauk, New York, Jennifer's outfits in No Hard Feelings ooze relaxed hot and humid summer vibes with easy vest tops, denim skirts and this perfect blue floral number. Some simple jewelry and barely there make-up give this short flared dress, with a subtle all over tiny white floral print, the perfect feel for sunny beach walks or that first 'meet the parents' moment.
The Floral Backpack Jennifer Lawrence's Maddie Barker Wore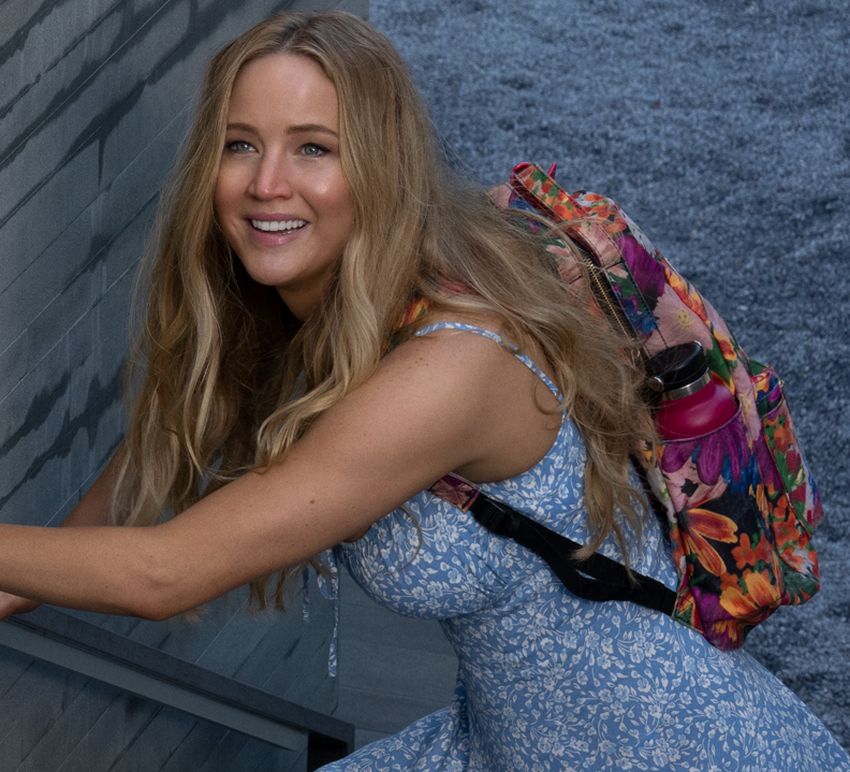 If you thought that Maddie's blue ditsy print summer dress on its own was charming, then wait until you see it paired with the perfect backpack and rollerblades. Upping the style stakes, Jennifer's No Hard Feelings outfit including the bold floral backpack, in a bright clashing flower print, and the delicate sky blue dress make for the perfect summertime look. Especially if you add the rollerblades she uses to get about, and turn this into a very appealing girly roller-skating outfit.
Maddie Barker's Date Night Rose Gold Dress in No Hard Feelings
One of the highlights of the Jennifer Lawrence No Hard Feelings wardrobe is the endless number of flawless dresses that Maddie Barker wears, including her date night gold figure-hugging pencil dress. With a hint of rose gold to those all over sparkles, the show stopping fitted number will always be a firm favorite of the female moviegoers. Symbolizing Maddie's feminine body and attitude, as well as her supposed maturity in comparison to Percy.
Jennifer Lawrence's No Hard Feelings Simple Army Green Tank Top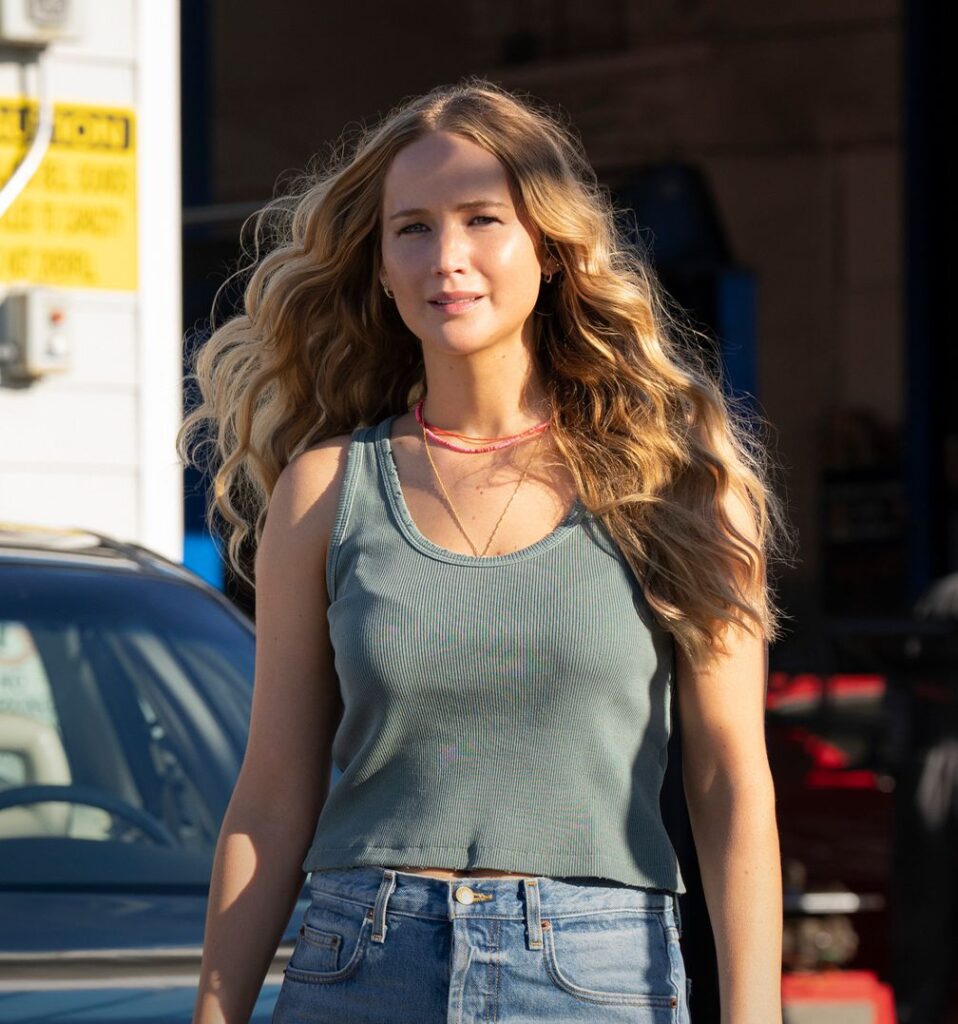 Every one of Maddie's No Hard Feelings outfits could be described as a summer staple and will already be the basis of many women's closets. Yet, although she can turn on the glamor, the blond beauty likes playing into her beachy vibes, with loose curls, barely there make-up and effortless tank tops. Using natural earthy tones of green to give the simple crop knit top a modern look and feel.
Maddie's Floral Blouse and Denim Skirt that Jennnifer Lawrence wore in No Hard Feelings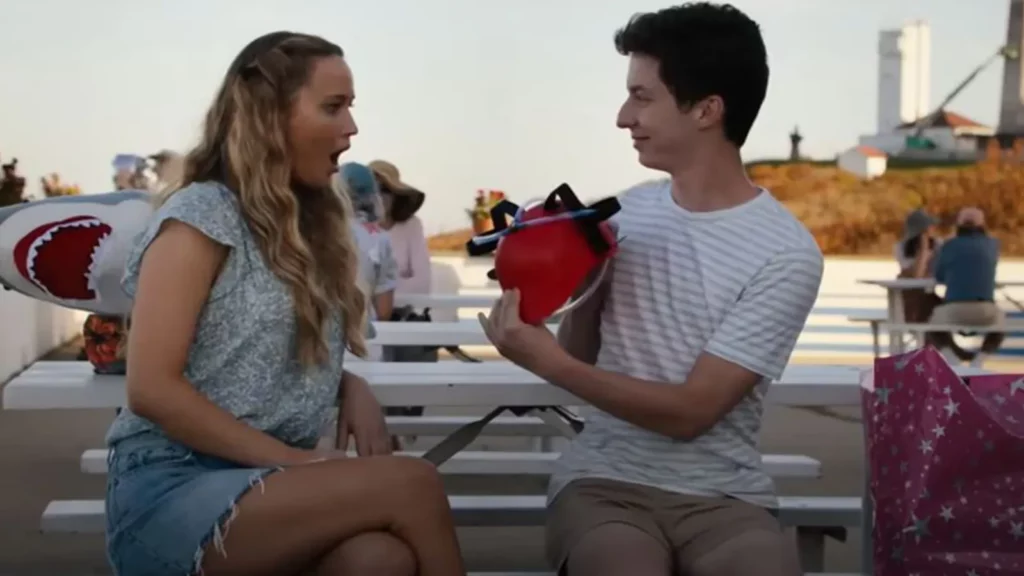 If you found yourself drawn to Maddie's use of floral prints in her No Hard Feelings wardrobe, then you weren't the only one. However this time she has used the delicate floral pattern for a soft and floaty blouse. While sticking to light blues and pale whites, and pairing it with the summer wardrobe staple, a denim mini-skirt. Utilizing the ditsy prints in Jennifer's No Hard Feelings outfits to give Maddie a feminine, girly edge in complete contrast to her role seducing a teenage boy.
It might have been Jennifer Lawrence's first time headlining a comedy, but it isn't the first time that the star has worn a wardrobe crammed full of stealable looks. Even with the great supporting cast, and the laughs a minute, Jennifer's No Hard Feelings outfits will have every woman looking to her for summer styling inspiration. Replicating her easy beach vibes, simple summer pieces and relaxed attitude. But after watching the movie probably not her seduction techniques.