Mushroom Lamp – The Returning Trend
Many trends are somehow predictable. You can notice them if you look very closely at the TV series and movies. For example, pieces of furniture in retro style from past decades were first seen on the screen more and more often, announcing that the time has come again for exactly this retro fashion.
A good example of this is the stylish wallpapers from the 60s, which we can see in movies and series for some time. A real boom was The Queen's Gambit, with a parade of stylish wallpapers from the 60s: The plaid pink and flowered ones were especially popular. But also very classic wallpapers from the era, with geometric patterns. We also saw gorgeous wallpaper walls in I'm Thinking of Ending Things and in Phantom Thread.
Ikea Mushroom Lamp
Along with the retro wave, one of the interesting objects that we see more often these days are different variations of mushroom lamps. Not only on the screen, but the Ikea mushroom lamp is also back in our homes.
When Ikea re-offers a product, it's a sure sign of what's really in demand. So, this is the case with the mushroom-shaped Ikea lamp.
The old cloudy Ikea mushroom lamps looked quite different from the new ones. They are nowadays only available as vintage in these original editions. That's why we've gathered here a collection of mushroom lamps- from Ikea style mushroom lamps to originals and replicas of the most famous designer mushroom lamps of the last century.
IKEA mushroom floor lamp
Floor lamps we need for a well-lit, but still cozy room. Because a ceiling lamp alone does not illuminate a room so that the cozy mood is present. After all, we do not want an office atmosphere in the living room. On the other hand, a floor lamp alone can not comprehensively illuminate a room. Thus, we conclude: the two types of luminaires should complement each other.
Tall mushroom floor lamp
Get inspired by our selection of Ikea mushroom lamps and alternatives:
Classic mushroom floor lamps are very popular because they alone can give the room a retro yet modern touch
They usually have a base, a long straight up frame and a mushroom-shaped shade. You put them in the corner, next to the sofa, in the reading corner, or for beautiful islands of light, and to divide the space. Also, many hotels use mushroom floor lamps to create inviting areas already in the lobby. This works at home, too!
The most famous mushroom lamp
The most famous example of a mushroom lamp is the Panthella mushroom lamp designed by Verner Panton for Louis Poulsen.
He originally created it in 1971 and this mushroom table lamp is still one of his most popular lighting designs. Panton design is best known for its typical organic shapes and for the variety of bold colors. So, the Panthella mushroom lamp was also originally available in different colors. Verner Panton wanted to create a lamp where both the base and the shade serve as light reflectors. The mushroom-shaped shade reflects the light downward and the material he used ensures that much of the light is gently diffused into the living space.
Panthella mushroom lamp Replicas
Although the mushroom shape as a logical lamp structure actually suggests itself, and although many lamps are similar to a mushroom, this lamp by Verner Panton is and remains something special. And that is one of the reasons why it was so much approached and replicated.
Vintage mushroom lamps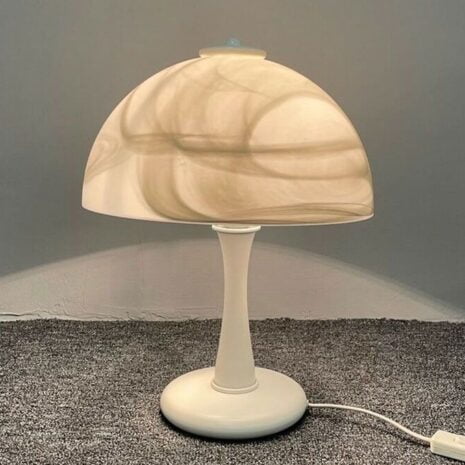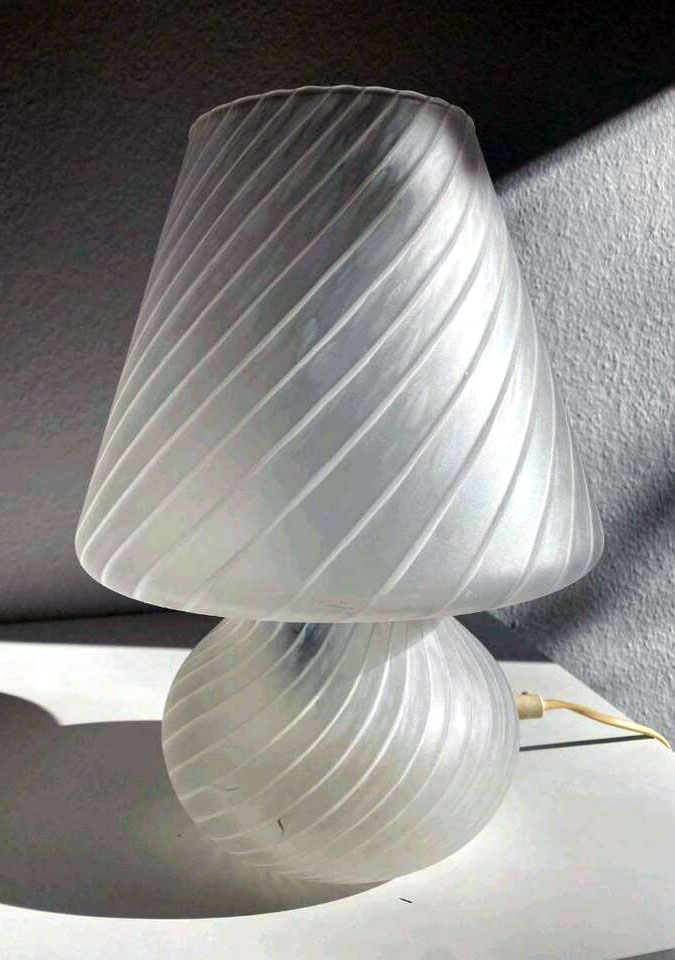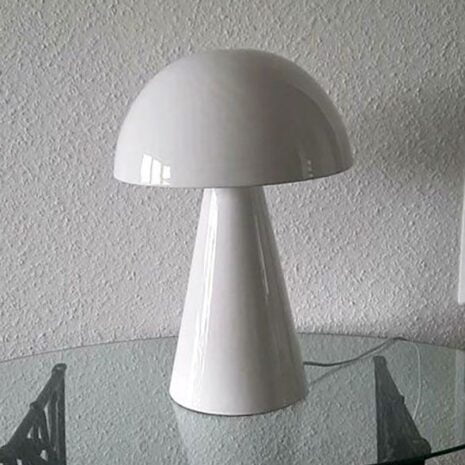 Vintage means -no LED. But that begs the question, which bulb belongs in the vintage floor lamp?
Please do not use an old light bulb! They needlessly waste a lot of electricity. LED lamps today provide nice cozy light, excellent color rendering and the proper brightness. And they do it with 90% less energy consumption.If you still have a floor lamp with old bulbs – replace the old bulbs with LED bulbs right away.
Mushroom Lamps in the movies!
A Verner Panton Panthella table lamp was used as a prop in the comedy-drama film The Devil Wears Prada (2006).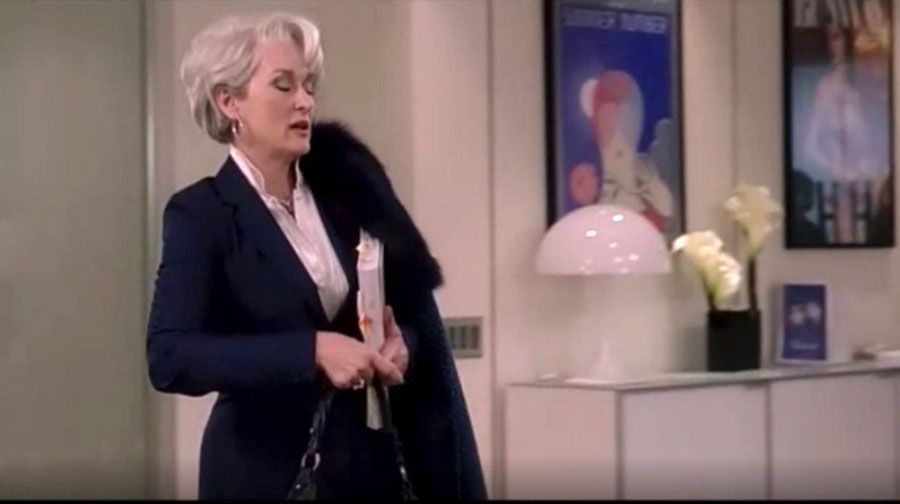 A Panthella floor lamp was spotted in The Human Voice, a 2020 drama film directed by Pedro Almodóvar and starring Tilda Swinton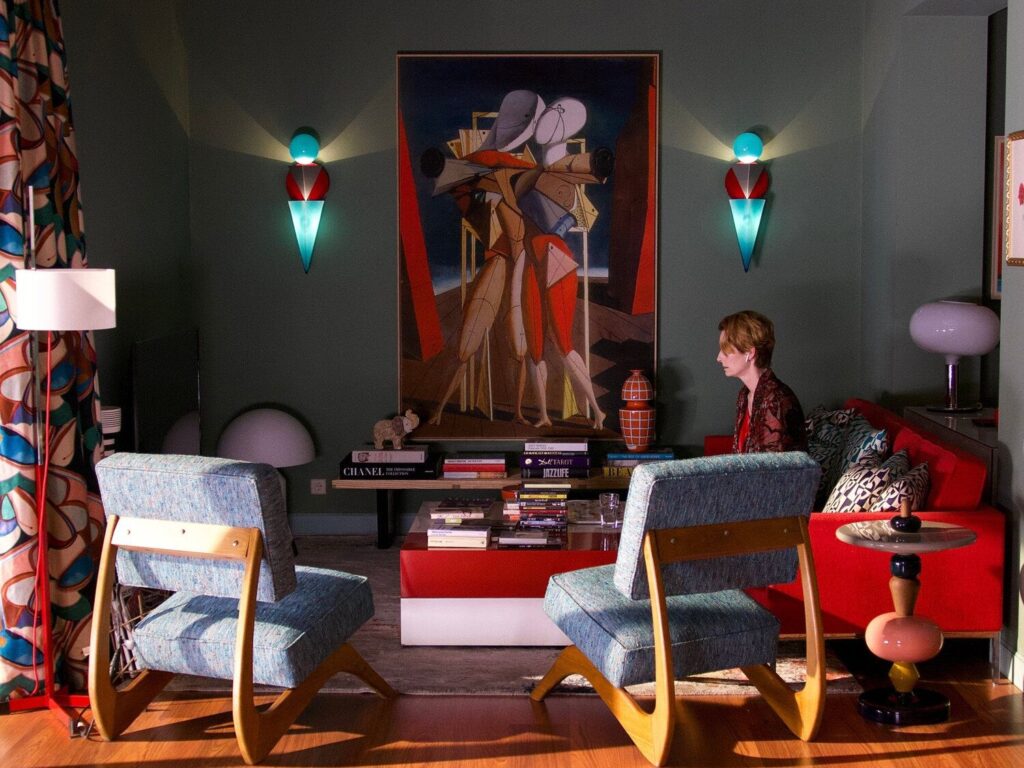 In Pedro Almodovar's short film, Tilda Swinton plays a woman who struggles for three days with having been abandoned. She waits in vain for her lover to return. Her mood swings between despair, anger and helplessness as time passes slowly beside her ex-lover's suitcases.
The living room from "The Human Voice" looks like a collection of the finest furniture, lighting and decorative items in vintage style, with the typical red-green color combination, typical of Almodovar movies. A mushroom-shaped lamp is a piece of furniture that cannot be missed here.