Gift Ideas for Scarface Fans Curated by a True Fan
Step into the Scarface world where power, ambition, and timeless allure collide. Our curated collection pays homage to the iconic characters, Tony Montana and Elvira Hancock, offering unique gifts to celebrate this cinematic masterpiece. From collectibles capturing Tony's journey to accessories channeling Elvira's spirit, each item on this Scarface Gifts list is a tribute to Scarface's enduring allure.
Scarface Gifts for Him 🌟
Normally, ladies first, but this time, we're starting with a gift collection that celebrates the charisma of Tony Montana, a character who has left an indelible mark on the world of cinema.
Scarface Al Pacino Novelty Crew Socks – Crazy Cool 80s Style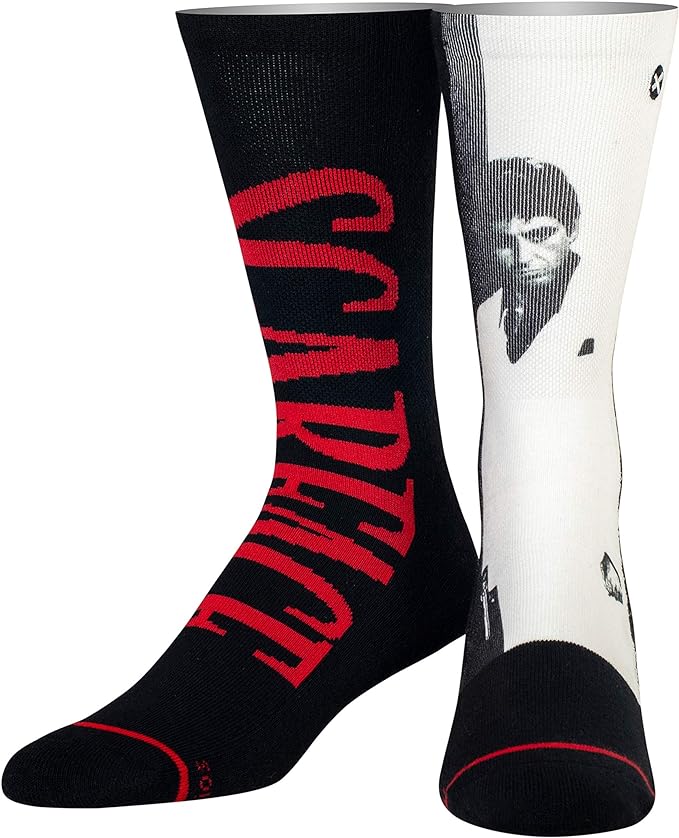 Step into the wild, drug-fueled world of Tony Montana with these Scarface Al Pacino Novelty Crew Socks. They exude the iconic 80s vibe, capturing the essence of the film's era. As a true fan, I can't help but appreciate the attention to detail in these socks, featuring Al Pacino's unforgettable image as Tony Montana. A crazy cool 80s style statement that's a perfect Scarface inspired gift for your boyfriend.
Elegance and Attitude: Scarface Quotes Vintage Necktie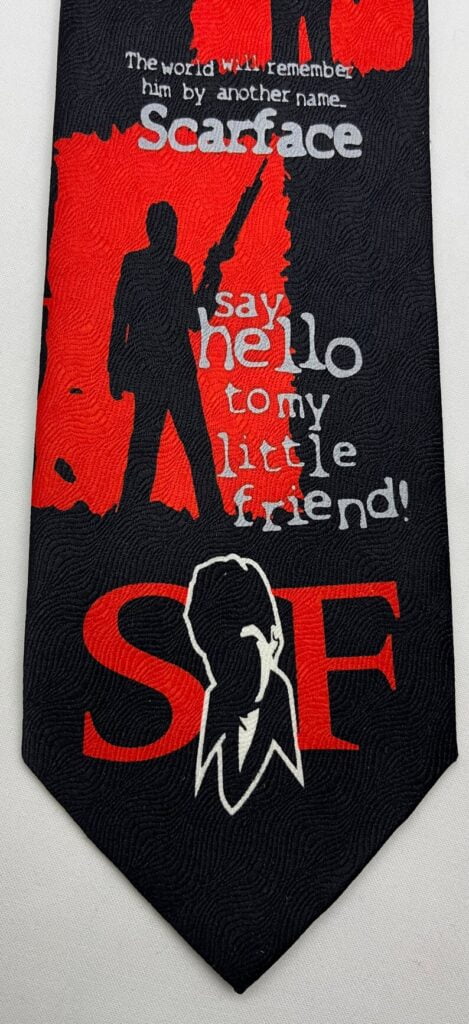 A scarface tie in black and red, quoting the unforgettable lines of this cinematic legend- a really good scarface gift! It's more than a tie; it's a statement. For fans like us, it's a piece of Scarface's bold charisma we can wear.
This tie doesn't just look great; it carries a message – one of ambition, resilience, and strength. Gift it to a fellow Scarface aficionado, and you're giving them more than just an accessory; you're handing them a piece of Tony Montana's essence.
Scarface 5-Inch "The World is Yours" Resin Statue
If you're a true Scarface fan, this 5-inch "The World is Yours" resin statue is a must-have addition to your collection. While it may not be an exact replica of the one from Tony Montana's mansion, it's a premium, movie-inspired collectible that captures the spirit of this iconic film.
With an affordable price tag of just $30, this statue is a unique and meaningful gift for birthdays, holidays, or housewarming parties. Trust me, it looks even better in person than in the pictures. It's a subtle yet powerful way to bring a touch of Scarface into your world.
Tony Montana's Scarface Hawaiian White Shirt
If there's one outfit that's synonymous with Tony Montana, it's his classic white tropical shirt. Worn during some of the film's most memorable moments, this shirt has become an iconic piece of Scarface history.
As a true Scarface fan, owning this shirt allows you to step into the shoes of Tony Montana himself.
Tony Montana Throne Figure – A Symbolic Reminder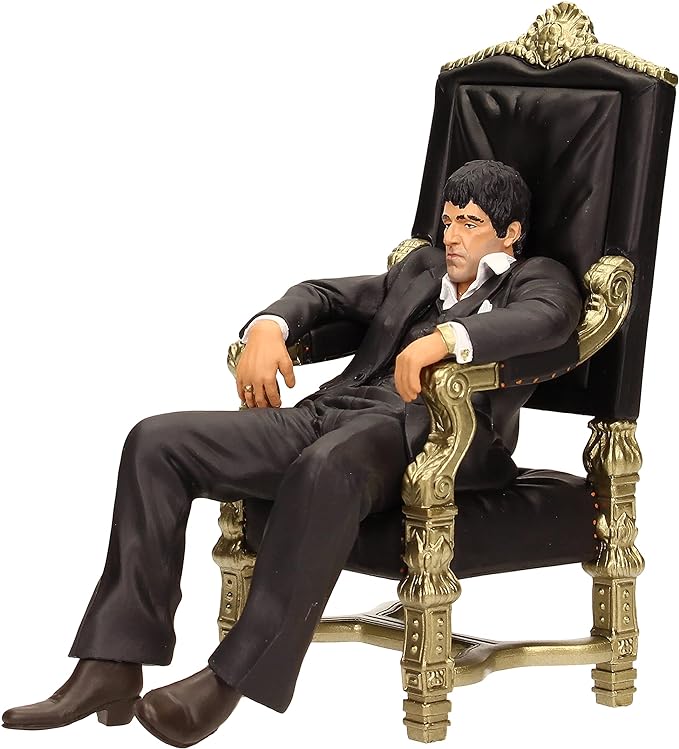 While the SD Toys Movie Icons Scarface: Tony Montana Throne 7″ Figure may not be an exact replica of Tony Montana, it certainly encapsulates the essence of the character and his complex journey.
Placing this figure on your desk serves as a poignant reminder that life is about more than just money. It's a cool and meaningful gift, one that keeps the "I have all this money but my life is still f'd" vibe in perspective, just as Tony's story reminds us in the film.
Scarface Engraved Glasses – Raise a Toast to Tony Montana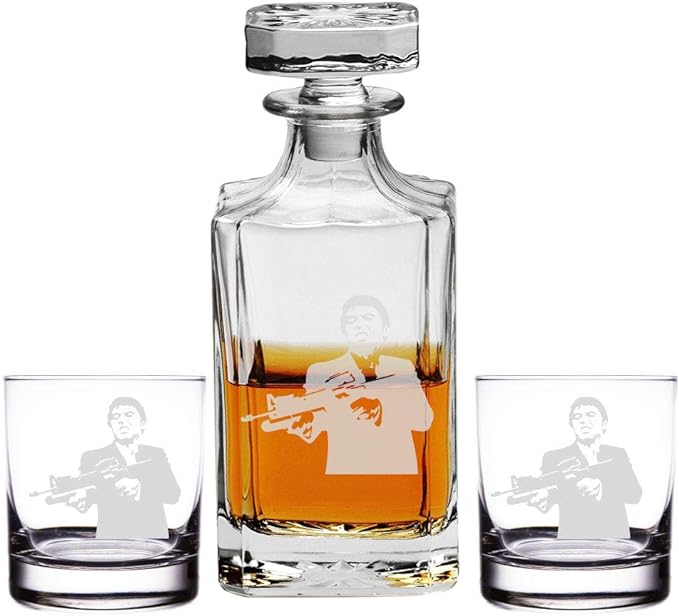 What better way to honor the Scarface legacy than with these Scarface Engraved Glasses? As a true fan, you'll appreciate the fine craftsmanship and attention to detail that goes into each glass. They add a touch of cinematic flair to your drinking experience. Raise a toast to Tony Montana and the enduring appeal of one of the most iconic characters in film history.
Scarface Gifts for Her 🌟
Elvira Hancock, portrayed by Michelle Pfeiffer in Scarface, is an embodiment of elegance and timeless allure. Her character is a source of inspiration for ladies who appreciate her unique style and sophistication.
When selecting Scarface gifts for her, you'll find that each item reflects the attention to detail and glamour that Elvira brought to the screen. These gifts capture the essence of a character who leaves a lasting impression in the world of cinema, and they allow you to infuse a touch of her magnetic charm into everyday life. It's not just a gift; it's an ode to the lady who made her mark in the world of Scarface.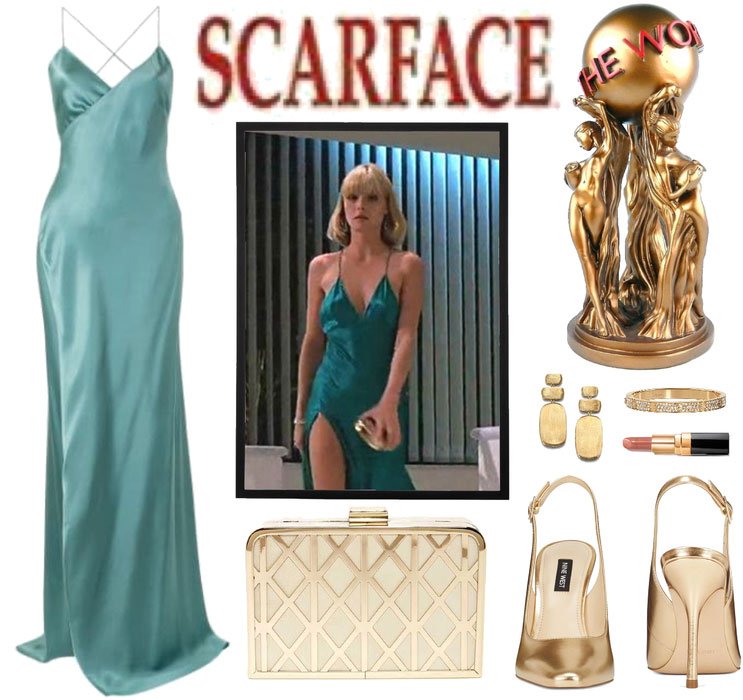 Michelle Pfeiffer Scarface Dress – The Dress That Captivated Tony Montana
Remember that unforgettable moment in Scarface when Tony Montana first laid eyes on Elvira Hancock? It was the moment that not only captivated Tony but left an indelible mark on the audience. Elvira, portrayed by Michelle Pfeiffer, was a vision of elegance in her iconic dress, and it's that very dress that has become a symbol of cinematic allure. Of course, it is the Scarface Gift for Her No. 1!
Scarface Gift for her- Elvira Hancock Badge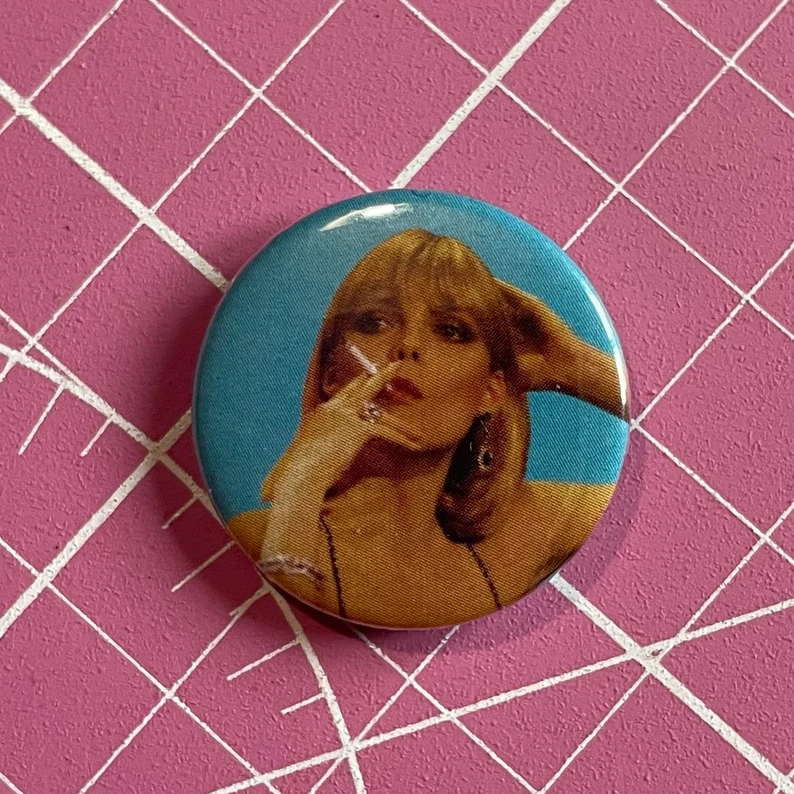 Carry a piece of Elvira Hancock charm with this Scarface Badge. Whether you pin it on your clothing, bag, or accessories, it's a subtle yet powerful way to pay tribute to this iconic character. It's a gift that captures her spirit and adds a touch of elegance to your daily life.
Our carefully crafted gifts pay homage to the iconic Tony Montana and the timeless appeal of Elvira Hancock. Embrace the allure and step into the legacy of Scarface with these unforgettable gifts.
You might also be interested in…