Fair Play Outfits: A Look At Emily Meyer's Confidently Feminine Work Wardrobe
If the fall/winter 2023 runways are anything to go by then it seems like the corporate aesthetic is going to be everywhere. So Netflix might just have stumbled onto a good thing with their latest hit Fair Play, that will no doubt be remembered for giving us, up and coming star, Phoebe Dynevor in some very stylish modern business wear. Let's have a look at Emily's Fair Play outfits.
The official trailer for Netflix's new erotic psychological thriller, Fair Play, starring Phoebe Dyvenor and Alden Ehrenreich.
With director Chloe Dumont at the helm and asking the loaded question of what would happen if two happy and infatuated lovers, working together in the high octane, masculine environment of a hedge fund, have to deal with one of them getting a big promotion. And what if the one getting that promotion was the woman. The streaming hit deals as much with that female empowerment, as it does with the idea of the frail male ego and toxic masculinity. While still managing to give us a corporate wardrobe of pretty blouses and power suits in the Emily Fair Play outfits that anyone would love to have in their work wardrobe.
Emily's White Ruffle Collar Blouse in Fair Play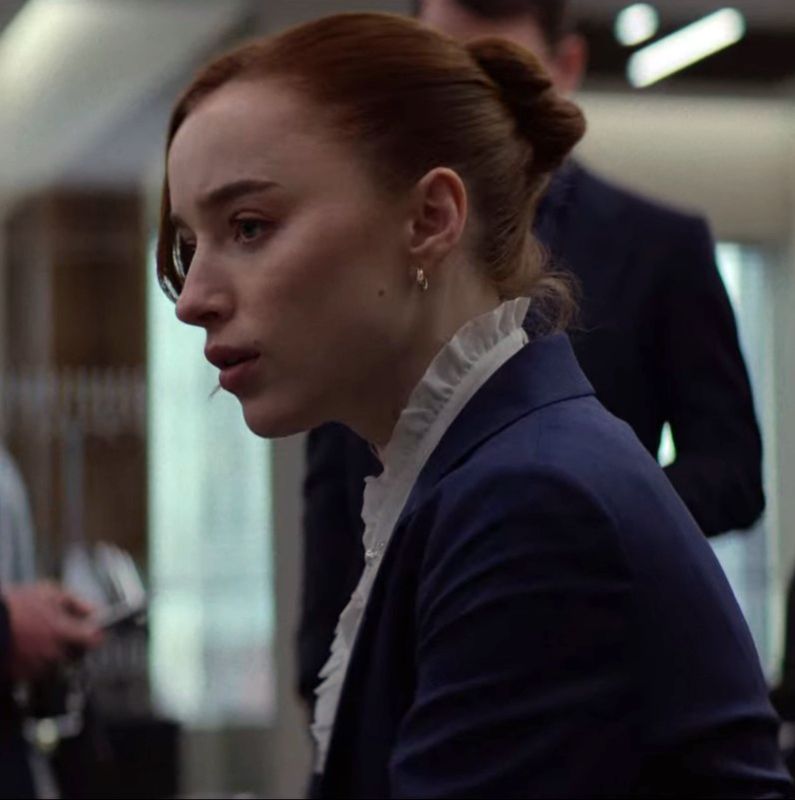 Emily Meyers might be a high flying analyst at one of Manhattan's most cutthroat hedge funds, surrounded by a cesspool of back-stabbing and toxic masculinity, but that doesn't mean she can't bring a little bit of femininity to her Fair Play outfits. Just like this subtle ruffle collar, just peeking above her blazer, that adds a playful edge to her stark white button-up blouse.
Female Empowerment: Emily's Navy Power Suit in Fair Play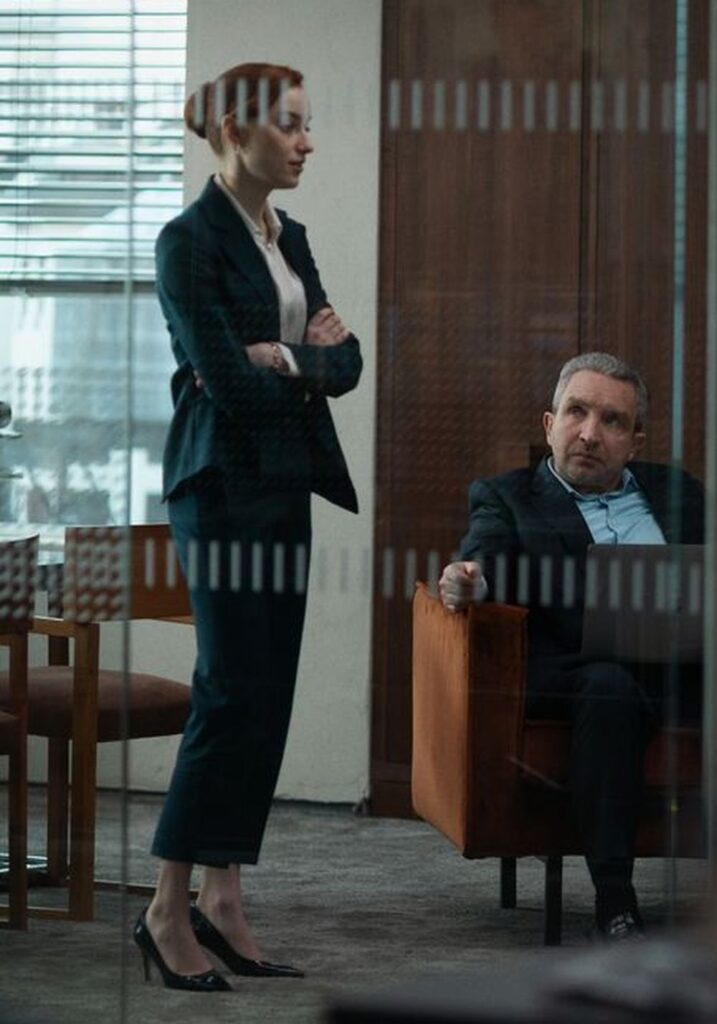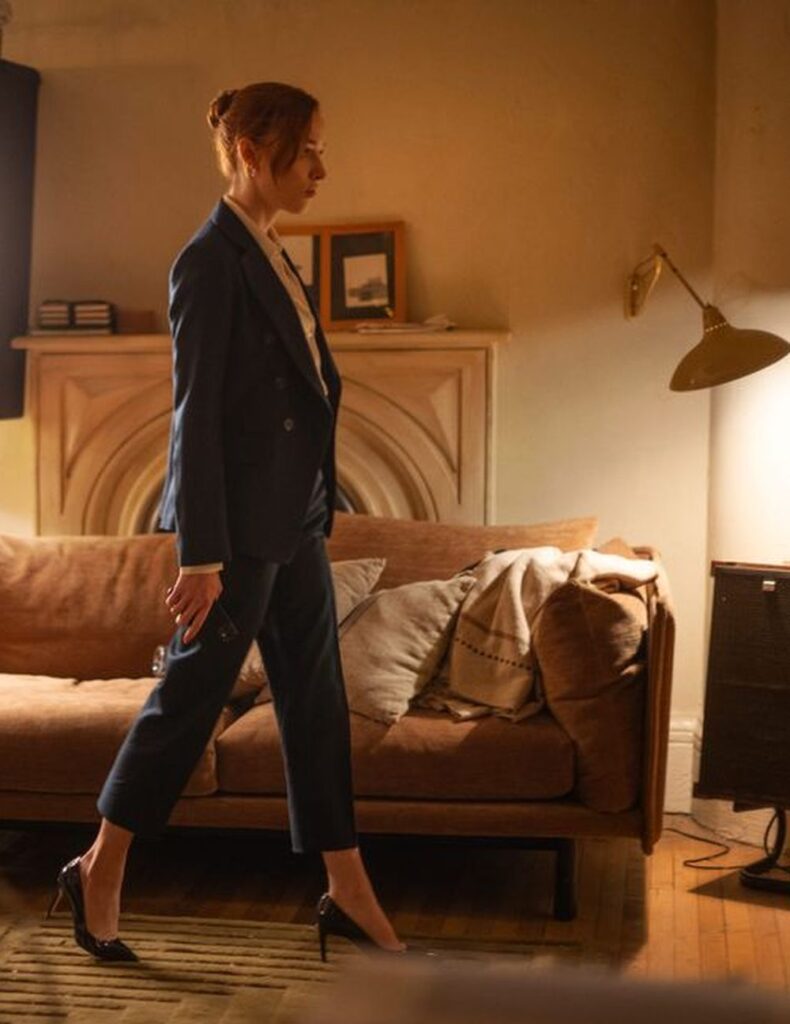 If Julia Roberts' Ticket to Paradise wardrobe has taught us anything, it is that every modern woman needs a power suit, and our newly promoted portfolio manager Emily is no different. The typical uniform of the office workforce, Emily, or more likely costume designer Kate Forbes, has updated the look with a tapered peg leg pant stopping above the ankle. While ultimately softening the suits sleek sharp edge by going for a navy instead of black.
Delicate Frill Front Blouse worn by Phoebe Dyvenor as Emily in Fair Play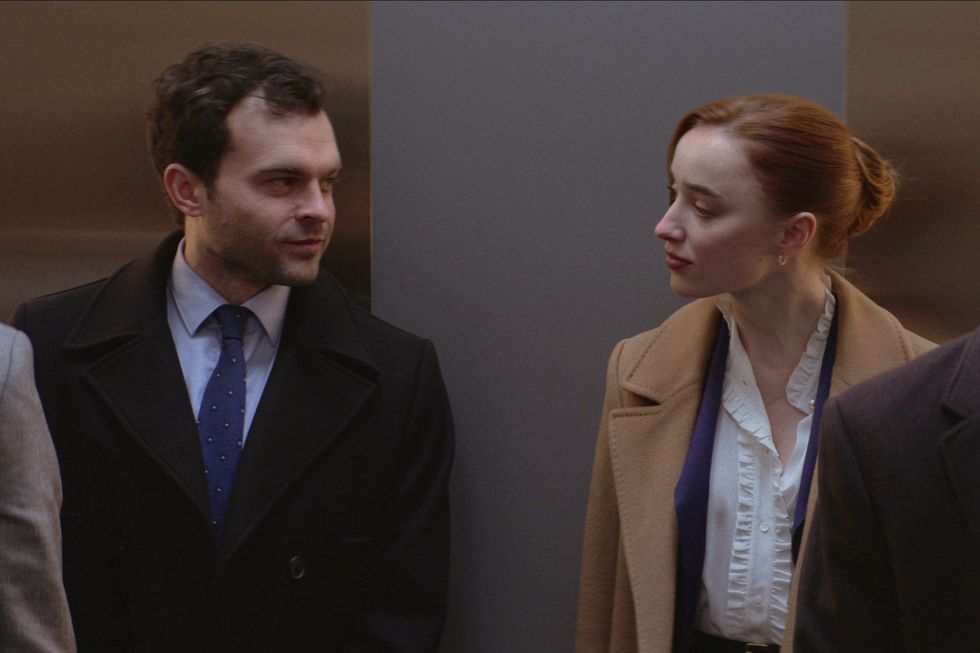 It isn't just subtle ruffle collars that keep Emily's Fair Play outfits from looking too slick and masculine, she knows that some well placed and simple frills can also completely transform her look. With her dark polished suits being her armor, protecting her from the sexism and toxic energy she faces at work, her delicately detailed blouses allow her to show a hint of vulnerability. Foreshadowing her homelife where Luke's toxic behavior is slowly grinding her down. 
Emily's Statement Wool Camel Coat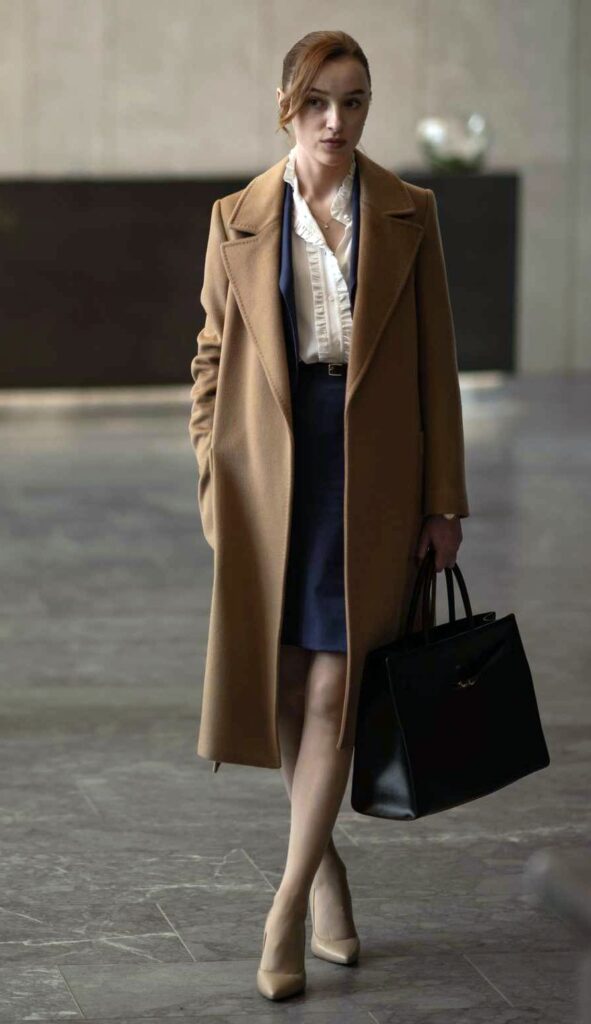 Just like Emily, the quickest way to refine the look of any female's wardrobe, let alone that of a high flying professional, is to invest in the fashion classic of a timeless camel colored wool coat. Although a worthy investment when it comes to all wool coats, there is something extra special about the velvety neutral tone of the camel color that adds to the cosmopolitan feel. Especially when you expertly pair it with matching pumps and an equally statement handbag like Emily does.
Emily's Moment of Weakness and Simple Black Roll-Neck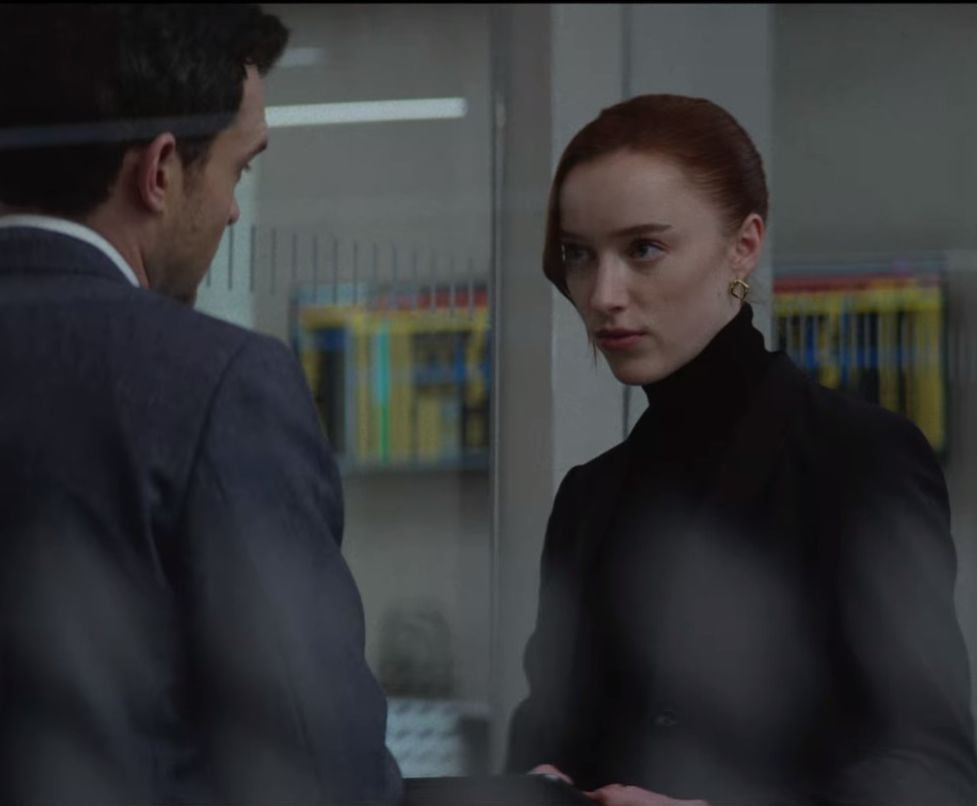 As Luke comes to terms with being overlooked for promotion in favor of his female lover, he uses his rage and anger to undermine Emily's confidence and belief in herself. Shown in Emily's Fair Play outfits as her retreating from her delicate ruffles and frills, and instead going for a utilitarian black knitted roll-neck sweater.
Momentarily scared of showing her femininity, she eventually realizes she needs the blouses but maybe what she doesn't need is Luke. 
Silky Smooth Champagne Satin Blouse Worn by Phoebe Dyvenor as Emily in Fair Play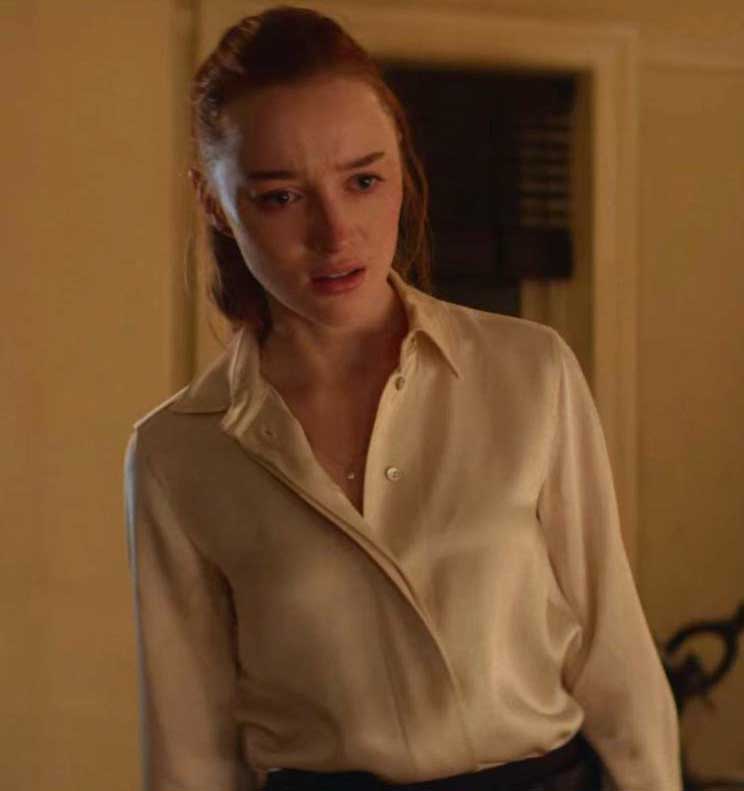 It seems like no surprise that when Emily decides to take back her power from Luke, realizing that she has been letting him undermine her this whole time, that her soft and feminine blouses are back. No frills or ruffles this time, just a simple long sleeved, button-up blouse in a silky satin. Made even more delicate in this creamy champagne tone reminiscent of lingerie. But expertly representing Emily, her realization of her worth, and that you shouldn't change yourself just because you make men feel uncomfortable.
Even though you should probably love Fair Play for its brutally honest look at toxic masculinity and how women suffer at the hands of the fragile male ego, it's ok to love Emily's Fair Play outfits a little bit more. It really would be hard not to. Especially with the perfect mix of power suits and delicate girly ruffle blouses, she is known for. But if Emily Meyers could ever use some wardrobe inspiration, then she should look no further than Ted Lasso's Rebecca Welton. The perfect example of a feminine dressed woman in a man's world.