A ticket To Paradise: Breaking Down Julia Roberts Movie Outfits
Amidst the captivating storyline of Ticket To Paradise, Julia Roberts's outfits have taken center stage. Known for her iconic fashion moments, her ensembles in this film rank among her most remarkable to date.
If you were asked to list Hollywood's all time leading actresses it wouldn't take long before the name Julia Roberts crossed your lips. From early success in Steel Magnolias (1989) through to her biographical work in Eat, Prey, Love (2010), it is actually her friendly smile and lovable personality that has seen her find success as the leading lady of the rom-com category.
However when Ol Parker got the idea for 2022's romantic comedy Ticket To Paradise, he saw an opportunity to also reunite one of the film genre's most famous duo's in Julia Roberts and George Clooney. Writing the script of the divorced parents who travel halfway across the world to stop their daughter throwing her life away and marrying a man she has literally just met.
But Ticket To Paradise wasn't the first movie in which the two Hollywood giants played divorced lovers who might still hold a candle for each other, with 2001's Ocean's Eleven seeing them as protagonists Tess and Danny Ocean. Or even the first time that the actress would have been described as a style icon.
Still Julia Roberts outfits in Ticket To Paradise might be her most memorable yet.
Georgia's Ticket To Paradise Pink Velvet Suit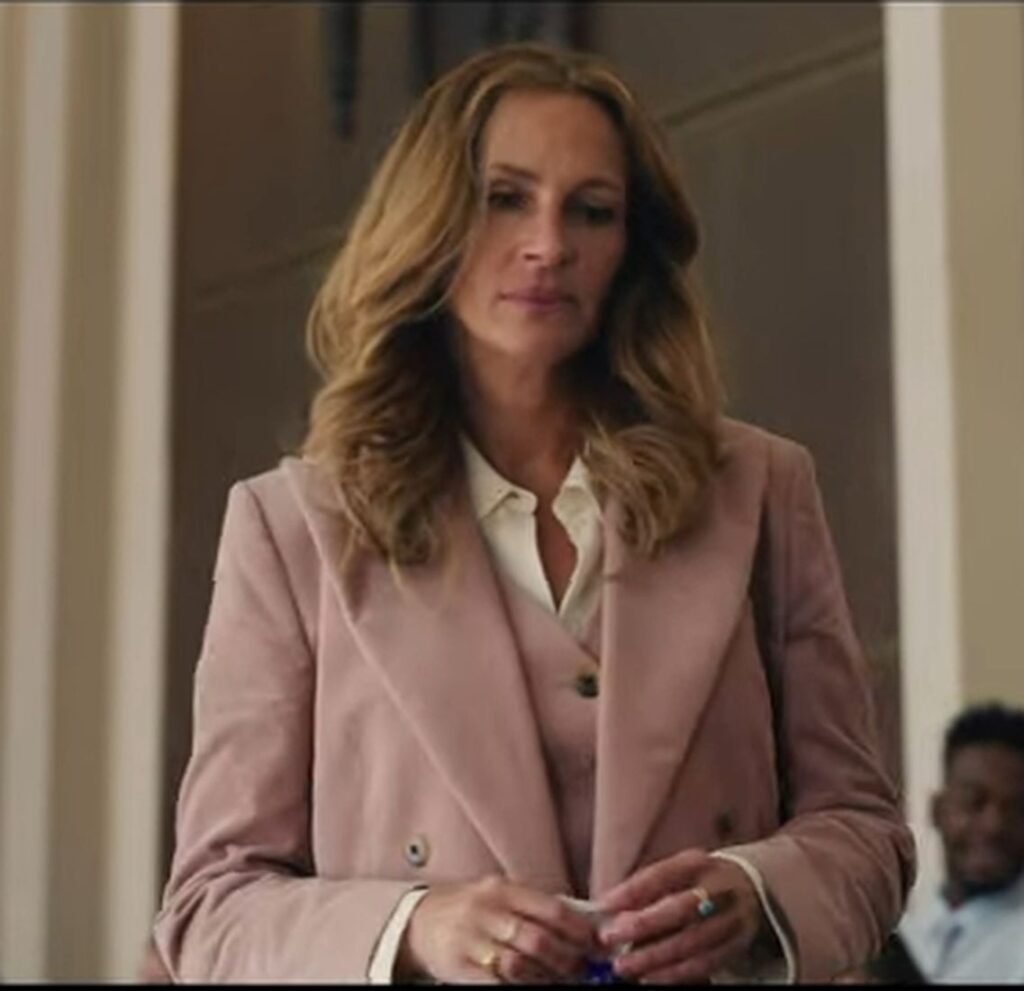 This might not be the first look that comes to mind when you think about Julia Roberts' outfits in Ticket To Paradise, but we will get to that dress later. However it seems only right to start with the first of her modern suits that set the tone for her character Georgia's whole wardrobe. Moving away from classic silhouettes and typical suiting fabrics, this three-piece jacket, waistcoat and matching trousers in rose pink velvet are the most striking of her many tailored looks.
Gucci Horsebit Handbag From Ticket To Paradise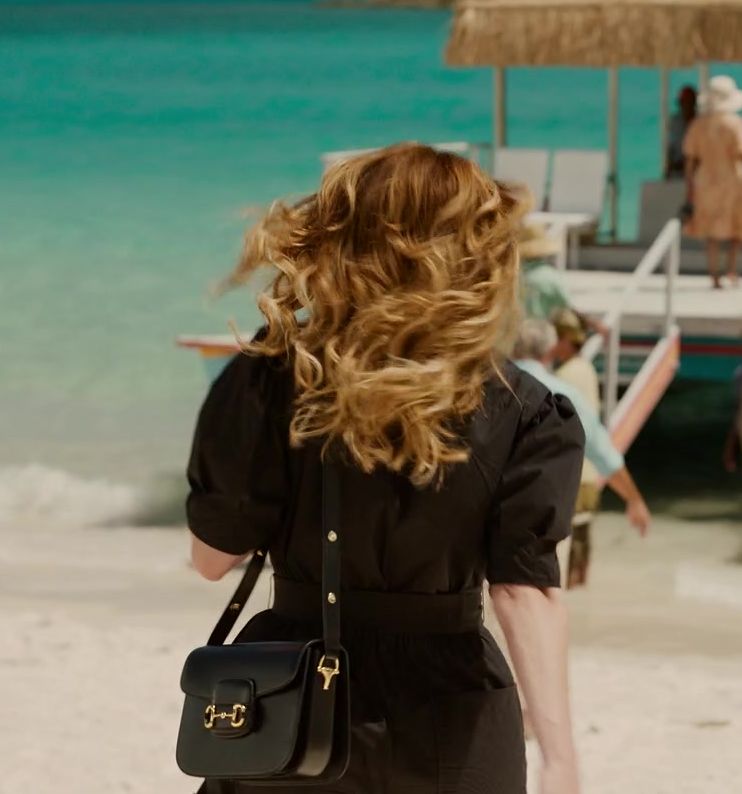 Georgia, always the height of luxury fashion, likes to make sure she wears the best of everything. And when you have worked hard for your money why wouldn't you splurge some of it on one of Gucci's exquisite Horsebit bags (here you can read abot what areThe Best Italian Handbag Brands). The black leather, distinctive gold double ring and bar, and crossbody strap means the bag works with Georgia's most tailored suits right through to her summer rompers. Looking just as stylish and expensive with either.
Julia Roberts's Pink Skirt and Jacket as Tess Ocean in Ocean's Eleven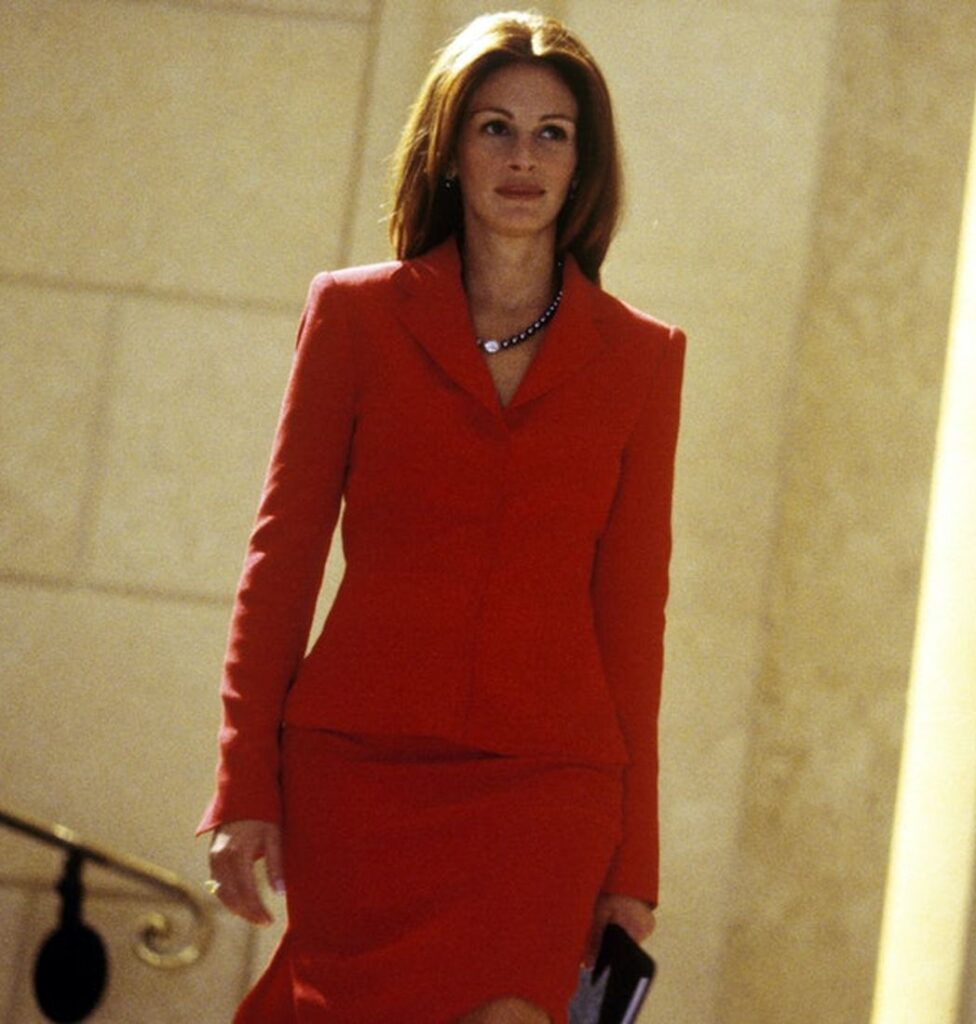 Even in the stylish genre of romantic comedies the outfits in Ticket To Paradise, and especially those worn by Julia Roberts, have taken female power dressing to a new level. But it wasn't the first time that the actress found her character favoring the put together look of suits, especially when you remember back to Julia Roberts' Ocean's Eleven outfits and this matching pink skirt and jacket combo.
The Ticket To Paradise Purple Jumpsuit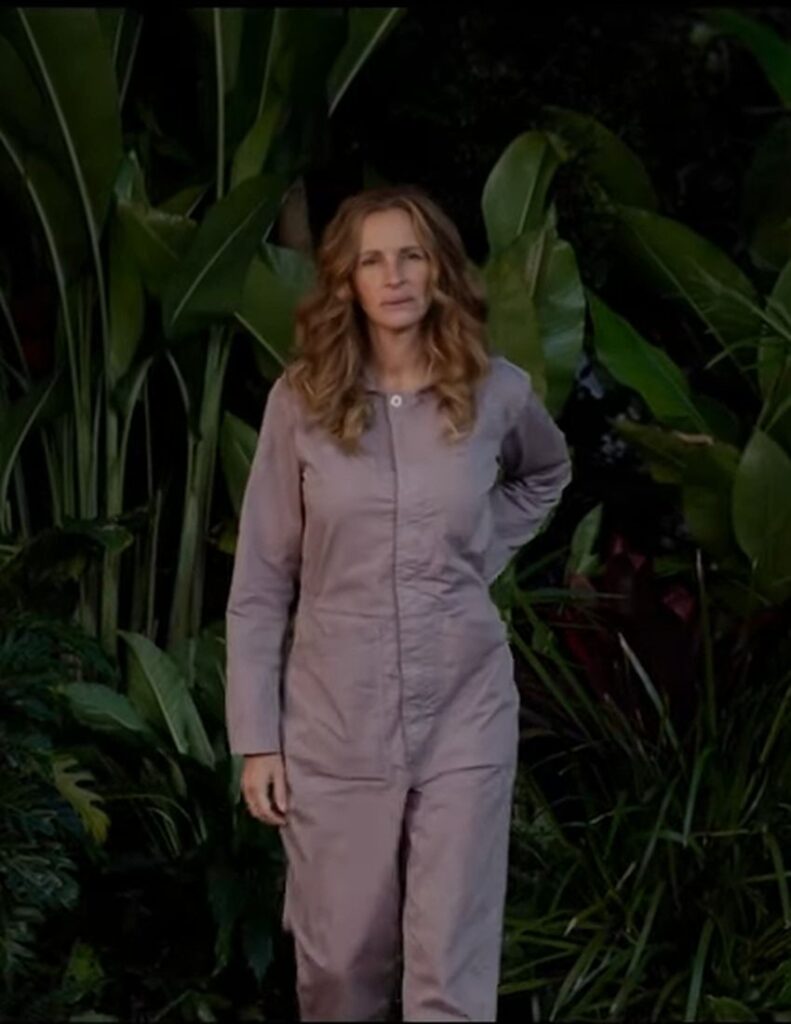 The only thing that features more in Julia Roberts' outfits in Ticket To Paradise than modern tailored suits, are her selection of jumpsuits and rompers. Georgia wears a few different styles, but they all have a relaxed easy fit with modest necklines and come in fun colors. Just like her lilac long sleeved jumpsuit that has a hint of a boilersuit about it. That symbolizes her youthful edge and gives her holiday wardrobe a very modern twist.
The Sheer Shirt Julia Roberts Wore in Erin Brockovich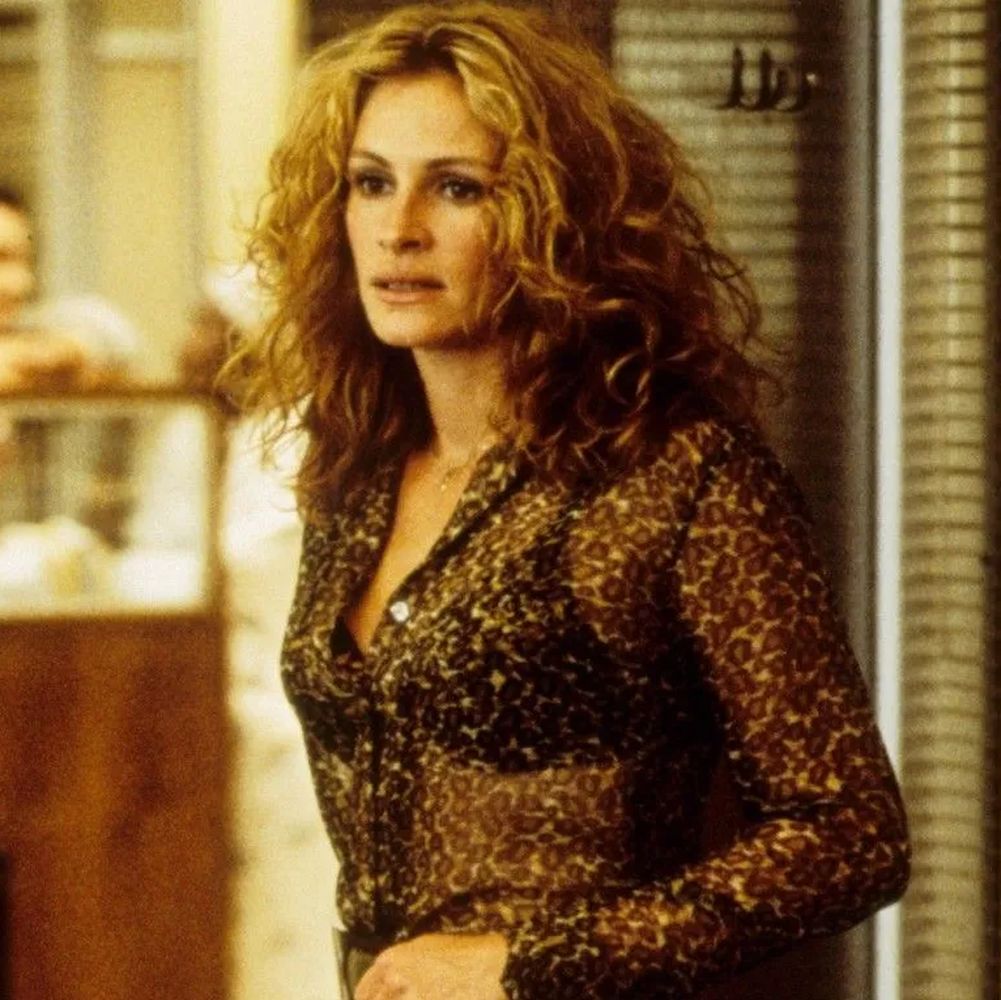 If you found yourself drawn to the modern tailored looks that Georgia wore throughout Ticket To Paradise, then you probably fell head over heels for her luxurious shirts. However, where she opted for classic sumptuous silks, to pair with her glamorous suits, you might want something a little bit bolder and sexier. Like the animal print mesh shirt that was one of Julia Roberts' outfits in Erin Brokovich. Worn over just her black bra, you could add a silk vest to replicate the style but with less risk.
Georgia's Green Print Headscarf in Ticket to Paradise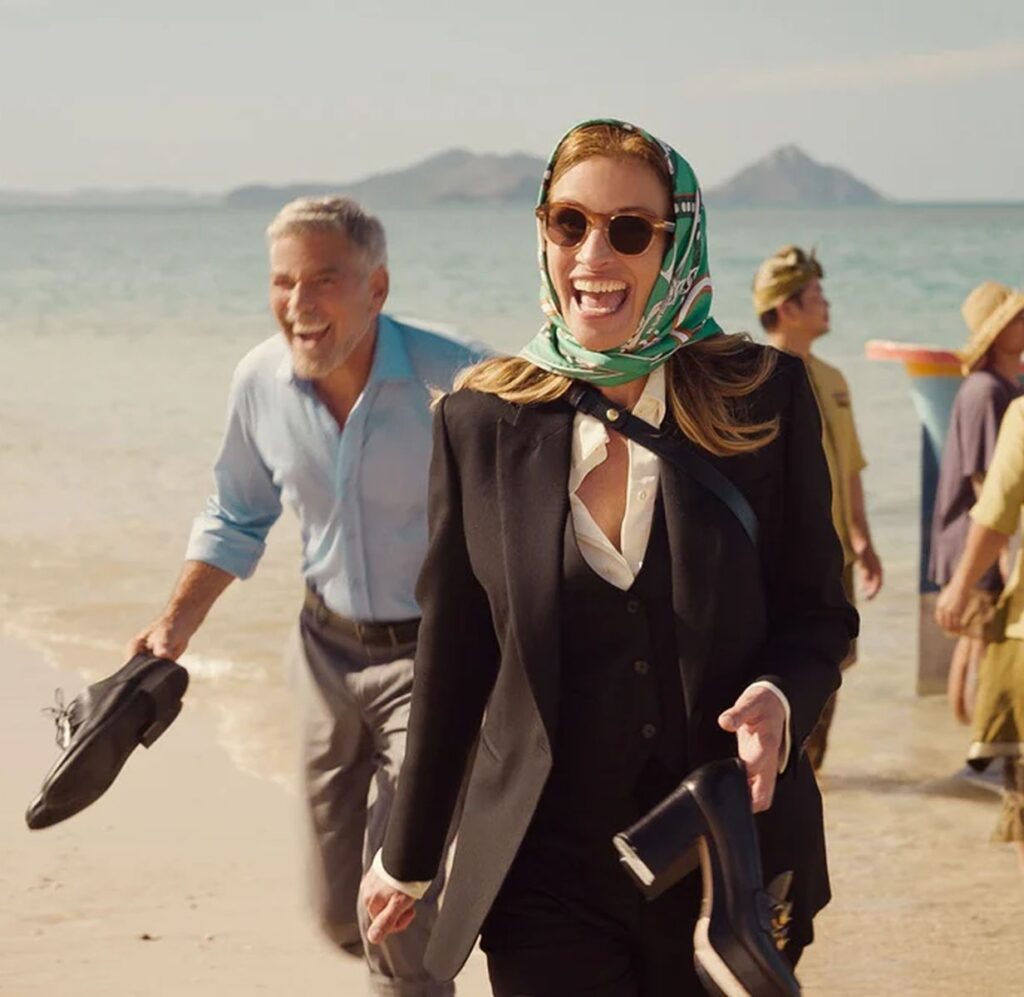 Georgia and David use the time they have in each other's company to reluctantly work together on their trojan horse plan to stop their daughter's wedding. Needing a unique and stylish head covering for the boat crossing, Julia Roberts finishes her Ticket To Paradise outfit with a green silk scarf covering her long loose locks. However the striking green and white print would be just as eye-catching draped around your neck also.
Lady in Red: Julia Roberts Red Evening Gown in Pretty Woman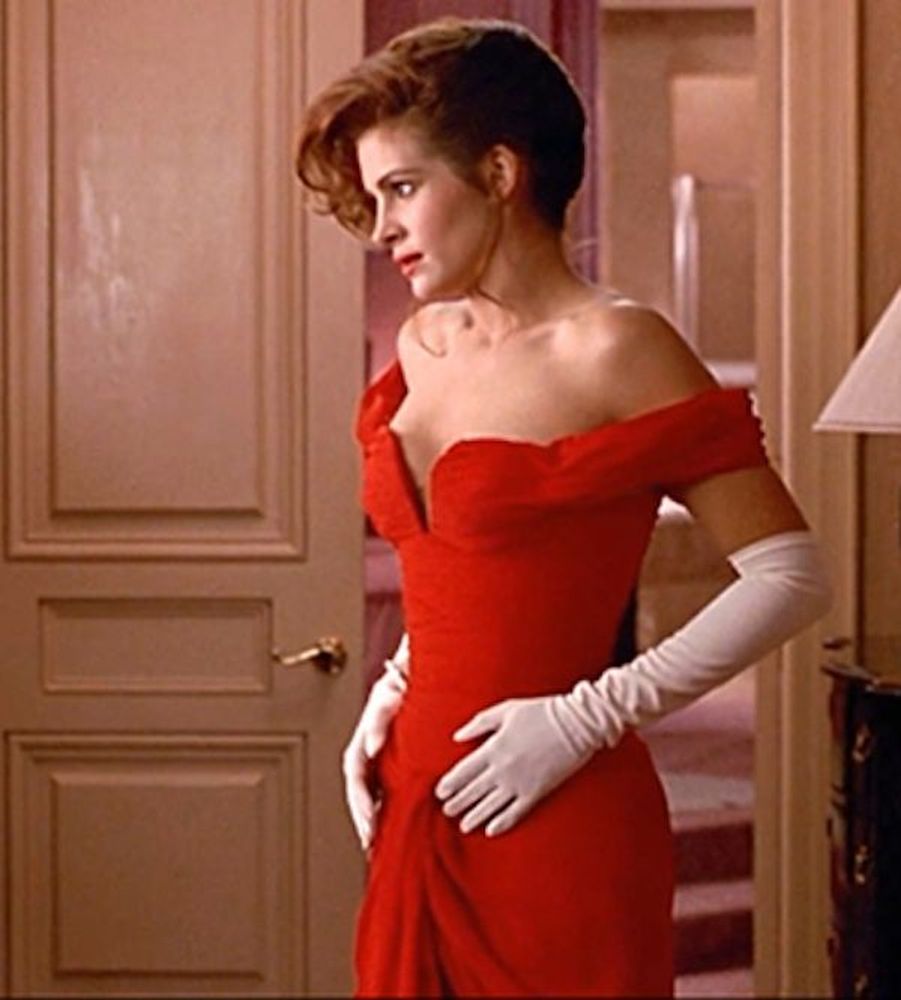 Julia Roberst has had some memorable fashion moments throughout her career, but none will ever be more iconic than her Pretty Woman outfits, and in particular that spectacular red evening gown. Is it any wonder that Richard Gere's character, businessman Edward Lewis, fell in love with Vivian, when she looks as striking as this.
The Black Floral Embroidered Dress Julia Roberts Wears in Ticket To Paradise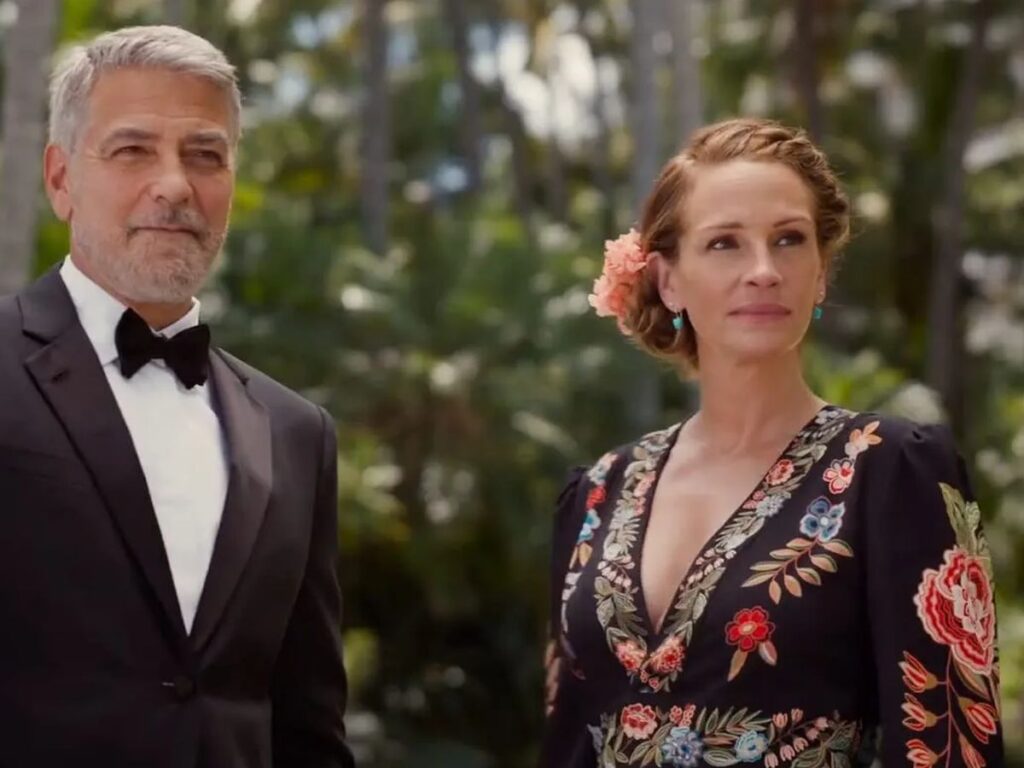 As promised it is time to talk about the Julia Roberts outfit in Ticket To Paradise that is first on everyone's mind when any mention of the movie comes up. Featured on all of the film's promotional material, the black flower embroidered maxi dress has caught the eye of women everywhere, whether they have seen the movie or not. With its statement bright florals on the dark black of the dress, it is perfect for formal occasions so check out some similar dresses we have found below.
Julia Roberts in Ticket To Paradise: A Style Icon Redefined
With us all having our favorite memorable movie looks for the Hollywood star, it wouldn't be wrong to call her a style icon, and it can't be denied that the Julia Roberts outfits in Ticket To Paradise definitely fit that title too. With Georgia Cotton's modern take on classic tailoring and summer staples, who wouldn't want to steal her luxurious suits and designer handbags for their own wardrobe. Or, spent a few nights in beautiful Bali with a Hollywood heartthrob like George Clooney.