Dazed and Confused Inspired Outfits to Re-Style
I am sure we can all accept that the movie industry was at its peak in the late 1900s. Those movies were a treat to watch, not only because of the storyline but also because of the fashion element.
As vintage fashion is making a comeback in the 21st century, it is high time to post restyling tips for one of the most fashionable teen stoner movies of all time – Dazed and Confused. So, let's get started!
Dazed and Confused Milla Outfit Inspo
Milla Jovovich is known for her impeccable taste in fashion, and she rightfully portrays her dress sense in Dazed and Confused. Milla's character Michelle Burroughs had a hippie vibe. You can spot her singing, playing her guitar, and relaxing on the lawn.
What's admirable is how effortlessly she becomes the center of attraction. Take this look, for example. Recreating this outfit is as simple as styling a purple tank with spaghetti straps with blue jeans, preferably a pair of flared ones, and a funky brown jacket. Accessorize with a matching brown belt, cross-body bag, and brown wedges. Don't forget Milla's statement middle part to complete your look.
Matthew McConaughey's Dazed and Confused Outfit
Matthew McConaughey's Dazed and Confused character David Wooderson was the "cringy but dreamy" high schooler – at least we can agree on the cringe part. In the movie, he wore an uncomplicated, cool and easygoing outfit to compliment his personality.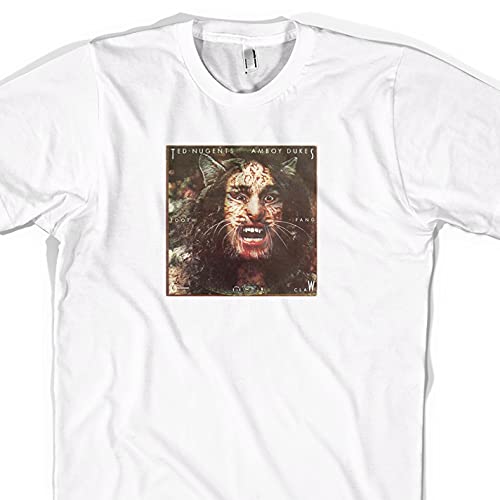 Dazed and Confused – Tee worn by Matthew McConaughey- David Wooderson
A straightforward white t-shirt with the "Tooth, Fang and Claw" album cover by Ted Nugent & the Amboy Dukes printed on it was the outfit's major component. And believe it or not, this look was a vibe back then. And you can effortlessly elevate it into a 21st-century-worthy ensemble by making a few tweaks here and there.
McConaughey wore his graphic t-shirt with a set of faded peach-colored jeans. Take notes, men! Colored jeans were all the hype around half a decade back, and they will be again. Be the first ones to rock this 70's inspired fashion element!
Dazed and Confused "Seniors" Costume
Dazed and Confused girls styling "Seniors" sweatshirts with skirts
Pranking the incoming freshman is a ritual for passing out seniors in pretty much every teen movie. But hey, who allowed the girls to look this good when hazing the newbies?
Your first thoughts when watching this scene must be: "we didn't sign up for Joey Lauren Adams' piercing voice and the girl's brutality!" But let's admit it, the sight of how they styled plain sweatshirts made it all bearable.
Here comes the styling tip of the day: the next time you go out, pull out the worn-out sweatshirt from the back of your closet, cut the sleeves off and style it as a crop top with jeans or skirts. Ta-da! Your Dazed and Confused "Seniors" outfit is done as dusted!
Dazed and Confused Slater Outfit
There is always this one character in every high school movie, who sits shotgun with the lead, is the most recognizable "best friend," and offers comic relief. Only one person qualifies for this title in Dazed and Confused – Ron Slater!
Slater might be the most "Dazed," pot-addicted senior, but he always had some insightful things to say on everything and everyone, even George and Martha Washington. However, drugs and his philosophical views aren't the only things that define Slater; he also had a cool style!
The best of Ron Slater from Dazed and Confused
This adorable stoner wore a loosely fitted tee with handyman-style jeans, sneakers, and a golf cap. The character wore hair extensions, but you could also style the outfit without them.
Slater's outfit might look lazily put together compared to the other characters at first glance. However, Dazed and Confused costume designer Katherine "Kathy," Dover says that "the characters' clothing was a little more layered only to make it look not sloppy but comfortable." The goal was to make Slater appear a little more carefree and formless, which was rightfully accomplished.
Dazed and Confused – Pick­Ford Outfit
An Aloha shirt is your best friend in the summertime. It is pretty much all you need to style like a cool dude in the scorching heat while also imitating Kevin Pickford from Dazed and Confused.
Like every Dazed and Confused character, Pickford's character was a teenage stoner. While his messy hair isn't the biggest inspiration for 21st-century teens, his Hawaiian shirt's case is otherwise! You can style the shirt with khaki shorts and slippers for the ultimate beachy look.
A Little Bit of Everything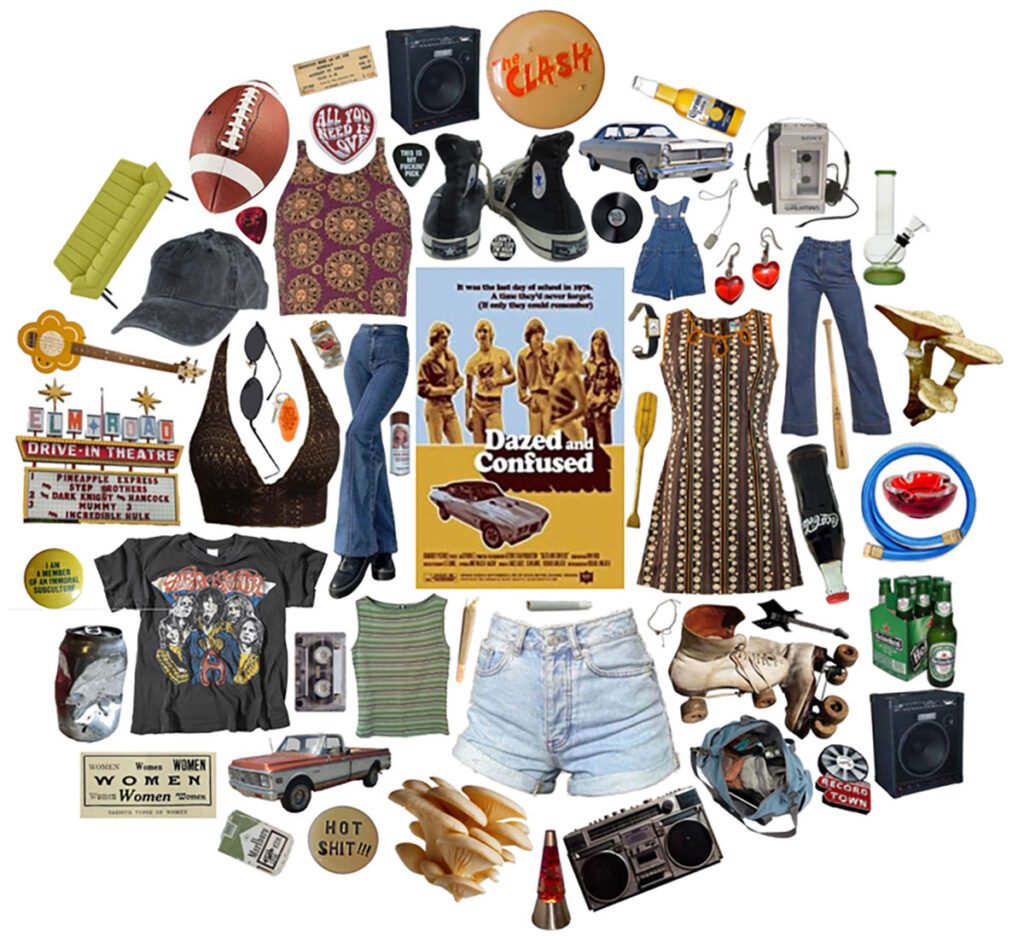 The best thing about Dazed and Confused is that the movie takes place over the course of one day. So, you know you don't have to worry about styling various outfits, and you can perfect the existing looks.
This final picture board is a recap of the movie and features a little bit of everything the girls wore in the film. You have shirts, shorts, belts, sandals, hippie tanks, bangles, headbands, flared jeans, a dungaree, sweatshirts, and shoes.
You can style the components on this picture board in so many ways. Take an old sweater and work your DIY magic by cutting up the sleeves. Pair it with a tulle shirt, a rope bracelet, a headband, and a charm necklace.
Flared jeans are also making a comeback. Create a funky 70's-inspired hippie look by pairing blue flared jeans with a floral top, multi-colored bangles, platforms, and a hippie headband.
You can also pair shorts with a denim buttoned shirt and accessorize it with a belt, sandals, a charm necklace, a ring, bracelets, and a cap. If you are confused, just pick up any three items from the board; a top, a pair of jeans, and a piece of accessory, and center your outfit around those items – you will end up with something trendy at the end of the day!
Another tip – check out our article about outfits inspired by That's 70s Show.
Create the Ultimate Dazed and Confused Inspired Look Today!
A 90's movie featuring 70's fashion is all you need to get some style inspiration in 2022. Luckily for you, most of these fashion trends are making a revival. So, use this personal styling guide to restyle Dazed and Confused-inspired outfits!