Dress Up Like Will Turner from Pirates of the Caribbean
If you are looking for a good Will Turner costume for Halloween or a big cosplay event, here's the winning formula for creating the most exciting outfit of the party! Let's see how to dress up as Will Turner from Pirates of the Caribbean.
Costume Guide For COSPLAY & HALLOWEEN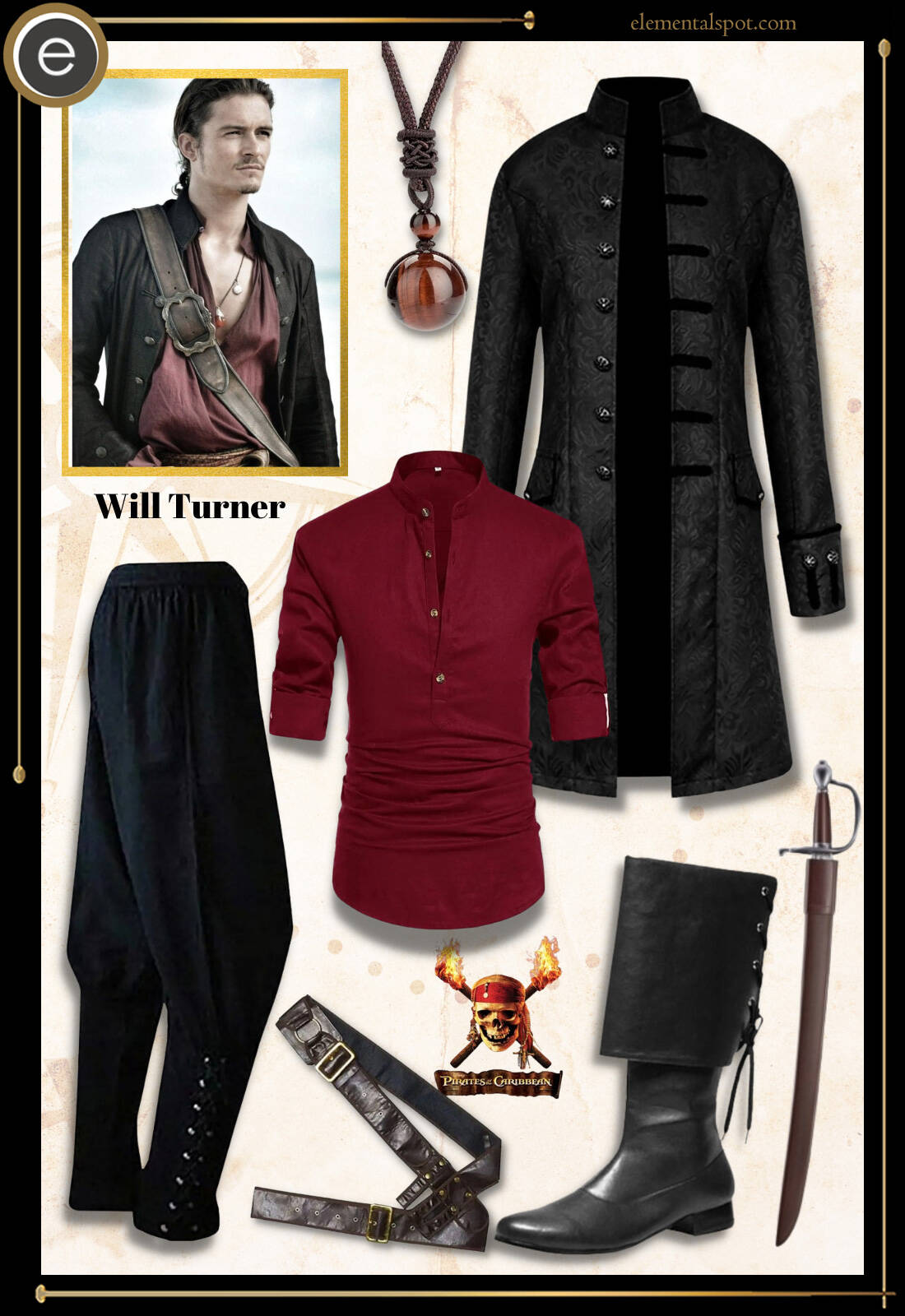 Get!
Get!
Get!
Get!
Get!
Get!
Get!
Will Turner from Pirates of the Caribbean Costume Guide
Shopping List for Will Turner from Pirates of the Caribbean Costume & Outfit
It isn't really a dress-up or cosplay event without someone coming as a pirate, let alone one from the biggest swashbuckling franchise there is, Pirates of the Caribbean. But why not avoid the obvious choice of dressing as Jack Sparrow, and instead create a Will Turner costume, the expert blacksmith and once budding pirate, turned cursed captain of the Flying Dutchman.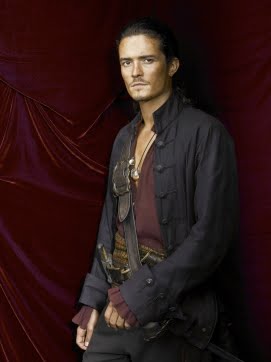 Who is Will Turner
The American Walt Disney swashbuckler might have gone on to have four sequels with a sixth movie in the works, but the story really started in 2003 with Pirates of the Caribbean: The Curse of the Black Pearl. When the local blacksmith has to team up with a scheming pirate to rescue the kidnapped daughter of the Governor, they have to take on the cursed crew of the Black Pearl who under moonlight turn into undead skeletons.
William "Will" Turner, played by Orlando Bloom, born to a pirate father he never knew, has his wariness of Pirates put to the test when he must sail the seas to save his true love Elizabeth Swann accompanied by Jack Sparrow and his crew. An accomplished blacksmith and sword fighter, it is in the third movie that in an attempt to save his father Bootstrap Bill Turner that Will becomes the Flying Dutchman's immortal captain, only allowed to return ashore once every ten years.
How to Get the Will Turner Look
With costume Designer Penny Rose in charge of creating the wardrobe for the cast, it was her job to add period accurate details to the costumes as well as encompassing the fantasy feel of a pirate adventure.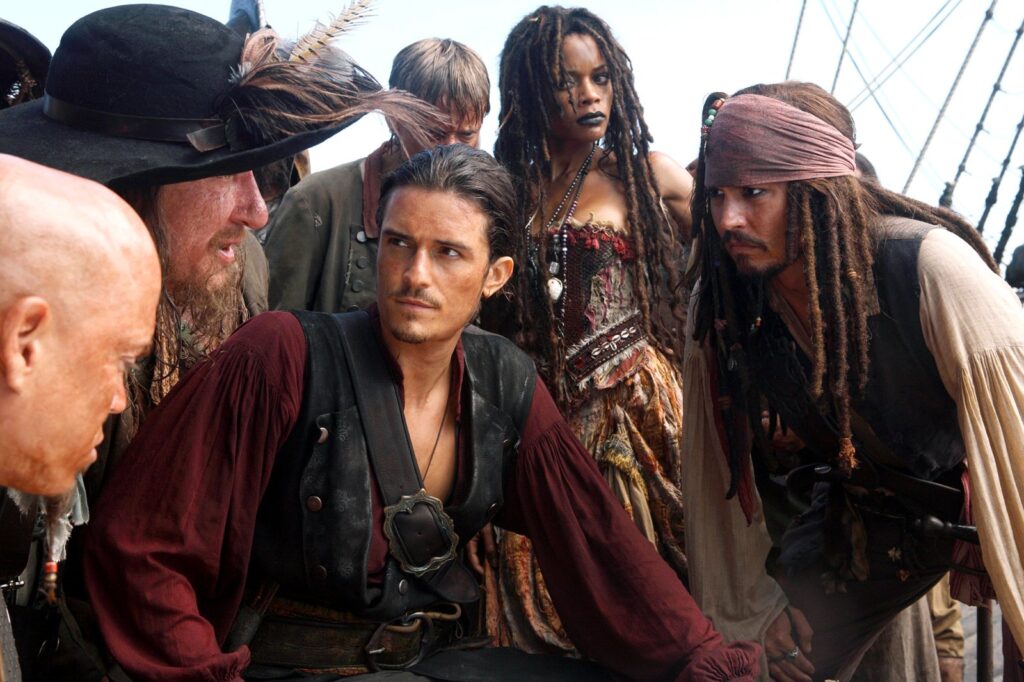 So for your dress-up or cosplay event you will want to start your Will Turner costume by getting a long sleeved burgundy red shirt, with a half button-up front closure, which you should leave open, and a collar. Add some black breeches or black baggy trousers that are tight around the ankle and tuck them into a pair of black leather pirate boots.
With the 18th century time period a big inspiration for the movie costumes, next you will need to pair your burgundy shirt and black breeches with a black pirate frock coat. You are looking for a formal coat, finishing at the knee that has some ornate braid work, shiny buttons and a more luxurious feeling fabric.
Then add a brown leather belt around the waistband of your trousers, with your shirt tucked in. A matching brown leather pirate belt with gold fixtures that goes across your body, should be worn on top of your coat for you to store your weapons and to give you easy access to them in case of finding yourself in a sudden duel.
Will Turner's Accessories
To finish the overall look for your Will Turner costume you will need to add a couple of accessories, such as the amulet necklace he wears around his neck. Go for a rope chain with a jewel or crystal suspended on the end a dark color, then finish with the most important addition of all, a sword. Our blacksmith was an excellent swordsman practicing daily before he fell into the pirate life, so don't be scared to challenge anyone to a duel. 
Missing an Outfit Inspo? Submit your idea and we'll make it happen!
Monthly Newsletter
Subscribe and get your Halloween costume ideas from us each year.