Dress Up Like Valkyrie from Thor
If you are looking for a good Valkyrie costume for Halloween or a big cosplay event, here's the winning formula for creating the most exciting outfit of the party! Let's see how to dress up as Valkyrie from Thor.
Costume Guide For COSPLAY & HALLOWEEN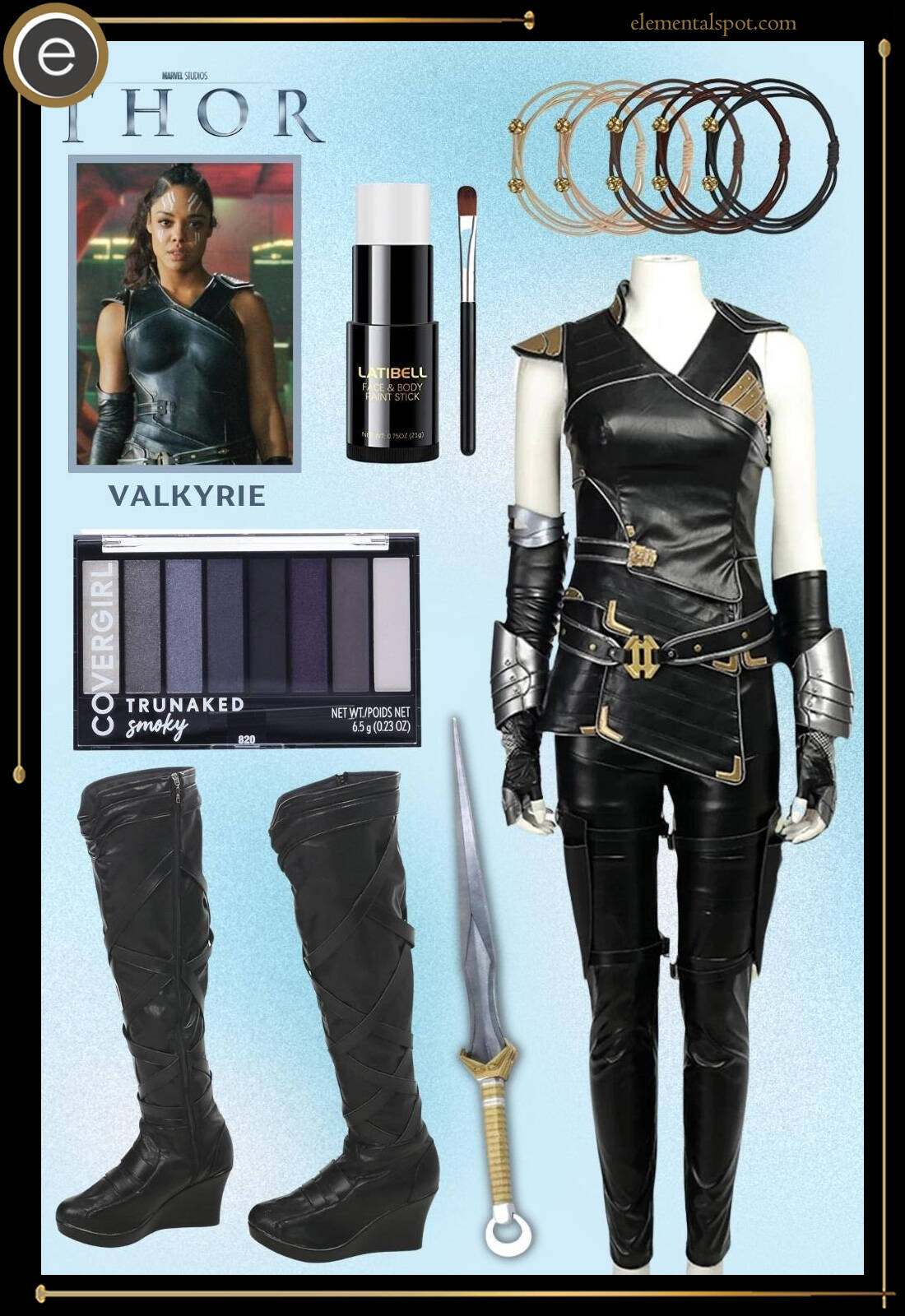 Valkyrie from Thor Costume Guide
Shopping List for Valkyrie from Thor Costume & Outfit
Who is Valkyrie?
Valkyrie is a fictional superheroine appearing in American comic books published by Marvel Comics. The character, based on the Norse mythological figure Brynhildr, was created by Roy Thomas and John Buscema. In the Marvel films, she is played by Tessa Thompson.
Valkyrie's Origin and Marvel Films
Valkyrie was the symbol of all that the Valkyrie were known for. She was a selfless, brave hero, and a great leader to her Valkyrie sisters and to Asgard. However, the Massacre of the Valkyrie traumatized her, changing her greatly. Ravaged by grief and anger, alongside dealing with the shame of being the only survivor, Valkyrie abandoned Asgard and fled into exile on Sakaar.
Unleash the Power of Valkyrie – Her Extraordinary Abilities
Valkyrie possesses a range of amazing powers. She has superhuman strength, as well as superhuman endurance and resistance. Her tissues are so dense that her skin can withstand the impact of small caliber bullets, and her stamina allows her to perform intense physical exertion at maximum capacity for about an hour before she begins to feel fatigue. As a valkyrie, she can sense if Death is about to strike someone near her; she then sees a "lethal glow" surrounding the person threatened with death, whereas most Asgardians and humans are unable to perceive this glow.
Valkyrie Thor costume and accessories 
In order to become Valkyrie, you'll have to slip on her iconic black superhero outfit as well as a pair of black boots. Don't forget to also grab the hero's sword. Of course, it's also important to nail the hair and makeup look!
If you have naturally long black hair, it's perfect! Grab a few hairties and divide your hair up in three parts. Style the middle part up in a little knot in order to replicate Valkyrie's hairstyle. If your hair is too short for this, no worries! Simply buy a bald cap and a wig with long black hair, then style it accordingly. This will help your costume to be more realistic. 
Valkyrie Makup
Finally, the finishing touch of your costume is the makeup. Apply your foundation as usual, then grab some dark blue eyeshadow. Apply it to your eyelids, carefully blending it out around the edges. Put on a nude lipstick for a natural look. Finally, as seen in the Marvel films, Tessa Thompson's Valkyrie has a design of white lines on her face when going into battle.
To replicate this design, simply invest in some white face paint. With a fine makeup brush, draw three white lines down from your hairline to your eyebrows. Then carefully draw two smaller lines under your eyes. 
With this amazing look, and the efforts put towards hair styling and makeup, we're sure you're going to blow everyone away with this incredible Valkyrie Thor costume! 
If you admire the strength and grace of Valkyrie from Thor, you'll be captivated by another powerful Marvel character. Explore our guide on creating a stunning Scarlet Witch outfits and unleash your mystical powers.
Missing an Outfit Inspo? Submit your idea and we'll make it happen!
Monthly Newsletter
Subscribe and get your Halloween costume ideas from us each year.