The most beautiful outfits from WandaVision to re-style
The Avengers film series was a blockbuster in Hollywood history. While our minds were captivated by the powers of superheroes, the individual Marvel series and movies also proved that their sense of fashion was no less dazzling.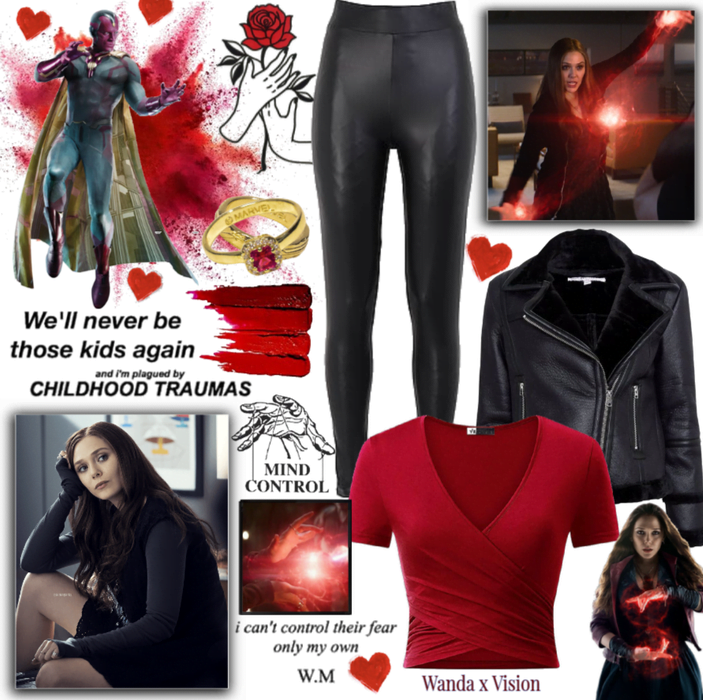 Take Wanda Vision, for example. The starting episodes take inspiration from different decades, sitcoms from the past 70 years, to be exact. But we are not here for the plot! Enough talking, let's get started with our guide on the best WandaVision outfits, starting with Wanda Maximoff Hoodie!
Wanda Maximoff Hoodie
The famous Wanda Maximoff hoodie is the most versatile piece from her 2000s collection in the series. Her contemporary mom's clothing is every cosplayer's dream wardrobe. There is something about her authentic appearance that makes our generation wish for similar looks in more episodes.
Wandavision is definitely an incredibly great dress inspiration, we will show that below. The costumes and outfits from the 5o's to the 90's are the most memorable in the show. So why are we starting with such a simple everyday hoodie?! Exactly because it's so " for every day". You don't have to wait for the Halloween party to wear a Wanda Vision's outfit, because with this Wandas' hoodie a Wanda's fan can enjoy an accompanying piece of wardrobe every day.
Wanda vision 70s outfits
Already in Episode 1 you can see Wanda undergoing many costume changes . Her transition from the wedding dress to embellished daywear to stunning '50s nightgown is spectacular. Wanda wears the same daisy necklace as her evening gown, statement earrings, a bracelet, and a glistening gem around the waist to complete the look.
We'll work on these 50's and 60's Wanda Visions' outfits one by one later, but here we start, somewhat non-chronologically, with the 70s, and start with the striped 70's dress
WandaVision '70s Dress
The 1970s is the most exciting era in terms of fashion; tie-dye shirts, ponchos, capes, bell bottoms, and ankle-length maxi dresses are only a few highlights of the decade. Wanda appeared in numerous 70s-inspired outfits in the episode's opening scenes, all of which included stylish, era-appropriate clean, sleek hair.
Wanda's brightly colored, loose-fitting outfit and hairstyle correctly depict the early 1970s daywear fashion. This outfit covers two episodes, like her stylish mom hoodie. She paired her striped retro-print dress with knee-length brown boots with short heels that added grace to Wanda's maternity outfit.
No wonder this dress is so popular. The design also fits perfectly for everyday wear with jeans for example and will be perfect for cosplay . A great blend of style and comfort.
Here is How to Make Wanda's 7 Episode Dress
Wanda's "That '70s Show" Inspired Outfit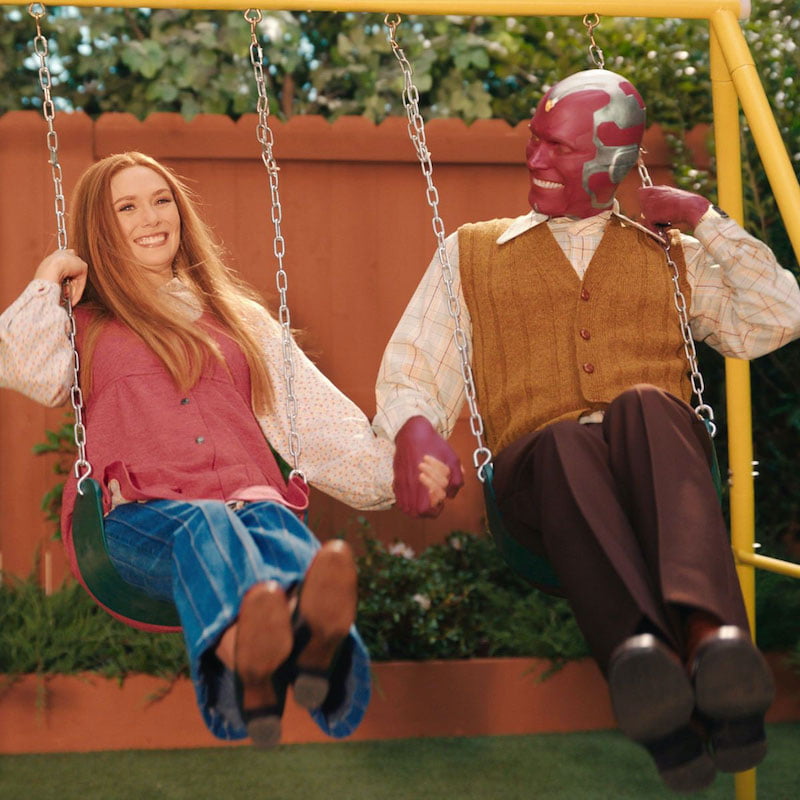 WandaVision's costume designers had an abundance of ideas in the 1970s episode, and they made sure to incorporate those styles that suit Wanda's personality and the show's setting.
For instance, this WandaVision '70s outfit incorporates some timeless classics, like the striped pants, which have already re-entered 20th-century fashion. It's actually sad that this outfit got such a short screen time.
Wanda Visions 50's o 60's Outfits
WandaVision Wedding Dress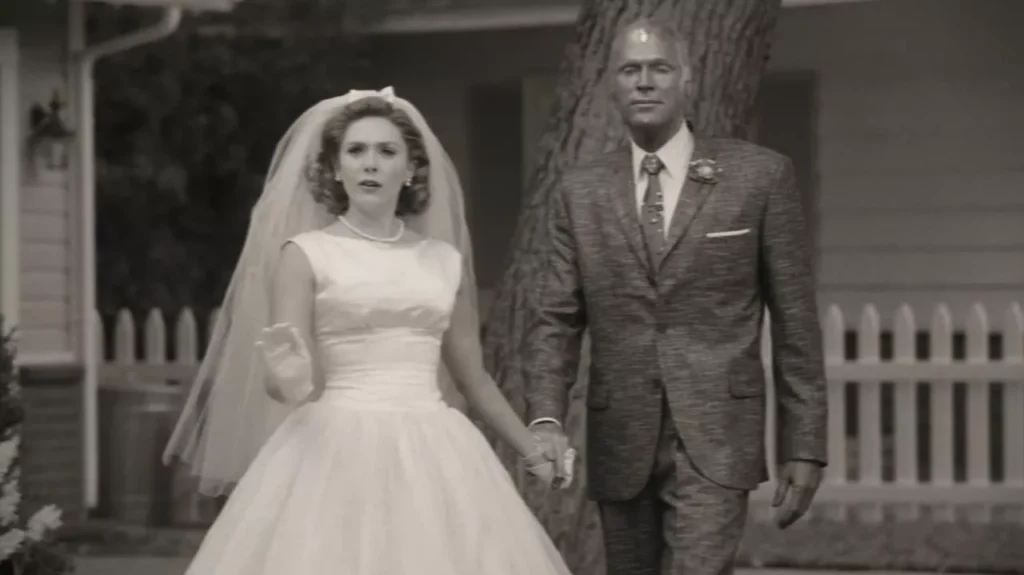 Wanda made an impressive entry with a vintage-inspired attire that features white gloves, a pearl necklace with complementing earrings, a bowed veil over precisely styled hair, low white heels, and pearl accessories.
WandaVision's Oscar-nominated costume designer Mayes C. Rubeo says that Wanda's wedding dress was made specifically for the series and was intended as a tribute to Audrey Hepburn.
WandaVision '50s A-Line Dress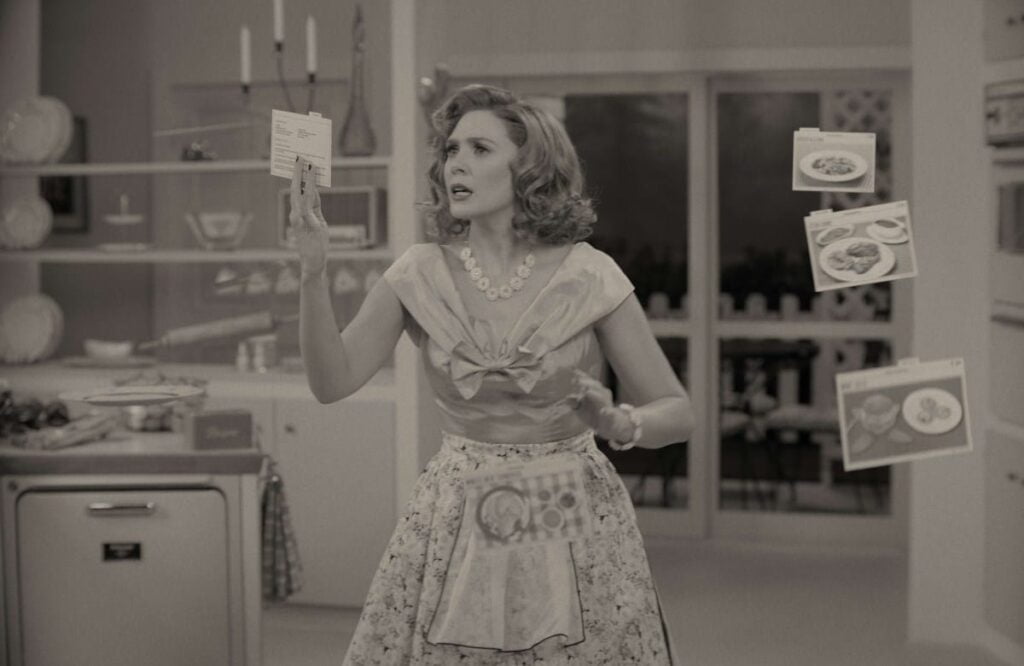 The series starts with Wanda styling the signature 1950s style. You see some exquisite A-line dresses and a stunning trimmed robe; this vintage housewife look is beyond how viewers would never have pictured Scarlet Witch.
The actress wears two A-line gowns in the first episodes (yep, they are two different dresses!). While the high-collar day dress was stunning, you can't resist praising the costume designer on the off-shoulder neckline evening dress with the beautiful daisy necklace.
Wanda Maximoff '50s

Happy Housewife Outfit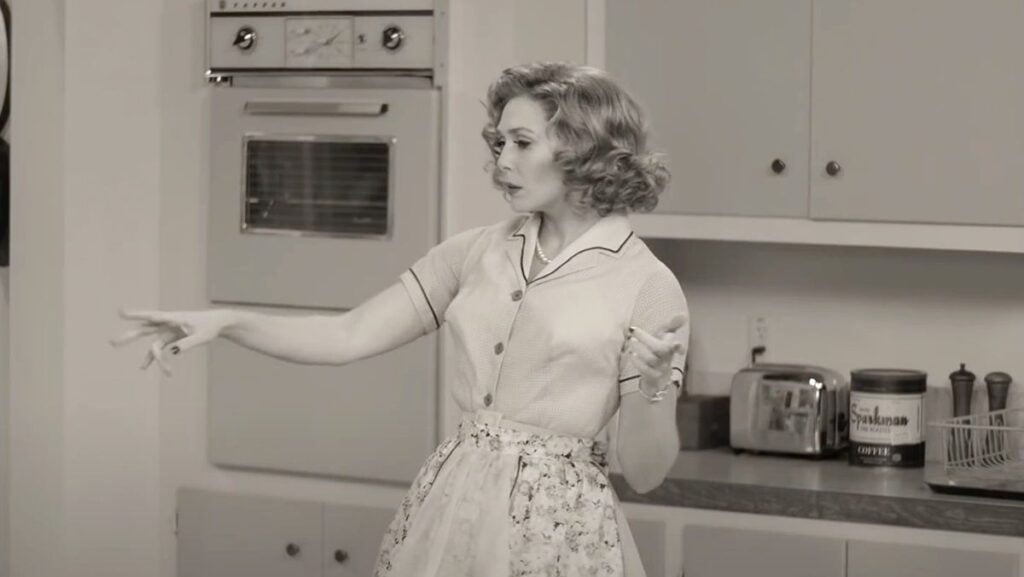 Elizabeth Olsen served some stunning and classy looks in WandaVision; you can tell that just by looking at the happy housewife outfit she styled in episode 1. The highlights of her dress were the tea-length button-up blouse, a floral skirt, and a cute mini apron.
But that's not all her chic look encompasses. The actress completes this glamorous attire with a pearl necklace, matching earrings, a bracelet, and short heels. You also see her sporting a classic curly bob hairstyle, appropriate for a '50s homemaker.
From 60s Dress to Cigarette Pants and Top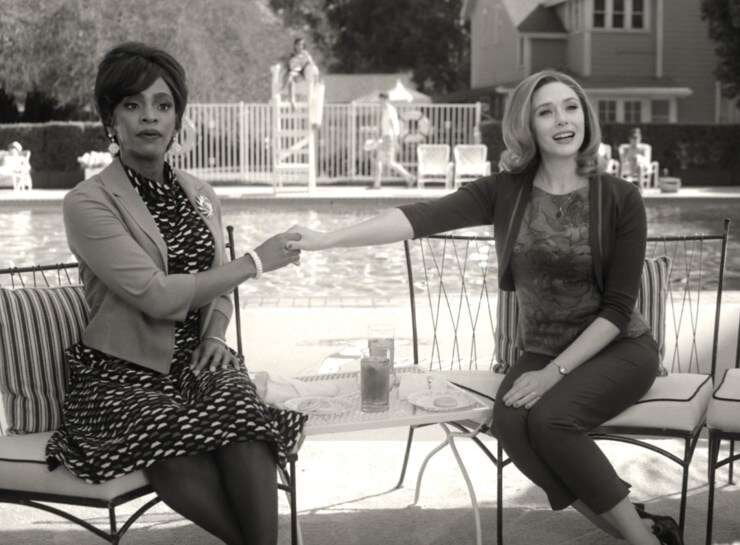 The imaginative Bewitched-themed beginning of WandaVision's second episode undoubtedly delighted viewers as Wanda transitioned into the late 1960s with a new appearance and hairstyle. For starters, she wears trousers and pants instead of gowns and dresses.
You can spot her wearing a trendy red, patterned boat neck shirt with cigarette pants. The low heels, cropped front-open shrug, and a water drop necklace were the only things that could add to the outfit's glamor, and they rightly did!
Wanda's '80s to '90s OUTFITS
Wandas' Vest Outfit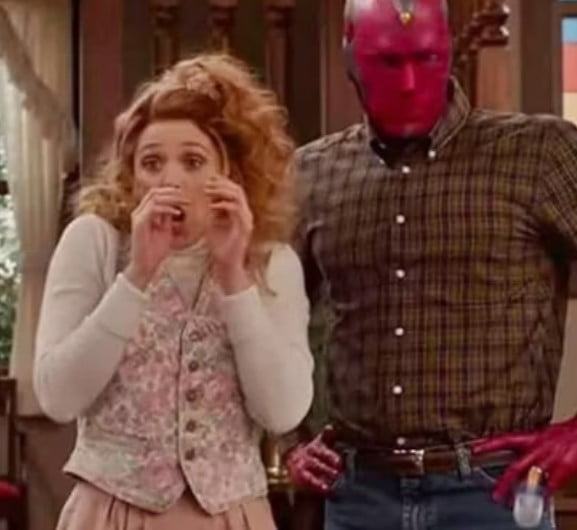 Wanda embraces the 1980s with a "bigger is better" ultra-permed hairstyle, mom jeans, scrunchies, and turtlenecks. She styles a pair of pink high-waisted leggings and a cream turtleneck with an 80s-themed flowery vest with denim back and brown sneakers.
While this outfit is a bit funky and, let's face it, the least attractive trend from that era, you can make it 2021-worthy with some slight modifications; lighter perms and updated cuts and prints, perhaps.
Wanda Maximoff's '90s Themed suspenders Outfit
Wanda transitions from her haphazard 1980s look in Episode 5 and set some actual fashion trends. She sports a timeless classic plaid outfit with denim. The character is wearing a folded short-sleeved checkered button-up shirt with high-waisted blue jeans, a gold watch, and chic red laced sneakers.
And while Wanda's hair is not as dramatically huge as it was in the 1980s, it is still perfectly sculpted and styled with big curls worn casually to accent her face. Vision wears a similar suspender-style outfit with gray suit pants and a cream-colored shirt. Episode 5 is one of the few instances where the couple's attire perfectly complements one another.
Wanda Vision Costume
Scarlet Witch Halloween Costume
Wanda spends pretty much the entire Episode 6 in her Scarlet Witch Halloween costume. This outfit fits her comic counterpart's description; the classic red headpiece, stunning red leotard, scarlet cape, and pink tights.
This costume was a massive hint to her revamped Scarlet Witch costume being revealed in later episodes. But hey, no one's complaining – after all, it serves as a prelude to Wanda receiving a fully upgraded Scarlet Witch look in the show's finale.
Wanda Maxoff's Box Jumper Outfit
The magic show costume is less popular than the Halloween one, mainly because of its discreet design. It features sequins instead of feathers, but the gist remains the same.
The character wears this outfit during her magic performance, which is the first time she displays her powers in public. Wanda's magician's assistant outfit features a glittery leotard, fishnet tights, a top hat, elbow-length gloves, and flat heels.
Wanda Maxoff's Modern Aesthetics
Wanda Maxoff wearing 2000s fashion has a different vibe. And let's admit it – WandaVision is brighter and better when Wanda styles comfy, modern clothing. We already gave you a sneak peek with the Wanda Maxoff Hoodie, and its time to discuss some more trendy pieces:
Wanda's Comfy PJs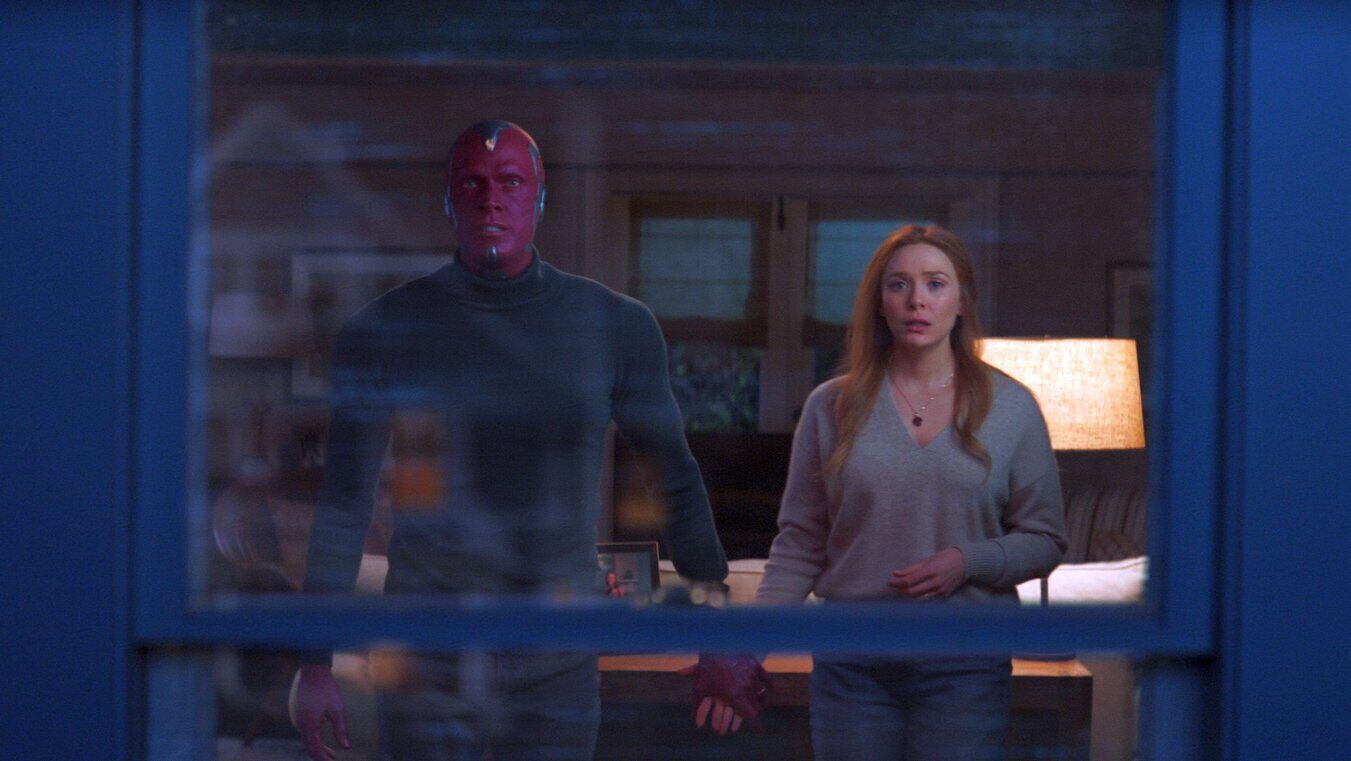 WandaVision's Episode 7 features Wanda in an article of uncomplicated clothing; a comfortable checkered bathrobe, lounge trousers, a matching plain gray blouse, unkempt pulled-back hair instead of jewelry, and properly curled hair.
Are Wanda's PJs as fashionable as her earlier appearances? No! But they are ten times cozier and incredibly functional. This outfit depicts how much fashion has evolved since the 1950s, aka Episode 1.
Wanda's Lakehouse PJs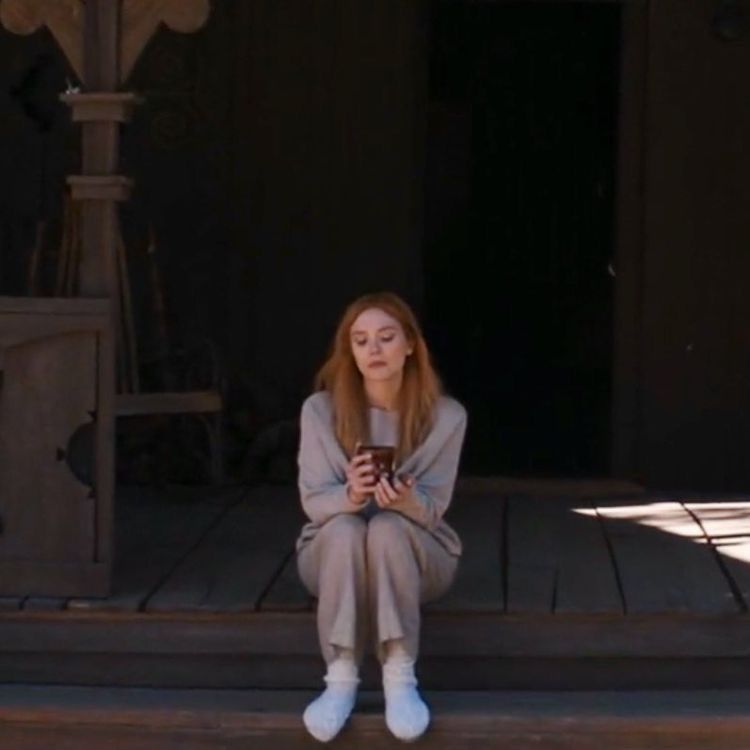 Episode 7 onwards portrays the time when Wanda seems to unwind. And it's safe to say the costume designers have done a fantastic job at making her outfits blendable into the background.
Apart from the Wanda Maxoff Hoodie and loungewear discussed above, Wanda pulls off an effortless lakehouse PJ set in neutral colors in Episode 9. Not only are these outfits flattering, but they are also versatile options most women have lying around in their cupboards.
The Revamped Scarlet Witch Costume
Wanda Maxoff's typical outfit stands out from her fellow heroes' mainly because she is the prominent Marvel superhero who defied her comic book appearance for a good 20 movies. But it didn't last long!
Wanda Maximoff's character is in line with her fellow superheroes when WandaVision is made into a reinvention origin narrative for the character to become the Scarlet Witch.
Which of These WandaVision Outfits are You Styling?
One of the most challenging tasks Marvel had in WandaVision was to divert the audience's attention from the story's mystery. And it's safe to say they understood the assignment! WandaVision has sparked the flame inside fashion lovers by paying homage to some forgotten fashion masterpieces in the previous eras. Which one is your favorite? Ours is Wandavision 70s dress.
Here are some of the trendiest WandaVision outfits that added a pleasant visionary element to the miniseries.
Connecting the Fashion Worlds of WandaVision and The Chilling Adventures of Sabrina
Looking for some more outfit inspiration in red?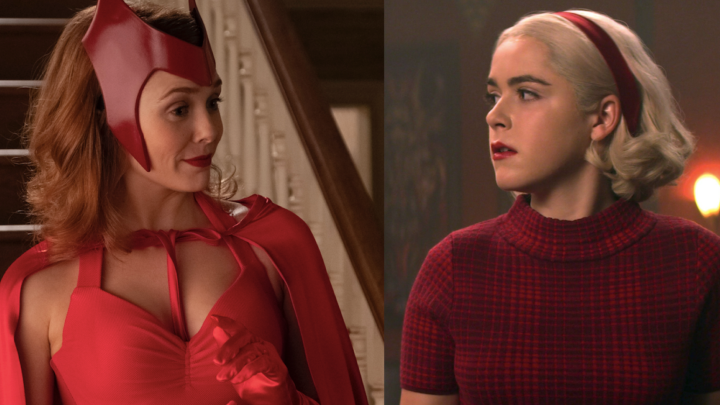 While both WandaVision and Chilling Adventures of Sabrina have female protagonists with magical powers, their fashion choices differ greatly. Wanda Maximoff's style in WandaVision is heavily influenced by different decades, from the 50s to the 90s, and she often wears form-fitting dresses and bold colors. Meanwhile, Sabrina Spellman's outfits in Chilling Adventures of Sabrina are more dark and edgy, with her signature red coat and witchy accessories. Despite the differences in their fashion choices, both characters use their unique styles to help convey their individual personalities and enhance the storytelling in their respective shows.