Dress Up Like Ted Lasso from Ted Lasso
If you are looking for a good Ted Lasso costume for Halloween or a big cosplay event, here's the winning formula for creating the most exciting outfit of the party! Let's see how to dress up as Ted Lasso from Ted Lasso.
Outfit Guide For COSPLAY & HALLOWEEN
Ted Lasso from Ted Lasso Outfit Guide
Shopping List for Ted Lasso from Ted Lasso Costume & Outfit
With so many streaming shows nowadays, it is no surprise that there are a tonne of great character ideas hidden away on streaming platforms to inspire your next dress-up or cosplay costume. Why not take inspiration from Ted Lasso (2020) and use the creations of costume designer, Jacky Levy, as your muse to recreate the look of AFC Richmond's manager in your own Ted Lasso costume.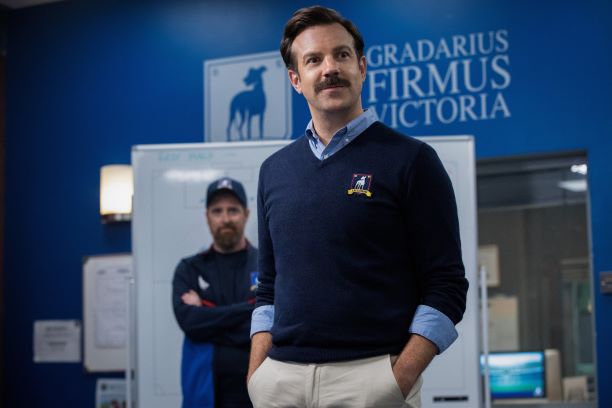 The 2020 American sports comedy series, which streams on Apple TV+, started out as a set of satirical promos of the English Premier League for NBC's Sports coverage. Ted Lasso, the eponymously named series, follows the journey of the American football coach when he joins English soccer team AFC Richmond as their new manager, despite not having any relevant experience. Although he's brought in by the owner to spite her ex-husband and destroy the team, his optimistic demeanor starts to win over the clubs players and fans.
Get the Ted Lasso Look
To get the preppy look of the kind and compassionate, if inexperienced coach for your Ted Lasso costume start by getting a light blue long sleeved button up shirt and a navy blue v-neck sweater. Wear your shirt with the top button undone and the navy pullover on top. Don't forget to have the sleeve cuffs of your shirt turned over the sleeve of your sweater then rolled up to your elbows, before adding a pair of khaki straight leg trousers to your look.
As manager of an English Premier League soccer team, Lasso's typical coaching uniform also includes a pair of red and white Nike sneakers and an olive green backpack. Along with a silver whistle on a cord around his neck.
According to the show's hair and make-up stylist Nicky Austin, in this US magazine article, the most important part of styling the football manager is getting his mustache right. Actor Jason Sudeikis grows his own for the role, but when it comes to your Ted Lasso costume going with a fake mustache will probably be easier. You should be able to purchase one online, that is dark brown and bushy like Teds to really complete your look.
Being the manager of a failing Premier League soccer team can't be easy, especially when you don't actually know anything about the game and the owner is against you. So when finishing off your Ted Lasso costume don't forget to grab your soccer ball and your optimistic folksy demeanor, and maybe even a couple of his famous shortbread cookies to win everybody over.
Missing an Outfit Inspo? Submit your idea and we'll make it happen!
Monthly Newsletter
Subscribe and get your Halloween costume ideas from us each year.