Dress Up Like Stella from Winx Club
If you are looking for a good Stella costume for Halloween or a big cosplay event, here's the winning formula for creating the most exciting outfit of the party! Let's see how to dress up as Stella from Winx Club.
Costume Guide For COSPLAY & HALLOWEEN
Stella from Winx Club Costume Guide
Shopping List for Stella from Winx Club Costume & Outfit
Stella from Winx Club is one of the most stylish characters around! A beautiful, fashionable, and funny character, Stella is incredibly popular with Winx Club fans. Her long blond locks and romantic nature have made her an icon. Popular and sassy, she is a great costume for Halloween. Here's how to create the perfect Stella Winx Club Costume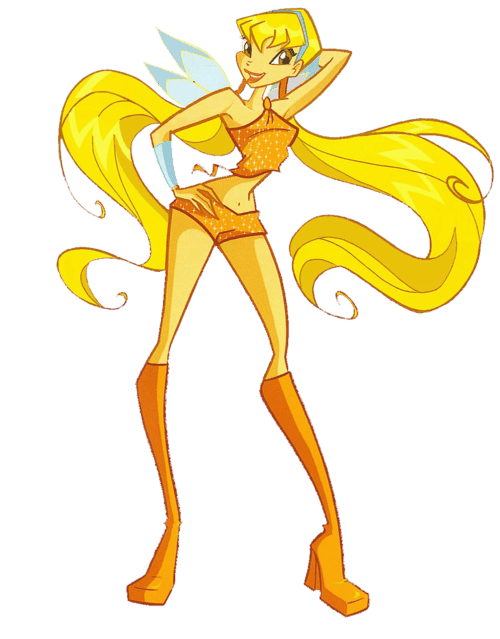 Who is Stella from Winx Club?
Voiced by Amy Gross in the English version and Perla Liberatori in the Italian version, she is one of the six core members of the Winx club, Italian-American television series created by Iginio Straffi.. Stella is the Fairy of the Sun and the princess of her home planet, Solaria. She is madly in love with her fiancé, Brandon, a student at the Red Fountain school where he trains in weapons combat to balance Stella's magical abilities.
How to get the Stella from Winx Club Look?
To embody this gorgeous figure, you will need :
A sparkly orange top and equally glitzy orange skirt.
Some teal gloves and a teal headband will complete the look
alongside some fiery orange boots.
A long blond wig and a dreamy pair of fairy wings will have you looking just like Stella!
Stella Winx Club Makeup
All that's left to do to perfect your Stella costume is to add on some realistic makeup! Put on some foundation, then use some gold eyeshadow on your eyelids, blending it with a bit of darker color around the edges. Following the steps outlined in the video, create a perfect winged eyeliner. Add on some lashes for volume. A highlighter is also helpful, as it will make your skin shine just like Stella!
Stella Winx Club Hair
When it comes to your hair, a good tip for the wig is to tie it up with hairbands in the typical Stella fashion, parting the hair in the middle. It will add a realistic touch to your costume.
Finally, make sure to get Stella's mannerisms down as well. Watch a few Winx Club episodes to memorize how she speaks, the way she walks, etc. It is important to fully embody the character you're dressing up as!
With this fashionable orange costume, gorgeous fairy wings, and beautiful makeup, your Stella costume will impress all your friends this Halloween. We're sure you won't regret dressing up as Stella from Winx Club!
Join forces with the Winx Club and explore the magical realm of Bloom by checking out our detailed guide on how to create a captivating Bloom costume.
Missing an Outfit Inspo? Submit your idea and we'll make it happen!
Monthly Newsletter
Subscribe and get your Halloween costume ideas from us each year.