Dress Up Like Sidney Prescott from Scream
If you are looking for a good Sidney Prescott costume for Halloween or a big cosplay event, here's the winning formula for creating the most exciting outfit of the party! Let's see how to dress up as Sidney Prescott from Scream.
Costume or Outfit Guide For COSPLAY & HALLOWEEN
Sidney Prescott from Scream Costume or Outfit Guide
Shopping List for Sidney Prescott from Scream Costume & Outfit
The iconic horror franchise Scream has everything: a cult classic film director, Wes Craven, who helmed the first four movies, a notorious and universally known killer in Ghostface, and yet it would still be nothing without the seemingly indestructible protagonist Sidney Prescott. Although Ghostface makes for a great horror filled costume, why not go for the real star of the movie and create your very own Sidney Prescott Scream costume this year.
The American slasher movie, might have gone on to have four sequels with a sixth movie due out in 2023, but the story really started in 1996 with the original Scream and our protagonist Sidney Prescott, played by a young Neve Campbell.
Set in the fictional town of Woodsboro, California the story follows high school student Sidney, and her friends, as she struggles with the first anniversary of her mothers rape and murder. When her fellow students start getting killed, and Sidney begins to receive the ominous "what's your favorite scary movie" phone calls, she can't help but start to wonder if everything is connected and that maybe Ghostface knows her just a little too well to be a stranger.
Which begs the question, why is her boyfriend Billy Loomis acting so weird.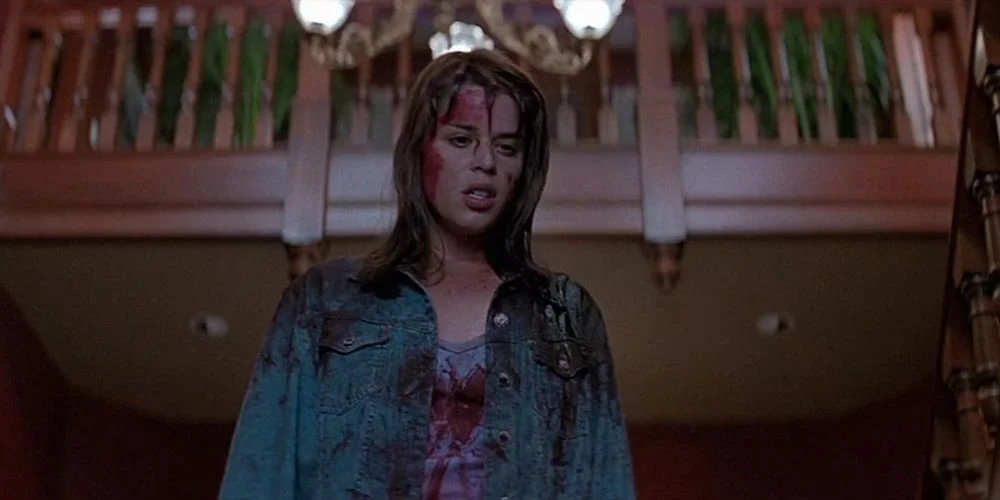 Getting the Sidney Prescott Look
With Cynthia Bergstorm helming the wardrobe department on the original Scream, it was her job to create the look of our sweet and innocent, yet unbreakable heroine Sidney Prescott. 
As she is a quiet and reserved teenager still suffering the loss of her mother, her style is very simple. So start your Sidney Prescott costume off with a basic short sleeved lilac t-shirt, a pair of black jeans and some black heeled leather ankle boots.
Add her signature light blue denim jacket from her fight scene with ghostface, over the top of your t-shirt and jeans, before moving on to getting the styling of your hair and make-up right for your costume.
Hair and Make-up
To get the hair style right for your Sidney Prescott costume you can purchase a dark brown shoulder length wig with full bangs. Throughout the movie her hair has minimal styling so leave your wig with the hair straight falling around your face and shoulders.
Sidney's make-up look can be achieved simply by following the youtube tutorial above by Madalyn Cline.
Once you have your base layers complete, the youtube tutorial will talk you through some basic contouring to recreate Sidney's look, as well as how to create a natural smokey eye and a subtle glossy lip. The big decision to make is whether you are going to apply the fake blood to indicate you have already survived Ghostface or if you'll go without, and still have to face your enemy.
To finish your overall look add a couple of accessories, such as a metal strap watch on your wrist and a small black leather purse thrown over your shoulder to complete your Sidney Prescott costume.
You could even turn your Sidney Prescott look into a group costume, and get a friend to dress-up as Ghostface. Following our guide here, on how to easily recreate the killer's look.
Missing an Outfit Inspo? Submit your idea and we'll make it happen!
Monthly Newsletter
Subscribe and get your Halloween costume ideas from us each year.