Dress Up Like Sharpay Evans from Fabulous
If you are looking for a good Sharpay Evans costume for Halloween or a big cosplay event, here's the winning formula for creating the most exciting outfit of the party! Let's see how to dress up as Sharpay Evans from Fabulous.
Costume Guide For COSPLAY & HALLOWEEN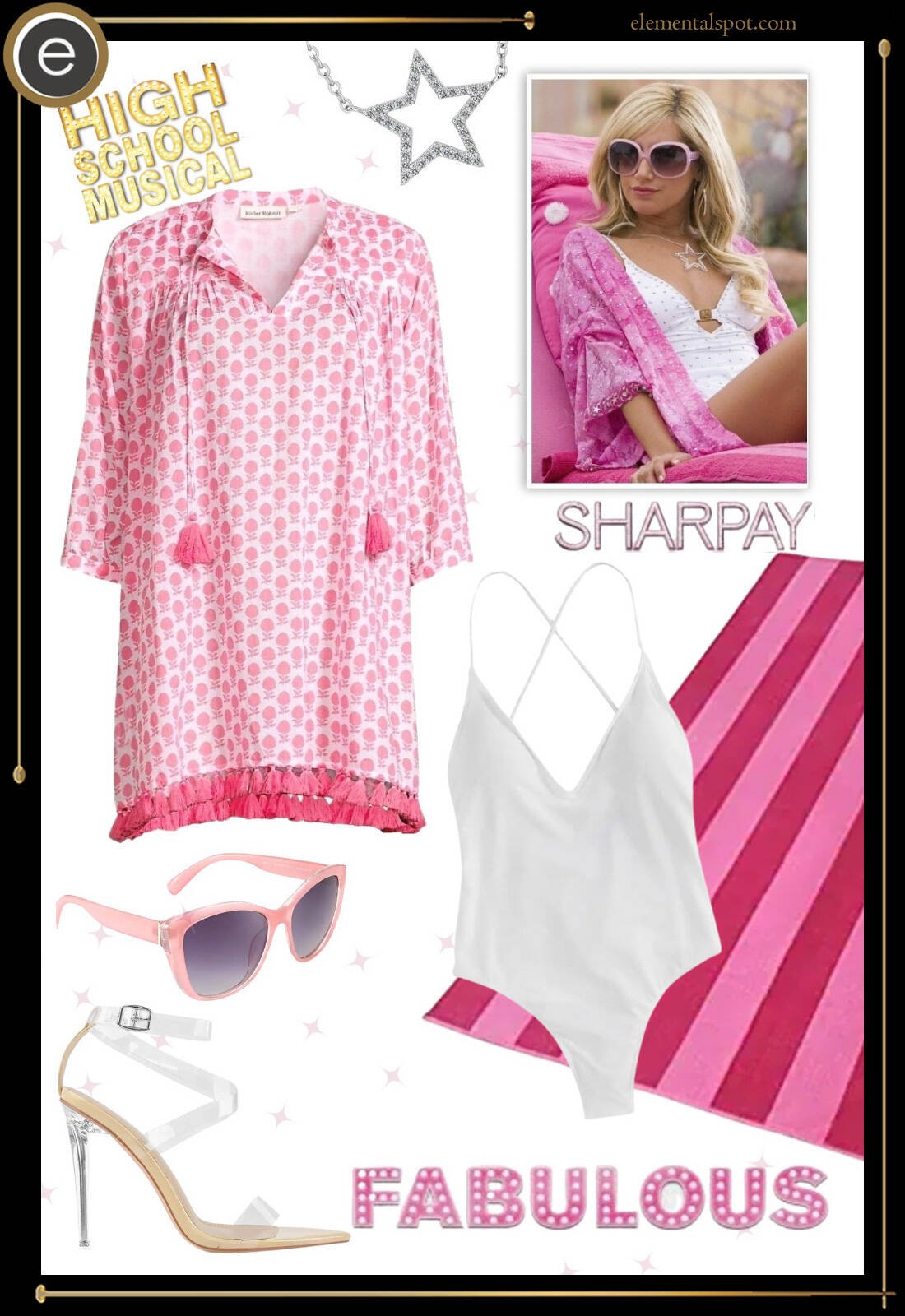 Sharpay Evans from Fabulous Costume Guide
Shopping List for Sharpay Evans from Fabulous Costume & Outfit
It's time to achieve fabulous.

The famous High School Musical movies are ingrained into just about every 2000s kid's mind, from the plot to the songs. It was impossible to go anywhere without hearing about the movie and its popularity since Disney had no issues plastering the name everywhere. East High's adventures were all the rage back then and its antagonist, Sharpay Evans, was no different.
Stealing this iconic villainess's outfit is a tribute to the series that so many grew up with.


Before we move on to Sharpay's outfit, let's remember where it all began
In High School Musical, Sharpay's introduced to be the popular, self-centered, co-president of the drama club that craves the spotlight. From her glamorous lifestyle and custom belongings, she is, in every way, the princess stereotype. And of course, we will express that with this costume tutorial.
Sharpay and her twin brother Ryan are often seen giving their all into the performing arts, often given the lead roles, and have no issues keeping their spots to do so. It isn't until Troy Bolton and Gabriella Montez receive callbacks for their auditions that Sharpay becomes bothered by the idea of someone knocking her out of her time in the spotlight. She conjures up a plan to expose Gabriella for her smarts, a warning to stay in the clique that Sharpay thinks she belongs in, but this only seems to work against her as Troy gets closer to Gabriella. This causes other cliques to mingle who would have otherwise stayed quiet, upsetting Sharpay further.

As a last-ditch effort to secure her spot and shove Gabriella out of her way, she convinces the chaperone to change the date of the callbacks to Friday, the same day as Troy's basketball championships and Gabriella's decathlon. This later backfires when Troy, Gabriella, and friends propose a plan to pause both of their events to do their callback and then return to their events later. Losing for the final time, Sharpay accepts defeat.
So all of this is fabulous but what about that simple request?
How to get Sharpay Evans Outfit?
First, let's say that the costume design comes from Tom McKinley
And this is how you get the Sharpay Evans pink white beach look:
Starting with a white, one-piece swimsuit with spaghetti straps, then throwing on a pink, flower-printed tunic overtop, you're ready for the pool! Just don't ask where it was imported from.
Sharpay's known for her love of the color pink, so don't forget a pair of pink shades to match the tunic and add a little bit of silver bling with a sparkling, silver, star-shaped necklace.
Next, make sure you're wearing a clear, open-toed, heel to really complete the look, and don't worry about walking in them too much because a pink striped towel is all you'll be laying on.
Disney did a fantastic job creating, designing, and fleshing out Sharpay Evans and now it's time to show that with your fabulous cosplay.
If you adore the pink world of Sharpay Evans, you'll surely find the delightful Disney's Aristocats costume equally captivating and perfect for your fancy dress collection.
Missing an Outfit Inspo? Submit your idea and we'll make it happen!
Monthly Newsletter
Subscribe and get your Halloween costume ideas from us each year.