Dress Up Like Roddy St. James from Flushed Away
If you are looking for a good Roddy St. James costume for Halloween or a big cosplay event, here's the winning formula for creating the most exciting outfit of the party! Let's see how to dress up as Roddy St. James from Flushed Away.
Costume Guide For COSPLAY & HALLOWEEN
Roddy St. James from Flushed Away Costume Guide
Shopping List for Roddy St. James from Flushed Away Costume & Outfit
A Dreamworks animated movie might seem like an odd choice for finding inspiration for your next dress-up or cosplay event, especially when that movie is Flushed Away (2006). But once you have seen the suave and sophisticated Roddy St.James, you'll understand why he is the perfect muse. The duo of Benjamin Feder and Jane Poole were responsible for clothing the animated mouse, and really had some fun with his look. So now you can use their work to inspire your very own Roddy St.James costume.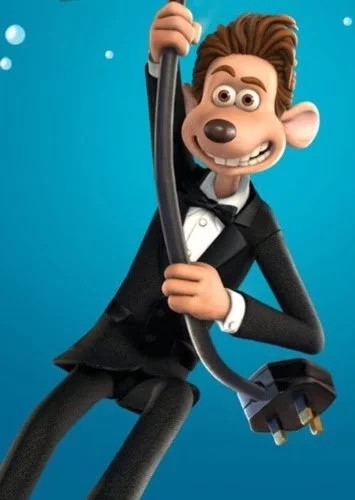 The 2006 animated comedy adventure movie, Flushed Away, sees our movie protagonist Roddy St.James, a very pampered mouse, living in a swanky Kensington Apartment with his wealthy owners. When sewer rat Sid gets into the apartment, Roddy schemes to get rid of him but instead gets himself flushed down the toilet into the sewers of Ratropolis. The lonely mouse needs all the help he can get to find his way home safely, not used to fending for himself street smart Rita is willing to help him, but at a price.
How to Get the Roddy St.James Costume
Our sophisticated protagonist, Roddy, belongs to a wealthy British family, which means he has always had everything he could possibly desire and likes to dress in the finest clothes.
To get your own perfect Roddy St.James costume you will want to start with a black tuxedo. A standard two-piece tux with a jacket and matching black trousers will work great paired with a white long sleeved button up tuxedo shirt.
Don't forget to add the accessories needed to complete your tuxedo look and really finish off your Roddy costume. Start with a black silk bow tie and a smart pair of black dress shoes. Go with the highly polished finish of patent leather lace up shoes to give your costume that flawless look, then add a simple set of cufflinks to your tuxedo shirt and you are almost ready to go.
Keep the styling of your costume simple and don't over do it. In the movie Roddy wears his dark brown hair slicked back from his face in a quiff. If your hair is long enough to recreate his quiff hairstyle then you could do the same by following a tutorial online, but if not just style your hair so that you look smart.
You could also use some make-up and contouring tricks and tips to give your face a more mouse-like appearance, not forgetting to finish off with a brown pointy nose.
However, to really make sure everyone knows who you are, you should buy yourself some dress-up mouse ears and a furry tail. Once you slip them on and complete your Roddy St.James costume, there will be no mistaking you as anything other than the suave high society mouse you are.  
"For a completely different character but still with a black tuxedo cosplay, check out our article on squid game black tuxedo costumes.
Missing an Outfit Inspo? Submit your idea and we'll make it happen!
Monthly Newsletter
Subscribe and get your Halloween costume ideas from us each year.