Dress Up Like Pete Maverick Mitchell from Top Gun
If you are looking for a good Pete Maverick Mitchell costume for Halloween or a big cosplay event, here's the winning formula for creating the most exciting outfit of the party! Let's see how to dress up as Pete Maverick Mitchell from Top Gun.
Outfit Guide For COSPLAY & HALLOWEEN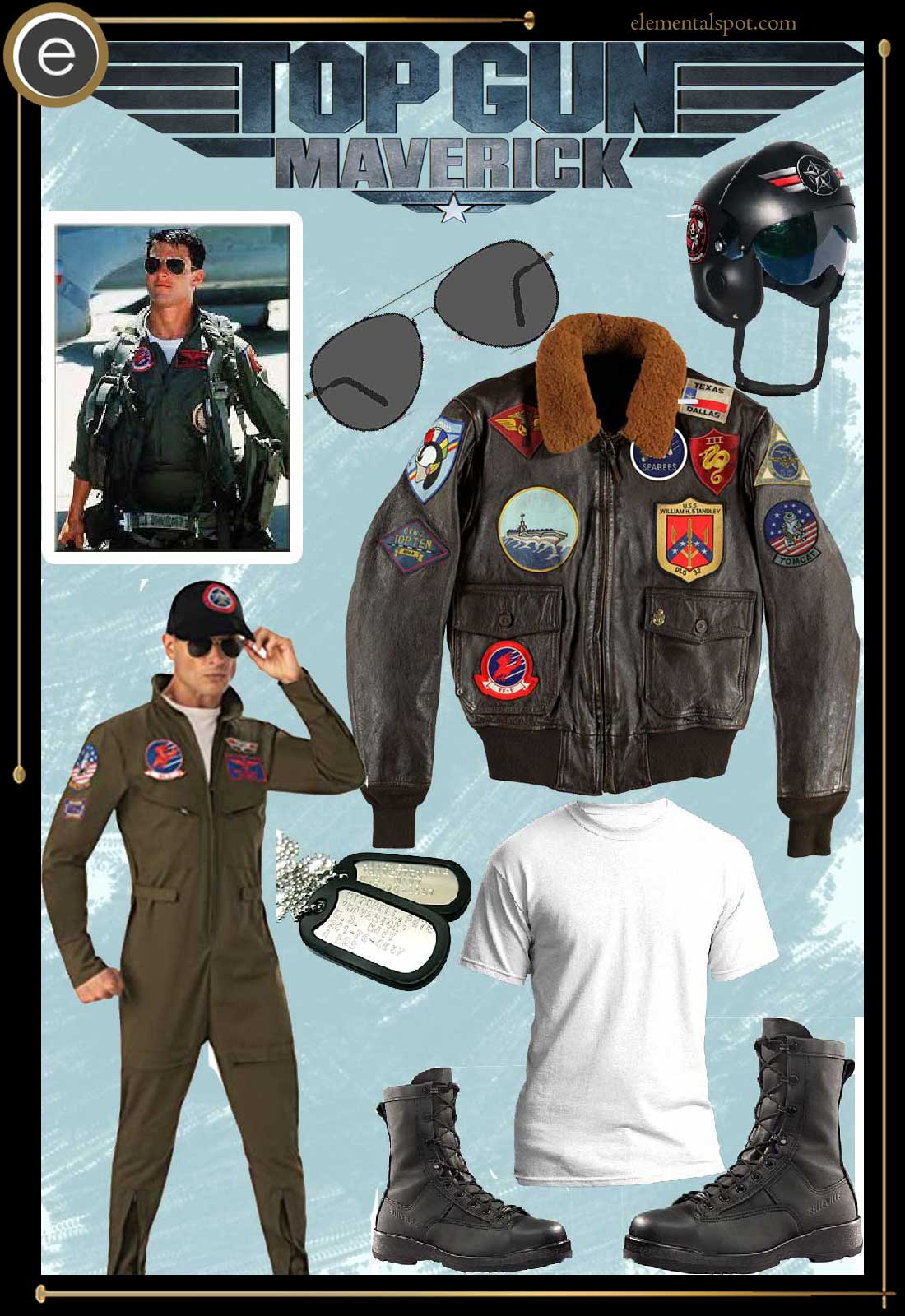 Pete Maverick Mitchell from Top Gun Outfit Guide
Shopping List for Pete Maverick Mitchell from Top Gun Costume & Outfit
Now and again a movie comes along that creates a character that becomes such a hit that all you need to say is their call sign and everyone automatically knows who you are talking about. With the release in 1986, of the now critically acclaimed Top Gun, director Tony Scott did just that. But when it comes to taking costume inspiration from the movie there's only one call sign on everyone's lips, Maverick.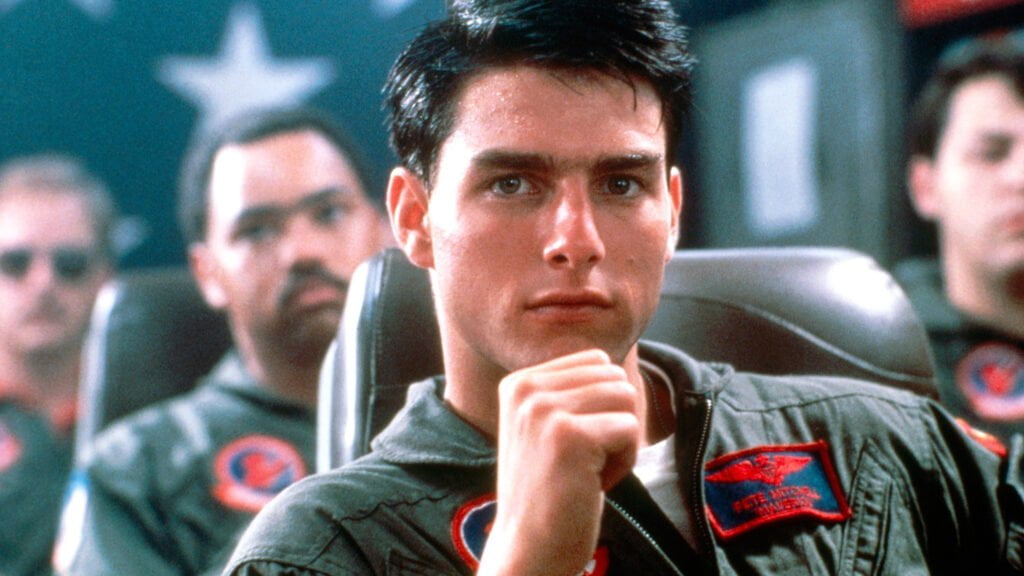 Who is Pete "Maverick" Mitchell
The 1986 American action movie Top Gun, was inspired by an article of the same name written by Ehud Yonay and published in the California magazine in the early eighties. It is set just north of San Diego in Miramar, California, home to the naval air station where the TopGun Fighter Weapons School was based. 
Pete "Maverick" Mitchell, played by Tom Cruise, the United States Naval Aviator Lieutenant is the movie's main protagonist. When the daredevil pilot and his Radar Intercept Officer Nick "Goose" Bradshaw are given the chance to train at the Top Gun school they have to compete against the best of the best, while also refining their elite skills to try to be top of the class.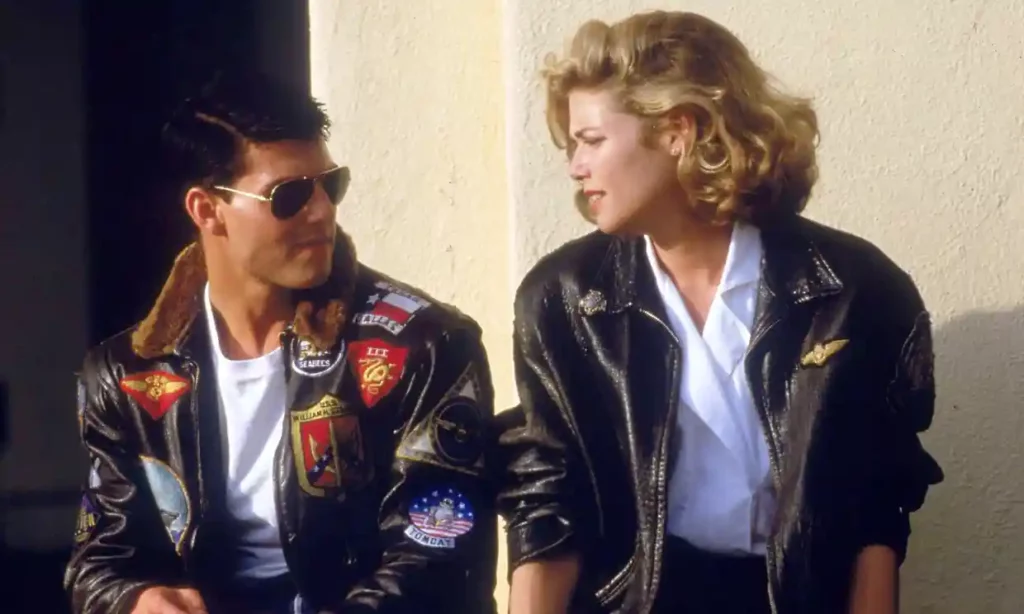 Get the Maverick Look
The Authentic Costumes of Top Gun:
When creating the costumes for Top Gun it was important to call on elements of how naval aviators would actually dress and style themself according to the rules of the Navy. A job for the movie's costume supervisors, including James W. Tyson, who was incharge of the mens outfits. 
Dressing Like Pete 'Maverick' Mitchell:
To start your own Pete "Maverick" Mitchell costume you will need to get a round neck short sleeved white t-shirt to wear as a base layer under your sage green flight suit and some black lace up fighter boots. If you search online you will be able to find replica Top Gun costume pieces, including the flight suit which will already have the array of squadron insignia patches on it as seen in the movie.
The same goes for our Maverick leather bomber jacket that is one of the trademarks of his costume. Try to find a replica of the G1 flight jacket, that has the traditional elasticated waistband and cuffs, two front patch pockets and a fur lined collar.
In the movie it is likely that Mavericks leather flight jacket belonged to his father which means it is already covered in various patches commemorating tours of duty, naval ships and military units. 
Styling and Accessories
Get your grooming right to make your Maverick costume look authentic with no beard and short slicked down hair. As the Navy has strict rules for their pilots, including being clean shaven with allowances for a short trimmed mustache if desired, and their hair being kept short on the sides with no more than four inches of length on top.
To finish your overall look add a couple of accessories, such as a Top Gun pilot's helmet and some Pete "Maverick" Mitchell metal dog tags around your neck. Add his signature aviator sunglasses (here is an article recommendation about narco-style aviator sunglasses) , originally designed to protect Us Fighter Pilots eyes, with the gold frames and green tinted lenses, to complete your Maverick costume. 
Missing an Outfit Inspo? Submit your idea and we'll make it happen!
Monthly Newsletter
Subscribe and get your Halloween costume ideas from us each year.