Dress Up Like My Chemical Romance from Black Parade
If you are looking for a good My Chemical Romance costume for Halloween or a big cosplay event, here's the winning formula for creating the most exciting outfit of the party! Let's see how to dress up as My Chemical Romance from Black Parade.
Outfit Guide For COSPLAY & HALLOWEEN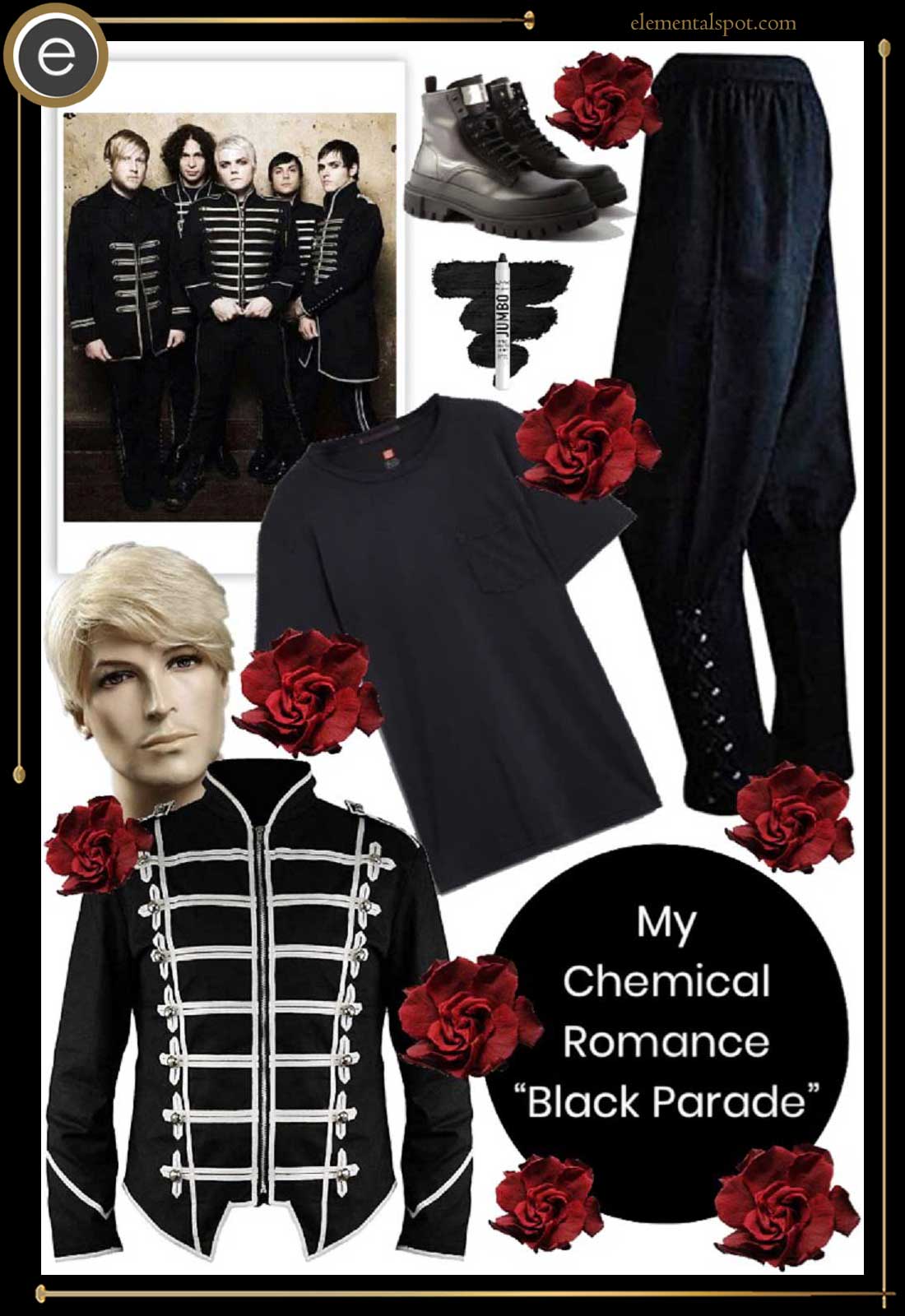 My Chemical Romance from Black Parade Outfit Guide
Shopping List for My Chemical Romance from Black Parade Costume & Outfit
My Chemical Romance is a popular American rock group known for their unique style and theatrical performances. In this article, we will discuss their iconic costumes from the music video of "Welcome to the Black Parade" and provide a guide for creating your own costume and makeup look for Halloween.
The Black Parade Album and Video Clip
My Chemical Romance's third studio album, The Black Parade, features a character reminiscing on his life as he nears death. The album's lead single, "Welcome to the Black Parade," became a massive hit and propelled the band to new heights of popularity. The accompanying video clip, directed by Samuel Bayer and featuring costumes designed by Colleen Atwood, features a marching band and the album's alter-ego band, The Black Parade.
The costumes for the video clip were designed by the renowned and multiple Academy award winner, Colleen Atwood. She has collaborated widely with filmmakers like JJ Abrams and Tim Burton, whose films would be quite different without Atwood's outstanding work. The clip was directed by Samuel Bayer. Bayer's career has also peaked with other band collaborations such as, Metallica, Iron Maiden, Marilyn Manson, Green Day and Nirvana.
Costume and Makeup Guide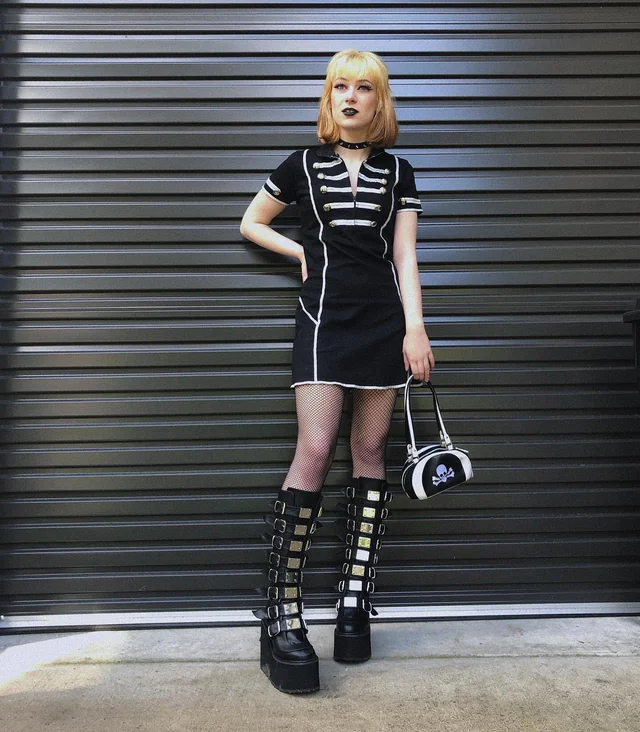 The marching band costumes for the "Welcome to the Black Parade" video were designed in black with silver line embroidery details and marching band buttons on the jacket. Paired with black chinos and military-style boots, the costume is a stylish and distinctive ensemble that can be purchased online or at a local fancy dress shop. As for the makeup, a light-colored foundation mixed with white face paint is all that is required to create the look. Alternatively, fans can recreate the skeleton makeup from the Black Parade tour.
Bringing the Look Together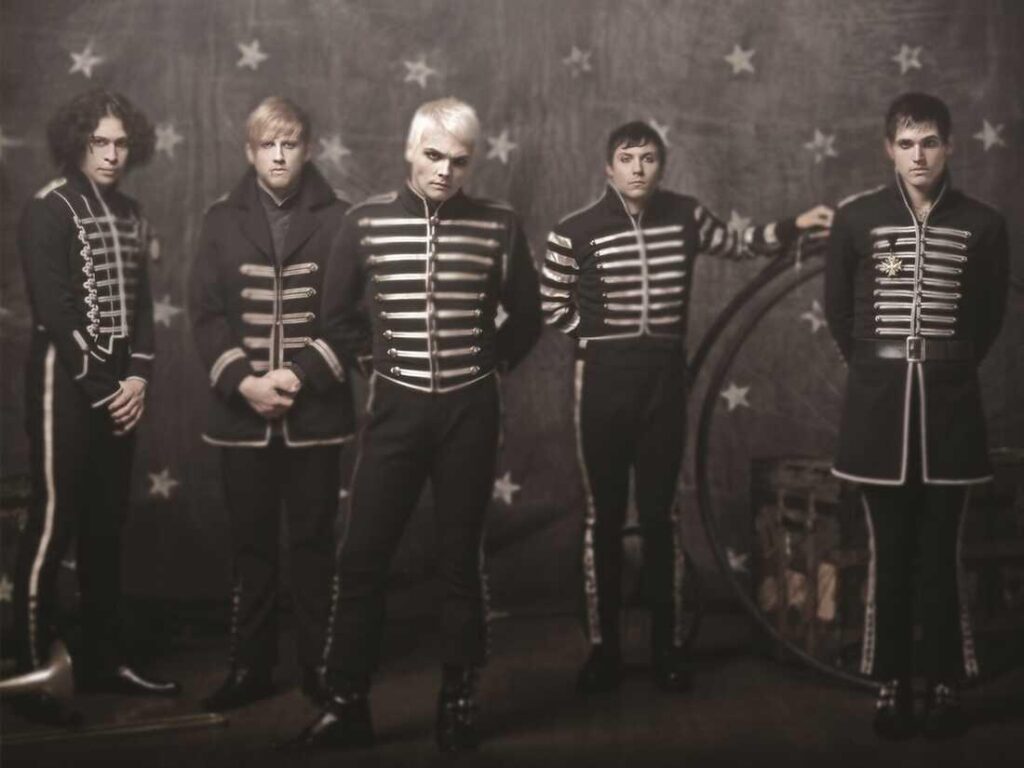 To complete the My Chemical Romance from Black Parade costume, fans can add a white short boyband wig and carry a long microphone as a prop. With this guide, you can bring the band's unique style to your Halloween festivities and pay homage to one of the most important rock bands of the 2000s.
In summary, My Chemical Romance's costumes from the "Welcome to the Black Parade" music video are iconic and recognizable, making them a perfect choice for Halloween costumes and cosplay events. With this guide, fans can recreate the band's distinctive look and pay tribute to their contribution to the pop-punk and emo genres.
If you're a fan of My Chemical Romance's "Black Parade," for more costume ideas, be sure to check out our Enema of the State costume guide for a punk-rock transformation! Or Nana Osaki Outfits for a wild and unpredictable style that incorporates elements of punk and rock aesthetics.
Missing an Outfit Inspo? Submit your idea and we'll make it happen!
Monthly Newsletter
Subscribe and get your Halloween costume ideas from us each year.