Dress Up Like Mrs. White from Clue
If you are looking for a good Mrs. White costume for Halloween or a big cosplay event, here's the winning formula for creating the most exciting outfit of the party! Let's see how to dress up as Mrs. White from Clue.
Costume or Outfit Guide For COSPLAY & HALLOWEEN
Mrs. White from Clue Costume or Outfit Guide
Shopping List for Mrs. White from Clue Costume & Outfit
When looking for your next dress-up or cosplay idea, why not take inspiration from the 1985 cult classic movie Clue. The ensemble cast is full of great characters who would all make the perfect muse for your next costume, but none more so than Mrs White played by Madeline Khan. Follow our guide to create your own Mrs White costume, and play the part of the grieving, black widow.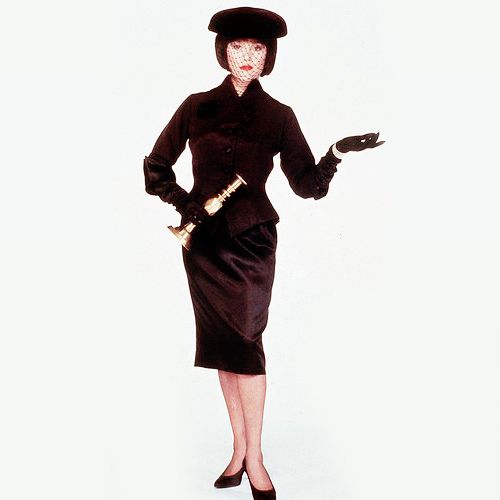 The Intriguing Mrs. White
The mystery black comedy movie is based on the 1949 board game, of the same name designed by Anthony E. Pratt. Just like in the game the movie sees the characters incriminated in a murder, when they are invited to the isolated mansion of the man who has been blackmailing them. With each of them in possession of a weapon and blackmailer Mr Boddy killed when the lights go out, everyone is a suspect.
Mrs White, the pseudo name given to her for confidentiality on arrival, has been accused by Mr Boddy of being a black widow after the mysterious death of her nuclear physicist husband. Although she denies any involvement, and claims she paid the blackmail to avoid a public scandal, the physicist isn't her only husband that has come to an unfortunate end. 
How to get the Mrs White Look
Costume designer Michael Kaplan, was incharge of creating the perfect costume to show off our suspected black widow, Mrs White, as a quiet and proper lady, just as much as the dangerous woman with a jealous streak that she is. 
To start your own Mrs White costume you will want to get yourself a black cocktail dress. The ideal choice would be something that sits off the shoulders with long sleeves, and has a slim fit finishing just below the knee. Don't worry about the fabric as anything from jersey to satin would work, instead focus on getting the right style. 
Next add to your costume a black button-up dress coat and a pair of matching black stiletto heeled shoes. Along with the representation of every proper lady, some pearl jewelry. Go for a multiple strand pearl necklace, bracelet and a pair of delicate pearl earrings, to really capture the essence of Mrs White.
Hair and Make-up for Mrs. White
Your Mrs White costume won't need to rely on her hair or make-up styling being perfect, so keep both of them simple. In the movie her hair is worn in a sleek black chin length bob, which you could easily replicate by buying a wig. No additional styling is required as you will finish the look with a black cocktail hat. Typically they are small brimless hats with embellishments, like beads or sequins, but just make sure the one you get has a veil to wear over your face.
When it comes to the make-up, after applying your usual base layers of foundation and powders, do a soft smokey eye. Use a black eyeliner above and below to frame your eye and black mascara to create fullness in your lashes. Keep your blush rosy and give your lips a coating of a deep red lipstick to finish.
Add the last little finishing touch of a pair of black evening gloves to show her as a proper lady, and your Mrs White costume is complete.
So now all there is left to do is pair up with a friend who can dress-up as Mrs Peacock. 
Missing an Outfit Inspo? Submit your idea and we'll make it happen!
Monthly Newsletter
Subscribe and get your Halloween costume ideas from us each year.