Dress Up Like Mia Wallace from Pulp Fiction
If you are looking for a good Mia Wallace costume for Halloween or a big cosplay event, here's the winning formula for creating the most exciting outfit of the party! Let's see how to dress up as Mia Wallace from Pulp Fiction.
Outfit Guide For COSPLAY & HALLOWEEN
Mia Wallace from Pulp Fiction Outfit Guide
Shopping List for Mia Wallace from Pulp Fiction Costume & Outfit
Everyone knows the beautiful character of Mia Wallace, played by the legendary Uma Thurman. Mia is one of the major stars in Pulp Fiction (1994), an American crime movie that stole everyone's attention when it got to the big screens. Today we dive into the costume of Mia Wallace, as she has truly paved a path for many fashionistas both in and outside the cinema – her fashion was truly ahead of its time.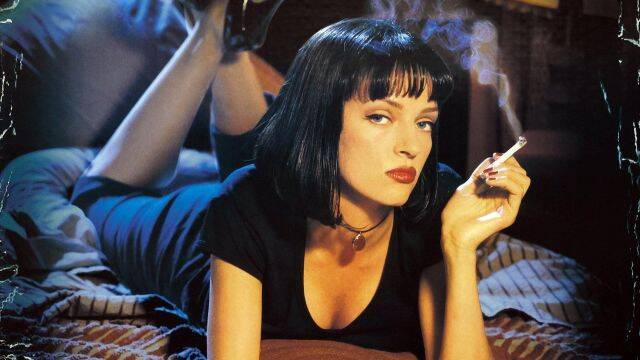 While some claim Mia was one of the first cinema goth chicks, others say that this is simply the way Quentin Tarantino, the producer, thinks of actresses. It's worth mentioning that Mia was an aspiring actress in the movie, as well as in real life, too. She was styled by Betsy Heimann, one of the more famous costume designers at that time.
We can surely conclude that Tarantino's specific taste in aesthetics shows through all his characters, but the picture of Uma Thurman with a cigarette on the bed made her a cultural icon even before the movie came out! The picture was on all promotional materials!
Let's create Mia Wallace's costume
If you really want to dive deep into the Mia Wallace costume, we start at the very roots – the character was modeled with Anna Karina, an avant-garde actress, in mind. Mia has that femme fatale look, which means she is mysterious, yet enchanting. She looks provocative, but keeps her cool to assert dominance.
Her looks show how well put together she is, and this is a great feminine costume for those who want to show off their beauty. A dark bob, some red lipstick, black clothes, and slightly flashy heels have to be paired with a cigarette.
Although many other actresses were in line to play the character of Mia Wallace, Uma Thurman was Tarantino's favorite choice. We certainly see why he thought she was perfect for this role. Now is your time to shine and embrace your inner boss babe by embodying Mia from Pulp Fiction. You could even make this a couple's costume, but it's hard to choose which character Mia looks best besides.
For another iconic Tarantino character costume, check out our guide on Dress Up Like Django from Django Unchained. And if you want to make some pulp fiction fan really happy, have a look at Gift Ideas for Pulp Fiction Fans curated by a true fan.
Missing an Outfit Inspo? Submit your idea and we'll make it happen!
Monthly Newsletter
Subscribe and get your Halloween costume ideas from us each year.