Dress Up Like Lois Lane from Batman vs Superman
If you are looking for a good Lois Lane costume for Halloween or a big cosplay event, here's the winning formula for creating the most exciting outfit of the party! Let's see how to dress up as Lois Lane from Batman vs Superman.
Outfit Guide For COSPLAY & HALLOWEEN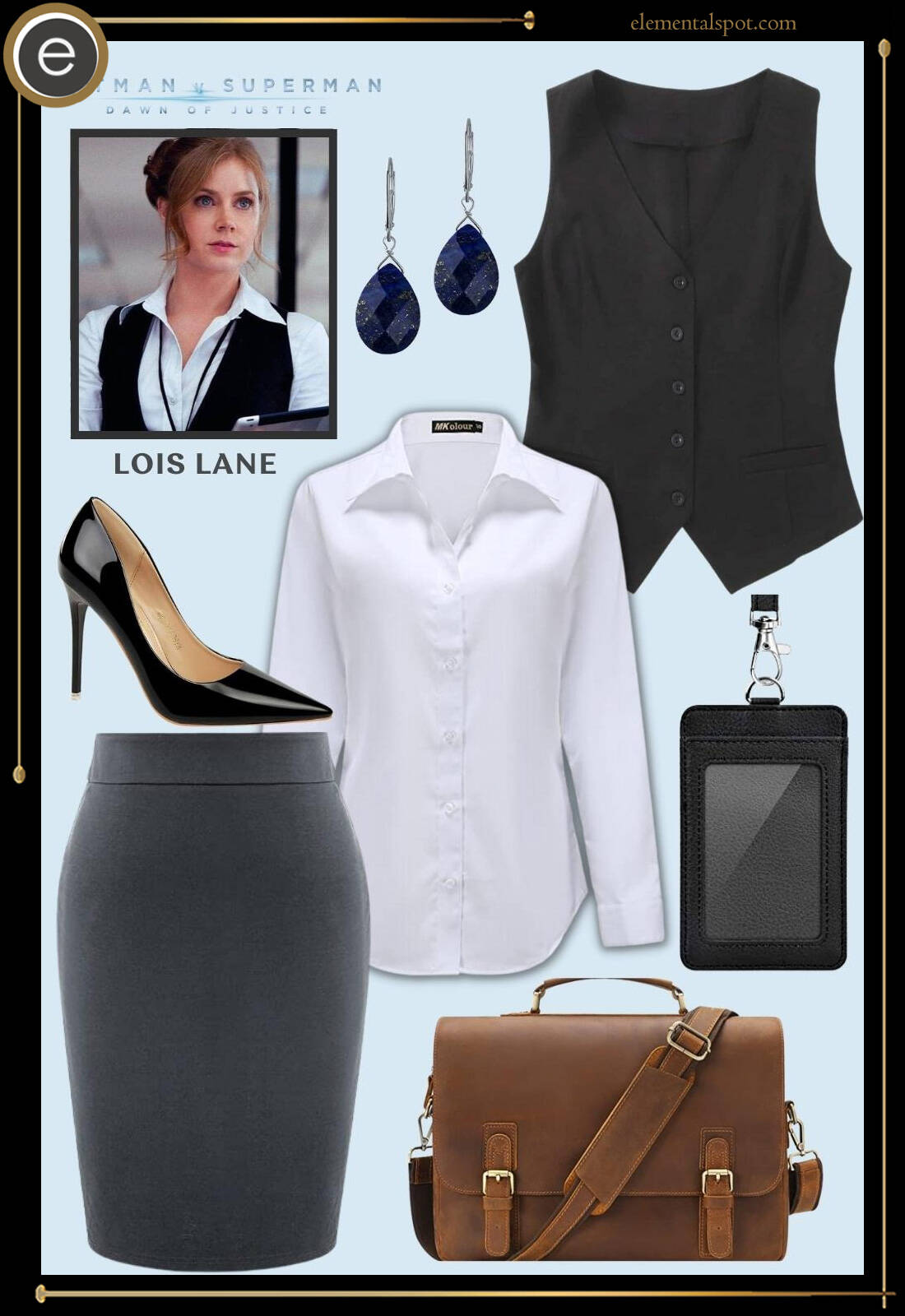 Lois Lane from Batman vs Superman Outfit Guide
Shopping List for Lois Lane from Batman vs Superman Costume & Outfit
Dress up like Lois Lane!
This iconic journalist has Superman wrapped around her little finger. If you're a DC fan looking for an original costume idea, Lois Lane is a perfect choice. Here's how to create the best Lois Lane Halloween costume!
Who is Lois Lane?
Lois Lane is a fictional character from the DC Comics universe, and is one of the main supporting characters in the Superman comics. She is a journalist who works for the Daily Planet newspaper in the city of Metropolis, and is known for her tenacity and determination in pursuing stories. Lois is Superman's primary love interest. 
Lois Lane was created by writer Jerry Siegel and artist Joe Shuster, and first appeared in Action Comics #1 in 1938, which also featured the first appearance of Superman. Over the years, she has appeared in various comic book series, as well as in numerous television shows, movies, and other media. Some of the actresses who have played Lois Lane on screen include Margot Kidder, Teri Hatcher, Erica Durance, Amy Adams, and Elizabeth Tulloch.
Lois Lane costume and accessories
To become Lois Lane, you will need to slip into a white button-down and a long grey skirt. Put on a black vest over the white shirt, and finish up the look with a pair of black heels, blue earrings, and a badge lanyard. Don't forget the brown leather satchel Lois carries around.
In order to fully transform into Superman's iconic girlfriend, you will need to create a professional yet sophisticated and sexy makeup look. Start by applying foundation, and make sure to choose a tone that matches your natural skin color. Continue by contouring your face, highlighting your cheekbones slightly. In order to flesh out your brows, draw the desired eyebrow shape with a brow pen, then color in the gaps. Use a liquid eyeliner pen to create a subtle winged eyeliner. Keep the eye makeup relatively simple, adding just a little bit of brown eyeshadow on the edges to match the winged eyeliner. Finish it up with some mascara, a bit of blush, and a nude pink lipstick. You can even choose to put on some blue contact lenses to finish up the illusion!
With this great costume and detailed makeup tutorial, everyone will be blown away by your Lois Lane Halloween costume! 
Explore our extensive collection of superhero costumes, including popular choices like Spider-Man, or Winter Soldier to find your perfect character transformation for any occasion.
Missing an Outfit Inspo? Submit your idea and we'll make it happen!
Monthly Newsletter
Subscribe and get your Halloween costume ideas from us each year.