Dress Up Like Lestat de Lioncourt from Interview with the Vampire
If you are looking for a good Lestat de Lioncourt costume for Halloween or a big cosplay event, here's the winning formula for creating the most exciting outfit of the party! Let's see how to dress up as Lestat de Lioncourt from Interview with the Vampire.
Costume Guide For COSPLAY & HALLOWEEN
Lestat de Lioncourt from Interview with the Vampire Costume Guide
Shopping List for Lestat de Lioncourt from Interview with the Vampire Costume & Outfit
Dress up like Lestat from Interview with a vampire!
Played by a strikingly handsome young Tom Cruise, Lestat de Lioncourt is a vampire from the incredibly popular Interview with a Vampire books and film. He is an elegant and seductive figure, which makes a Lestat costume is a great choice for any cosplay or Halloween party!
Who is Lestat de Lioncourt?
Lestat de Lioncourt is a fictional vampire created by the American novelist Anne Rice.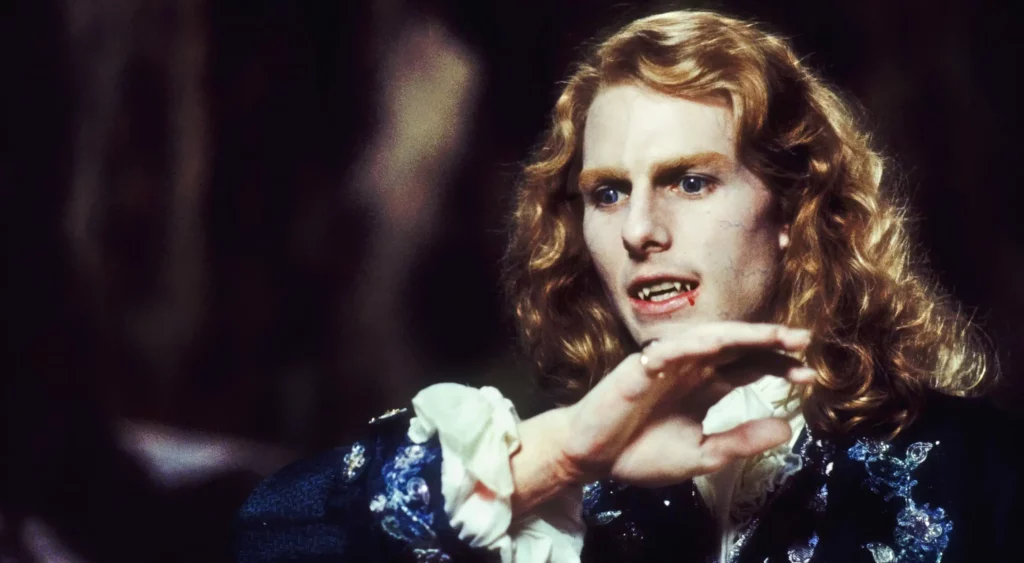 The Visionary Costume Designs of Sandy Powell
Lestat's beauty is accentuated by his stylish and extravagant wardrobe. Costume designer Sandy Powell (who dressed Tom Cruise's character in Interview with a Vampire (1994), saying:
Sandy Powell is the mastermind behind iconic outfits worn by characters like Naomi Belfort and Jordan Belfort. Her exceptional work has earned her fifteen Academy Award nominations and three wins for Best Costume Design.
Lestat de Lioncourt costume and accessories 
To become this elegant vampire, you'll have to slip on a white shirt with ruffles, black pants, and a beautiful embroidered blue tailcoat. Add on a pair of black pilgrim shoes and long white socks to replicate the character's 18th century look. Don't hesitate to buy a wig with long curly blond hair, and some pale blue or grey contacts. Invest in a pair of fake vampire fangs too, and don't forget the fake blood! 
He is a young man with long blond hair and grey eyes. Because of Lestat's striking beauty, Louis thought he was an angel at their first meeting. He is a secretive character who speaks little about himself and his former mortal life. To Louis, he appears as a nonchalant, vulgar and pretentious character who feels no remorse about having to kill. Moreover, he does not hesitate to create Claudia, a child vampire, with the only aim of keeping Louis close to him. His two protégés end up leaving him after having tried to kill him, tired of his selfish and manipulative attitude.
In order to fully transform yourself into this vampire, you can use makeup. First, apply a thick layer of pale foundation all over your face. Take a matte white powder to highlight your nose, cheekbones, and chin. Contour your face to make your cheekbones stand out, then grab a dark red lipstick and recreate Lestat's cupid brow. Finally, apply some brown eyeshadow over your eyelids, giving you the perfect undead look. You'll seduce everyone with this beautiful Lestat de Lioncourt costume!
Missing an Outfit Inspo? Submit your idea and we'll make it happen!
Monthly Newsletter
Subscribe and get your Halloween costume ideas from us each year.