Dress Up Like Kinoko Komori
If you are looking for a good Kinoko Kamori costume for Halloween or a big cosplay event, here's the winning formula for creating the most exciting outfit of the party! Let's see how to dress up as Kinoko Kamori from .
Costume Guide For COSPLAY & HALLOWEEN
Kinoko Kamori from Costume Guide
Shopping List for Kinoko Kamori from Costume & Outfit
For your next cosplay you should consider the adorable but lethal, Kinoko Komori, from My Hero Academia. This DIY costume guide will help you create the perfect Kinoko Komori Costume. 
My Hero Academia is a Japanese superhero Manga series created by Kohei Horikoshi. The series focuses on a training academy where people are taught how to use their "Quirks" to become Pro Heroes.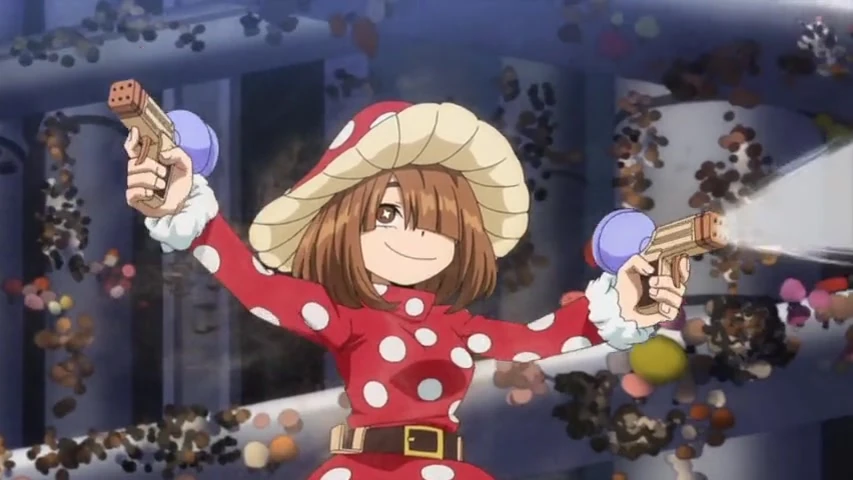 Kinoko Komori, whose hero name is Shemage, is a student in Class 1-B at U.A. High School where she is training to become a Pro Hero. Her Mushroom quirk gives her the ability to grow mushrooms on nearly any surface including her enemies bodies. The spores from these mushrooms can be deadly. She uses her Shroom Shooters to put mushrooms in all the right places in order to stop the enemies.
My Hero Academia takes place in the city of Musutufu, Japan.
Creating Kinoko Komori Costume
Kinoko's hero costume resembles a fly agaric species of mushroom.
Your costume will start with a short dress in the red and white pattern of a fly agaric mushroom, in other words, red with white polka dots. Add some white wrist cuffs and a pair of red and white polka dot ruffled socks.
Next, you'll need  a pair of pink combat boots. If you don't have the brown bob haircut with long bangs like Kinoko, simply buy a wig styled in that fashion.
Top it off with a mushroom headpiece and grab a couple of Shroom Shooters to stick under a black belt around your waist and you're ready for class, an upcoming cosplay event or costume party in a great Kinoko Komori costume.
Enjoy a night out as this adorable Mushroom Menace! 
Looking for more epic My Hero Academia cosplay ideas? Check out our guide on creating an explosive Katsuki Bakugou costume.
Missing an Outfit Inspo? Submit your idea and we'll make it happen!
Monthly Newsletter
Subscribe and get your Halloween costume ideas from us each year.