Dress Up Like Katana from Suicide Squad
If you are looking for a good Katana costume for Halloween or a big cosplay event, here's the winning formula for creating the most exciting outfit of the party! Let's see how to dress up as Katana from Suicide Squad.
Costume Guide For COSPLAY & HALLOWEEN
Katana from Suicide Squad Costume Guide
Shopping List for Katana from Suicide Squad Costume & Outfit
Recently we introduced the Joker costume and received positive feedback for it. So you're interested in becoming another member of the Suicide Squad? The amazing Katana isn't to be outdone by the rest of her team members and you shouldn't be either. This costume will make sure that you shine as the katana-wielding superhero.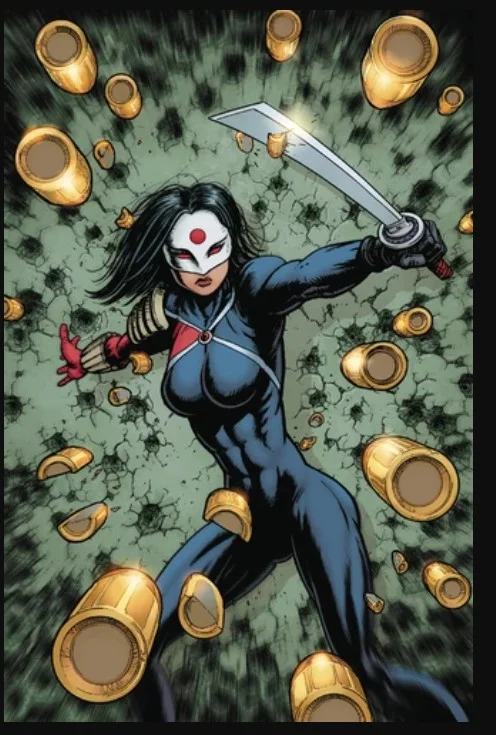 Let's get to know katana before we analyze her costumes
Katana, or rather, Tatsu Toro's origins are rather sad, like most heroes. She grew up in Japan, competing in the Olympics for martial arts before she fell in love with Maseo Yamashiro and married him, having two daughters.
They were a happy little family until Maseo's brother, Takeo, a member of the Yakuza, became jealous of his brother's life and sought to disrupt it. In an attempt to flee from her brother-in-law's wrath, Tatsu took her family to the countryside. Although unfortunately, Takeo found them eventually and butchered the family with the sentient Soultaker Sword, a special Japanese artifact. In an attempt to avenge her family, Tatsu took on Takeo but with that sword he was unstoppable. It wasn't until the very last moment that the sword had a change of heart, choosing Tatsu as its wielder to give her the power to defeat Takeo. It's then revealed that this was due to the fact that her family's souls resided within the sword, as well as all its other victims. Tatsu then swore to avenge the fallen by going after the Yakuza, becoming the anti-hero Katana.
I am not leaving until the Daggers are destroyed. My husband seeks audience with them all.

Katana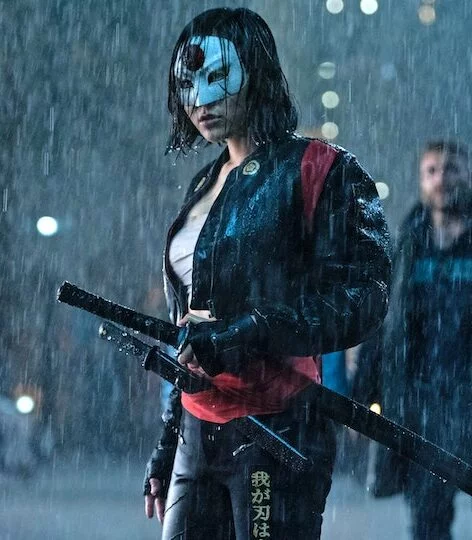 How to get Katana Look
Ready to become one of the most fearsome heroines of all time? Then go ahead and get started with a plain white tee, the shirt, not the band, and some black, faux leather leggings.
Next add the black, red, and gold patterned jacket. Wrap a few red sashes around your waist, and slip on some high, black boots with a pair of black fingerless gloves. Add a fake katana to rest at your side, and her notable white mask with a red circled in its center.
The fantastic outfit design was created by Kate Hawley for the Suicide Squad movie. And here is what Karen Fukuhara, who plays Katana says about the Katana Costume design:
" My whole costume was originally going to be closer to the comic book version – this really tight, black cat suit. And then Kate Hawley, our costume designer, changed everything at the last minute to this Japanese-biker-inspired look. It was a really cool, modern take on her outfit and her look, and yet it still kept Katana's essence, which I really like."

KAREN FUKUHARA for Nomoreworkhorse
Get out there and show them what you're made of in a killer Katana costume!
Missing an Outfit Inspo? Submit your idea and we'll make it happen!
Monthly Newsletter
Subscribe and get your Halloween costume ideas from us each year.