If you are looking for a good Joe Dirt costume for Halloween or a big cosplay event, here's the winning formula for creating the most exciting outfit of the party! Let's see how to dress up as Joe Dirt from Joe Dirt.
Costume Guide For COSPLAY & HALLOWEEN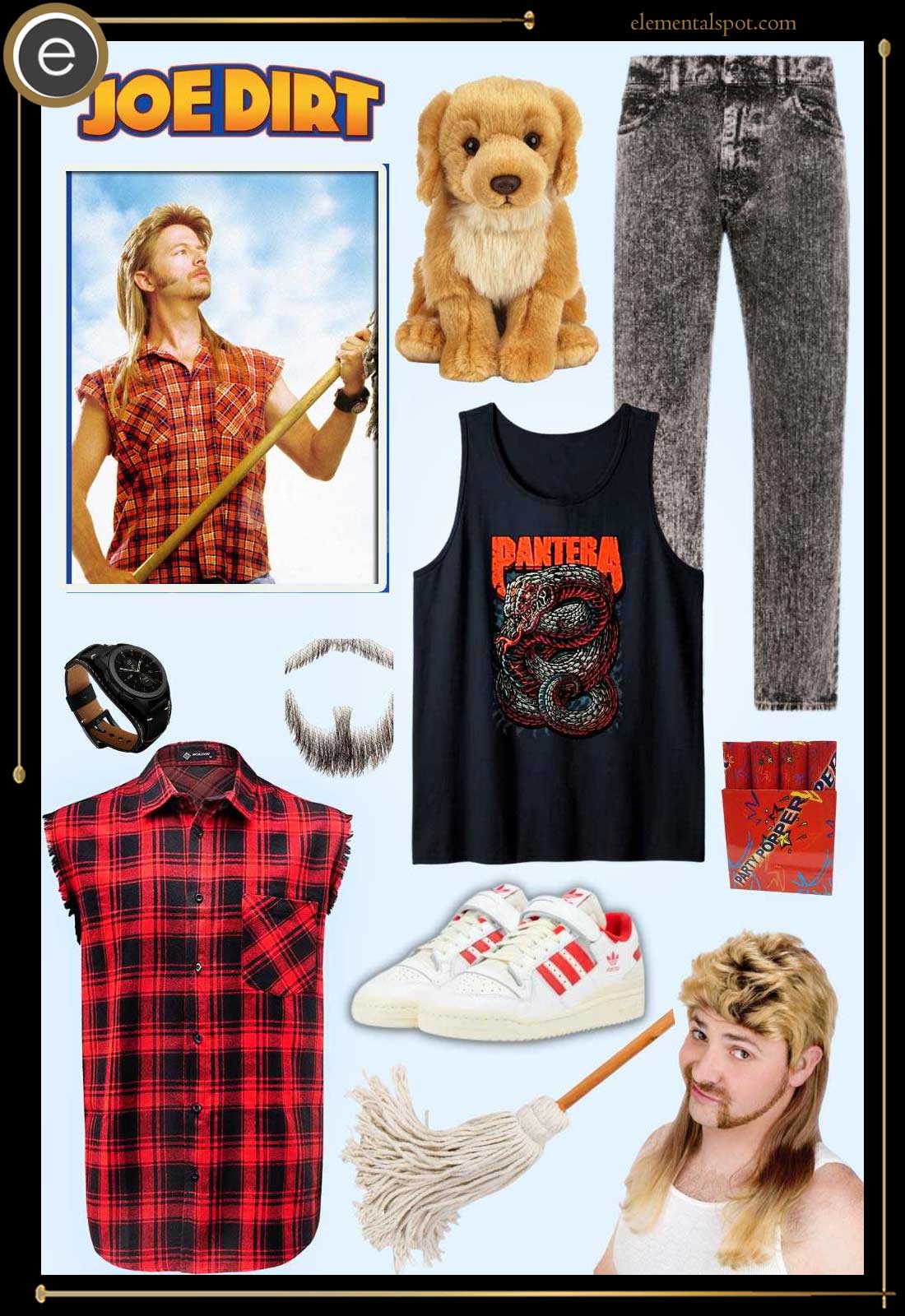 Joe Dirt from Joe Dirt Costume Guide
Shopping List for Joe Dirt from Joe Dirt Costume & Outfit
Looking for a unique and fun Halloween costume idea? Look no further than the iconic character Joe Dirt from the 2001 American adventure comedy film "Joe Dirt". With his unmistakable mullet and "white trash" style, Joe Dirt makes for a memorable and hilarious costume choice. In this guide, we'll break down everything you need to know to create the perfect Joe Dirt costume and cosplay for Halloween.
The Story of Joe Dirt
Dennie Gordon, making her feature picture directorial debut, helmed the 2001 American adventure comedy Joe Dirt. Spade and Fred Wolf wrote the screenplay, and Robert Simonds was in charge of production. The film, which is hysterically funny, depicts the tale of what a person must do when they are dealt a poor hand of cards in life. David Spade plays "white trash" Joe Dirt, who sets off on a quest to track down his parents after they abandoned him when he was a small child. Hence, audiences couldn't help but fall in love with Joe Dirt, the comical redneck.
When Joe was eight years old, his parents abandoned him while the family was visiting the Grand Canyon. He has been an orphan moving among foster homes ever since he was a small lad. He now lives with the lady he loves as an adult, yet he still misses his family. David Spade's character Joe Dirt decides to set out on a search for his family. Along the way, Joe's kindness and integrity come to light. Most people would have dismissed him due to his appearance as "white trash," but after hearing his story and recognizing that he has a wonderful attitude, everyone comes together to assist him in finding his parents. While searching for his parents, Joe has a lot of experiences in the film.
Joe Dirt's Appearance and Cosplay Guide
Joe Dirt is such an iconic and well-known character because of his appearance. Wear a blonde mullet wig, a brown goatee, a brown moustache with brown sideburns, a two-pocket plaid shirt, a pair of wrangler blue jeans, a pair of white high-top sneakers, a vintage leather cuff watch, and a heavy-duty mop to cosplay Joe Dirt's appearance! He also has a wooden mop in his possession to represent his work as a janitor. It will be quite clear who you are intended to be if you are carrying a mop.
The biggest feature about this outfit is that a number of the items you already have laying around can be used; you won't need to buy every component. For some of these goods, start by searching your closet, then add the ones you don't have later.
Getting the Mullet Right: Tutorial and Tips
Joe Dirt's mullet is possibly the feature that most people immediately recognize. You must locate a wig that has already been styled into a mullet. A sandy blonde wig that you cut and styled yourself could also be found. He has fairly noticeable sideburns as well. Brown face paint can be used to imitate these sideburns on the temples and the area around the ears. Here is a tutorial on the mullet haircut. This can also be applied to the wig.
So grab your blonde mullet wig, some brown face paint, and a plaid shirt, and get ready for Halloween with your Joe Dirt costume!
Missing an Outfit Inspo? Submit your idea and we'll make it happen!
Monthly Newsletter
Subscribe and get your Halloween costume ideas from us each year.