Dress Up Like Jadis White Witch from Narnia
If you are looking for a good Jadis White Witch costume for Halloween or a big cosplay event, here's the winning formula for creating the most exciting outfit of the party! Let's see how to dress up as Jadis White Witch from Narnia.
Costume Guide For COSPLAY & HALLOWEEN
Jadis White Witch from Narnia Costume Guide
Shopping List for Jadis White Witch from Narnia Costume & Outfit
The most dangerous villains are always the ones that you don't immediately realize are evil. When Edmund stepped through that wardrobe into the world of Narnia, in The Lion, The Witch And The Wardrobe (2005) he couldn't begin to imagine how cruel the beautiful White Witch who conjured him cocoa and turkish delight was. So why not be inspired by designer Isis Mussenden to create your own Jadis the White Witch costume for your next dress-up event.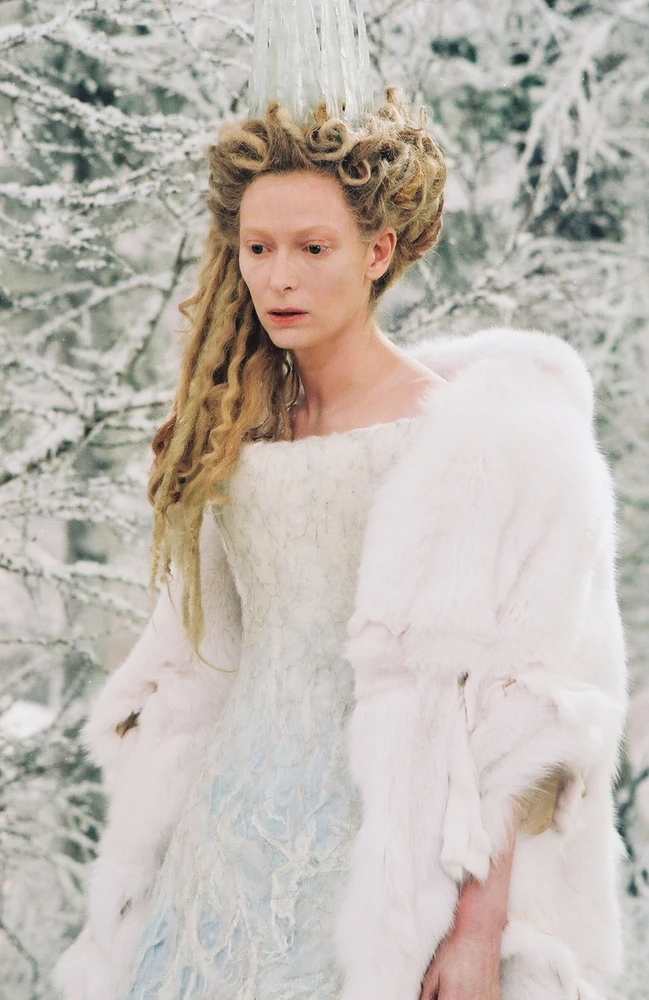 The 2005 fantasy film, The Lion, The Witch and The Wardrobe, based off of the C. S. Lewis' book of the same name was the first story published in the epic fantasy series The Chronicles of Narnia. When we first meet our White Witch, the 100 year Long Winter curse she has placed on Narnia is still covering the realm in frozen snow and ice.
Although she is pure evil, she uses her pale complexion and beautiful looks to manipulate Edmund Pevensie into trusting her and betraying his own siblings in a bid to be the King. 
Getting Jadis The White Witch's Costume
The beautiful handmade dress worn by Tilda Swinton while playing Jadis in the movie, changes shape from fuller to more form fitting, as her magical powers dwindle.
As that would be impossible to depict in your costume, instead start your White Witch's outfit with a pale blue evening gown. A simple strapless dress or one with straps that sit off of your shoulders will leave your arms bare, as Jadis is often described to be.
Replicate some of the texture of the real costume by going for a gown that has a lace bodice and add white lace up vintage style booties. 
From the movie and books she features in, we know that Jadis the White Witch is often pictured with layers of white furs gathered around her shoulders, going right up to cover her neck. So to help bring some real authenticity to your costume it is going to be important to get a white fur cloak to wear over your dress. Look for one that will leave your arms uncovered but will fasten at your neck to cover your chest and shoulders.
Get Jadis Hair, Crown and Make-up 
Instead of that cliched look of the dark hair and red lips that most evil witches have, for the movie, Jadis was given a clean face with minimal make-up and blond hair to fit her White Witch title. Use light colored foundation, powders and eyeshadow to create a pale complexion with just a small shimmer at the eyes and a barely there pink lip. Style a white, blond wig into thick twists or braids and gently pile it up at the back of your head to cascade down over your fur cloak.
Now only one final finishing touch is needed to complete your Jadis the White Witch costume and that is an ice crown. Place the delicate crown of icicles on your head so it sits just in front of your styled white blond hair, and get ready to trick any unsuspecting Edmunds with your pale and beautiful looks.
Monthly Newsletter
Subscribe and get your Halloween costume ideas from us each year.