Dress Up Like Han Solo from Star Wars
If you are looking for a good Han Solo costume for Halloween or a big cosplay event, here's the winning formula for creating the most exciting outfit of the party! Let's see how to dress up as Han Solo from Star Wars.
Costume Guide For COSPLAY & HALLOWEEN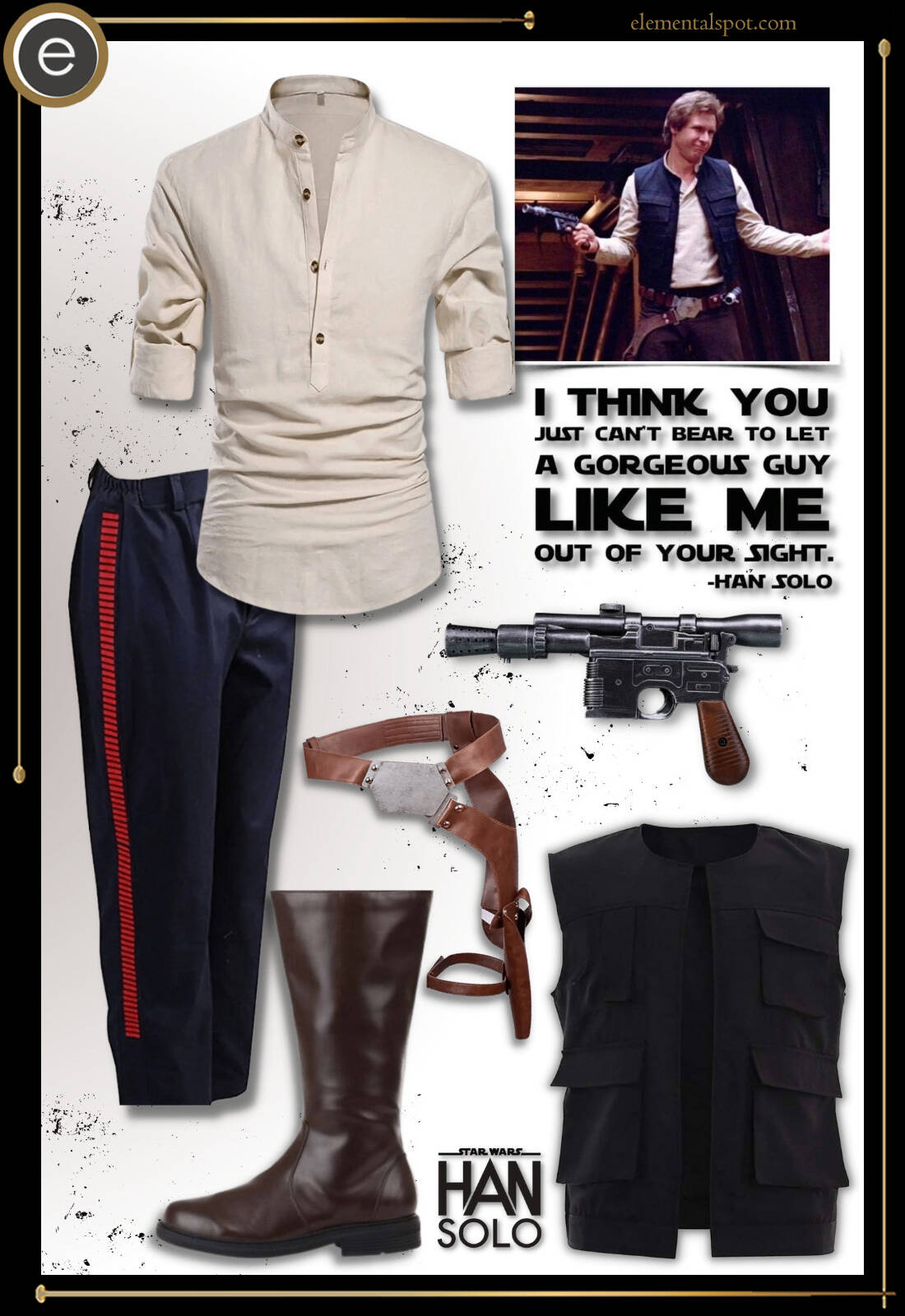 Han Solo from Star Wars Costume Guide
Shopping List for Han Solo from Star Wars Costume & Outfit
Dress up like Han Solo!
Han Solo is one of the most popular characters from the iconic Star Wars universe. This endlessly charming hero is easily recognizable by his signature outfit, which makes a Han Solo costume a great choice for a cosplay or costume party!
Who is Han Solo?
Han is a Star Wars character played by Harrison Ford. Originally from the planet Corellia, Han Solo is a smuggler, pilot and former Imperial officer cadet.
In the saga, the character is described as charming, courageous, an excellent leader of men, the luckiest man in the galaxy but often showing himself to be cynical and arrogant. He travels the galaxy aboard the Millennium Falcon, which he won by betting against Lando Calrissian during a game of Sabacc, a famous card game similar to our poker. As Luke Skywalker's partner in the fight against imperial power, he falls in love with Luke's twin sister, Princess Leia Organa. 
The Influence of Military Uniforms in Star Wars Costume Design
Han's iconic look was created by costume designer John Mollo.
Intricate and authentic military uniforms have played a significant role in shaping the iconic costumes of the Star Wars universe. Costume designer John Mollo's early fascination with military attire and extensive research into European and American uniforms served as the foundation for his imaginative creations. Tasked by George Lucas himself, Mollo skillfully crafted simple yet impactful uniforms, devoid of buttons or excessive embellishments, ensuring that the costumes seamlessly integrated with the plot and characters, while leaving a lasting visual impression.
Han Solo costume and accessories 
To become one of the coolest pilots of the galaxy, you'll have to slip on a beige long-sleeved shirt, with Han's signature black vest over it. A pair of dark blue pants with red details will complete the look, along with a good pair of brown boots. Finally, accessorize your costume with a gun holster and toy gun to make it as realistic as possible.
Top 10 Han Solo Moments
If you're committed to making your costume look as realistic as possible, consider getting a bald cap and a wig with dark blond hair. Cut the hair short in order to replicated Han Solo's tousled haircut. Finally, don't hesitate to rehearse the character's iconic poses or quotes, as this will certainly make your costume more believable. With these instructions, along with your carefully selected look, you'll have everyone thinking you're Harrison Ford with this Han Solo costume!
Embark on a thrilling adventure as Indiana Jones and channel another iconic character portrayed by Harrison Ford with our detailed costume guide
Missing an Outfit Inspo? Submit your idea and we'll make it happen!
Monthly Newsletter
Subscribe and get your Halloween costume ideas from us each year.