Dress Up Like Freddie Mercury
If you are looking for a good Freddie Mercury costume for Halloween or a big cosplay event, here's the winning formula for creating the most exciting outfit of the party! Let's see how to dress up as Freddie Mercury .
Outfit Guide For COSPLAY & HALLOWEEN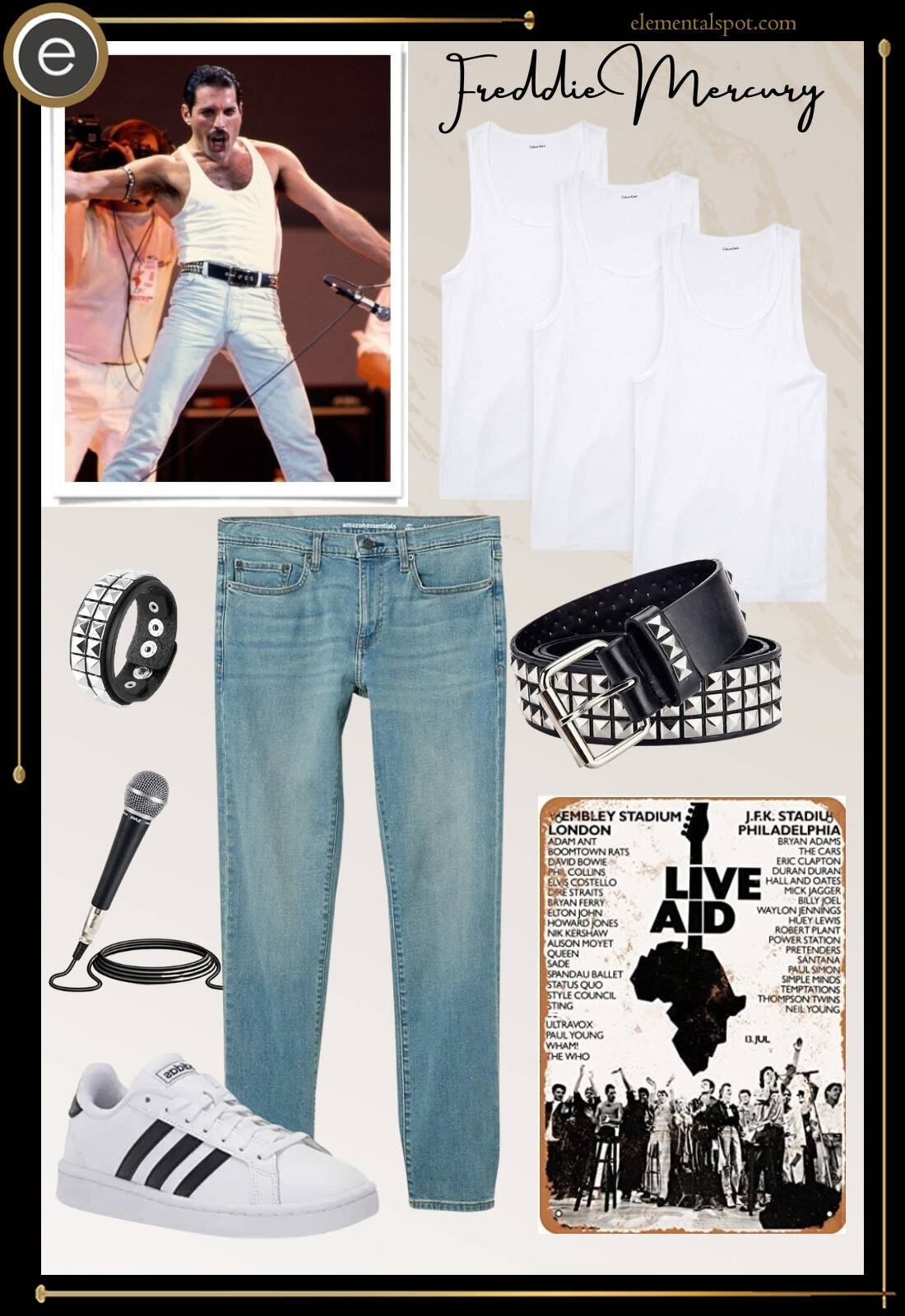 Freddie Mercury Outfit Guide
Shopping List for Freddie Mercury Costume & Outfit
If you're a die-hard Freddie Mercury fan, you can honor him by dressing up as the Queen frontman during one of the most significant moments in the history of the group, the Live Aid of 1985, with this Freddie Mercury costume.
Who is Freddie Mercury?
Freddie Mercury, the lead singer of Queen, is widely considered one of the greatest musical icons of the second half of the 20th century. Suffering from pneumonia due to HIV, he succumbed to it on November 24, 1991, the day after his illness was announced to the whole world.
He was a symbol of the LGBT movement in the 1980s and completely revolutionized the world of music with his voice worthy of an Opera soloist and his songs elevated today to the rank of rock anthems.
On July 13, 1985, on the occasion of a double humanitarian concert against the famine in Ethiopia, Freddie Mercury captivated the crowd of 200,000 people for about twenty minutes in front of the cameras of more than 110 countries.
More than a concert, it was total communion between the crowd and the singer. An eternal symbiosis was created on that afternoon of July 1985, making it one of the most iconic concerts in history.
How to Create Freddie Mercury's costume and accessories
The 1985 Live Aid allowed Freddie Mercury to show the world his ability to unite the public, without the need for any artifice. The singer usually wore extravagant, colorful costumes covered in glitter, but during this magical show, he only wore jeans and a white tank top. This look has now become associated with Mercury and is instantly recognizable!
To dress up like Freddie Mercury from Live Aid, you will have to put on a pair of blue jeans and a white tank top, along with some comfortable white sneakers. Finish up the look with a studded black belt and a studded wrist cuff. Accessorize with a microphone, and you're set!
If you want to make your costume seem more realistic with makeup, follow the steps outlined in the video! The most important part is the moustache, which you can draw on with a little brush and some black paint. You'll be instantly recognizable in this Freddie Mercury costume!
Missing an Outfit Inspo? Submit your idea and we'll make it happen!
Monthly Newsletter
Subscribe and get your Halloween costume ideas from us each year.