Dress Up Like Fat Thor from Marvel
If you are looking for a good Fat Thor costume for Halloween or a big cosplay event, here's the winning formula for creating the most exciting outfit of the party! Let's see how to dress up as Fat Thor from Marvel.
Outfit Guide For COSPLAY & HALLOWEEN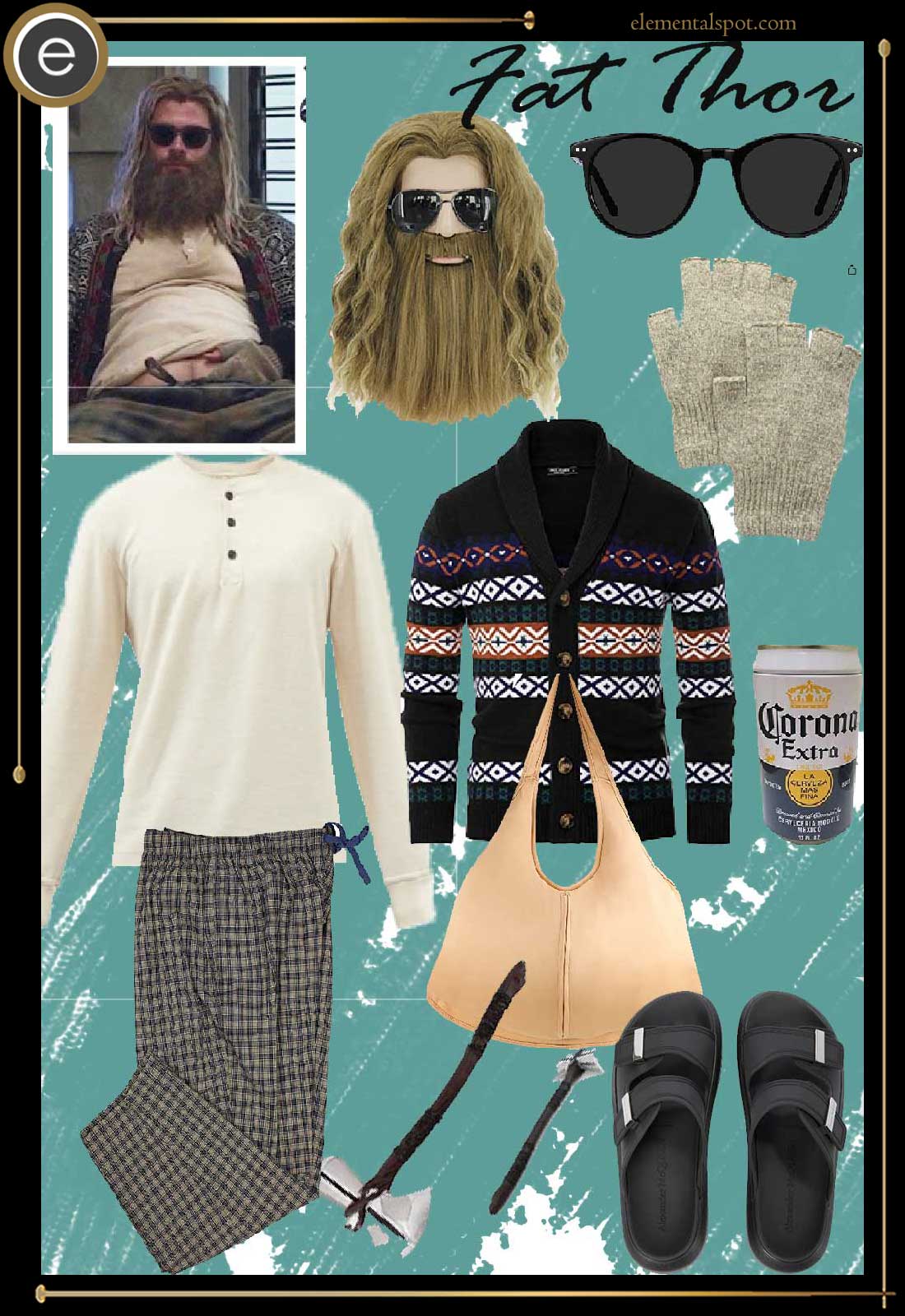 Fat Thor from Marvel Outfit Guide
Shopping List for Fat Thor from Marvel Costume & Outfit
What's a king to a god? Asgard needs you and this costume does too. We all knew Thor to look slightly different before with a healthier mindset but chances are that if you're planning to put this outfit together, you're more than aware of how it came to be.  Here is how to get Marvel's Fat Thor Costume.
Let's first look at the Fat Thor's origins before we move on to the costume
Just in case you aren't aware though, allow this to catch you up to speed. After the dramatic breakout with Thanos, Thor abandoned the avengers to relocate his people all the way to Norway, naming it "New Asgard". Yeah, no one said they were really the best with names but I guess that wasn't the most important thing on his mind at the moment.
Five years afterward, Thor sank so far into his depression that he let himself go, becoming the chubby Thor that we're focusing on now.
Hulk and Rocket visited him in this state and had to convince him that all hope was not yet lost. A tricky task but apparently, effective!
Of course, not only the clothes are important for a cosplay look, but also how you wear them. Now that you know what character you're going to play, it's time to make the costume.
Create Marvel's Fat Thor Costume

So how do you replicate this gem of a look? It's actually quite simple. Don't fret, if you don't have the body for this costume, where there's a will, there's a way and the way is pretty cheap.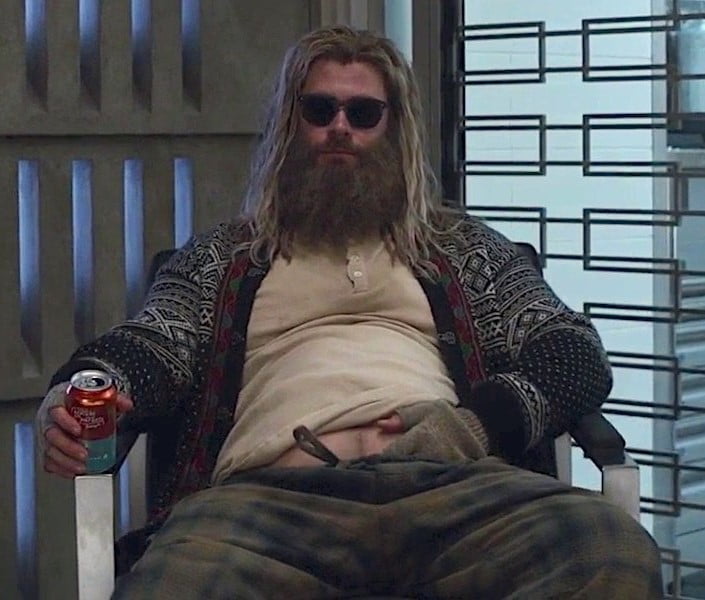 Marvel's Fat Thor Costume DIY
Let's start with getting your hands on a fake belly to hide under a long-sleeved, cream shirt with three brown buttons.
Next, some plaid pajama pants to make sure you're as comfortable as ever.
A dark blue cardigan with a diamond-shaped pattern with varying colors of red, orange, white, and green, as well as the brown buttons that line it.
Add a pair of black slide-on sandals with silver buckles and some light gray fingerless gloves and you've completed the outfit.
Get your hands on a long, blond wig with an equally long, blond beard, and top it all off with a pair of black sunglasses, the classic Stormbreaker, and a beer.

So where did this idea even come from? Well, Judianna Makovsky was the genius designer behind this simple, yet effective Fat Thoor look. Are you ready to wear it to its full potential? This is one costume you'll certainly be comfortable in.
If you're looking to channel the tactical genius and commanding presence of a Marvel superhero, don't miss out on the opportunity to dress up as Nick Fury, the enigmatic director of S.H.I.E.L.D. Check out this detailed Nick Fury costume guide for inspiration and tips on how to embody the legendary spy-master.
Missing an Outfit Inspo? Submit your idea and we'll make it happen!
Monthly Newsletter
Subscribe and get your Halloween costume ideas from us each year.