Dress Up Like Dr. Disrespect
If you are looking for a good Dr Disrespect costume for Halloween or a big cosplay event, here's the winning formula for creating the most exciting outfit of the party! Let's see how to dress up as Dr Disrespect from Dr Disrespect.
Outfit Guide For COSPLAY & HALLOWEEN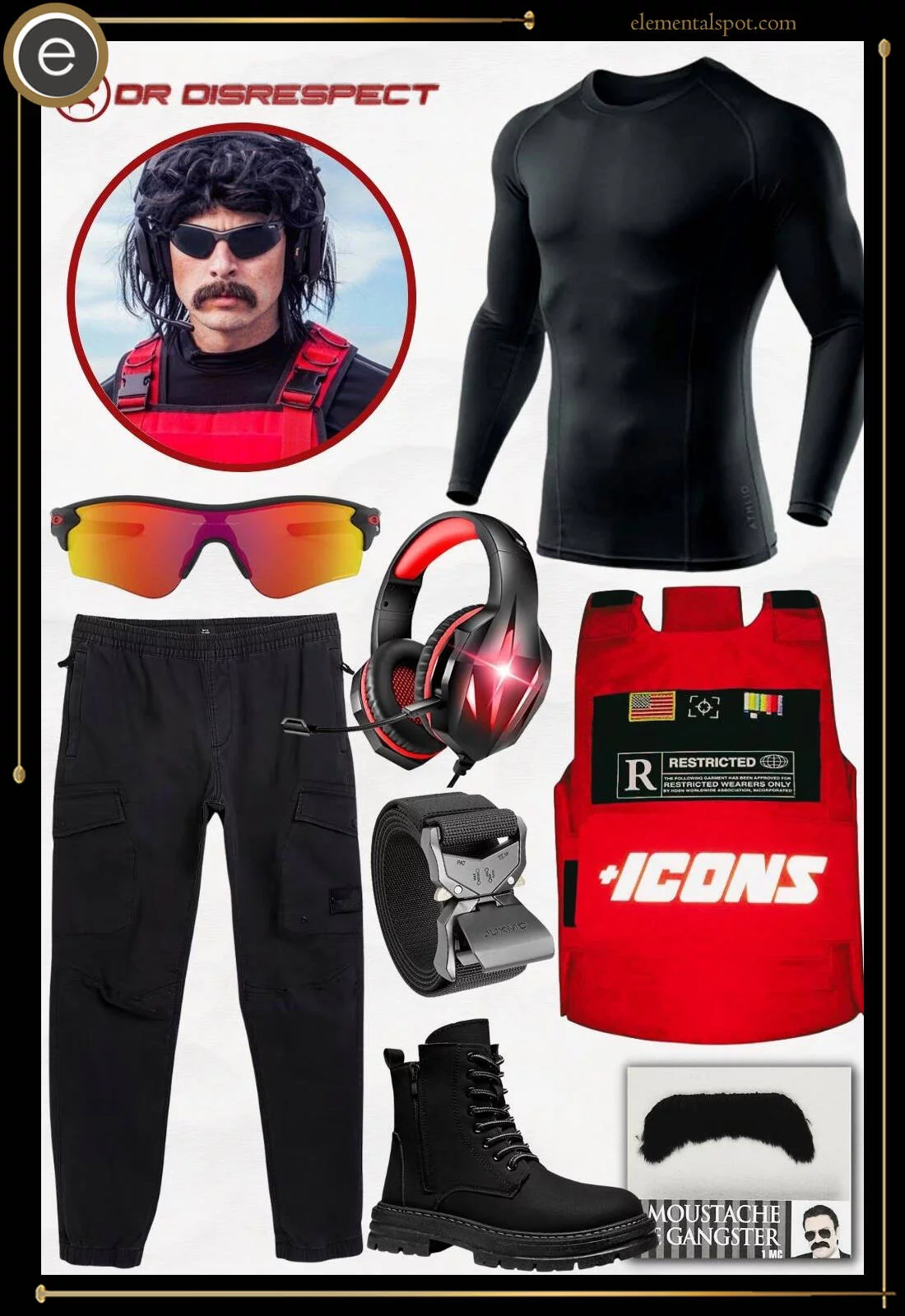 Dr Disrespect from Dr Disrespect Outfit Guide
Shopping List for Dr Disrespect from Dr Disrespect Costume & Outfit
Are you ready to take on the persona of one of the most iconic figures in the gaming world? Look no further, because today, we're going to dive into how to dress up like the legendary Dr. Disrespect. Whether it's for a costume party or a cosplay event, this DIY costume tutorial will have you looking like the real deal in no time.
Get to Know the Main Character: Dr. Disrespect
Dr. Disrespect is a popular ex Twitch streamer ( now on YouTube, read more about it at the end of the article) and internet personality known for his distinctive look and larger-than-life personality.
As for outfit, he's known for his red tactical vest, black cargo pants, and signature Oakley sunglasses. With a booming voice, charismatic personality, and always-enthusiastic energy, it's no wonder Dr. Disrespect has become a fan favorite in the gaming community.
The Essential Pieces for a Dr. Disrespect Costume
To dress up like Dr. Disrespect, you'll need to gather a few key items:
Black Cargo Pants: The Foundation of the Outfit
Dr. Disrespect's black cargo pants are an essential part of his signature look. Look for a pair that is comfortable, durable, and fits well. They should be loose enough to allow for ease of movement, but not so baggy that they look sloppy.
Red Tactical Vest: The Statement Piece
The red tactical vest is a key element of the Dr. Disrespect costume, and it's what really sets the outfit apart. Look for a vest that is made of durable materials, and that fits snugly over your compression shirt.
Oakley Sunglasses: A Must-Have Accessory
Dr. Disrespect's Oakley sunglasses are another defining feature of his look. These polarized shades protect his eyes and give him an extra level of swagger. Choose a pair that fit your face well and are comfortable to wear.
The Final Touches: Compression Shirt, Tactical Belt, Red Headset, Black Boots, and Mustache
The compression shirt is designed to provide support and improve athletic performance, making it a great choice for a costume that requires a lot of movement. The tactical belt adds an extra layer of functionality to the outfit, while the red headset ties the whole look together. Black boots complete the rugged, tactical aesthetic, and the mustache adds a touch of humor and personality to the costume.
Unleash Your Inner Dr. Disrespect
Whether you're attending a costume party, cosplaying at a convention, or just looking for a fun, unique look to sport around town, dressing up like Dr. Disrespect is a great choice. With this DIY costume tutorial, you'll have everything you need to bring this iconic character to life and make a statement wherever you go.
So, grab your items, put on your game face, and get ready to step into the shoes of the one and only Dr. Disrespect. It's time to take the gaming world by storm!
The Rise of Dr. Disrespect: From Twitch to YouTube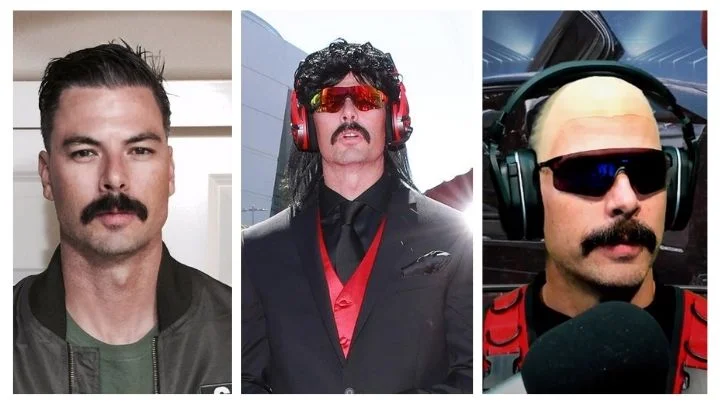 Herschel Beahm IV, better known as Dr Disrespect or SPECT or Mr. 2 Time, is an American video game streamer who has made a name for himself in the gaming community. Born on March 10, 1982, Dr Disrespect has gained a massive following for his entertaining and humorous streams of battle royale games such as Apex Legends, Call of Duty: Black Ops 4, Call of Duty: Warzone, Fortnite, H1Z1, and PUBG: Battlegrounds.
Dr Disrespect quickly rose to fame on Twitch, where he had over 4 million followers when he was active on the site. However, in June 2020, Dr Disrespect was banned from Twitch (Why? Look at the explanation here) and his channel was removed from the site for reasons that have never been explained. Despite this setback, Dr Disrespect didn't let it bring him down and returned to streaming a month later on YouTube. The return was a massive success, with one stream peaking at over 510,000 simultaneous viewers.
As of December 2022, Dr Disrespect has over 4 million subscribers on YouTube, cementing his status as one of the most popular video game streamers in the world. Despite his ban from Twitch, Dr Disrespect has continued to entertain and captivate audiences with his unique personality and entertaining streams. Whether you're a fan of battle royale games or simply enjoy watching talented gamers in action, Dr Disrespect is a streamer you won't want to miss.
Missing an Outfit Inspo? Submit your idea and we'll make it happen!
Monthly Newsletter
Subscribe and get your Halloween costume ideas from us each year.