Dress Up Like Cousin Eddie from Christmas Vacation
If you are looking for a good Cousin Eddie costume for Halloween or a big cosplay event, here's the winning formula for creating the most exciting outfit of the party! Let's see how to dress up as Cousin Eddie from Christmas Vacation.
Costume Guide For COSPLAY & HALLOWEEN
Cousin Eddie from Christmas Vacation Costume Guide
Shopping List for Cousin Eddie from Christmas Vacation Costume & Outfit
Ready to kick your costume game up a notch? Say farewell to run-of-the-mill ensembles because we're diving headfirst into the world of Cousin Eddie from Christmas Vacation. Don't settle for being just another face in the crowd at your next costume bash; get ready to shine as the unforgettable Cousin Eddie. Let's explore what makes this character tick, from his quirks to his iconic outfit.
Who is Cousin Eddie?
Before we delve into creating the perfect Cousin Eddie costume, let's get acquainted with the man himself. Cousin Eddie, portrayed by Randy Quaid, is a character from the National Lampoon's Vacation movie series. He's the lovable yet eccentric relative of the Griswold family, known for his boorish, unrefined, and eccentric character . He is known for his quirky and unconventional behavior, which often leads to humorous situations.
To truly pull off this costume, you need to capture Cousin Eddie's distinctive personality. He's a free spirit with an undeniable sense of humor and a complete lack of self-consciousness. Whether he's emptying his RV's sewage tank in broad daylight or uttering his infamous catchphrase, "Merry Christmas, shitter's full," he never fails to leave a lasting impression.
YouTube Inspo for a Perfect Eddie from Christmas Vacation Costume
Before you embark on creating your Cousin Eddie look, let's draw some inspiration from the character himself. Check out this YouTube clip showcasing some of Cousin Eddie's most memorable moments:
Putting It All Together
Now that you have all the essential elements of Cousin Eddie's costume (in the list at the top of this article), it's time to put them together. Slip into your bathrobe, cinch it with the white belt, put on your hat, and pull up those black socks. Slip into your white shoes, and don't forget to accessorize with that fake cigar and beer can. Remember, it's all about embodying Cousin Eddie's carefree spirit.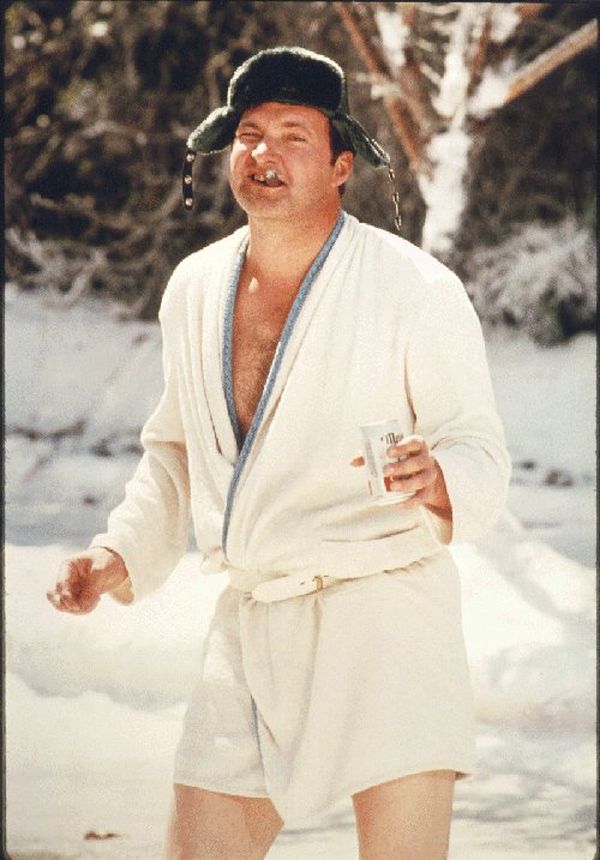 Conclusion
When it comes to dressing up for a costume party or cosplay event, don't settle for the ordinary. Embrace the hilariously eccentric Cousin Eddie from National Lampoon's Vacation and leave a lasting impression that will have everyone talking. With a little creativity and the right costume pieces, you can become the life of the party, just like Cousin Eddie himself.
Make your next costume event unforgettable, and channel your inner Cousin Eddie. Now, go rock that bathrobe, belt, hat, socks, shoes, cigar, and beer can, and you'll be the star of the show. Don't be afraid to let loose, have fun, and spread some Cousin Eddie cheer wherever you go!
---
Recommended Reading
If you're in the mood for more fantastic costume ideas and DIY guides, be sure to check out our main costume page at ElementalSpot Costumes. You'll find a treasure trove of inspiration to make your next costume adventure a smashing success! If you're in the mood for some festive fun, check out our guide to dressing up like Harry from "Home Alone" from another beloved Christmas-inspired movie. It's the perfect way to celebrate the holiday spirit in style!
Missing an Outfit Inspo? Submit your idea and we'll make it happen!
Monthly Newsletter
Subscribe and get your Halloween costume ideas from us each year.