Dress Up Like Bonnie Swanson from Family Guy
If you are looking for a good Bonnie Swanson costume for Halloween or a big cosplay event, here's the winning formula for creating the most exciting outfit of the party! Let's see how to dress up as Bonnie Swanson from Family Guy.
Costume or Outfit Guide For COSPLAY & HALLOWEEN
Bonnie Swanson from Family Guy Costume or Outfit Guide
Shopping List for Bonnie Swanson from Family Guy Costume & Outfit
From its TV debut in 1999, the American animated sitcom, Family Guy has pushed the boundaries on what is acceptable and has never shied away from making a controversial joke or two. When looking for inspiration for your next cosplay or dress-up event, why not go for the supporting character, voiced by one of the horror icons of our generation, and create your own Bonnie Swanson costume.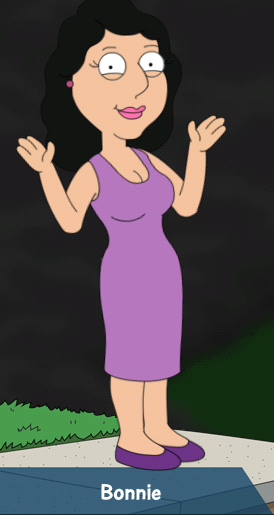 Who is Bonnie Swanson
The American animated sitcom, created as a show for adults has found a receptive audience, despite some controversies, as it has already spanned 21 seasons so far.
Set in the fictional city of Quahog, Rhode Island it tells the story of the very dysfunctional Griffin family, made up of parents Peter and Lois; their children Meg, Chris and Stewie and last but not least, their anthropomorphic dog Brian.
Voiced by Jennifer Tilly, Bonnie Swanson lives next door to the Griffins with her paraplegic police officer husband Joe. When we first meet Bonnie, in season one of Family Guy, she is pregnant with her second child. With the creators keeping the pregnancy joke running for many seasons it was a surprise when in the seventh she gave birth to daughter Susie, but not nearly as surprising as the little girl being voiced during her inner monologues by Sir Patrick Stewart. 
Getting The Bonnie Swanson look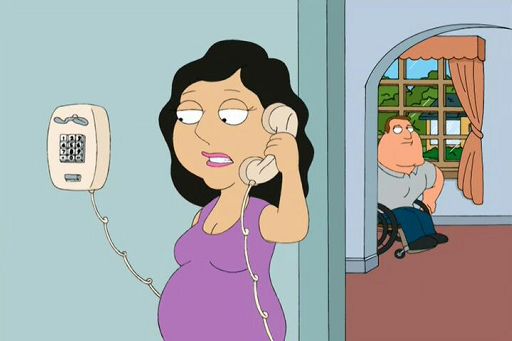 As an animated character there isn't much variation in Bonnie's wardrobe, and the outfit that she is best known for is quite simple and will be easy to put together.
To start your Bonnie Swanson costume you will want to get a light purple dress. Go for one similar to Bonnies' with a low round scoop neck, wide shoulder straps and a fitted shape finishing just below the knee. Add in a pair of matching purple flat slip on ballerina pumps and large costume lilac pearl stud earrings.
Get Bonnie Swanson's Hair and Make-up 
Bonnie's hair and make-up looks are as simple as her clothing. With her hair just being worn parted to the side and in loose waves around her face. Purchase a shoulder length black wig, and if you go for one that already has the wavy texture you require, then all you will need to do is slip it on.
Finish your Bonnie Swanson costume with an effortless make-up look, of a fresh face, some light eyeshadow and some volumizing mascara to give some fullness to your lashes. Complete your whole look with some bright pink lipstick and you are ready to go.
Remember Bonnie was pregnant for a very long time so this would also be the perfect costume if you too were an expectant mother. The other popular option is the Fat Thor costume.
Missing an Outfit Inspo? Submit your idea and we'll make it happen!
Monthly Newsletter
Subscribe and get your Halloween costume ideas from us each year.