Unique Gift Ideas for Nana Osaki Fans
Immerse yourself in the world of Nana Osaki with gifts that capture the very essence of this iconic character. From sweet strawberry glass cups to rock-chic jewelry inspired by Vivienne Westwood, each of these presents carries a piece of Nana's unyielding spirit and charismatic style. Whether it's a birthday, a holiday, or simply a gesture of appreciation, our handpicked selection of distinctive Nana Osaki gifts will resonate with your recipient, paying homage to Nana's rock 'n' roll legacy. Let's dive into Nana's world and discover the ideal presents to delight the Nana Osaki fan in your life.
Nana Gifts -Strawberry Glass Cups
For fans of Nana Osaki, these adorable strawberry glass cups are the perfect blend of sweetness and rock 'n' roll edge. Nana's love for strawberries is well-known in the series, and these charming cups pay homage to that delightful obsession and one of the best scenes (see the video below). Whether sipping your favorite beverage or displaying them as decorative pieces, these cups are a must-have for any Nana fan.
Vivienne Westwood-Inspired Jewelry
Nana Osaki's iconic style is synonymous with punk rock and edgy fashion, and what better way to pay tribute to her unique sense of style than with Vivienne Westwood-inspired jewelry? These pieces capture the essence of the punk-rock era that Nana represents, featuring bold designs, rebellious spirit, and a touch of glam. A stunning accessory choice for Nana Osaki fans who want to embrace the rock-chic aesthetic.
DIY Collage with Pics of You Both and Nana & Hachi Moments
Take your love for Nana Osaki and Hachi to the next level with a custom illustration of the two of you, styled as these iconic characters. Whether you're a fan of Nana's punk rock attitude or Hachi's sweet and endearing personality, a personalized illustration can capture the essence of your relationship and your shared passion for the series. A truly one-of-a-kind gift that shows just how much you care.
DIY Nana Gift Idea -Strawberry Black Stones Cake
Indulge in the delectable world of Nana Osaki with a Strawberry Black Stones Cake. Named after the legendary band Black Stones, this cake is a delightful fusion of Nana's love for strawberries and the rock 'n' roll spirit that defines her character. The sweet, juicy strawberries are artfully incorporated into a luscious cake, creating a dessert that is both a tribute to Nana Osaki and a treat for the taste buds. Ideal for Nana fans and dessert enthusiasts alike, it's a harmonious blend of flavors that's sure to rock your world.
Strawberry Black Stone Cake Recipe
Enjoy your homemade Strawberry Black Stone Cake, inspired by Nana Osaki! 🍰🍓🖤
Nana Inspired T-Shirts
Wear your love for Nana Osaki with pride by donning a Nana-themed T-shirt. With a variety of designs to choose from, you can find tees featuring Nana's striking artwork, memorable quotes, or classic moments from the anime and manga. Elevate your style with Nana-themed T-shirts that allow you to carry the essence of the series wherever you go.
Nana poster: A Captivating Gift for True Fans
Transform your living space into a tribute to the captivating world of Nana Osaki with a Nana poster. If you're searching for a gift that embodies the punk-chic spirit in Nana Osaki's signature red and black style, consider this Nana poster. These striking artworks capture the essence of Nana's rebellious attitude and enduring charisma. Gift the Nana fan in your life a poster that not only adorns their space but also evokes the rock 'n' roll vibes of the series in bold, fiery red and sleek black hues.
Strawberry Nana Keychains: Sweeten Your Daily Carry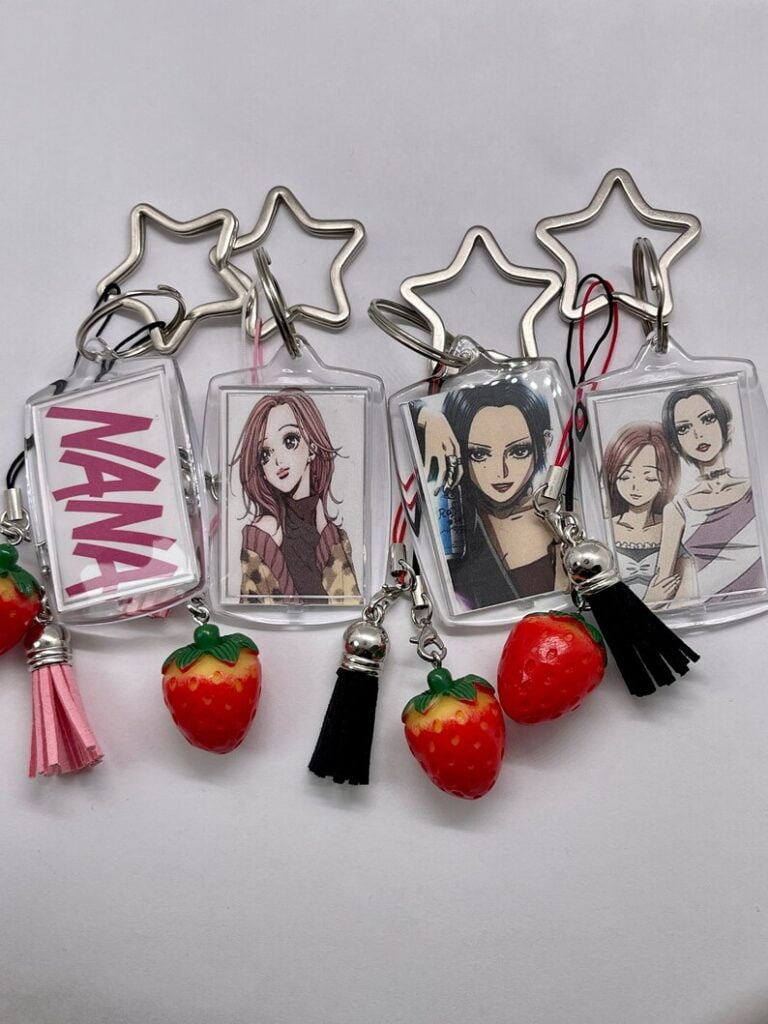 Incorporate a touch of Nana Osaki's sweet and rebellious spirit into your everyday life with these Strawberry Nana keychains. Smart, stylish, and subtly themed, they make for the perfect companions for your keys, bags, or accessories. Each keychain is not just a symbol of your devotion to the series but a sweet reminder to infuse a bit of Nana's enduring passion into your day, one strawberry at a time.
Nana's Lotus Tattoo: A Symbol of Strength and Beauty
Text: Nana Osaki's lotus tattoo is more than just body art; it's a symbol of resilience, beauty, and the complexities of her character. As fans of the series, we are drawn not only to the captivating story but also to the powerful imagery that defines Nana's journey. The lotus tattoo embodies her inner strength and the ability to rise above adversity, making it a poignant and meaningful element of the series
Nana Osaki's Leopard Coat
The leopard coat donned by Nana Osaki during her iconic "Moonlight Concert" is more than a mere fashion choice; it's a statement of pure rock 'n' roll rebellion. As she put her signature on the scene, and Hachi heard her sing for the first time, the coat became a symbol of their unique connection. This fashion piece encapsulates the essence of Nana – bold, fearless, and unforgettable. For fans, it's a nod to the passionate, music-fueled moments that define the series. It's not just an outfit; it's an emblem of Nana's distinctive style and the allure of the rock 'n' roll lifestyle.
The Nana Osaki Fan's Gift Guide
As we immerse ourselves in the enigmatic world of Nana Osaki, we discover a character whose essence embodies independence, passion, and a style that's truly her own. Finding the perfect gift for fans of this unforgettable figure can be as thrilling as her rock 'n' roll journey.
In this collection, we've curated a selection of unique and thoughtful gift ideas that resonate with Nana's spirit and style. From sweet strawberry glass cups that pay homage to her iconic love for strawberries, to Vivienne Westwood-inspired jewelry that captures her punk-rock attitude, each gift exudes a sense of rebellion and charm.
For those seeking a deeply personal touch, a customized collage with moments of Nana and Hachi or an illustration of you both styled as the characters can add a sentimental touch to your gift-giving. The Strawberry Black Stone Cake is a delectable tribute to Nana's love for strawberries and rock 'n' roll, and Nana-themed T-shirts offer a stylish statement of fandom.
Adorn your living space with Nana posters that pay tribute to the captivating world of the series, or sweeten your daily carry with Strawberry Nana keychains, each a reminder of Nana's enduring passion.
Nana's lotus tattoo is a symbol of strength and beauty, reflecting the character's resilience and complexity, and Nana's iconic leopard coat, worn during her unforgettable "Moonlight Concert," is a statement of pure rock 'n' roll rebellion, emblematic of her distinctive style.
Each of these gift ideas carries a piece of Nana's spirit, making them not just gifts but tokens of the unforgettable legacy of Nana Osaki.