The Out-Laws Outfits: Stealing the Characters' Criminal Wardrobes
It is hard enough connecting with your in-laws at the best of times, but what about when you find out they have a secret life and are notorious wanted criminals. Well, Adam DeVine's Owen Browning is about to find out in Netflix's new action comedy The Out-Laws.
The stylish 2023 streaming movie, which boasts a stellar cast, might not have received the reviews that director Tyler Spindel had hoped for. Described as short on laughs, the one place we know the movie isn't lacking is the wardrobe department full of fashionable and on-trend The Out-Laws outfits. From tough leather jackets to soft and innocent knits, the movie ticks all the boxes for stealable looks, and here are our favorites from the action packed 95 minutes.
Parker McDermott's The Out-Laws Wardrobe
For this action comedy, actress Nina Dobrev (check her Look as Elena Gilbert from The Vampire Diaries ) who plays Parker McDermott, a yoga instructor, soon to be wife of Owen Browning and not forgetting daughter of the Ghost Bandits, takes a more supporting role. With much of the dramatic scenes taken up by the rest of the star studded cast, Parker does however have the honor of being the best dressed in her The Out-Laws outfits.
Parker's Red Suede Moto Jacket in The Out-Laws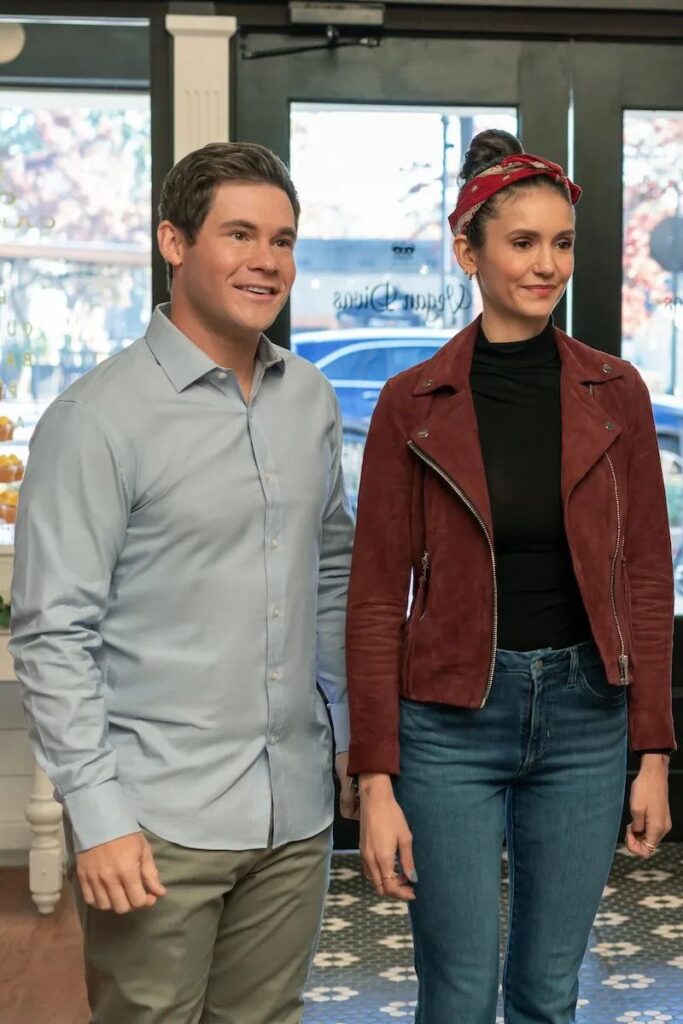 With one stylish look after another, it is not hard to see that the jackets worn throughout the movie are utter perfection. But nothing is more striking than this look from the innocent, and later very confused Parker. Classic in its style, with all the zips and shiny silver hardware contrasting the deep red luxurious suede. With the slim fit and soft feel making it a real standout piece in Parker's wardrobe.
AllSaints Anna Crewneck T-Shirt Worn by Parker in The Out-Laws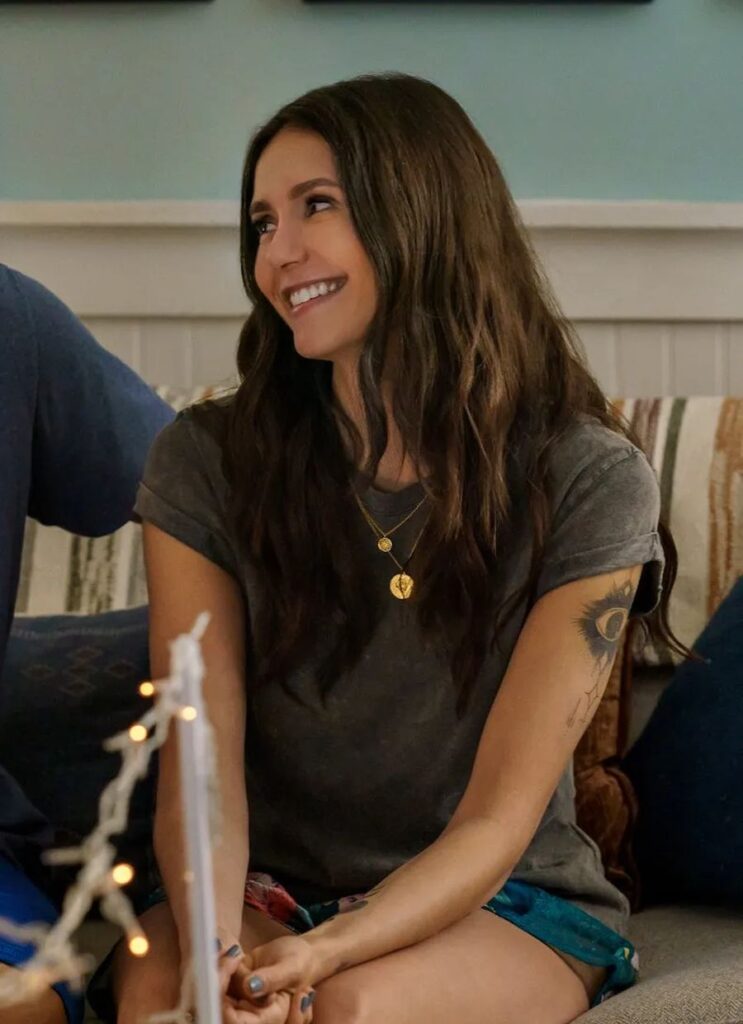 No doubt it is being a yoga instructor that gives bride-to-be Parker her relaxed and casual-cool vibes that means she knows exactly how to rock even the most basic of everyday garments. Like this AllSaints Anna crewneck t-shirt with its simple rolled sleeves and edgy black acid washed cotton. That she wears with such relaxed and fashionable ease.
Parker's Choker Neckline Dress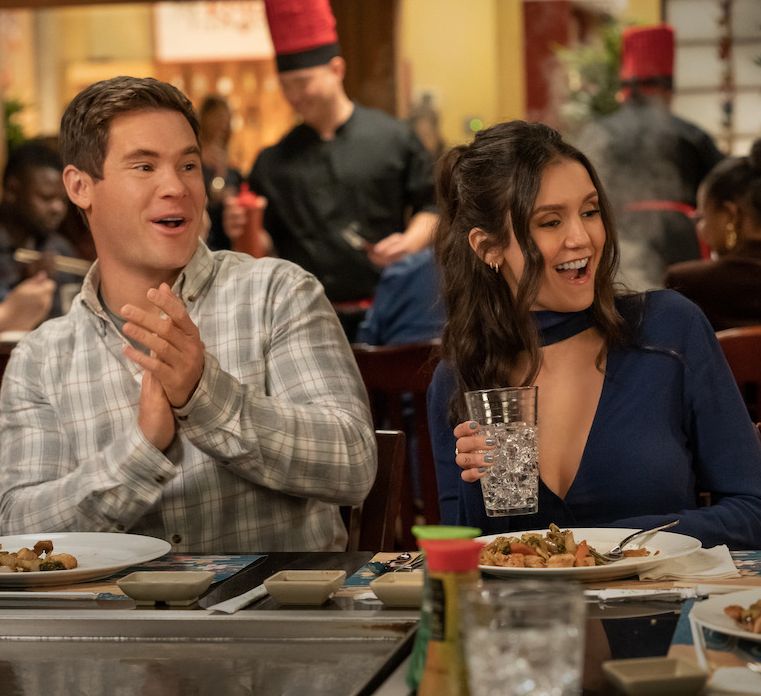 Comfortable in the t-shirts and sports legging uniform of yoga instructors all over the world, Parker knows when and how to up the ante with her outfits. Going for modern and on-trend fashions that could turn anyone's head, this dark blue figure-skimming dress with wide sleeves and choker neckline is perfect for making a good impression. Especially important for dinner where things could get intense.
Delicate and Tough: Parker's Knit Sweater and Leather Mini-skirt The Out-Laws Outfit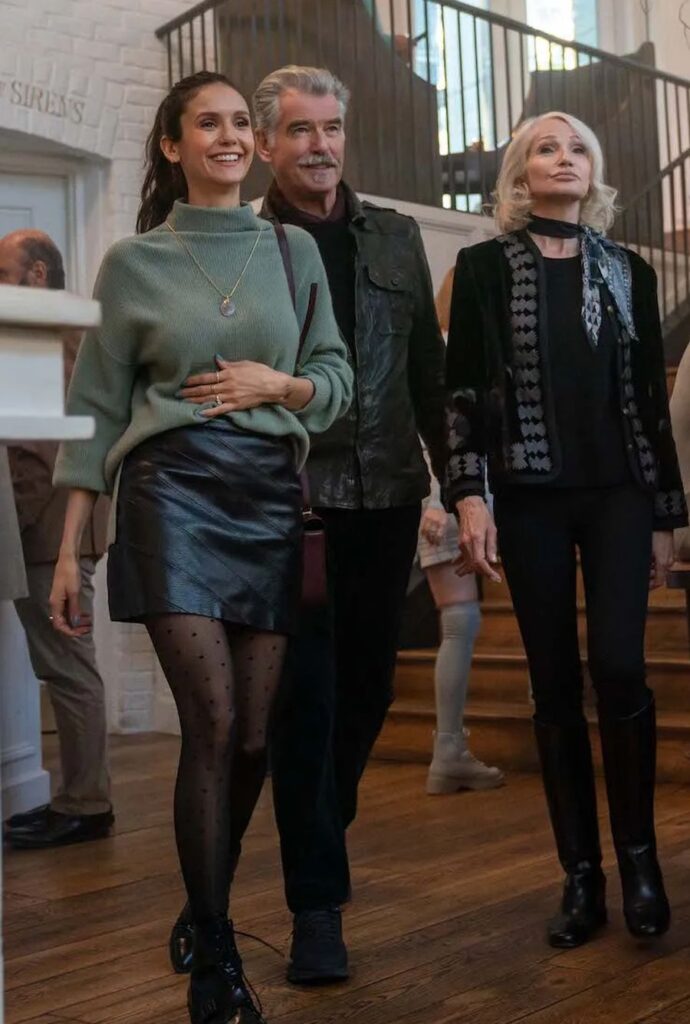 Completely unaware of the chaos that is about to ensue in her life, Parker's delicate and tough contrasting The Out-Laws outfit might be a sign of the drama to come. With her plush mock neck sweater, in a gentle green paired with the dark and resilient black leather of her mini-skirt. Before being finished off with matching black tights and ankle boots to give a fashionably ominous feel to her stylish look.
Owen Browning's The Out-Laws Style
The slightly haphazard Owen Browning might have risen to the position of bank manager, but the not so straight-laced shirt and suit wearing businessman is somewhat of a liability. With his changing role, Owen's The Out-Laws outfits adapt to reflect his comedic and clumsy turn in the world of criminals. Where he has dived right into every stereotype and idea surrounding dressing like a 'bad boy.'
Owen's Pale Blue and White Casual Plaid shirt in The Out-Laws
Adam DeVine's, Owen Browning's The Out-Laws outfits at the beginning of the movie could probably be described as a typical straight-laced bank manager. With both his business and casual attire mostly consisting of shirts, ties and dress trousers. However when he isn't in charge of keeping people's money safe, which lets be honest he isn't great at, Owen mixes his look up with mundane patterns like pale colored plaids and chino trousers.
The Typical Business Suit Worn by Bank Manager Owen Browning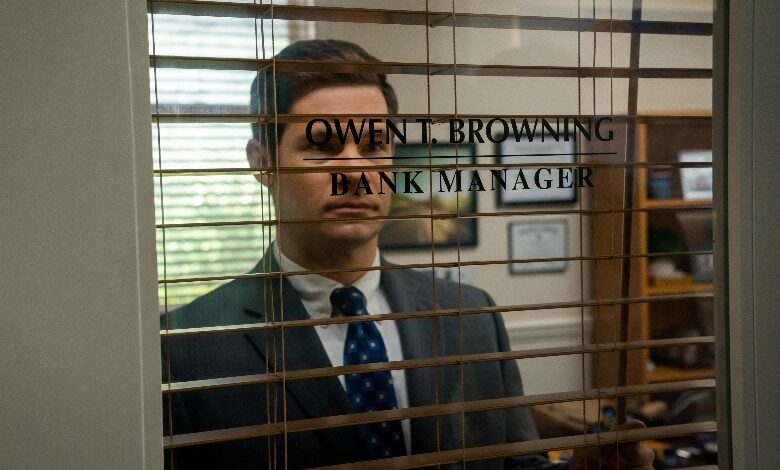 Not a great bank manager as it would turn out, the chatty, hapless and easily coerced Owen is so eager to be liked he barely notices when he tells people important bank related information, that probably should have been kept a secret. Although one thing that you can't say is that he doesn't look the part in his two piece business suits. Sticking with solemn blacks and grays paired with his formal shirts and only slightly oddly patterned ties.
Owen's Bank Robbing Leather Jacket in The Out-Laws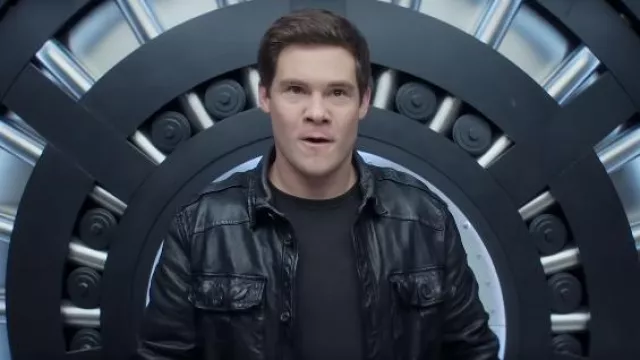 When the action starts and Owen has to step into the criminal world of bank robbing, he needs something a bit more suave than his business suits and shirts. No doubt emulating the look of his future father-in-law, Billy McDermott, he goes for the symbol of bad boys the world over with a black leather jacket.
Lilly and Billy McDermott's Complementary Wardrobes
Lilly and Billy McDermott might be the notorious bank robbers, The Ghost Bandits, but when they hear about their estranged daughters wedding they can't help but attend. Something they may come to regret after they think they can get the better of their future son-in-law. But our bandits know how to avoid drawing attention to themselves and their perfect The Out-Laws outfits is just one of the ways they use to do that.
Lilly McDermott's Ivory Wool Coat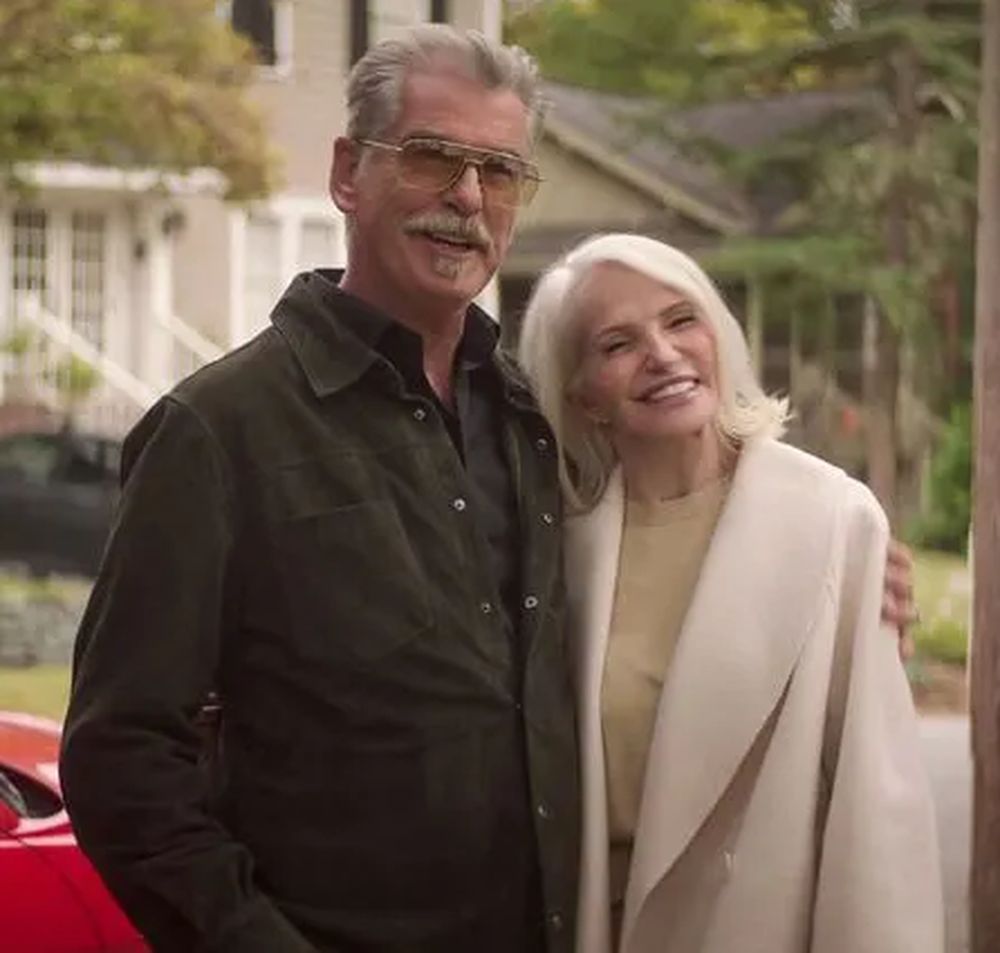 After meeting Mrs McDermott, it wouldn't be out of the question to say that Parker got her flawless fashion sense from her mother. Especially when it comes to their utterly perfect outerwear choices. However, one of Lilly's most striking looks is her soft and supple ivory wool coat with shawl collar. Yet maybe the loose fit and pure color make her seem more innocent than she actually is.
Original 'Bad Boy' Billy McDermott's Black Leather Jacket in The Out-Laws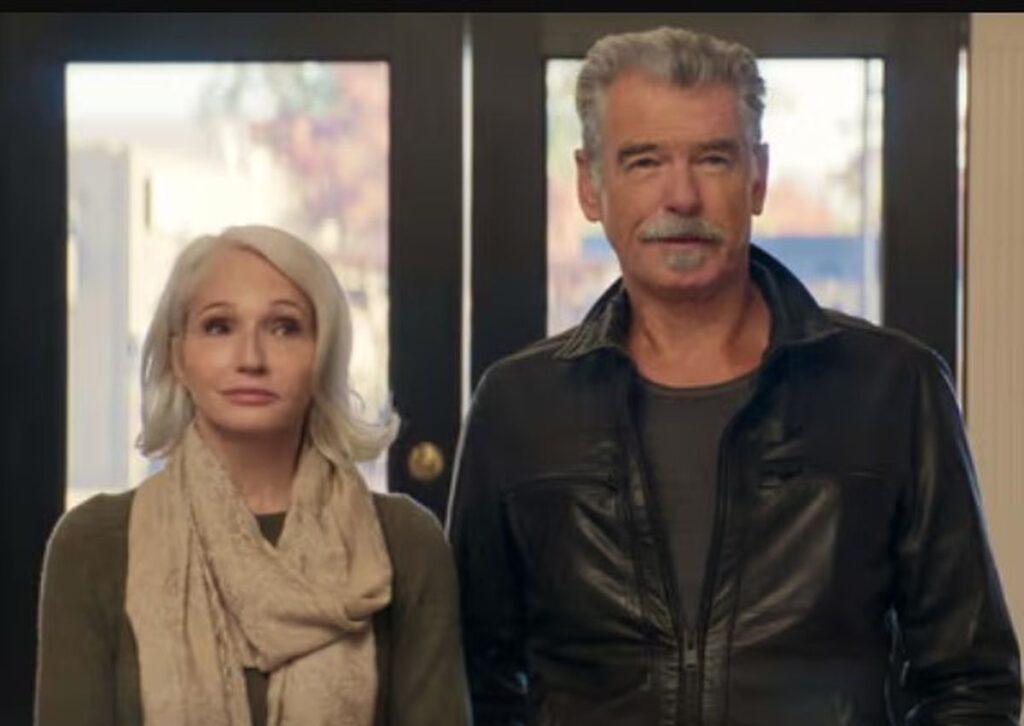 Pierce Brosnan is no stranger to the world of sophisticated and suave dressing, they even made a little joke about Mr Bond in the movie, but it isn't often that the actor plays the 'bad boy.' Just like Owen, our criminal mastermind Billy likes to show his tough side with a slim fitting black leather jacket. Which he might actually pull off with a little bit more ease than his future son-in-law.
Denim Shirts and Simple White T-shirts Worn by the McDermott's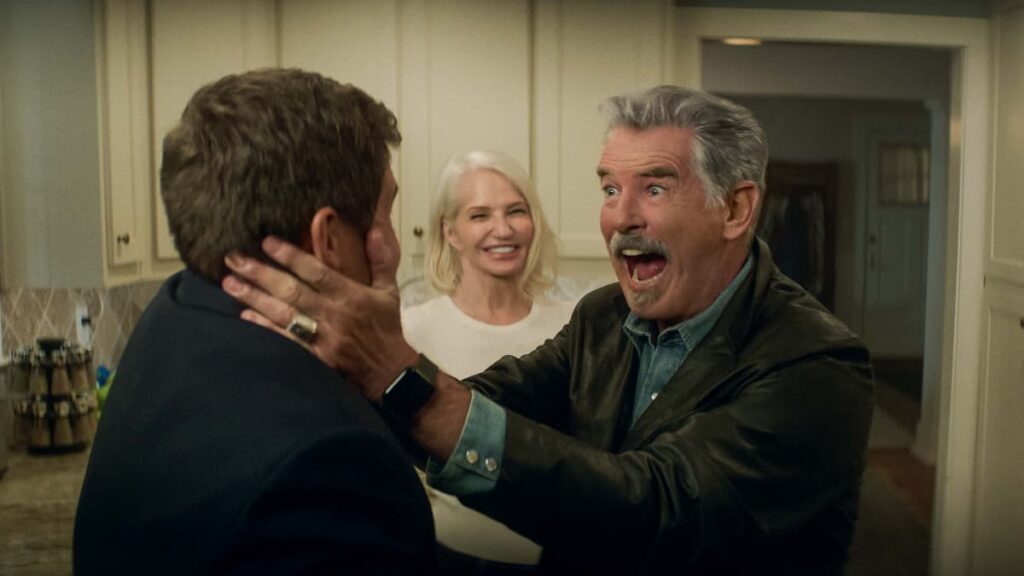 Ellen Barkin's Lilly uses the trick of wearing simple colors and fabrics in the McDermotts complimentary wardrobe to ward off attention. But when you look as modern and stylish as these two it's hard not to have people notice you. Yet who would suspect this fashionable set of parents of being bank robbers. Nobody who saw them in their basic white long sleeved t-shirt and denim shirt outfits, that's for sure.
Billy's Stylish Aviator Sunglasses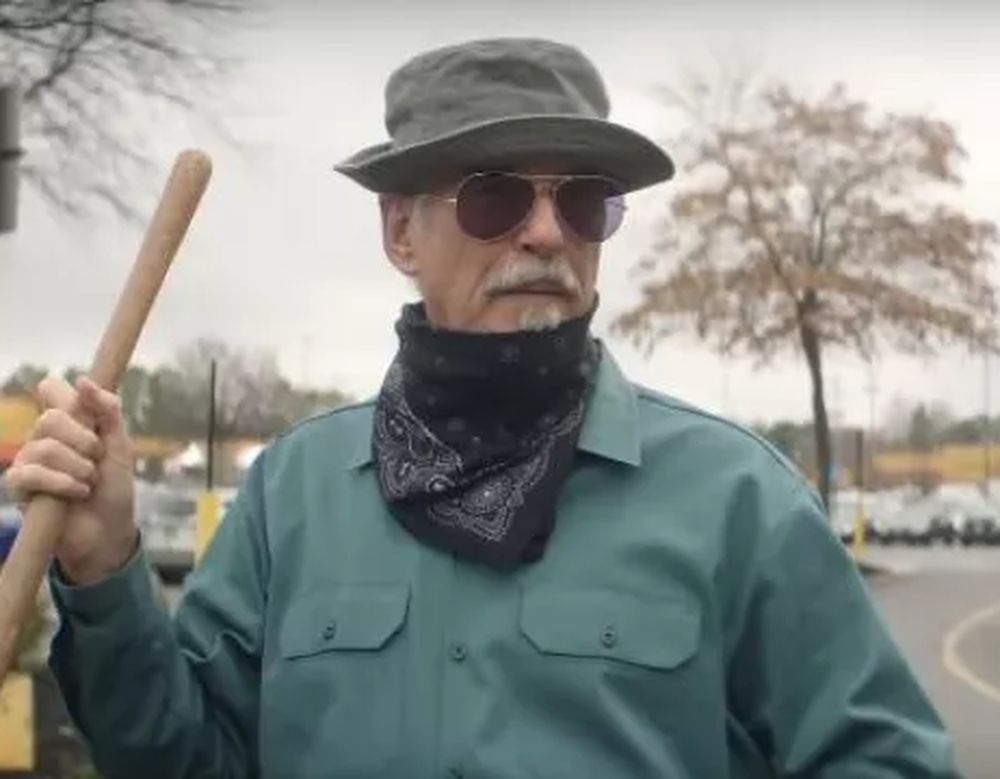 Always thinking ten steps ahead during their robberies, the dynamic shifts after Parker is kidnapped and Owen has to help his in-laws steal the money to rescue her. It was probably just as well Billy's The Out-Laws outfits included these metal framed aviator sunglasses so no one could see him rolling his eyes at all the disasters Owen caused.
Even with all the action comedy about meeting the in-laws, bank robberies and finding out your parents are notorious criminals, it is hard not to be drawn to The Out-Laws outfits. Especially Parker McDermott's impeccable wardrobe of stealable looks that it is hard to tear your eyes away from. But with four main characters, and each with their own distinctive style, you could easily find the perfect fit from The Out-Laws outfits for your own wardrobe. Just leave the bank robbing to the criminals.