Spiderman: Peter Parker's Outfits to Re-Style
The Spiderman movies have come a long way from showing the hero being bit by a spider and mourning over Uncle Ben's death. The film now features teenagers trying to save the world and is centered on entertainment and humor. While you can't go jumping off buildings attempting to save the day like Peter Parker, you can always style like him! Check out our styling guide to recreate Peter Parker's style and outfits.
Tom Holland and Hello Kitty Pants
First up, we have this adorable clip of Tom Holland, aka Peter Parker from "Spiderman: Homecoming." The actor is walking down a street in New York City wearing an "I Survived My Trip to NYC" t-shirt, which we assume is what the character must be thinking at that exact moment. Here's a thought: Peter Parker can wear this shirt every time he survives after fighting a villain!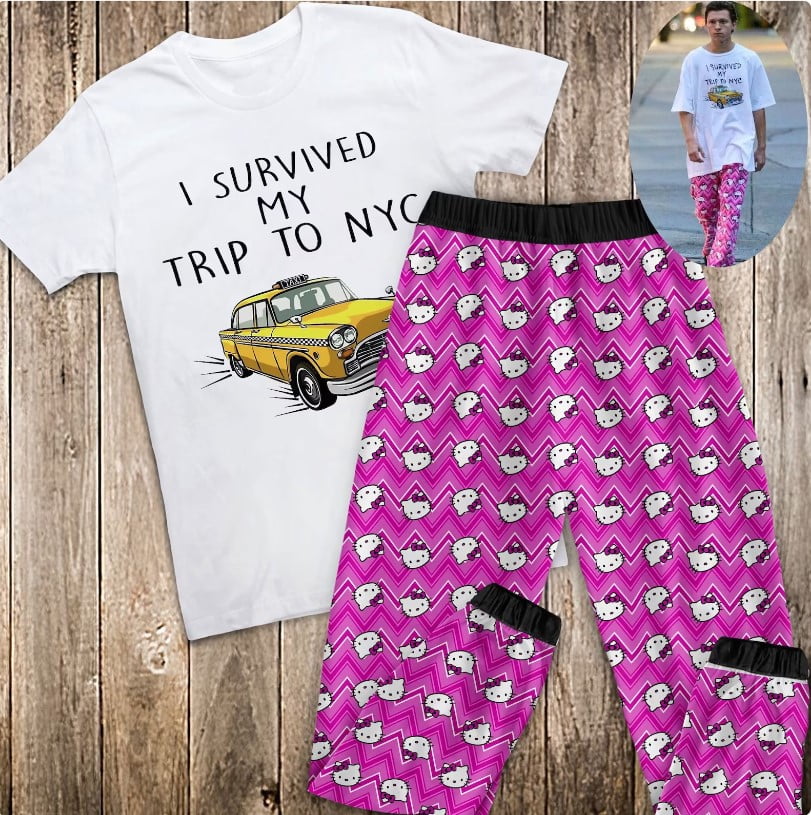 I Survived My Trip To NYC Pajamas Set For Adult worn by Peter Parker (Tom Holland) In Spider-Man: Homecoming
You can spot the actor wearing the same shirt in another scene with Aunt May and Happy Hogan in "Spiderman: No Way Home." Now that we are done discussing his shirt let's not forget to give a special mention to the cute Hello Kitty pajamas.
Peter Parker Outfits – No Way Home
outfit 1 : Peter Parker's Graphic Tee
In the scene where they hold Peter Parker in custody, you can see the character wearing a chic black t-shirt. Apart from the amazing fit and cool color, we love the message it delivers: "Physics is Theoretical but the Fun is Real" – now that is a slogan to live by! He also wears the same shirt in the car with Tony Stark in "Spider Man: Homecoming."
outfit 2: Pe
ter Parker's
Wool Cap
Tom Holland is one of those actors who can make a statement through something as simple as a wool cap! He styles this cap with the blue jacket we reviewed earlier in the scene where he visits Aunt May's grave.
Outfit 3: Peter Parker's Shoes in No Way Home
Have you been eyeing Peter Parker's shoes from the scene where he is lying on the roof with MJ? Today's your lucky day because we have found a perfect match! You can style Nike's Air Jordan 1 Retro with any outfit to achieve the ultimate casual look.
Peter Parker Outfits – Far From Home
Outfit 1: Peter Parker's Blue Plaid Shirt
You can spot Peter Parker wearing several long-sleeved shirts in Spiderman: Far From Home, but this dark blue plaid shirt is our personal favorite! We have found a similar item that you can style in various ways. You can sport it as it is with black jeans, pop a denim jacket over, or wear this as an upper over a white tee.
Outfit 2: Peter Parker's Telekinesis Shirt from Far From Home
Peter Parker styles the blue plaid shirt we reviewed above with a gray graphic t-shirt with the letters "If You Believe in Telekinesis, Please Raise My Hand." You can also pair this t-shirt with a blue jacket, as Peter Parker does in this scene with MJ, for a more laid-back look!
Spiderman doesn't seem to mind repeating his clothes; you can spot the actor wearing the same t-shirt in "Spiderman: Homecoming," too, just like his "I Survived My Trip to NYC" shirt!
Outfit 3: Peter Parker's White and Gray Sneakers from Far From Home
If you want to copy Peter Parker's style, do it right! The actor styles his outfit with the Nike Air Max 1; they feature two shades of gray, white highlights, and a black signature Nike swoosh, which can instantly elevate your look.
Outfit 4: Peter Parker's Sunglasses
Do you know something even cooler than Spiderman's suit? Edith! Those who have watched the movie must have gotten the reference, but for those who haven't, Edith is an augmented reality intelligence system integrated into sunglasses that Tony Stark left for Peter after his death.
While you can't have an Edith of our own, you sure can get the sunglasses the system was integrated into! Yep, we have found a perfect match for the pair of blue and silver aviator glasses.
outfit 5: Pe
ter Parker's (Tom Holland's) Jacket
Spiders may not feel cold, but Spiderman does! You can spot Tom Holland (Peter Parker) wearing a trendy windbraker blue jacket with a front zipper. We couldn't find the exact match of this blue jacket, but a nice inspired-by-Peter-Parker example, that you can style with a t-shirt for a casual look or a turtleneck for a more chic appearance.
Peter Parker Outfits – Homecoming
Outfit 1: Peter Parker's "Atomic" Tee
Spiderman's graphic tee with the Atom Joke
By now, you must have gotten the hint that Peter Parker loves wearing graphic t-shirts. He sports this dark gray shirt featuring atoms cracking jokes inside Tony Stark's headquarters.
After Peter Parker's physics and telekinesis shirts, we present to you a replica of the character's "atomic" shirt where one atom says, "I lost an electron," to which the other replies, "are you positive?"
Outfit 2: Peter Parker's Sweatshirt
Sweatshirts are never out of style, especially if they are inspired by Peter Parker! The character sports this blue round neck shirt with a customized "Midtown School of Science and Technology" logo.
Outfit 3: Peter Parker's Makeshift Spiderman Costume Hoodie
Peter Parker's makeshift Spiderman costume
Remember the makeshift Spiderman costume Peter Parker made in "Spiderman: Homecoming" using gloves, a mask, and a hoodie? Well, we have spotted a similar hoodie that you can buy online. It can be perfect to wear on regular days, and you can even use it to make a Spiderman Halloween costume.
It's lots of fun. As always, it's a big responsibility because you have to meet so many requirements whilst trying to be as faithful to comic books as possible and responding to what audiences today actually want to see these characters wearing.

Costumdeigner: Sanja Milkovic Hays
Which of These Peter Parker-Inspired Outfits Are You Buying?
Now that we are done with Peter Parker's outfit reviews from "Spiderman: No Way Home," "Spiderman: Far From Home," and "Spiderman: Homecoming," it is time to click on the links and order some for yourself!