Men in Black is surely one of the world's most famous adventure movies. It's truly a "jack of all trades", as it includes great action scenes, hilarious comedy sketches, and a perfectly incorporated Sci-Fi alien plot. What more could we ask for?
Will Smith plays Jay, a policeman serving in the N.Y.P.D. (For cosplay lovers here is how to dress like Agent J) However, he's definitely not eating donuts and giving speed tickers in this movie – weird paths lead him to "K", an agent played by Tommy Lee Jones. He's a part of MiB, a very private organization that surveils aliens and monsters. It might sound a bit corny, but this 1997 PG-13 hit earned nothing but praises – to this day, it remains one of the best movies done by Will Smith.
Ovalia egg chair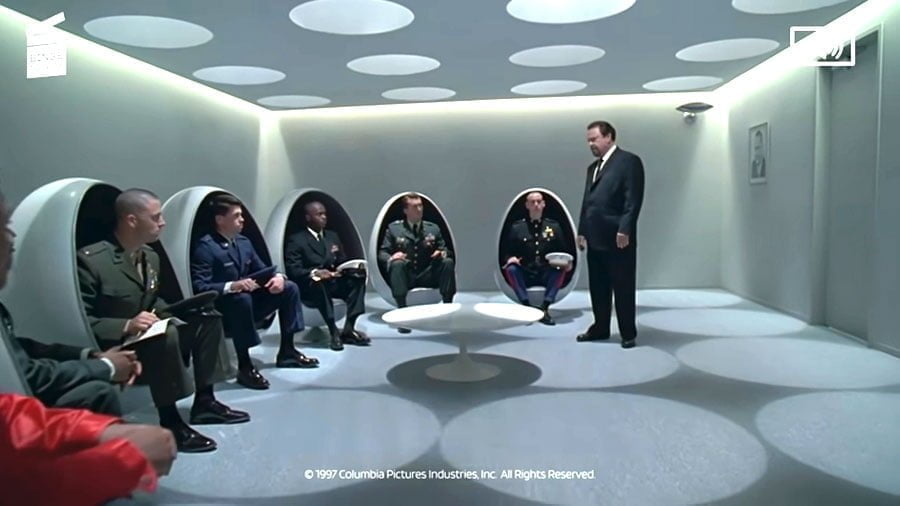 Granted, our policeman Jay didn't just get a suit and start catching aliens – he had to take a few tests first. Here we see the famous test room with many military men and policemen, and they're all sitting in the famous Men in Black egg chairs.
Design By Henrik Thor-Larsen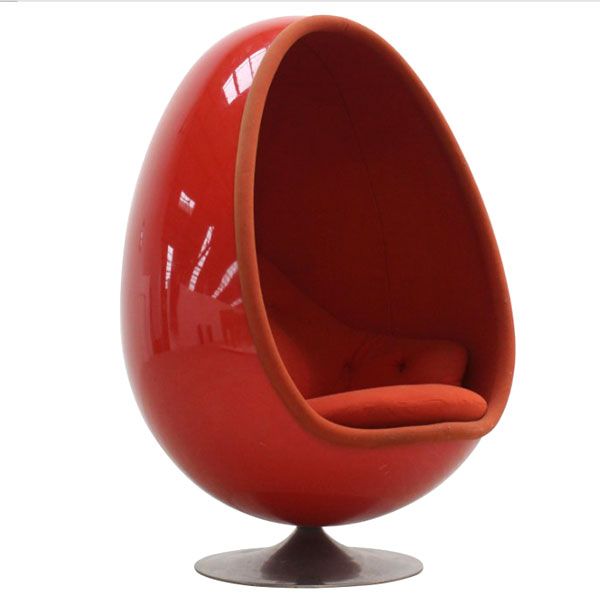 The Ovalia Chair: Mib Egg Chair
The Men in Black egg chair was designed by Henrik Thor-Larsen, and it's a staple in the movie community! The design is futuristic, yet minimal, and depending on the color of the chair, you can easily implement this piece into a modern home.
All the men in the room take the test to find out who's going to be recruited into the special agency, but they struggle to find a comfortable position to write things down. We'd say the Ovalia egg chair might not be the best place for work – agreed?
The chairs are somewhat short, but they have a very interesting, egg-like design that makes them look quite large. They might not be suited for very tall people, but kids and toddlers love to climb around in these. Although your house is not the MiB's headquarters, you'll definitely add a sprinkle of fantasy to it by including this statement piece in your living room or office.
Not only is this chair an attention-stealer, but it's also pretty comfortable. The nylon inside cushioning is available in many colors, while the aluminum-polished outside comes in simple grey and white shades. There have been tons and tons of replicas on the market, but the classic grey-and-black combination remains our top choice.
No matter what your choice of color is, we're sure you can incorporate this Will-Smith-approved funky furniture into a room of your choice. This egg chair, named Ovalia by the maker itself, was first shown to the world in 1968 at the Scandinavian Furniture Fair. However, it reached peak popularity only after the movie was published, and even to this day, people look for dupes.
This chair makes a great addition to a gaming room, an office, or a modern living room. It's also a fantastic gift for a friend that likes to dress up in suits and catch aliens – we all have those, right? If not, we must become such friends! Have fun with the interior design of the Men in Black egg chair, we're sure you'll come up with something described as a true fantasy (or maybe an adventure?).