Maze Runner: Outfits & Clothes
Every Gen Z young adult and teenager is acquainted with The Maze Runner (2014), an exciting sci-fi movie directed by Wes Ball. Do you remember the golden times of young adult sci-fi? If you weren't in love with Thomas or Newt, you must have been inspired by Minho's bravery! Besides some phenomenal acting debuts, we really enjoyed this movie for the Maze Runner outfits! If you're wondering whether a sci-fi film can have some inspiring costume design, keep reading.
Maze Runner Girl Outfits
Maze Runner Girl Outfit Ideas: inspired by Teresa Agnes
Let's start with one female Maze Runner outfit – we didn't have a hard time choosing which one, as there are very few female characters in the movie. Teresa was sent to the Glade with a message that says "She's the last one EVER".
Teresa's shirt from The Maze Runner
It's interesting to note that her style is very similar to what Thomas usually wears, signifying a connection that will develop throughout the movie. Naturally, we won't spoil you what it's all about, since your assumption might be very, very wrong.
Get inspired by Maze Runner outfits
James Dashner never thought his science fiction novel would become a true best-seller, let alone a movie spectacle! It's always great when movies are book adaptations, as that gives costume designers (Christine Bieselin) a great insight into the author's vision of what a Maze Runner costume should look like.
When Thomas (Dylan O'Brien) wakes up trapped in a massive maze with a group of other boys, he has no memory of the outside world other than strange dreams about a mysterious organization known as W.C.K.D.
Thomas, played by Dylan O'Brien, wakes up in the Glade, a dystopian environment already filled with runners – young adults who have been living there. As Thomas meets Newt and the other runners, he finds out the mysterious and terrifying story of the four-mile-high concrete wall around them. We won't spoil the rest of the movie, but it can best be described as exciting, scary, thrilling, and addictive.
Maze Runner Outfit inspired by Thomas
Maze Runner Outfit inspired by Newt
Beige, green, brown, and baby blue tones prevail in the costume design of this movie. Everything seems to blend in with the nature-covered Glade, almost as if the characters are always hiding or become one with the deathly trap they're in. Leather, belts, and ripped, dirty fashion pieces should be a part of your list if you're looking to copy the runners' styles.
Baby blue long-sleeved shirt worn by Thomas in the Maze Runner
Throughout the movie, Thomas mostly wears his baby blue shirt with buttons on the top. It's the shirt he arrived in, and the shirt he is seen in all the time. Naturally, it gets dirtier and more torn throughout the movie, but we think the simplicity allows for all other accessories to shine. Well, weapons do shine, don't do they?
Gray pants worn by Thomas in The Maze Runner
The Maze Runner cosplay would most definitely not be complete without a pair of nice cargo pants! Although we don't see the actors using their pockets a lot, we presume that they sometimes keep handy survival equipment in them. These are casual, and practical for everyday use, but they can be combined to present a true apocalyptic look – just wear them long enough so they become dirty.
Gally's brown shirt from The Maze Runner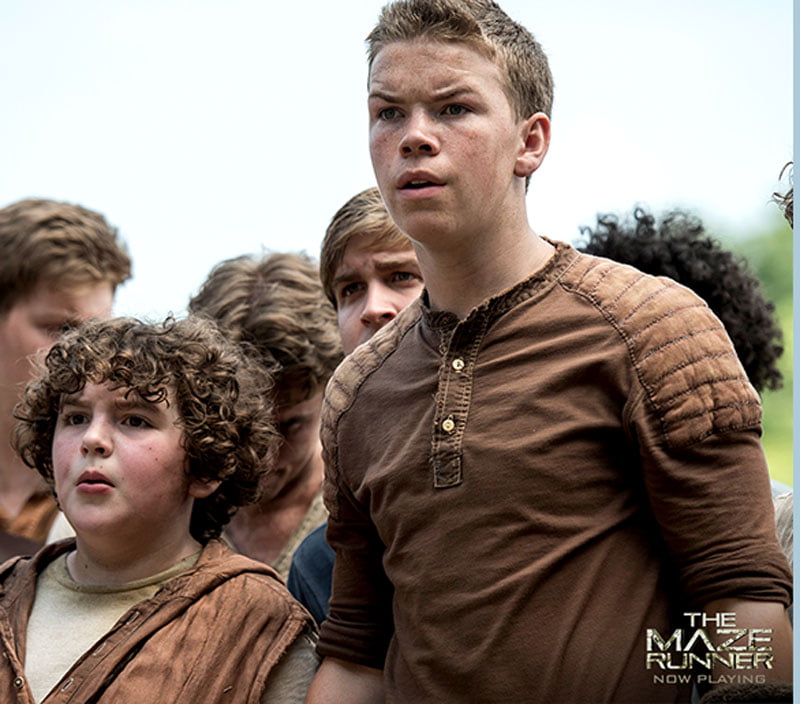 Although many were not fans of Gally, they can still appreciate his simple style. We presume the runners always want to act as chameleons, completely blending in with the environment in order not to get hurt by the Grievers. That's why Gally, the main antagonist, wears a simple brown t-shirt.
The plastron vests from The Maze Runner
We're also sure that you are most excited to hear about the phenomenal Maze Runner vest, as it is such a statement piece in the movie. Each runner wears this plastron vest, and they use them to carry weapons on their back. We have found some great creators who make replicas, but if that is too expensive for you, you could try a similar carrying accessory that fits the apocalyptic vibe.
The Maze Runner leather fingerless gloves
We have seen many Maze Runner clothes, but it's also important to give the accessories some spotlight! Leather accessories such as gloves, belts and vests are a helpful addition to the characters' styles. It's also a great way to keep handy weapons nearby. We found these great steampunk gloves that look similar to those that Thomas wears! If you want to take this a step further, make sure to have a leather belt that you can put around your chest to hold some dummy knives.
Evelyn Jackson has created a phenomenal edit of the trilogy's best scenes, but beware – there might be some spoilers.
We hope that you can now create some great Maze Runner inspired outfits, even if you don't get all the mentioned items. Being dressed as a Maze Runner girl can be as simple as making sure you are brave, adventurous, and simply dressed. Most Maze Runner outfits are torn and dirty, anyway – just go with your gut, and make sure you blend in with the apocalypse around you.