Florence Pugh's Enviable Onscreen Style
As famous for her onscreen fashion as she is for her red carpet looks, Florence Pugh has fashioned herself quite the style icon. With indie movies, blockbusters and even a part in the Marvel cinematic universe to her name, it isn't just her iconic movie moments that are hard to forget, with the Florence Pugh onscreen style just as captivating. 
Talked about as one of Hollywood's next big stars, Florence is finishing 2023, a blockbuster year for her, with a voice role in Studio Ghibli's latest masterpiece The Boy and the Heron. Before hitting the red carpet again next year to bring us Dune: Part Two, alongside a cast of fellow rising stars.
But with almost a decade of starring roles to her name, Florence Pugh's onscreen style already has signature looks from some of the biggest hits from the last ten years. Yet with her midas touch and heartfelt performances it was difficult to narrow her big screen wardrobe down to just a few iconic looks, however we've tried our best…
Alice's Vintage Floral Dress in Don't Worry Darling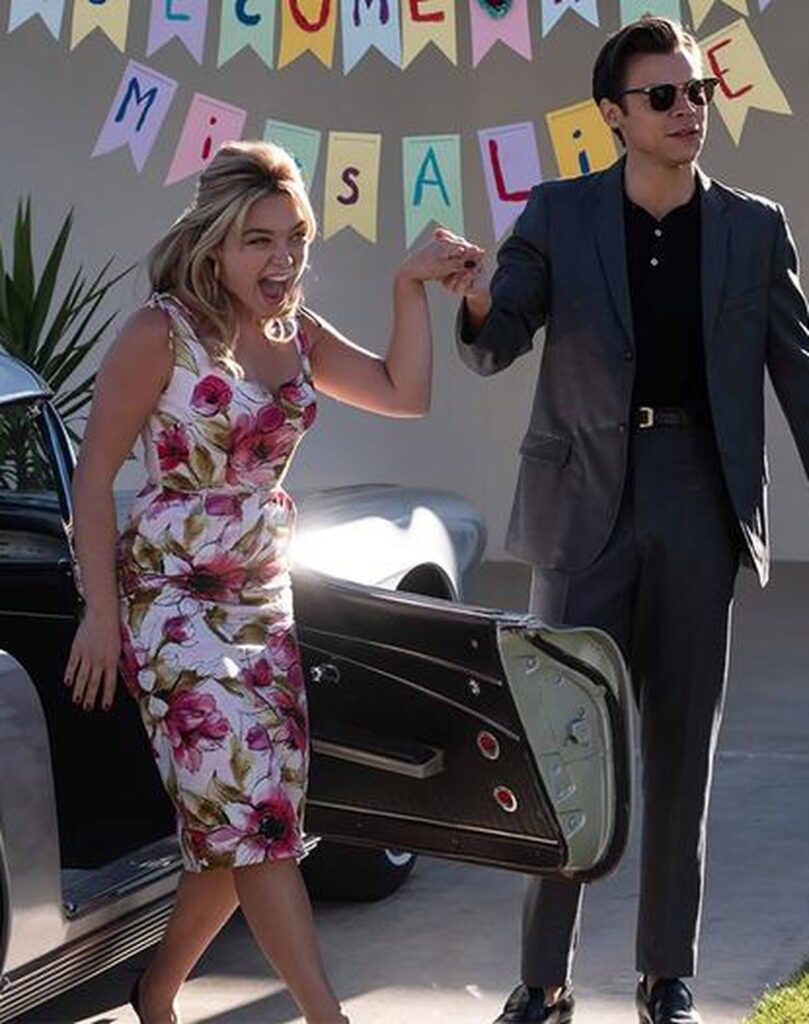 With endless fashionable moments you can't deny that 2022's Don't Worry Darling's, Alice Chambers is probably Florence Pugh's most stylish character to date. The 1950's set movie, which follows her story at an idyllic company town with a sinister secret, uses beautiful prints and luxurious fabrics to emphasize the perfection of their lives. With Alice's figure hugging, bold flower scattered knee-length dress only one of her most striking looks throughout the movie.
Isabel Marant Oversized blazer from Black Widow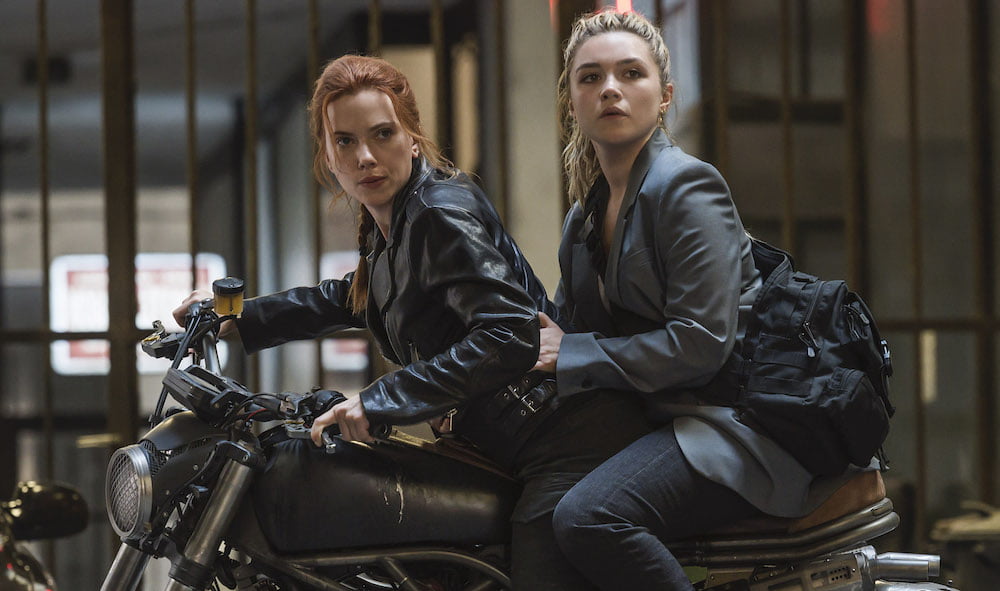 When Florence Pugh's onscreen style got the superhero makeover, courtesy of a role in Marvel's Black Widow (2021) it wasn't all black leather, guns and family drama. As this Isabel Marant blazer can testify to. Yet not straying away from the moody and dark colors we see Florence's Yelena wear in her uniform, she no doubt chose the slate gray blazer for its oversized fit. Perfect for an impromptu fight or two.       
Florence Pugh's Embroidered Swedish Folk Dress as Dani in Midsommar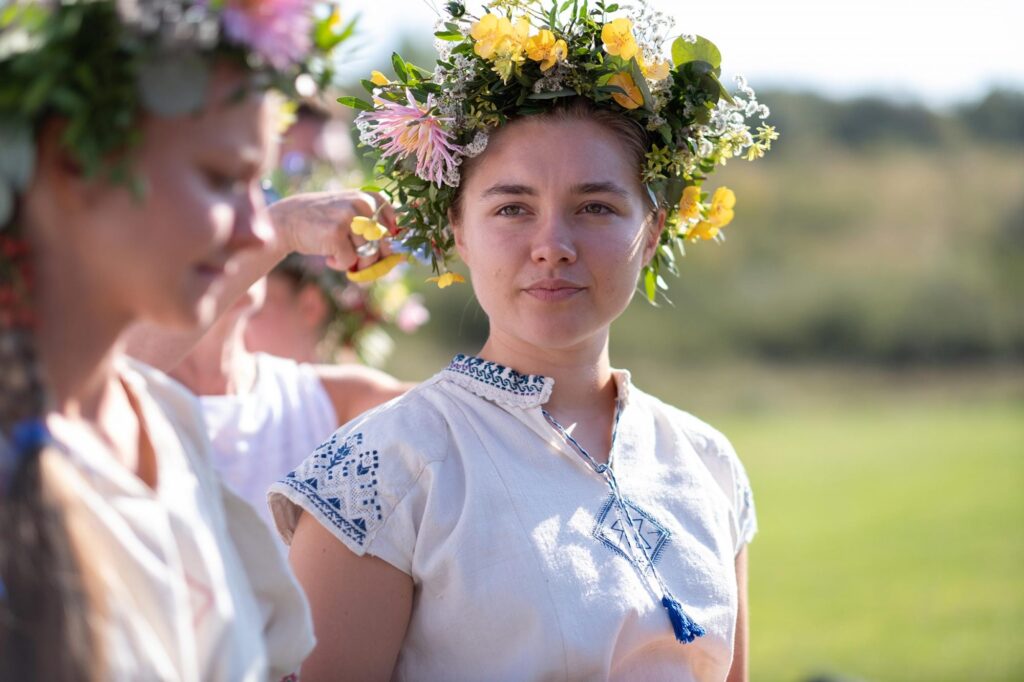 The only thing that features more in Ari Aster's Midsommar than tears, pain and death is the Swedish folk inspired costumes the Hårga wear. With troubled and betrayed Dani slowly coming to embrace the ancestral commune's way, she dons one of their white linen embroidered dresses to win the May Queen competition. Each embroidery unique to the wearer and symbolic of their journey, Dani's blue needlework foretells of her troubles ahead.  
Amy March's White Lace Blouse Worn by Florence Pugh in Little Women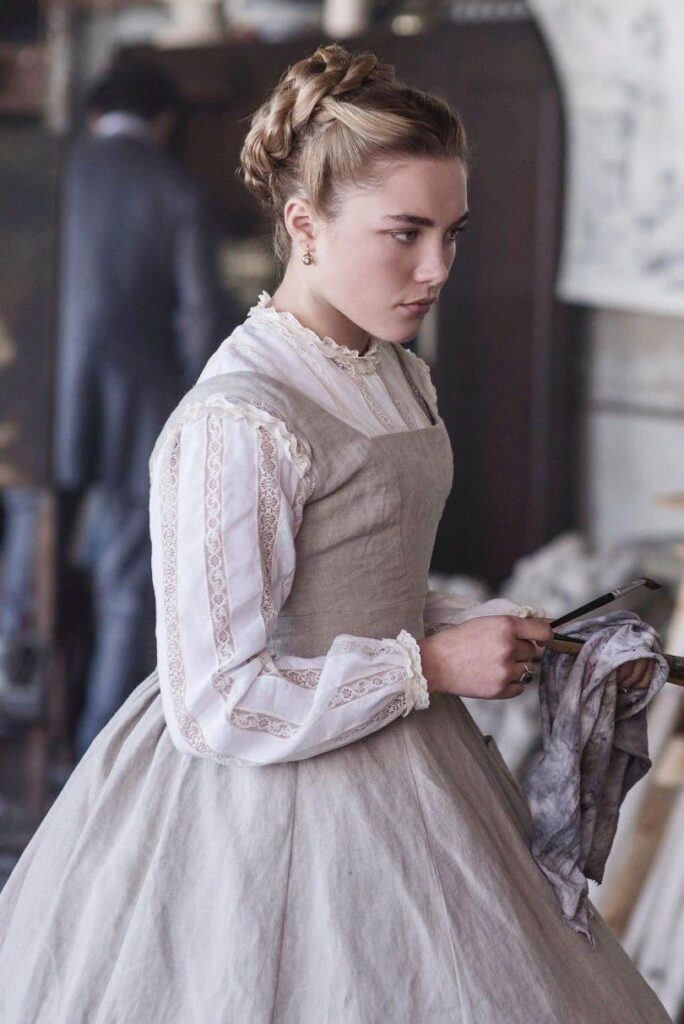 Little Women might not have been Florence Pugh's first foray into the world of period dramas, but Greta Gerwig's 2019 adaptation might turn out to be one of her most memorable. Playing Amy the youngest of the four March sisters, her vintage outfits took the stiff full skirts, dresses and jackets of Victorian clothing and softened them with delicate cottons and laces. Like Amy's soft, pale off-white lace trimmed blouse, that wouldn't look out of place in today's modern wardrobes.    
Black Full Skirt Dress From Don't Worry Darling
Not a common color for the time period, or the bold wardrobe of devoted wife Alice Chambers, her intricate black dress is more of a plot point than just a stylish 50's housewife outfit. The open lattice work across the shoulders, pinched waist and full knee-length skirt make for a striking envy worthy dress. But the dark and foreboding black, such a contrast to the desert land around her, hints at trouble ahead for Alice who just seems to be in the wrong place.  
Florence Pugh's Comfortable Patterned Sweater in A Good Person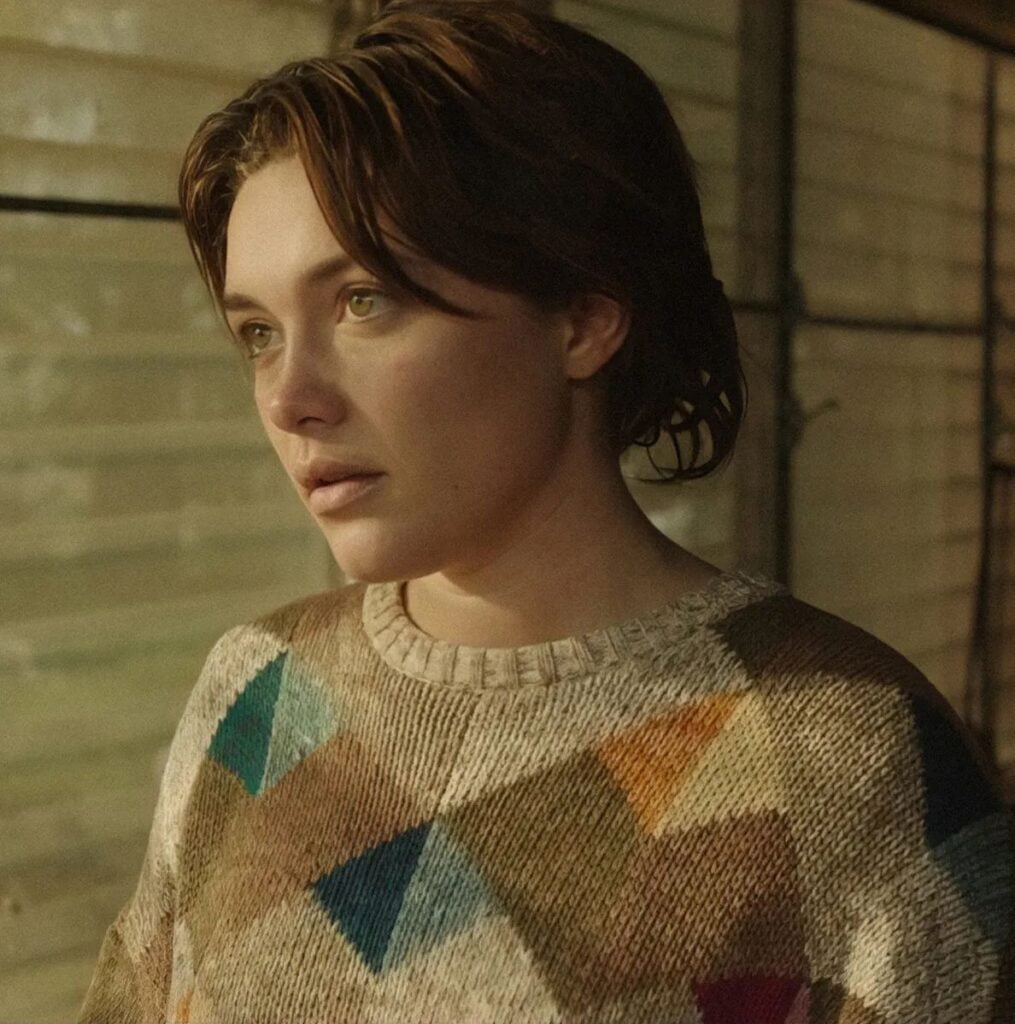 Even when playing a depressed, guilt ridden addict Florence Pugh's onscreen style still has that sparkle to make her stand out. Conscious when dressing Allison, the wardrobe department were adamant they didn't just want her wearing drab and dark shapeless clothes. Instead the movie portrayed her despair with clashing prints and bold colors. However a soft, patterned knit sweater can't help but make you think of comfort, and the act of wrapping yourself in protective layers. 
The Wrestling Look: Paige's All Black Shorts and Top in Autobiographical Movie Fighting With My Family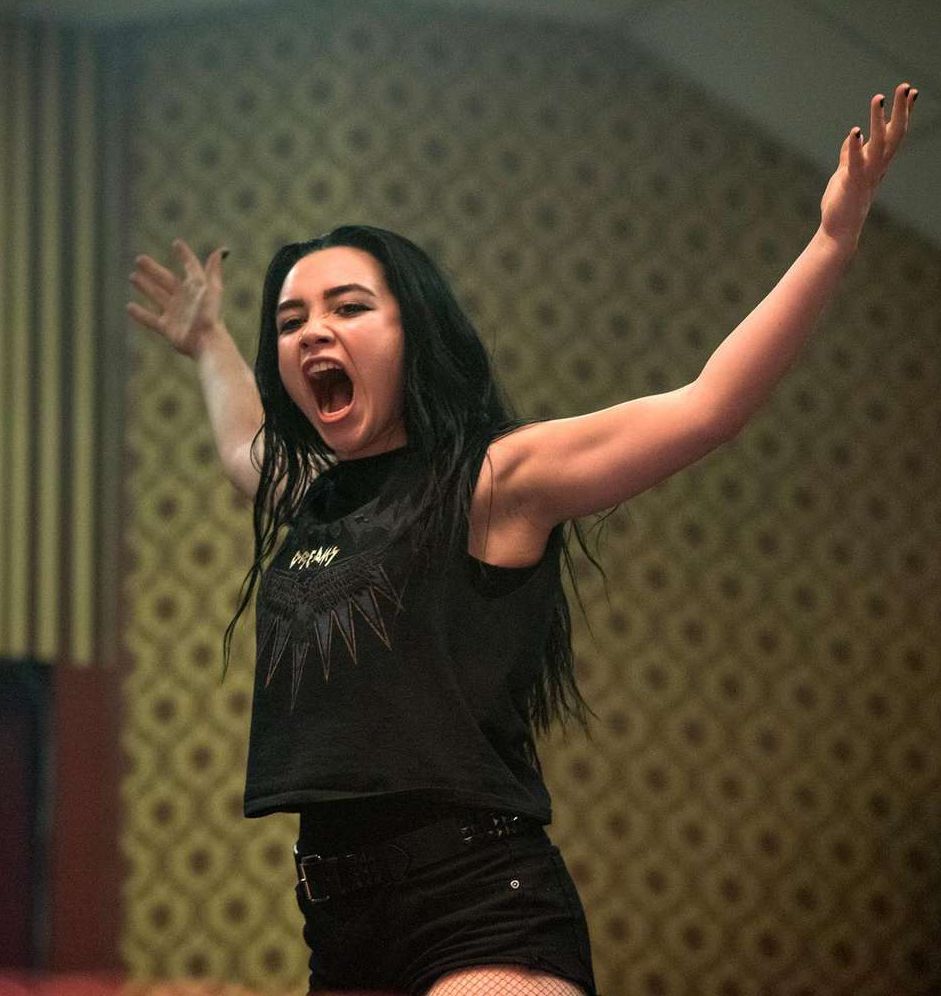 A departure from the period dramas like Lady MacBeth and The Outlaw King that had helped her make her name, Florence Pugh took on the autobiographical role of WWE wrestling champion Paige. Less about fashion and more about the sheer determination to succeed, Fighting With My Family still had moments where Florence's onscreen style shined. Dressed all in black, with her matching black hair and nails she even manages to make simple denim shorts and a sleeveless tank top look like fashion's next big thing.  
The Little Drummer Girl's Bold Yellow Dress worn by Florence Pugh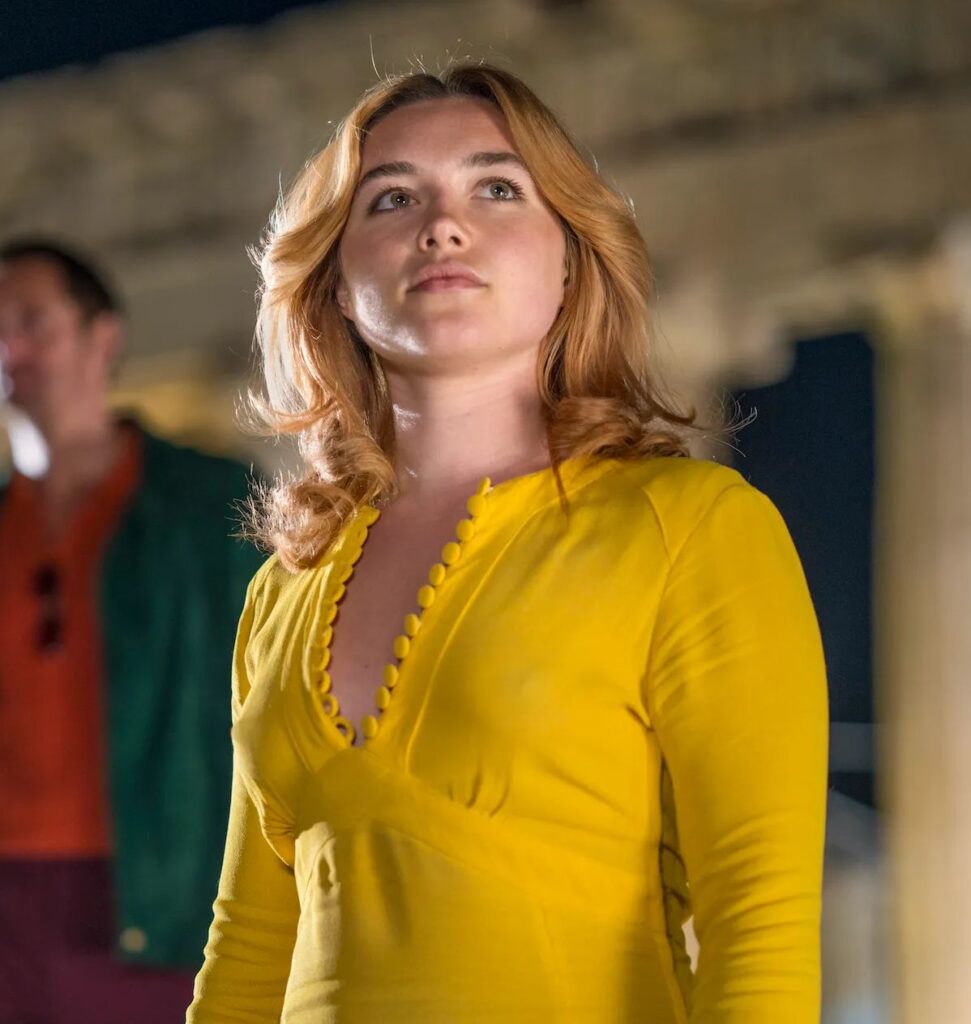 With a star studded cast, that included Florence Pugh as leading lady Charlie Ross the television adaption of the John le Carré espionage novel The Little Drummer Girl was a fashionista's dream. Set in the 70's, aspiring actress Charlie who is asked to help infiltrate a terrorist group, has a wardrobe fit for the stylish girlfriend she is playing. Shirt dresses and knee-high boots, along with brown suede coats and this canary yellow maxi dress that Charlie might not feel comfortable in, but is a knock-out piece all the same.  
Florence Pugh's Tan Brown Coat in Oppenheimer
Even though she only has a supporting role in the critically acclaimed Oppenheimer, which went toe to sparkly pink toe with Margot Robbie's Barbie on cinema release, Florence Pughs onscreen style is still captivating. With another vintage look, this time with the recreated 1930's outfits, her pale tan brown coat, complementary cream blouse and brown skirt and accessories is a subtle but stylish nod to the decade. As well as emphasizing the implied background role that Jean Tatlock had as Oppenheimer's mistress.    
Don't Worry Darling White Dress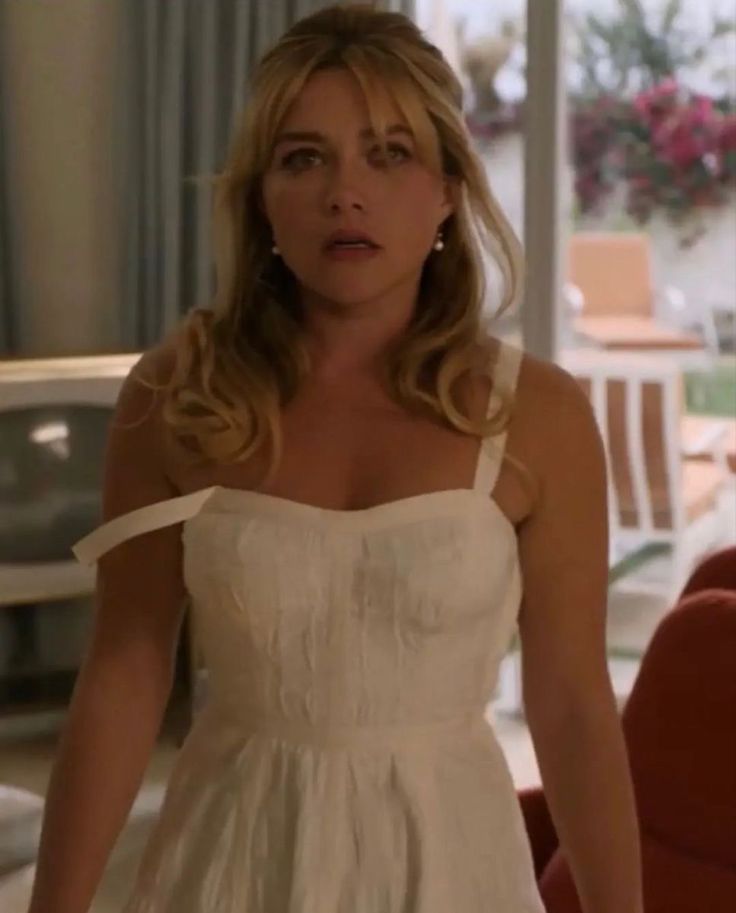 It is no surprise that when the drama of Don't Worry Darling, and Alice's story, finally came to a head that costume designer Arianne Phillips had her dressed in white. Although visually striking, especially once destroyed by the blood, the color of purity and innocence worked perfectly to reinforce the horrors that she had suffered. With nothing but a soft sweetheart neckline, simple shoulder straps and hourglass silhouette the pure white dress's simplicity was the key to its success. 
With fashion worthy favorites like Don't Worry Darling and Little Woman among her credits it isn't hard to see how Florence Pughs onscreen style is just as captivating as her off screen looks. It seems like being one of Hollywood's next big stars has worked in her favor with each of her roles over the last decade producing endlessly enviable wardrobes full of garments that are worthy of her style icon status. And it doesn't look like she will be giving up that title anytime soon either.