Fashioning a Dystopian Tomorrow: Top 5 Outfits from Black Mirror Season 6
Before season six even hit Netflix in June 2023, creator Charlie Brooker stated that this would be 'the most unpredictable season yet,' and he wasn't wrong. But the disturbing stories of streaming platforms adapting people's life stories without their consent or demon's persuading shopgirls to murder are the perfect backdrop for the captivating Black Mirror outfits. 
If you are a fan of Black Mirror, and you probably are if you are reading about the top five looks of season six, then you know all about the thought-provoking television series. Presenting a different story in each episode, it explores through a diverse set of genres the dark side of technology. Leading us to believe we are watching a dystopian world, when often the reality of the social issues covered are a little bit closer to home.  
However with so many looks to choose from, including a whole episode of unexpected Joan is Awful outfits, here are our favorite looks from season six.
Episode One's 'Joan is Awful' Green Blazer Outfit
Without a doubt the first episode of the sixth season of critically acclaimed Black Mirror definitely lived up to creator Charlie Brooker's statement of unpredictability.
Joan is Awful follows the life of 'average' Joan Tait when she finds out that her life has been adapted, by the global streaming service Streamberry, into an influential TV drama. Horrified as she watches a rerun of her day on screen, she is shocked to see Salma Hayek Pinault playing her while wearing a replica of the outfit she had just worn.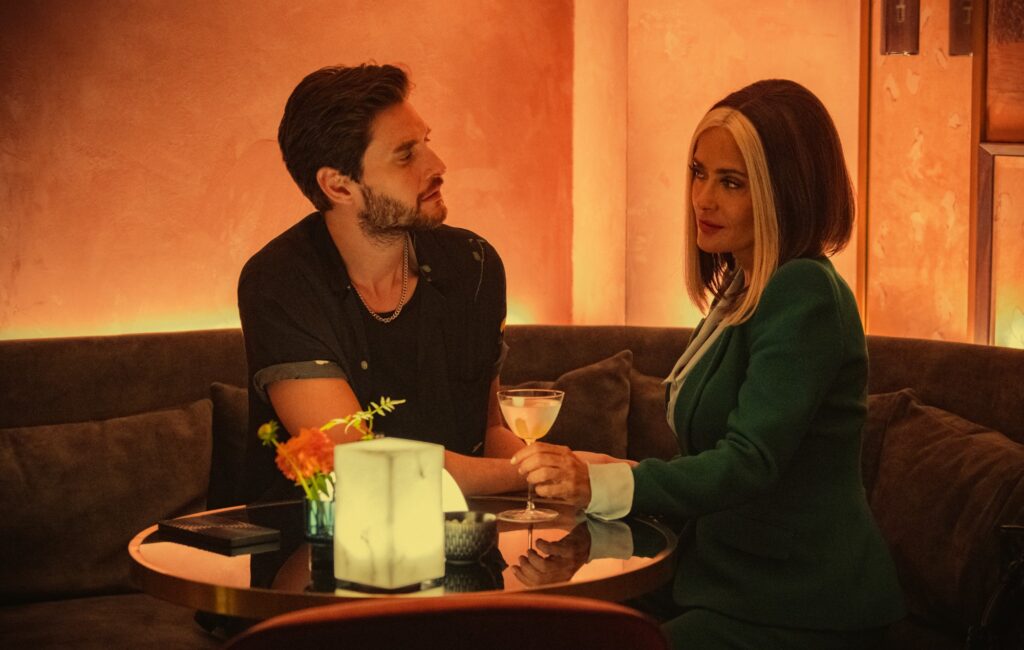 The simple Joan is Awful outfit, first worn by Annie Murphy's original Joan, of a fitted green blazer and contrasting pale blue cotton button-up shirt might not be the most striking look of the episode. However the business casual outfit and understated silver jewelry make quite the impression when Joan sees it replicated on Streamberry. 
Annie Murphy's 'Joan is Awful' Cheerleading Uniform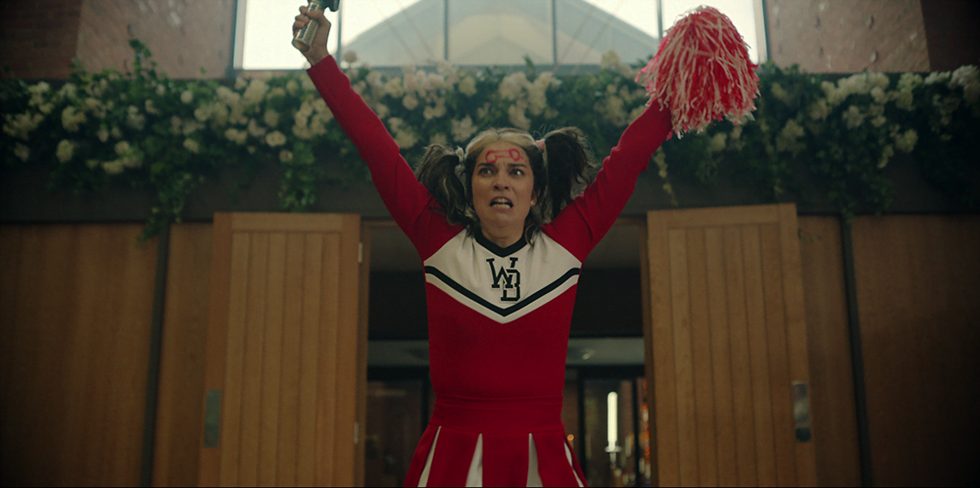 After watching her life play out unfavorably online, and with the public turning against her, Joan decides it is time to put on a real show. Which leads to her most unhinged Joan is Awful outfit, and questionable actions.
Dressed in a cute red and white cheerleading uniform, of a short pleated skirt, matching jumper and pom poms, the desperate character decides that the trio of hamburgers, laxatives and a church wedding service will make great television. Giggling to herself that "Salma Hayek's going to f**king hate this," when she realizes the star will have to copy her.
No doubt this look will be everywhere at halloween in 2023, but maybe just stick with the outfit rather than her trip to the church if you do choose to go in this Black Mirror outfit. 
Pia's Fair Isle Sweater in Episode Two: Loch Henry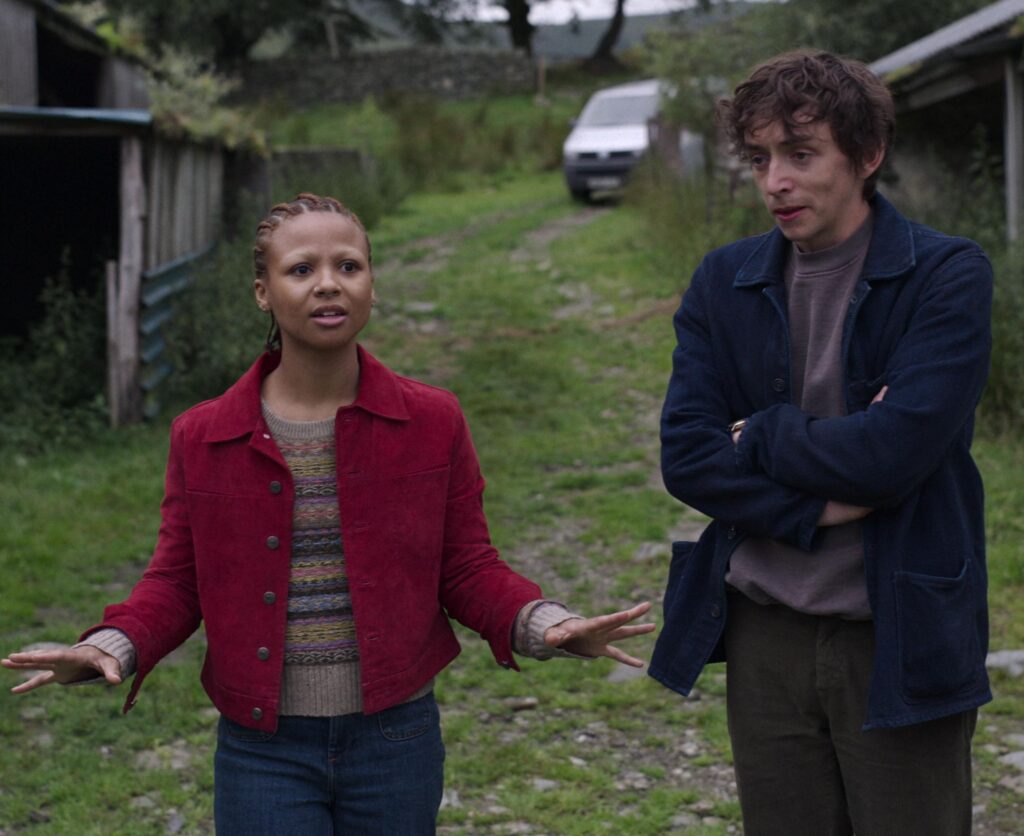 There must be something about sleepy Scottish towns that screams cozy knits, or in Loch Henry's case serial killers. With film students, and couple, Pia and Davis turning the mystery of local murderer Iain Adair into a true crime documentary in the hope of reviving the countryside town's reputation. But this is Black Mirror, so the only thing we were guaranteed was the beautiful knits. Including Myha'la Herrold's bold fair isle sweater, featuring rows of pinks and purples, yellows and browns in the traditional knitted style. 
Black Mirror Beyond the Sea's His and Hers Ribbed Cardigans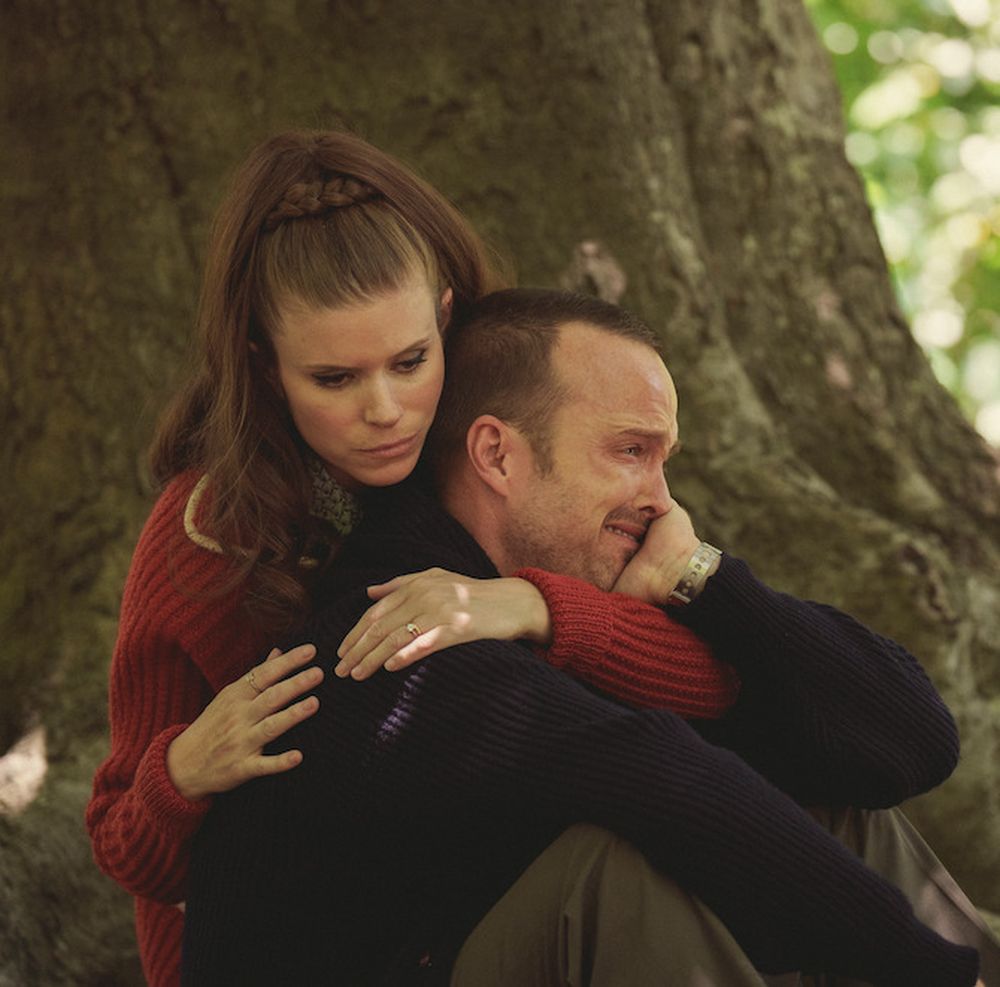 Any episode of a show based around space and astronauts is going to send chills down anyone's spine, while still giving us some costume worthy spacesuits. But Beyond the Sea the third episode of season six also gave us this unlikely his-and-her Black Mirror outfit. More than a little horror filled with cult murders, mechanical human replicas and the silence of space, the sweet matching ribbed cardigans stuck out in the 80 minutes of terror. One in a deep navy blue and the other in a complimentary rust orange, are the perfect choice for any couple. Even if in the show all was not as it seemed.  
Episode Five's Boney-M Inspired Demon Gaap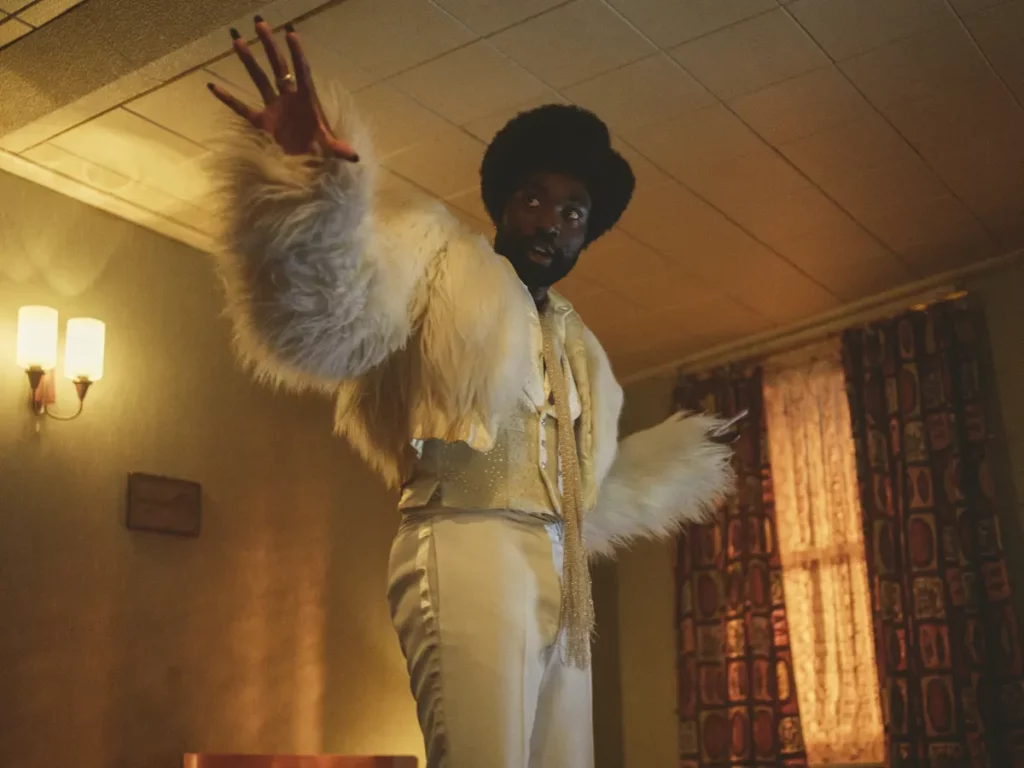 The hardest part of the Black Mirror's Demon 79 to wrap your head around, was not in fact the demon terrorizing unassuming shopgirl Nida Huq into killing people to prevent a disaster, but instead that he was dressed as the lead singer of Boney M. Gaap, portrayed by Paapa Essiedu, really made quite the impression in his all white Black Mirror outfit. With the white suit and matching satin shirt, along with gold scarf and elaborate white fur jacket surely being another halloween hit this year. 
Black mirror might not seem like the place to find the most stylish or fashionable clothing but with its dystopian backdrop and disturbing stories, there is plenty of room for creativity from the costume department. With looks like the cheerleading Joan is Awful outfit perfect for halloween dress up. Or their luxurious choice of knitwear, season six might have been unpredictable but the Black Mirror outfits were thought-provoking perfection.