Elle Evans Kissing Booth Outfits
Although The Kissing Booth (2018) didn't receive the best critiques, Joey King and Jacob Elordi surely got a kickstart for their future careers. This romantic comedy for young adults gathered quite a lot of attention when it first came out, and the trendy Elle Evans Kissing Booth outfits surely helped the statistics. So, whether you're here to channel your inner teen spirit or create the best Halloween kiss booth costume, we got you covered.
What's a kissing booth?
When Elle Evans hangs out with her best friend Lee Flynn, she does her best not to confess her crush on Lee's brother Noah, the bad boy. However, as Elle works at a kissing booth at the school's carnival, she ends up kissing him and falling in love. Will this make Lee laugh or will there be conflict? We bet you already suspect the answer, as Elle has broken the rule number nine.
How to dress like Elle Evans?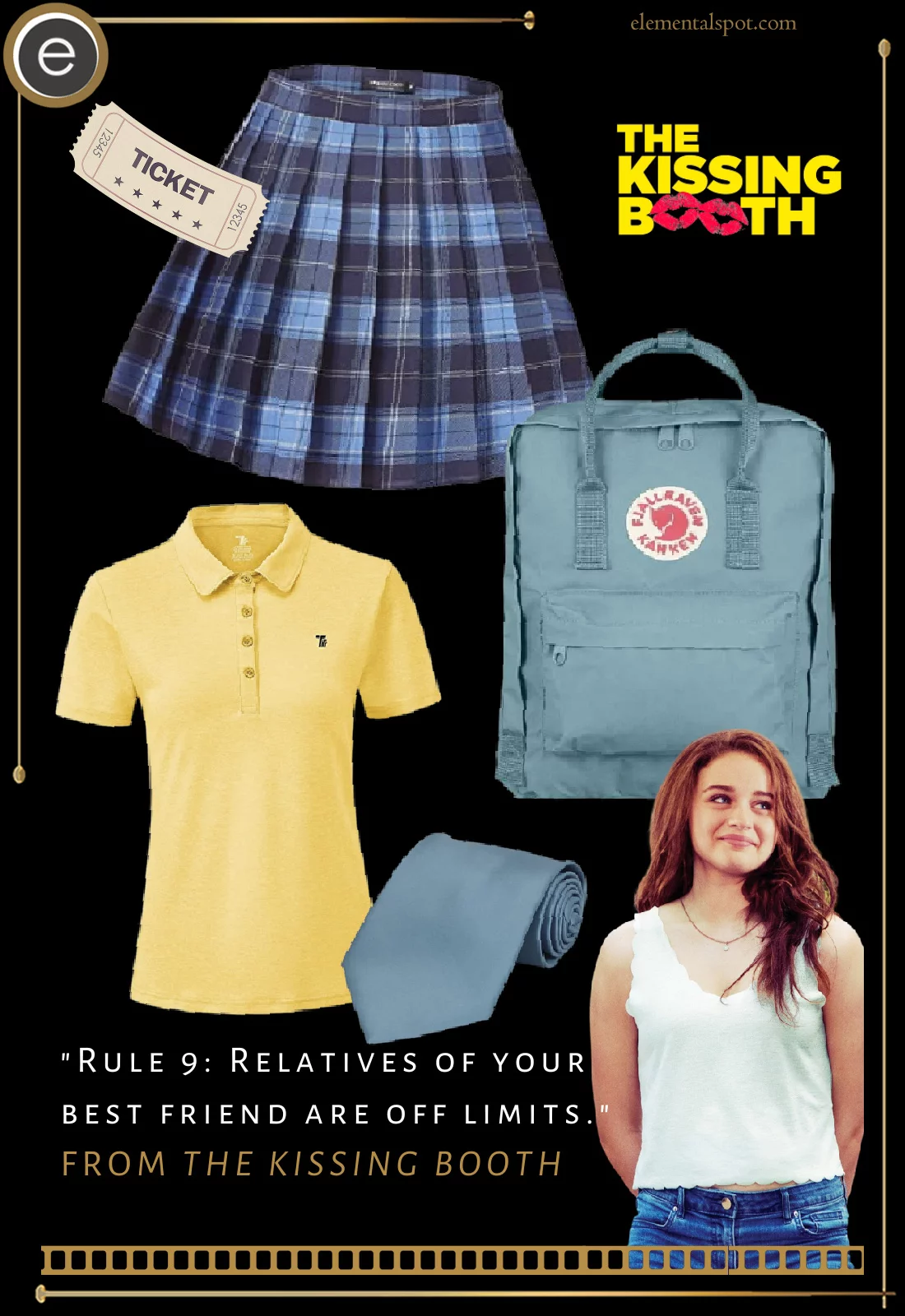 Get!
Get!
Get!
Get!
Kissing Booth Outfit Inspo
Elle's style is quite simple – she still dresses like a teenager, and she enjoys colors such as baby yellow, orange, baby blue, and white. She wears lots of jeans and denim shorts. Pair those up with a nice white shirt, and don't forget simple jewelry such as modest bracelets.
Blue plaid skirt worn by Elle Evans in The Kissing Booth
Elle Evans, played by Joey King, is a simple, innocent schoolgirl. She has never had a boyfriend, never been kissed, and, you guessed it, she's also kind of a weirdo. That means her style is full of patterns, colors, and she rarely has her hair done. However, one of our favorite Elle Evans Kissing Booth outfits is the one she wears at the beginning of the movie – her blue plaid skirt matches her yellow blouse, but don't forget to put on a blue tie.
The pink dress with sequins Elle wears in The Kissing Booth
A pink, short dress should be good enough, right? Well, if you add sequins, you can't really go wrong. Elle decided to catch some attention in this beautiful combination, but did she get the type of attention that she truly wanted?
Elle's simple necklace from The Kissing Booth
If you're looking for some jewelry Elle would wear in The Kissing Booth (2018), look for simple pieces with a single stone. She mostly likes peachy stones and pale colors, so she wears aventurine-like jewels. The good news is, you can get lots of budget jewelry choices that fit perfectly with her costume.
The outfits Elle wears in Noah's bed
One of the most significant Elle Woods The Kissing Booth outfits is the one where she simply wears Noah's training shirt. If you're looking for an exact replica, you should definitely check custom orders on Etsy, but any blue jersey should do the job.
We hope you've found your kiss booth costume, even if you won't be working the kissing booth… But who knows, maybe that's the right way to start a wild romance?
"For inspiration on alternative outfits to the school's official uniform, please refer to our article featuring Carla Rosón Caleruega from Elite