Hank J. Wimbleton from Madness Combat Costume
If you are looking for a good Hank J Wimbleton costume for Halloween or a big cosplay event, here's the winning formula for creating the most exciting outfit of the party! Let's see how to dress up as Hank J Wimbleton from Madness Combat.
Costume Guide For COSPLAY & HALLOWEEN
Hank J Wimbleton from Madness Combat Costume Guide
Shopping List for Hank J Wimbleton from Madness Combat Costume & Outfit
If you're wanting to dress the part of a merciless killing machine for Halloween or your next dress up event, I have just the character and costume guide for you. Continue reading to learn how to dress the part of Hank J. Wimbleton from Madness Combat.
The Madness Combat series is a series of Flash animations created by Matt Jolly, more commonly known by his internet alias, Krinkels. The brutally violent series focuses around Hank J. Wimbleton, a known criminal and bloodthirsty killer whose mission is to annihilate the Agency Against Hank Wimbleton. 
Hank J. Wimbleton is portrayed as showing no mercy, beating people to death over a boom box and as having no weakness, pulling impaled weapons from his body and continuing to fight. He is quick on his feet and just as fast with his hands.
Wanted criminal, Hank J. Wimbleton is a man with a simple goal. Kill the sheriff. However, the task slowly becomes more and more difficult as he is thrown off course by manic clowns, flesh-eating zombies and vengeance driven messiahs. Even as he battles through each and everyone of these obstacles, a greater threat begins to unravel.

IMDB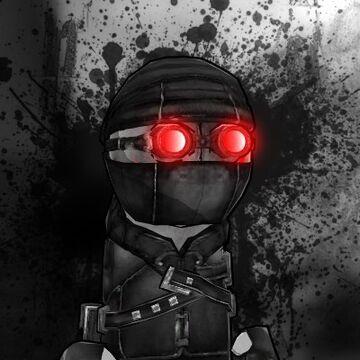 Hank J. Wimbleton has a fighting and killing style all his own and his fashion style is as to the point as his fists. Simple. Black. To recreate his look you'll need the basics: a black skull cap, black neck gaiter or face mask, black boots and black goggles with red lenses. As the series progresses Hank's style takes on a few changes, such as bandages to cover various wounds, bandanas to hide new scars and the addition of a t- shirt after being stabbed through the chest. Add a pair of black fingerless gloves and a couple gallons of fake blood and you are all set in Hank J. Wimbleton style in a costume fit for a Madness Combat murderous machine.
Check out our article on Dress Up Like Tricky the Clown from Madness Combat for further inspiration and take your costume game to the next level.
Missing an Outfit Inspo? Submit your idea and we'll make it happen!
Monthly Newsletter
Subscribe and get your Halloween costume ideas from us each year.