Dress Up Like Roz from Monsters Inc
If you are looking for a good Roz costume for Halloween or a big cosplay event, here's the winning formula for creating the most exciting outfit of the party! Let's see how to dress up as Roz from Monsters Inc.
Costume or Outfit Guide For COSPLAY & HALLOWEEN
Roz from Monsters Inc Costume or Outfit Guide
Shopping List for Roz from Monsters Inc Costume & Outfit
Want an unusual costume for your next cosplay event or costume party? Roz from Monsters Inc. would be a great choice and this DIY guide will help you make a one of a kind Roz costume with just a few key items.
About Roze before moving on to the costume
Roz is a character in the 2001 Disney/Pixar film Monsters Inc. which was produced by Pixar Animations Studio. Roz, a slug looking monster, is the key master and administrator for Scare Floor F of the scream processing factory, Monsters Inc. Roz holds the keys to all of the children's closet doors and is responsible for Mike Wazowski's paperwork.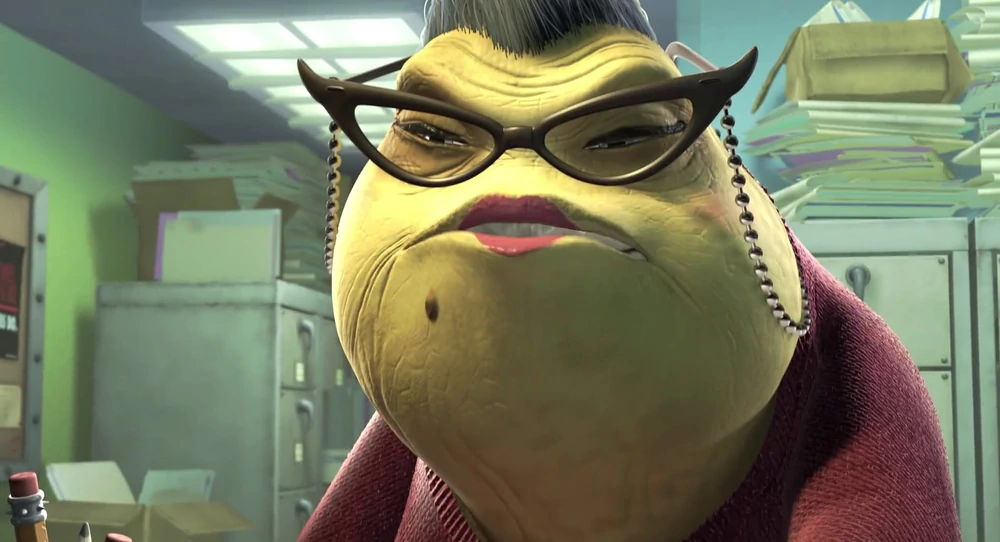 Toward the end of the film it is revealed that Roz is actually undercover agent #000001 of the Child Detection Agency (CDA), a group of monsters and animals who work to ensure children are kept out of the monster world, Monstropolis. 
How to create the costume of Roz from Monsters?
You'll find everything you need to know in order to dress like Roz from Monsters Inc. in this DIY costume guide.
Although Roz is usually seen as being very grumpy, she is also shown to have a good heart and a sense of humor. Roz is a great character for you to recreate.
Since Roz is a slug you'll want to start with a long beige, tan, or even greenish colored maxi length dress. If you prefer, a pantsuit of this color could be worn instead of the dress.
Add a pair of simple flat shoes of the same color and wear a burgundy cardigan over it.
You'll want to style your hair pointed straight up and spray it a gray color or buy a wig styled this way to make things easier.
A pair of black cat eye shaped glasses with an attached chain, a dot of black eyeliner to create the birthmark on your chin and some lipstick to match the cardigan finish the look of Roz.
Carry a clipboard of papers and be sure to frown often and you have transformed into Roz from Monsters Inc. for your next cosplay event or costume party. 
Below you can find a Roz's Halloween makeup tutorial:
Missing an Outfit Inspo? Submit your idea and we'll make it happen!
Monthly Newsletter
Subscribe and get your Halloween costume ideas from us each year.