Dress Up Like Red Skull from Captain America: The First Avenger
If you are looking for a good Red Skull costume for Halloween or a big cosplay event, here's the winning formula for creating the most exciting outfit of the party! Let's see how to dress up as Red Skull from Captain America: The First Avenger.
Costume Guide For COSPLAY & HALLOWEEN
Red Skull from Captain America: The First Avenger Costume Guide
Shopping List for Red Skull from Captain America: The First Avenger Costume & Outfit
With just a few accessories, you may transform your normal appearance into a sinister comic book villain! You need a Red Skull Mask, a matching costume, black leather gloves, black leather boots, a captain's hat, and a miniature revolver pistol to embrace your dark side. The villainous Red Skull from Captain America: The First Avenger (2011) is as wicked as they come and wears a terrible outfit to impress!
If you are into makeup prosthetics, here's a tutorial on the Red Skull makeup:
But to wear the Red Skull costume also with attitude, for that you should know more about the character.
Who is the Red Skull?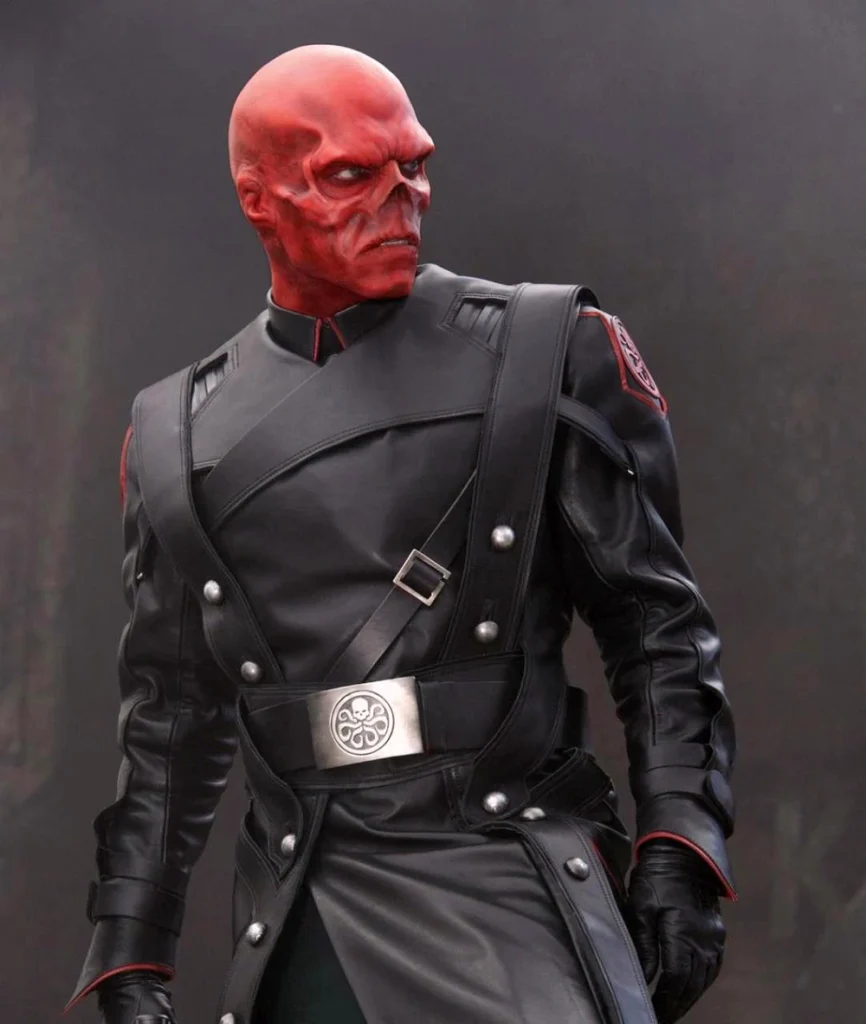 The 2011 superhero movie Captain America: The First Avenger is based on the Captain America comic book character. It is the fifth movie in the Marvel Cinematic Universe, which is made and released by Marvel Studios (MCU). Chris Evans plays Steve Rogers/Captain America in the movie, which also stars Tommy Lee Jones, Hugo Weaving, Hayley Atwell, Sebastian Stan, Dominic Cooper, Neal McDonough, Derek Luke, and Stanley Tucci. It was directed by Joe Johnston and written by Christopher Markus and Stephen McFeely. Steve Rogers, a weak man who is transformed into the super-soldier Captain America during World War II, must prevent the Red Skull (Weaving) from exploiting the Tesseract as a source of energy for global hegemony. The costumes were designed by Anna B. Sheppard and makeup & prosthetics crafted by David White.
The fearsome supervillain known as Red Skull has been a staple of Marvel comics for more than 70 years and is often regarded as Captain America's archrival. In the Marvel series, he is frequently portrayed as a Nazi agent.
Red Skull is the ideal moniker for this guy because of how similar his face is to a red skull. The supervillain first appeared in Marvel comic books in the 1940s, and Ross Marquand most recently portrayed him in the Marvel Cinematic Universe film, Avengers: Infinity War.
Former HYDRA leader Johann Schmidt, popularly known as Red Skull, was sent to Vormir where he got locked in a state of purgatory and transformed into a Stonekeeper, a wraith who was cursed to give guidance to anybody seeking the Soul Stone. Red Skull first encountered Clint Barton and Natasha Romanoff as they were looking for the Soul Stone after seven decades on Vormir. Schmidt was briefly let free after Romanoff was killed, but only until Captain America gave back the Soul Stone.
Red Skull is the enemy that Captain America is attempting to defeat in the Marvel film Captain America: The First Avenger. He made an effort to surpass Hitler and assume control of the Holocaust. He is frequently cited as one among the all-time great comic book villains. Red Skull is the exact reverse of what was intended by the Super Soldier Serum, whereas Captain America is a shining example of how it should function. He was transformed into what is now known as Red Skull from being a typical (and extremely evil) human. Red Skull made the decision to move on from the Nazi Elite and make an effort to rule the entire planet with the additional evil coursing through his veins.
Now that you know so much about background, and with our shoping list at the top of this article you have everything you need for a Red Skull costume, you are definitely ready for a really good cosplay. Enjoy!
Missing an Outfit Inspo? Submit your idea and we'll make it happen!
Monthly Newsletter
Subscribe and get your Halloween costume ideas from us each year.