Dress Up Like Pearl from Pearl
If you are looking for a good Pearl costume for Halloween or a big cosplay event, here's the winning formula for creating the most exciting outfit of the party! Let's see how to dress up as Pearl from Pearl.
Costume Guide For COSPLAY & HALLOWEEN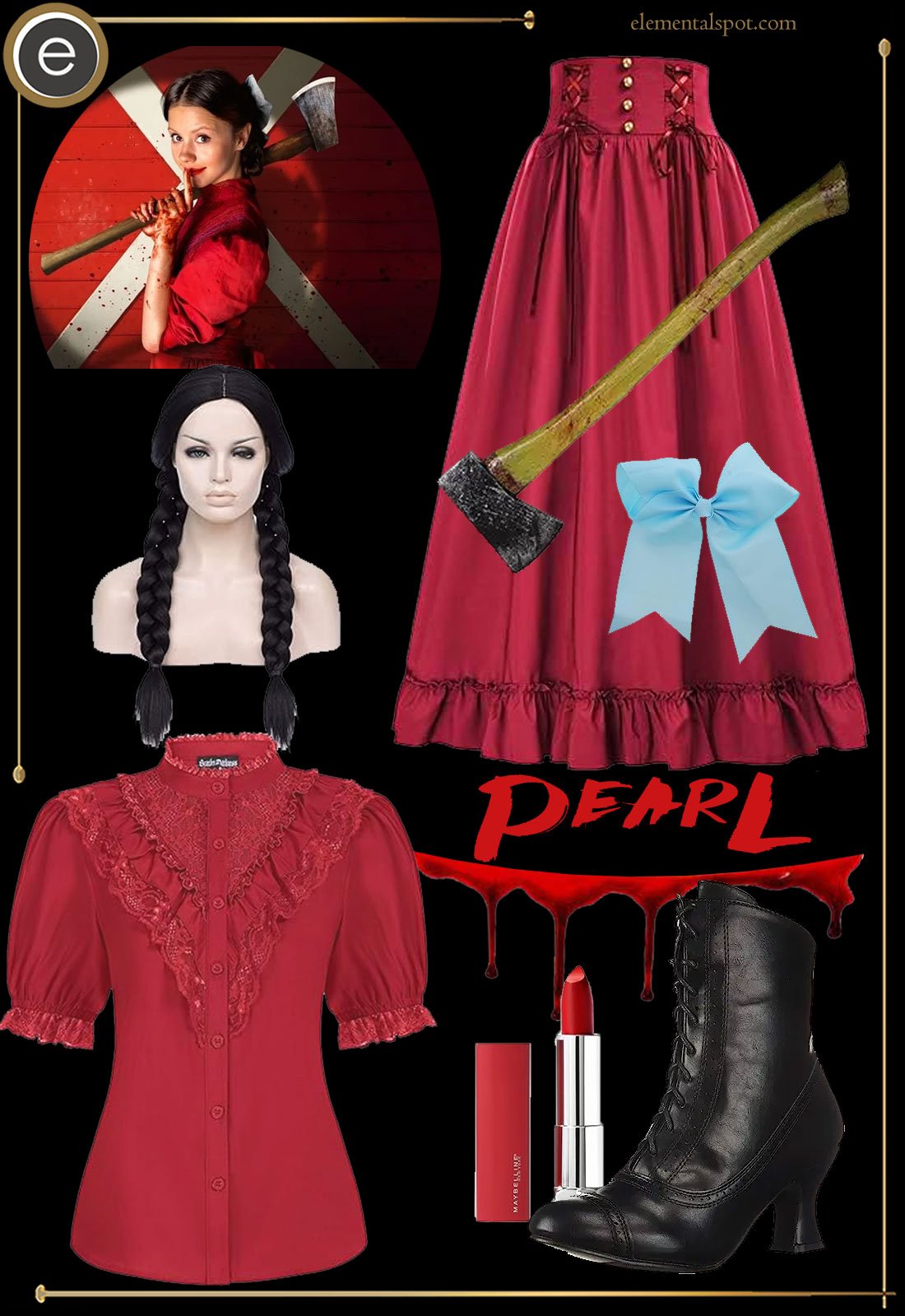 Get!
Get!
Get!
Get!
Get!
Get!
Get!
Get!
Get!
Get!
Get!
Pearl from Pearl Costume Guide
Shopping List for Pearl from Pearl Costume & Outfit
Pearl, the titular character of the 2022 psychological slasher film, is a fascinating study of a spiteful and violent character who is obsessed with success. In this article, we will guide you on how to DIY Pearl costume and dress up as Pearl from the horror movie.
Directed by Ti West and co-written by West and Mia Goth, the film serves as the genesis tale for the titular villain, whose intense desire to become a movie star drives her to perform horrific actions on her family's Texas farm in 1918. It is a prequel to X (2022) and the second overall film in the X series.
The Pearl Film
The film is set in 1918 on a Texas farm and has a vintage aesthetic that makes it look like The Wizard of Oz. However, a villain who resembles the Joker and is nasty replaces Dorothy in this movie. Pearl has lofty aspirations of escaping her small-town existence and traveling the globe. In an effort to become one of them, she sneaks out to the neighborhood cinema to watch a chorus line female movie. Reality, however, can be difficult to deal with; for every fantasy that runs through Pearl's head, a stinging reminder of the reality of her situation strikes her in the face.
The Pearl Character
Pearl (Mia Goth) is the consequence of a monotonous, dull, and harsh childhood, underlying lunacy, and obsession with success. She hides a tendency toward violence behind her wide eyes and unsettlingly calm voice. Goth, who not only plays the lead role but also contributed to the screenplay, carries the majority of the picture on her back.
The Pearl Costume
Malgosia Turzanska's costume design for Pearl's signature dress falls under western Edwardian style in red color. It is both simple and theatrical. The color red expresses Pearl's passion and excitement, the burning flame of her dreams and the coming blood to be shed.
If you want to dress up as Pearl for Halloween or a costume party, you can easily purchase the red Edwardian dress online. If your hair is long enough for twisted pigtails, your task might be less costly. A wig and grey bow tie for the hair can be purchased online as well.
The Pearl Makeup
The makeup should look as natural as possible. The following video will guide you through the makeup and wig styling procedure to finish your look:
Don't forget your avant-garde villainous attitude! If you want to be a little extra, you can always purchase a fake axe as a prop to carry around.
In conclusion, dressing up as Pearl from Pearl (2022) should be a fairly easy task with the help of this guide. The red Edwardian dress and simple makeup, coupled with the avant-garde villainous attitude, will make you stand out at any costume party. So go ahead, get your costume ready and make an impression at your next Halloween or cosplay event!
If you're interested in exploring more costume ideas, check out our main costume page at ElementalSpot's Costumes. You'll discover a wide range of exciting costumes to help you stand out at any dress-up party or cosplay event.
Missing an Outfit Inspo? Submit your idea and we'll make it happen!
Monthly Newsletter
Subscribe and get your Halloween costume ideas from us each year.