Dress Up Like Norman Bates from Psycho
If you are looking for a good Norman Bates costume for Halloween or a big cosplay event, here's the winning formula for creating the most exciting outfit of the party! Let's see how to dress up as Norman Bates from Psycho.
Costume Guide For COSPLAY & HALLOWEEN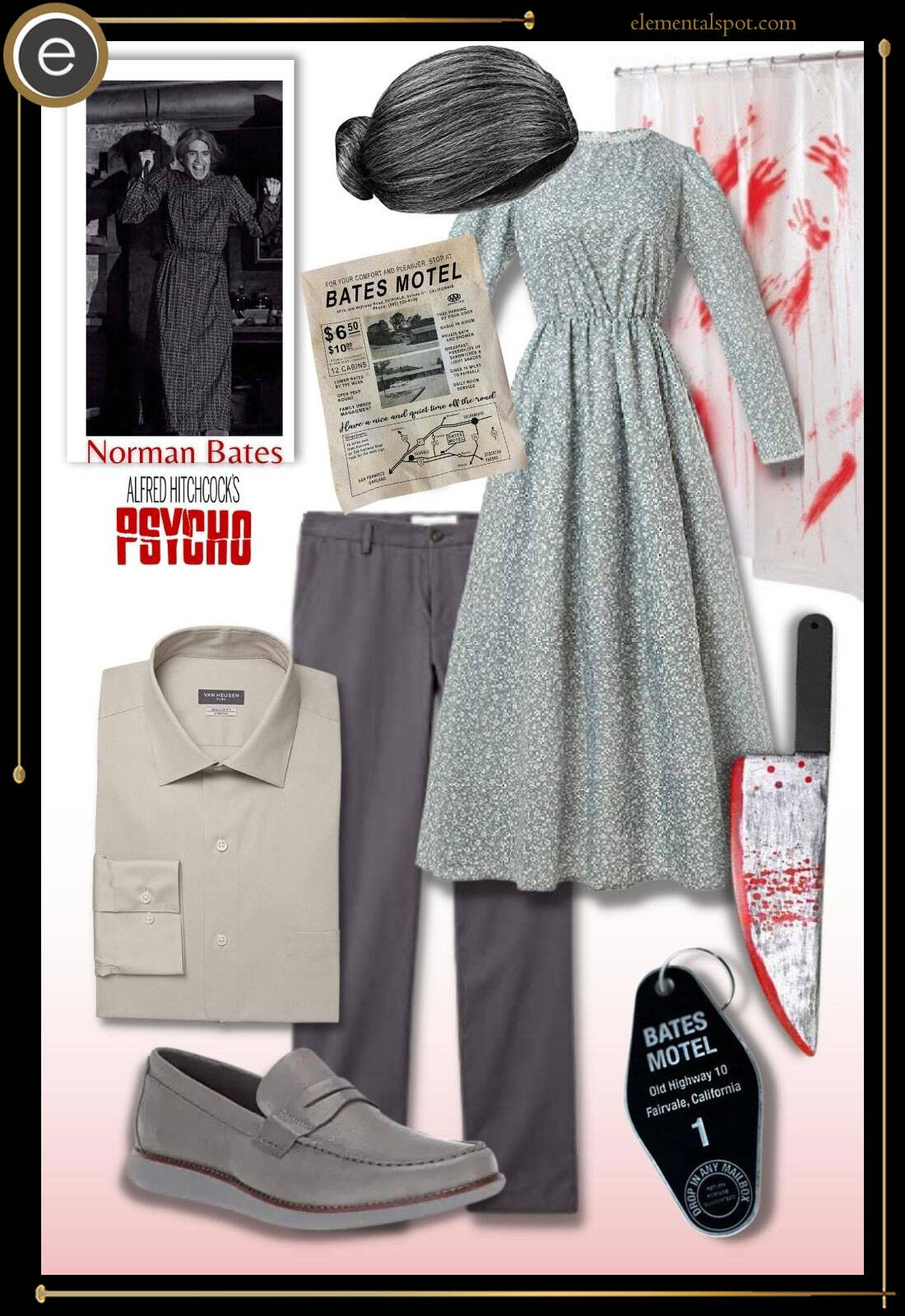 Norman Bates from Psycho Costume Guide
Shopping List for Norman Bates from Psycho Costume & Outfit
Who is Norman Bates?
Norman Bates is the main character in Albert Hitchcock's film Psycho (1960) played by Anthony Perkins. Bates' psychotic character unravels in line with the plot. At first, he seems to be the gentle but mysterious kind. His politeness might fool you into thinking that he can be trusted but as you get to know him better, his oedipal complex psychosis unfolds into an unhinged murder chase.
Since Norman Bates is dressed so simple, except for the scenes where he wears a dress, it will not be easy to create a costume where everyone at the party would recognize which character you represent..
Nevertheless, since Norman Bates suffers from paranoid schizophrenia here are two costume options for you:
1- Norman Bates costume with pants and shirt
2- Norman Bates'alter ego costume, dressed as his mother Norma.
Norman Bates Costume Option 1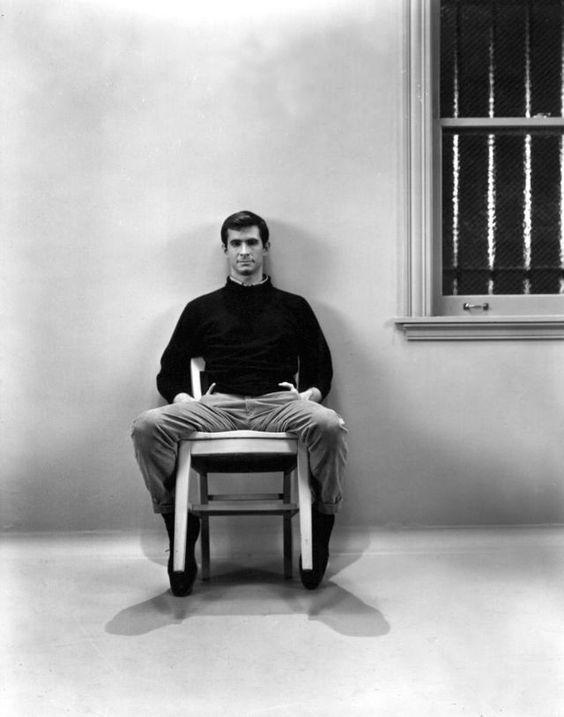 Norman Bates' mysterious and simultaneously spooky vibe comes off in his clothing. He is simple but smartly dressed, thereby leaving no clear impression about his intentions. His psychotic state is his subconscious, mysterious side, which is guarded by his subtle conscious side. Bate's clothes allow him to blend in rather than stand out; his clothes should trap the mystery without exploiting it.
Perkins brought his personal touch to the costumes of Norman Bates. He had asked the costume designer, Helen Colvig, whether it would be possible to bring some of his own shirts into play and a slim fit pullover with a tight neck to hold his shirt in place, because he had a long neck; another one of his key features. After a discussion between Colvig and Hitchcock, they had agreed to take on Perkins' suggestion of his personal clothing being integrated to his role. This was a turn point for Perkins in his relationship with Hitchcock throughout the film, allowing his ideas to come across to his director.
How to get the Norman Bates Look?
Make-up
Bates is known for the evil look in his eyes; his thick eyebrows sometimes overshadow the eyes, giving him his signature mad look. Bates has very pale skin, especially under the eyes, complimenting the psychotic glare in his eyes. Hence, a proper Bates look for Halloween should set some of its focus on the makeup, painting a sharp contrast between the pale skin and dark eyes.
Clothes
A complete Norman Bates costume would entail a pair of suit pants in a neutral color and a plain button-up shirt in beige color, monochrome or even plaid, buttoned up to the neck. A monochrome sweater sits top of the shirt with a tight neck clinging around the collar neck. Tall socks and a pair of black oxfords will do it. The costume is not complete without the woollen blazer jacket.
Norman Bates Costume Option 2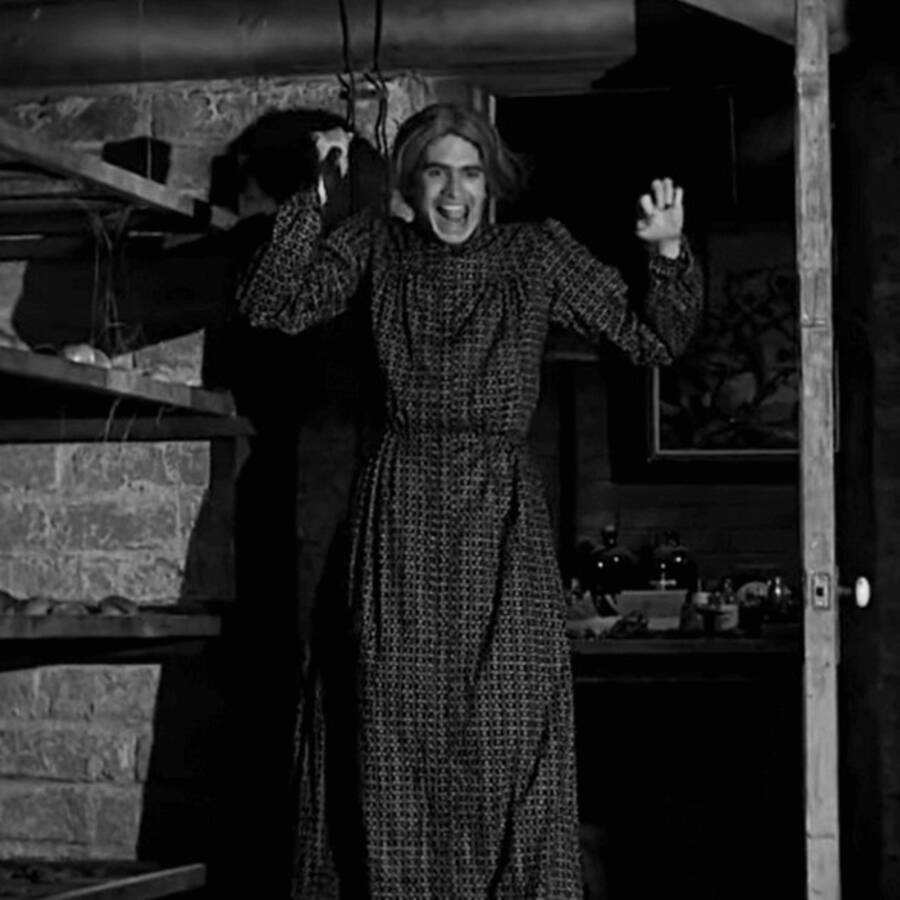 Tapping deeper into Norman Bates' psychosis, we are introduced into his Oedipal complex. When his subconscious dual identity takes over, he appears in his mother's dress and a silver wig, holding a knife in a psychotic murder attempt to kill Marion because any woman other than Norma Bates is sinful. Norman taps into the childhood trauma imposed by his mother by becoming her, himself.
This would be the alternative Norman/Norma Bates costume option.
This costume entails a dark-colored Edwardian dress, flat shoes, a silver wig and accessorized with the signature killer knife. If you are going for this look, you may want to start off by looking for an Edwardian dress in a vintage shop, or in your grandma's wardrobe. You may already have a pair of flat black shoes, as they are part of most people's daily wardrobes. If your hair is long and grey, you won't need a lot of effort. Simply split your hairline in the middle and follow up with a loose low hair bun above the neck. If your hair looks otherwise, you can always buy a long grey wig and apply the hair style to it, or buy a ready styled wig for the part. Don't forget your fake knife and evil laugh to the party.
Missing an Outfit Inspo? Submit your idea and we'll make it happen!
Monthly Newsletter
Subscribe and get your Halloween costume ideas from us each year.