Dress Up Like Magenta from Rocky Horror Picture Show
If you are looking for a good Magenta costume for Halloween or a big cosplay event, here's the winning formula for creating the most exciting outfit of the party! Let's see how to dress up as Magenta from Rocky Horror Picture Show.
Costume Guide For COSPLAY & HALLOWEEN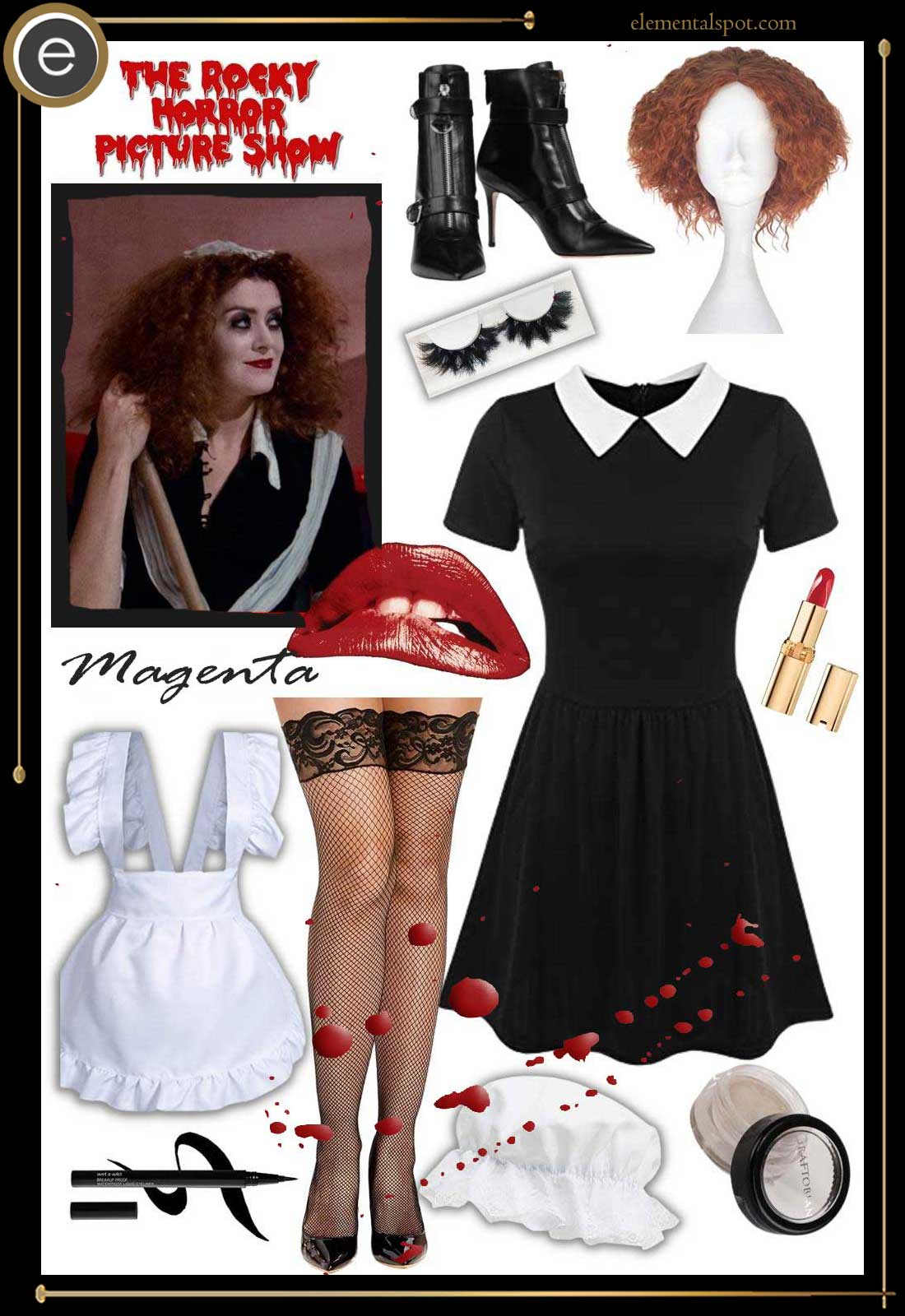 Magenta from Rocky Horror Picture Show Costume Guide
Shopping List for Magenta from Rocky Horror Picture Show Costume & Outfit
All the best cult classic movies have a cast of characters who are perfect for those Halloween dress-ups and cosplay events. The 1975 movie, The Rocky Horror Picture Show is no exception, even spawning a fan base who dress up to merely attend the screenings of the movie. So let's take inspiration from the eccentric costume designs of Sue Blane and create a Magenta Costume.
The 1975 musical comedy horror gained its cult status and reputation as a midnight movie after the public started attending dressed as the characters and talking back to the action on the screen. Getting the movie regular Friday and Saturday night showtimes at midnight. As one of the movie protagonists Magenta, alongside her brother Riff Raff who it is believed she had an incestuous relationship with, work for the mad scientist Dr Frank-N-Furter (here is how to get his costume)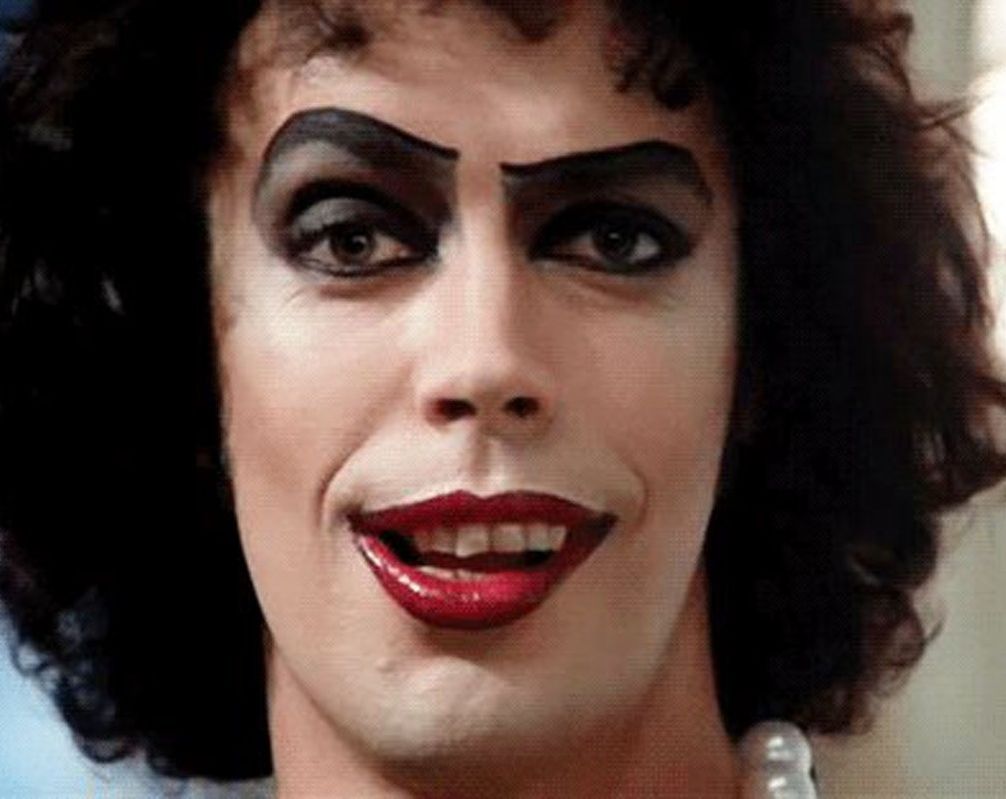 We have already explained in detail how to Dress up as Frank N Furter, Janet Weiss and Eddie from Rocky Horror Picture Show
In the following, we will show you how to create a convincing Magenta look. Have fun!
Get the Magenta Look
To get the look of the castle maid for your Magenta costume start with a black mini dress. Go for a skater style dress with short sleeves and a little white collar. Add in some fishnet stockings, so the lace tops can be seen just under your mini dress, and pair them with black stiletto-heeled ankle boots.
Every maid requires an apron and a cap, and your Magenta look is no different. Get a white apron with over the shoulder straps and a matching maids cap. There will be plenty to choose from but an apron with a square front and ruffle around the edge will give your outfit a very authentic feel.
Styling: Makeup, Hair, and Personality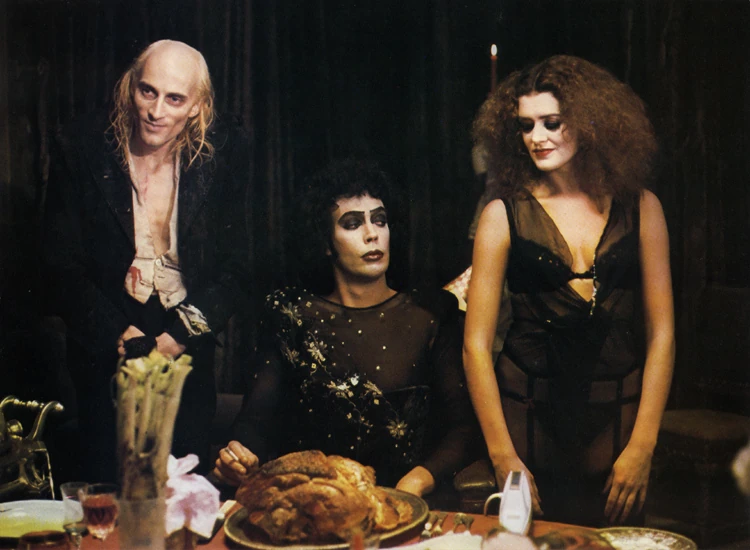 The styling to get the full Magenta look is very important and will involve some crazy make-up and hair. Start the make-up look by going in and painting your face and neck with a white face make-up. You don't just want your face to look pale, you actually need it to be white so that all the black will really stand out. Do your eye make-up with black eyeshadows and heavy black eyeliner, creating a very dark and smokey eye. Use the black eyeliner to outline your eye above and below, then add on some large, full fake eyelashes. You want to place them over your top and bottom eyelashes, just like Magenta, then add the only splash of color with a bit of red lipstick.
Magenta's hair is somewhere between curly and frizzy, so look online and try to get yourself a suitable wig. You want one that falls to your shoulders, is very full and is red in color. Once you have your wig and make-up on your costume will really be coming together. Now it's time to place your maids cap on top of your hair, so it is just balancing on your head.
The last thing to get right to fully embody your Magenta costume is her personality. The all singing, all dancing maid and alien from Transylvania, has become a bit unhinged through the years waiting on her chance to return to her home planet. So act a little crazy and if that doesn't convince everyone sing a couple renditions of the Time Warp.
Missing an Outfit Inspo? Submit your idea and we'll make it happen!
Monthly Newsletter
Subscribe and get your Halloween costume ideas from us each year.