Dress Up Like Krampus from The Christmas Devil
If you are looking for a good Krampus costume for Halloween or a big cosplay event, here's the winning formula for creating the most exciting outfit of the party! Let's see how to dress up as Krampus from The Christmas Devil.
Costume Guide For COSPLAY & HALLOWEEN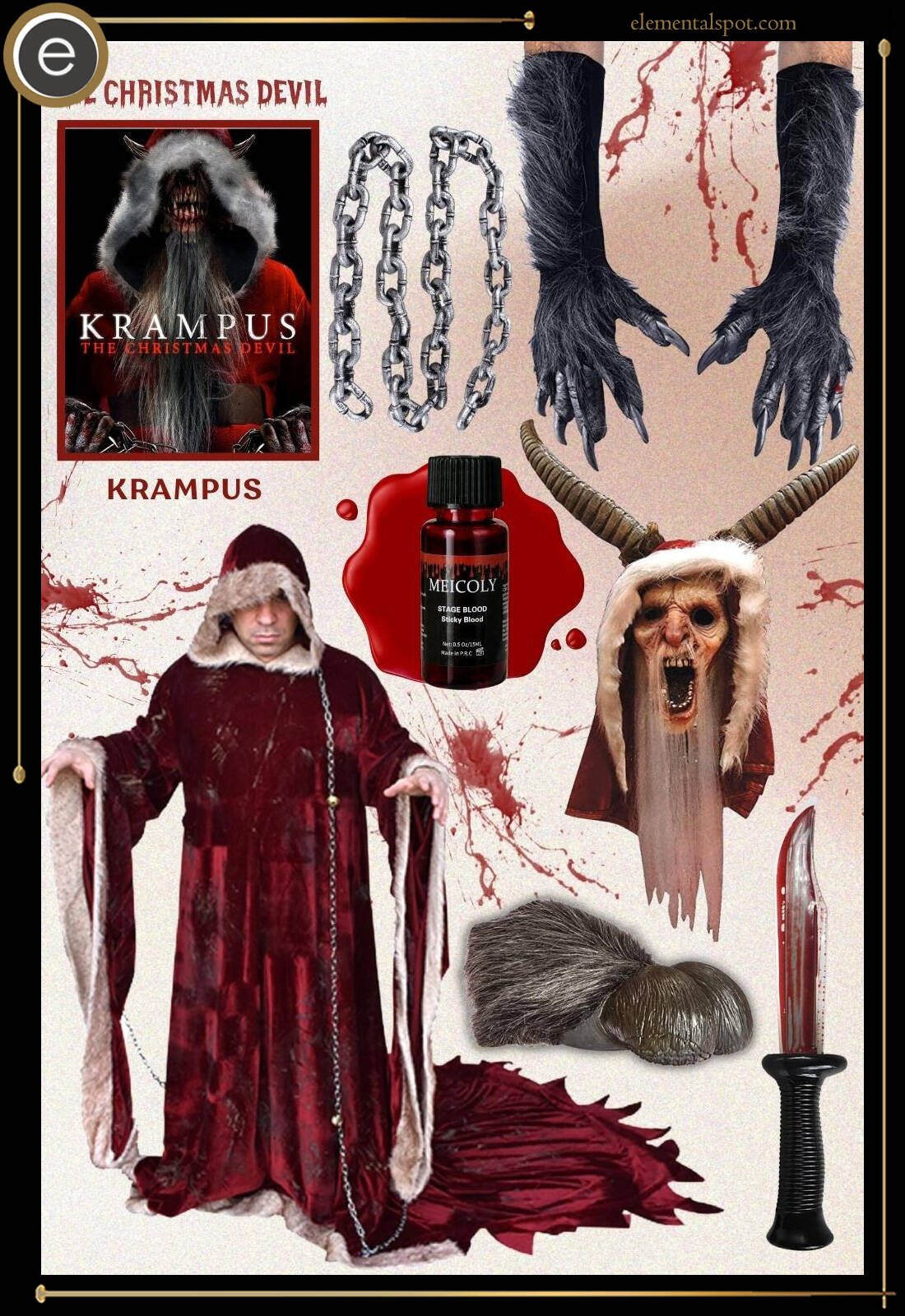 Krampus from The Christmas Devil Costume Guide
Shopping List for Krampus from The Christmas Devil Costume & Outfit
If you are looking for a costume to scare the heart out of people this year, you should definitely go as Krampus this Halloween,. Slip into the role of the evil counterpart to Santa Claus with this Krampus costume.
Before we create a costume -let's see who is Krampus
Just before Christmas, the Engel family gathers for Christmas in the Krampus movie. Max, one of the youngest members of the family, still has faith in Santa and intends to write him a letter. Max's cousins make fun of him after hearing his letter to Santa. That evening, a massive snowfall arrives, covering the entire town and knocking out power. The Krampus, a big horned beast, comes into the town during the subsequent chaos and begins to kill and cause havoc as retribution for those who have lost their Christmas spirit.
Krampus (2015) 1 Luke Hawker as Krampus. Still image from the motion picture.
Krampus is a horned, anthropomorphic figure in Central and Eastern Alpine folklore who, during the Christmas season, scares children who have misbehaved.


Wikipedia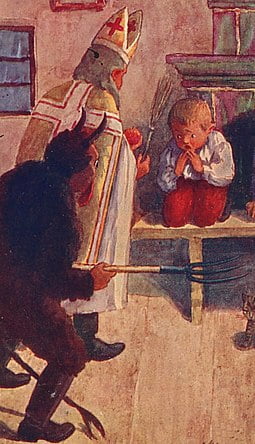 The ancient demon Krampus punishes those who don't celebrate Christmas, assisted by Der Klown and the evil elves, by ravaging them. While the holiday season is perhaps the most magical time of the year, Krampus is punishing misbehaving children at Christmas, as described by ancient European folklore.
In the film Krampus (2013), young Max (Emjay Anthony) loses his holiday cheer due to troubled family arguments, which summons the ferocious demon's fury. The Engel family is under Krampus' control, so mom (Toni Collette), pop (Adam Scott), sister (Stefania LaVie Owen), and brother must work together to prevent each other from suffering a fatal, tragic end. The majority of the effects are physically made, and many of the creatures are masterfully produced through puppetry, costumes, and makeup, despite the usage of some CGI.
Krampus is the evil counterpart to Santa Claus. He only cares about punishing kids and/or parents who have been particularly misbehaving over Christmas or having completely lost their holiday spirit. He will damn those he torments to Hell if they are unable to regret.
How to recreate Krampus Costume
Krampus as an epitome of evil, is also expressed in his costume. He is big, hairy, and his teeth are sharp, long and bloody, since he eats his victims. Of course, he dresses in a Santa Claus suit, as his own counterpart. Krampus is a hairy beast; his legs and feet are animalistic. The beast is also horned and his face is characterized by his lack of eyes, and massive teeth.
To achieve the terrifying look of Krampus, start off by looking for a two-piece Santa Klaus suit. This includes Santa's red robe with white details around the collar. Be aware that your robe needs to be hooded, as Krampus hides his black-holed eyes with the hood of his robe. Also included in Santa's suit is a basic pair of red Santa pants. 
Now for the first tricky part of this intricate costume, you will need to set your focus on how to create a pair of fawn legs.
Krampus may wear the suit of Santa Klaus, but he is no human, he is a horrendous monster with hairy animalistic legs and feet. If you are on a good budget, your beast legs can be purchased online but may take a while to be delivered to you. However, if you are the crafty type or a cosplayer, and would really love to craft your own costume, there are a few ways to create the faun legs from scratch. The following video tutorial will give you the solution. Materials to be included in the procedure entail: 
Cardboard, EVA Foam (5mm, 10mm), Worbla Fake fur(2 tones), Cling Film, Newspaper, Duct tape, Heat gun, Glue gun, Stanley knife, Sharpening stone ,Contact adhesive, Acrylic paint ,Brushes and sponges, Wig Bolts, nuts and washer Velcro, Sculpting tools, Scissors Permanent marker pens, Pencil.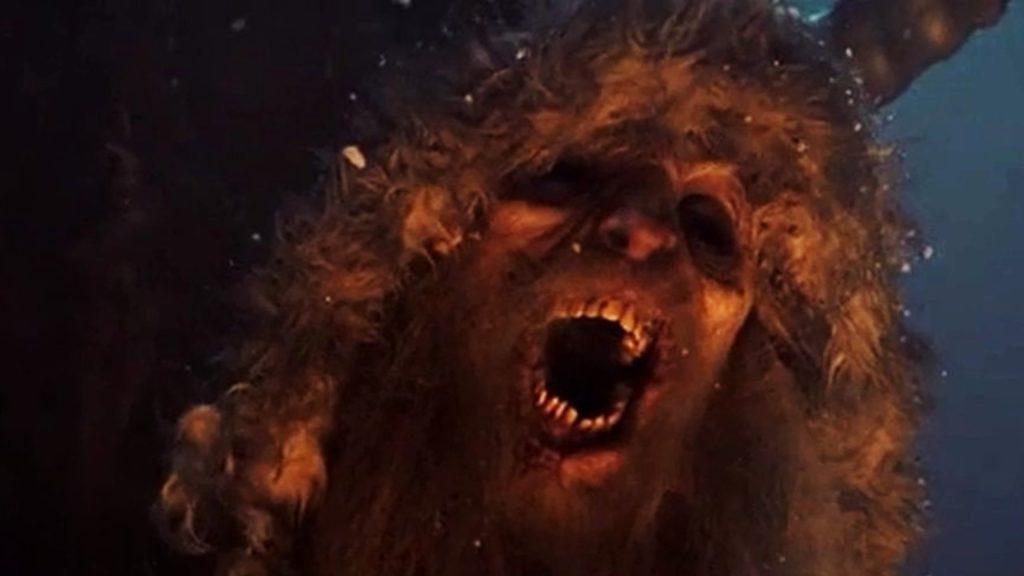 Next you will want to focus on the face of Krampus. The face of Krampus can be achieved through multiple ways. The first way leads towards the face paint and makeup direction. For this, you will need the following materials:
white aqua paint, damp makeup sponge, translucent powder or baby powder, large powder puff grey, darker grey, black, red, yellow, white and brown cream paint, OPTIONAL dark grey and red alcohol paint, stipple sponge, fake blood, santa beard, black hair spray, ram horns.

Follow the video tutorial below, to paint a greyish base, then outlining the sharp teeth with black paint, some shading and slowly moving to the eyes and rest of the details.
Alternatively, you can craft a Krampus mask yourself. The procedure will certainly be longer and more costly and might just take some skill from your person but will be definitely worth it. If you are cosplaying Krampus, this will be your best option. Follow the directions of the video tutorial below to make your own unique Krampus mask this year:
Don't forget to finish your costume with a pair of werewolf gloves to achieve the significant animal claws of Krampus. Although a complex costume, rest assured, it will probably be the most horrific one!
Missing an Outfit Inspo? Submit your idea and we'll make it happen!
Monthly Newsletter
Subscribe and get your Halloween costume ideas from us each year.