Dress Up Like Jack Dawson from Titanic
If you are looking for a good Jack Dawson costume for Halloween or a big cosplay event, here's the winning formula for creating the most exciting outfit of the party! Let's see how to dress up as Jack Dawson from Titanic.
Costume or Outfit Guide For COSPLAY & HALLOWEEN
Jack Dawson from Titanic Costume or Outfit Guide
Shopping List for Jack Dawson from Titanic Costume & Outfit
Dress up like Jack Dawson!
The original heartthrob of the 1990s, Leonardo DiCaprio as Jack Dawson in Titanic (1994) charmed an entire generation of moviegoers. In order to embody this iconic character, you'll have to replicate his easygoing allure for a perfect Jack Dawson costume! 
Who is Jack Dawson?
This is the role that made Leonardo DiCaprio an international superstar. Cast in James Cameron's iconic film, Titanic (2004), DiCaprio gave life to the film's tragic hero, Jack Dawson. A young, handsome artist who ends up on the Titanic following a game of poker, Jack manages to charm Rose, a wealthy woman played by Kate Winslet. The couple's whirlwind romance comes to a tragic end when the Titanic ultimately sinks, and Jack dies of hypothermia while clinging to Rose's raft. Although the romance was short-lived, it quickly became iconic. Titanic made history, becoming the highest grossing film of all time as it was the first film to rake in over a billion dollars at the global box office.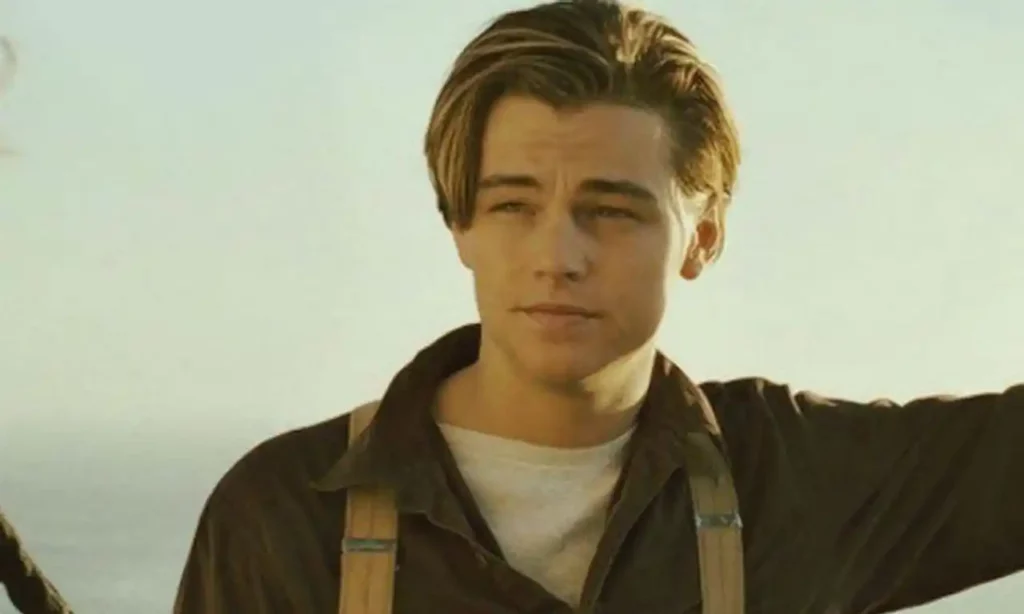 Jack Dawson's costume and accessories 
If you want to embody this iconic character, you'll have to slip into his early-century clothes. Put on a white t-shirt and a pair of brown pants, along with some brown suspenders. A dark brown jacket and matching brown leather shoes will complete the look.
In order to make your costume more realistic, you can use makeup to replicate Jack's features as he clings to the raft. Use a pale foundation to make your skin look as white as possible. Using some red blush, redden the skin around your eyes and your nose. Use a pale lip liner to give your lips that blue hypothermic tint. Finally, grab a white mascara. This will help you create small snowflakes on your eyelashes and eyebrows. For an extra dramatic look, slick your hair with a lot of hair gel, making it look wet and frozen.
If you really want to go all out for this Jack Dawson Titanic Costume, purchase a bag of fake snow, and apply the little flakes to your eyebrows and all over your hair. Grab a cigarette and a sketchbook, and you're set! You'll be looking like a walking ghost in this Jack Dawson costume.
Costume Designer: Bringing Jack Dawson's Titanic Costume and Style to Life
Behind every iconic movie character's look is a talented costume designer, and Jack Dawson's wardrobe in Titanic is no exception. Costume designer Deborah Lynn Scott played a pivotal role in creating the timeless style of Jack Dawson's Titanic costume, perfectly capturing the essence of a young, free-spirited artist from the early 20th century.
Scott meticulously researched the fashion trends and historical references of the time period, ensuring that Jack's costumes were not only visually stunning but also authentic to the era. Her attention to detail and creativity in crafting Jack's outfits, including his signature blue suit and the iconic "flying" scene attire, contributed to the overall immersive experience of the film. Whether it was his rugged work attire or his elegant evening wear, Scott's expertise in costume design brought Jack Dawson's character to life through his Titanic costume, making him an unforgettable style icon in cinematic history.
Missing an Outfit Inspo? Submit your idea and we'll make it happen!
Monthly Newsletter
Subscribe and get your Halloween costume ideas from us each year.